Here are Nats' Players' Weekend nicknames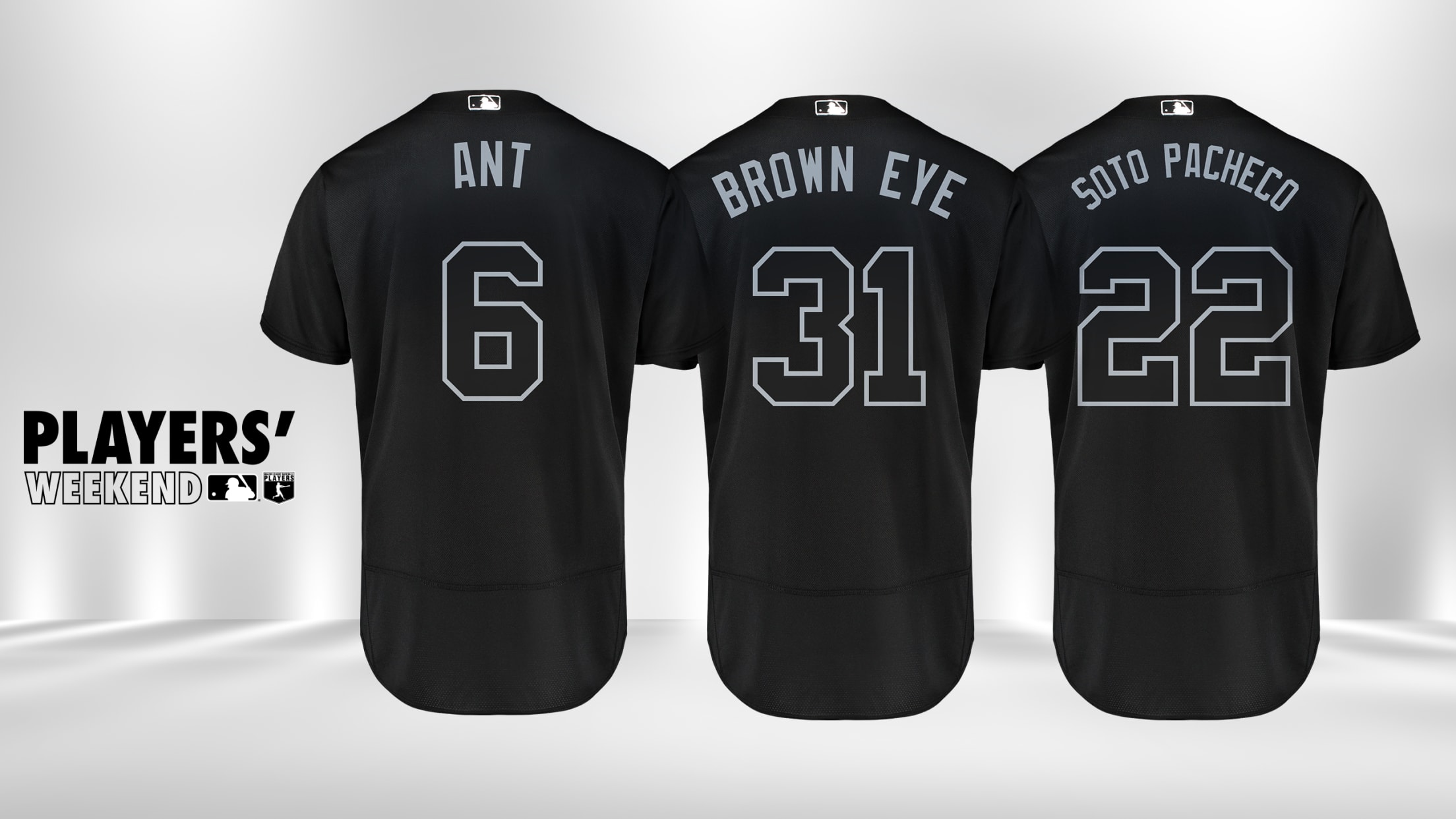 WASHINGTON -- Players' Weekend is an opportunity for Major Leaguers to put some of their own personality and flair into their uniforms, with nicknames on the back of their jerseys that often carry a special or sometimes hilarious meaning. Players' Weekend is back for the third straight year from Friday
WASHINGTON -- Players' Weekend is an opportunity for Major Leaguers to put some of their own personality and flair into their uniforms, with nicknames on the back of their jerseys that often carry a special or sometimes hilarious meaning.
Players' Weekend is back for the third straight year from Friday through Sunday, and here is the list of nicknames the Nationals will wear on their backs for the weekend series with the Cubs:
• Every team's Players' Weekend nicknames
Matt Adams: "BIG CITY"
Patrick Corbin: "CORBY"
Corbin is also one of the eight players expected to use some sort of nickname tribute to the late Tyler Skaggs, who was one of Corbin's best friends. Corbin is expected to wear a jersey with the nickname "Forty Five" spelled out on the back.
Sean Doolittle: "OBI-SEAN"
Doolittle had a Star Wars-themed bobblehead created after him and had worked on the details with the Nationals' promotions staff. Doolittle made sure the lightsaber color, blue, was correct and gave him a removal hood.
Brian Dozier: "LO CONNER"
Dozier was given the name by his friend and former Twins teammate Eduardo Escobar, who compared Dozier to Brian O'Conner, the underground cop from the "Fast and Furious" franchise, with his own twist. Escobar believed Dozier looked a bit like the late Paul Walker, the actor who played O'Conner.
Adam Eaton: "SPANKY"
Erick Fedde: "FEDDECCINI"
Fedde brings this name back from last season, which he came up with sitting one day with a member of the Nats' pitching staff combining his name and his love of pasta.
Yan Gomes: "GOMER"
Matt Grace: "GRACEY"
Javy Guerra: "JAVY"
Daniel Hudson: "HUDDY"
Howie Kendrick: "TRUCK"
Kendrick received the nickname from his former manager Mike Scioscia during his time with the Angels, and "it's just one of those nicknames that kind of just stuck," he said. Kendrick used to own an English bulldog that he then nicknamed "Truck" and currently owns a french bulldog that he calls "Mack Truck."
Gerardo Parra: "EL YOLO"
Parra opted for this name over "Baby shark or Parra shark" despite its popularity with Nats fans because it carries significance for him. The name honors his late grandmother, Yolanda, who passed away when Parra was young. Everybody called her Yola and started calling Parra "Yolo" so he wears the name to honor her.
Tanner Rainey: "RAINMAN"
"I never really had a nickname, like all the way through, even college," Rainey said. "But there were a few people in college who called me that." The nickname then caught on during Rainey's time in the Reds' organization and followed him to D.C., where third-base coach Bobby Henley adopted it.
Anthony Rendon: "ANT"
Victor Robles: "VIC"
Fernando Rodney: "LA FLECHA"
The word translates to arrow, which requires no introduction from Rodney. He's been shooting the arrow after a save since 2012 when he wanted to introduce a celebration after the game. "It's like game finished, game over," Rodney said.
Joe Ross: "JR"
Adrian Sanchez: "SANCHY"
Aníbal Sánchez: "ALEJO"
• Shop for Players' Weekend gear
Max Scherzer: "BROWN EYE"
That's Scherzer's pitching eye, he once told then-Nats manager Dusty Baker, during a mound visit. Scherzer, whose heterochromia iridum gives him two different colored eyes, used Blue eye for his nickname last season, so it was only appropriate to use the other color this year.
Juan Soto: "SOTO PACHECO"
Soto wanted to use his full name for a change to honor his family. "Sometimes I like my whole name, Juan Jose Soto Pacheco," he said. "Soto Pacheco is for my family. It's really nice. I play for them, and I love to see them happy."
Stephen Strasburg: "STRAS"
Andrew Stevenson: "STEVO"
Hunter Strickland: "SOUTHERN THUNDER"
Strickland is a Georgia native and has been using the Hank Williams Jr. song "Southern Thunder" as his warmup music in recent years.
Wander Suero: "THE ANIMAL"
Kurt Suzuki: "ZUK"
Trea Turner: "T³"
Ryan Zimmerman: "ZIM"