Nats cautious with Rainey's forearm tightness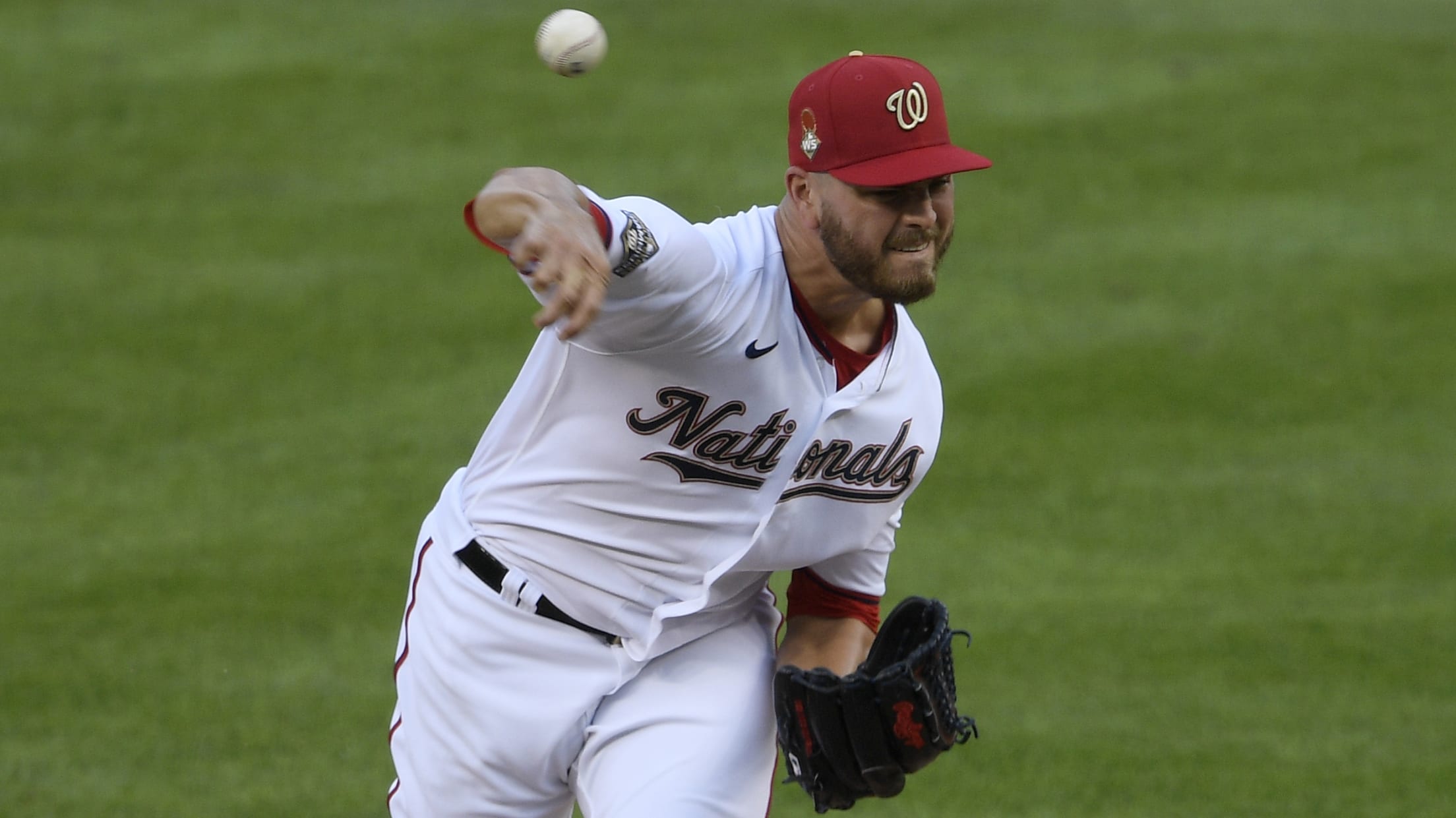 WASHINGTON -- The Nationals view Tanner Rainey as a candidate to be their future closer. So when the right-hander experienced tightness in his right forearm, the club didn't take any chances. Rainey underwent an MRI on Friday, which came back clean. Manager Dave Martinez plans to give him "a few
WASHINGTON -- The Nationals view Tanner Rainey as a candidate to be their future closer. So when the right-hander experienced tightness in his right forearm, the club didn't take any chances.
Rainey underwent an MRI on Friday, which came back clean. Manager Dave Martinez plans to give him "a few days off," including Saturday against the Braves.
"I think he's just tired," Martinez said.
Rainey, 27, established himself as a reliable late-innings reliever in his second full Major League season. Entering Saturday, he led the National League with nine holds, and he has a 2.66 ERA over 20 1/3 innings. When the bullpen dealt with injuries to veterans Sean Doolittle and Will Harris, Rainey stepped in to fill the voids.
"You've got to remember, last year was his first year," Martinez said. "Slowly but surely, he started getting better and better. This year, he had a confidence in him that, 'Hey, I'm going to be able to pitch in the back end of the bullpen. I'm going to get high-leverage situations and get outs.' He's been doing that, and he's doing that really well. … He's our eighth-inning guy. I could see him moving into that closer spot in the future here, for sure."
The Nationals have to balance pursuing a postseason berth -- they entered Saturday 17-26, having won five of their last seven -- with maintaining a key piece of their roster for years to come.
"We're in a difficult situation because we're still playing to get into these playoffs. Not by any means have we given up," Martinez said. "He wants to pitch. He wants to be out there. He wants to help. But with that being said -- I've said this all along -- we're looking at potentially our future closer, so we want to make sure he doesn't get hurt. We've got to keep an eye on him and be smart about this."
Doolittle update
The need to keep bullpen arms healthy was magnified when the Nationals received a medical update on Doolittle, who was placed on the 10-day injured list with a right oblique strain on Friday.
"He's got a significant strain of his oblique, so he's going to be out for a while," Martinez said. "I don't want to say the whole rest of the season, but at least for this [regular] season. Maybe we get him back for the playoffs, but he's going to be out significantly."
Martinez described Doolittle, 33, as being "pretty sore" and said rest is going to be important to his recovery, which puts him returning to the bullpen this year in question. He is a free agent after this season.
Hernandez makes first start
Thirty-two-year-old rookie Yadiel Hernandez got his first career start when he played right field in Saturday's 2-1 loss to the Braves. An outfield spot remains available as Juan Soto is in the designated hitter spot after dealing with left elbow soreness.
"He's not one for showing a whole lot of emotion, but I know he's excited," Martinez said of Hernandez.
Yadiel Hernandez walks up to take the first at-bat of his Major League career at age 32. #Nationals pic.twitter.com/AnJbjxlHhB

— Jessica Camerato (@JessicaCamerato) September 12, 2020
The Nationals selected Hernandez's contract on Thursday, and he made his debut that night as a pinch-runner in the ninth inning. Hernandez had the opportunity in Saturday's start to showcase his range of skills, which earned him Washington's Minor League Player of the Year honors in 2019. But he was unable to find his first hit, going 0-for-3 in his debut plate appearances before Victor Robles replaced him in the ninth spot in the final inning.
"I said, 'Do your thing,'" Martinez said. "'You're here because I know you can hit, I know you can play and you deserve it. Go out there, have fun and try to help us win a ballgame.'"