'Never lost hope': 32-year-old rookie debuts
Hernandez offers OF depth as Kendrick (hamstring) placed on IL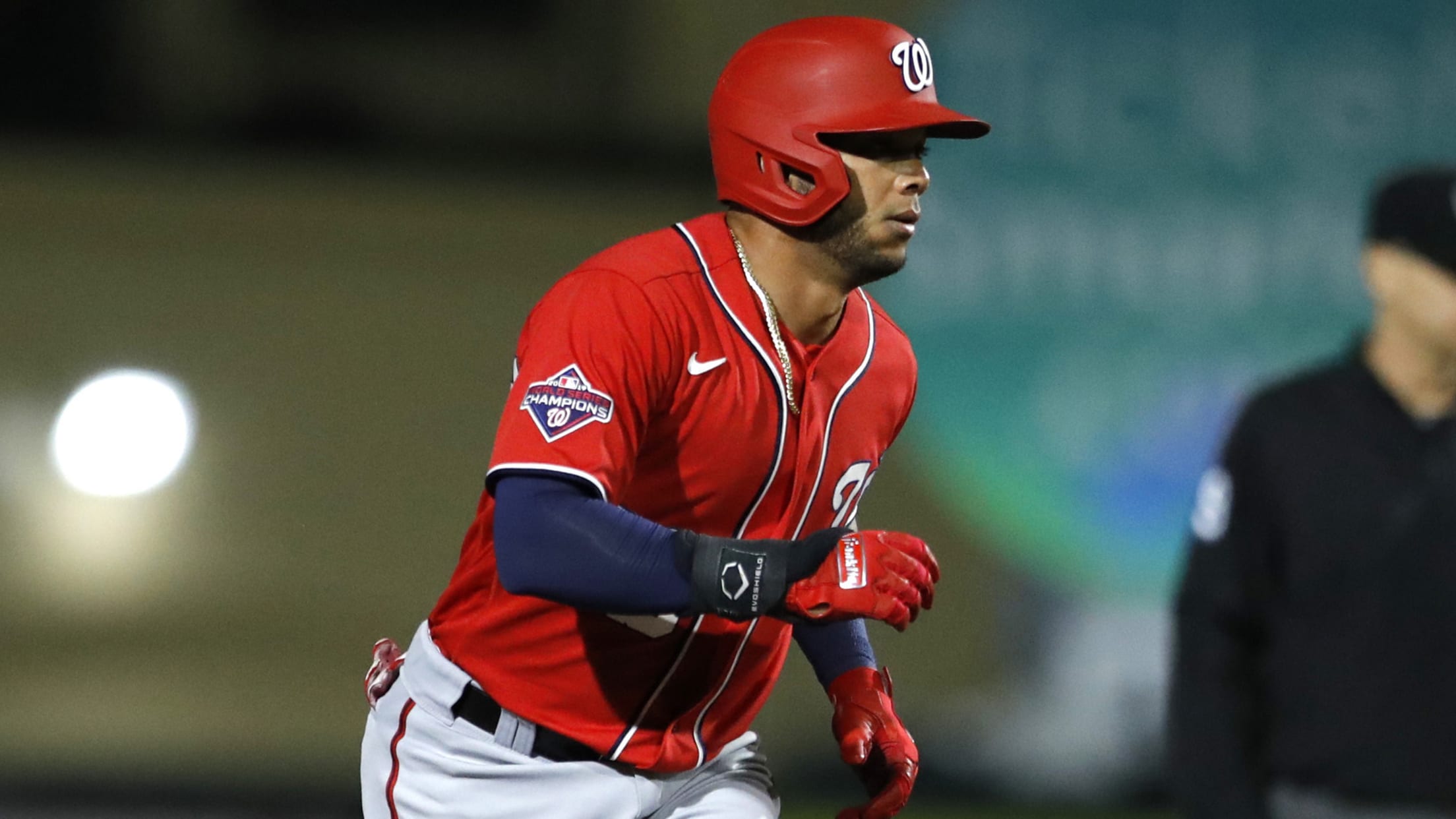 WASHINGTON -- When one of the Nationals' most veteran players, 37-year-old Howie Kendrick, was placed on the 10-day injured list on Wednesday with a left hamstring strain, the team added another player in his 30s. Only this one had yet to make his Major League debut. Washington selected the contract
WASHINGTON -- When one of the Nationals' most veteran players, 37-year-old Howie Kendrick, was placed on the 10-day injured list on Wednesday with a left hamstring strain, the team added another player in his 30s. Only this one had yet to make his Major League debut.
Washington selected the contract of outfielder Yadiel Hernandez on Thursday. The 32-year-old left-handed hitter has been a part of the organization's Minor League system for the past three seasons. And Hernandez entered Thursday's loss to the Braves as a pinch-runner at first base for Asdrúbal Cabrera in the bottom of the ninth inning, putting his name in the Major League record books.
"I was obviously very happy, excited to be out there," Hernandez said on Friday. "At some point, I felt like it felt natural, because I've been with the team since Spring Training. So a part of me felt like this is just another game. But the other side, just the overwhelming excitement and happiness to be out there really built up in that moment. It was a feeling I don't necessarily know how to describe too much, but it was just very exciting."
Yadiel Hernández's time in the Major Leagues is here. #Nationals pic.twitter.com/pmCOovqYC8

— Jessica Camerato (@JessicaCamerato) September 11, 2020
Hernandez gives the Nats an option to man left field while Juan Soto works his way back from left elbow soreness while playing primarily in the designated hitter role. Hernandez also has experience in right field, and he offers another left-handed bat, which could be utilized for DH and pinch-hitter scenarios.
"We don't know when Juan can throw again," Martinez said. "He's going to start throwing a little bit, but we don't know. I want to keep him -- unless he's 100 percent -- just let him DH and hit for the time being. We felt like Yadiel's been swinging the bat really well. ... He's a nice bat to have off the bench. He can hit for power."
Hernandez's road to the Majors is rooted in his native Cuba, where he played for Cocodrilos de Matanzas of the Cuban Baseball Federation from 2009-14. He signed with the Nationals on Oct. 1, 2016.
Last season, Hernandez earned Washington's Minor League Player of the Year honors for leading the Nationals' system in home runs (33), RBIs (90), slugging percentage (.604), batting average (.323), OPS (1.009), hits (142), extra-base hits (56) and runs (87).
"It was one of those things that you always strive for and work hard towards," Hernandez said. "And it's something that I never lost hope with, trying to get here and play for a big league team. I feel like I finally have reached my goal. I got here and, through all the sacrifice I went through, I finally made it."
Dave Martinez said Yadiel Hernández's family is with him in Washington, DC, so when he makes his Major League debut (at 32 years old), they'll be able to watch from the hotel room nearby.

— Jessica Camerato (@JessicaCamerato) September 10, 2020
Hernandez joined the Nationals in Spring Training this year, and he has been working out at the alternate training site in Fredericksburg, Va. As a veteran player who Martinez describes as a "student" of baseball, Hernandez works closely with younger prospects to impart his knowledge.
"From what I understand, he's taken a lot of those young guys underneath his wings," Martinez said. "He's teaching them about hitting and playing the game and how important it is to stay focused every day. That's what you see every day [from him]."
Hernandez's roster spot was created because the Nationals wanted to get a hold on Kendrick's lingering hamstring tightness, which has limited him to 25 games. Kendrick has batted as the DH in 19 games and played first base in six while batting .275 with 14 RBIs in 100 plate appearances. His placement on the IL is retroactive to Sunday.
"We were hoping it would get better," Martinez said. "I gave him days off. It just wasn't getting any better. We felt like, for his sake, we didn't want to push the envelope any more. ... He was playing pretty banged up. His hammy was hurting."
Martinez honors 'idol' Clemente
Major League Baseball celebrated Roberto Clemente Day on Wednesday. The Nationals were off, so they recognized the event on Thursday. Martinez asked his coaching staff to join him in wearing No. 21 to honor Clemente, whom he describes as his "idol" for his contributions as a baseball player and a humanitarian.
• Doolittle nominated for the Roberto Clemente Award
Davey Martinez grew up idolizing Roberto Clemente and now keeps a framed photo of him in his office.

Tonight, all of our coaches are wearing No. 21 to help honor Davey's hero, who was a phenomenal ballplayer and, somehow, an even better person.#ClementeDay // #NATITUDE pic.twitter.com/dDw5uGl3q7

— Washington Nationals (@Nationals) September 10, 2020
"It's an honor; it really is," Martinez said. "I wore [No. 21] as a football player in high school. That's it. I never wore it as a baseball player because that'd be tough for me. To put his jersey on -- I've got it hanging up next to my locker right now -- it's just amazing to see that number on my back and everybody else's back. I watched some of the games yesterday, and watching all those guys wear it, it means a lot. It means a lot to all of us."