Washington Nationals Bag Policy
Introduction & Policy Statement
No bags are permitted inside Nationals Park, except: (i) clutch bags measuring 5"x7" x 3/4" or smaller; and (ii) diaper bags and bags used for ADA/medical reasons measuring 16" x 16" x 8" or smaller. This decision was driven by guest and staff safety. By limiting the amount of bags that are permitted within the stadium, we will reduce the time each guest and staff will interact with one another, as well as significantly reduce line times for guests entering the ballpark.
Bag Restrictions
Bags that will be permitted access to the stadium include:
Clutch bags measuring 5" x 7" x 3/4" or smaller;
Diaper bags and bags measuring 16" x 16" x 8" or smaller
ADA/medically necessary bags measuring 16" x 16" x 8" or smaller
Bags that are not permitted include, but are not limited to:
Backpacks
Any bag larger than 5x7 that is not a diaper bag or ADA/medically necessary bag
Any bag larger than 16x16x8, for any reason.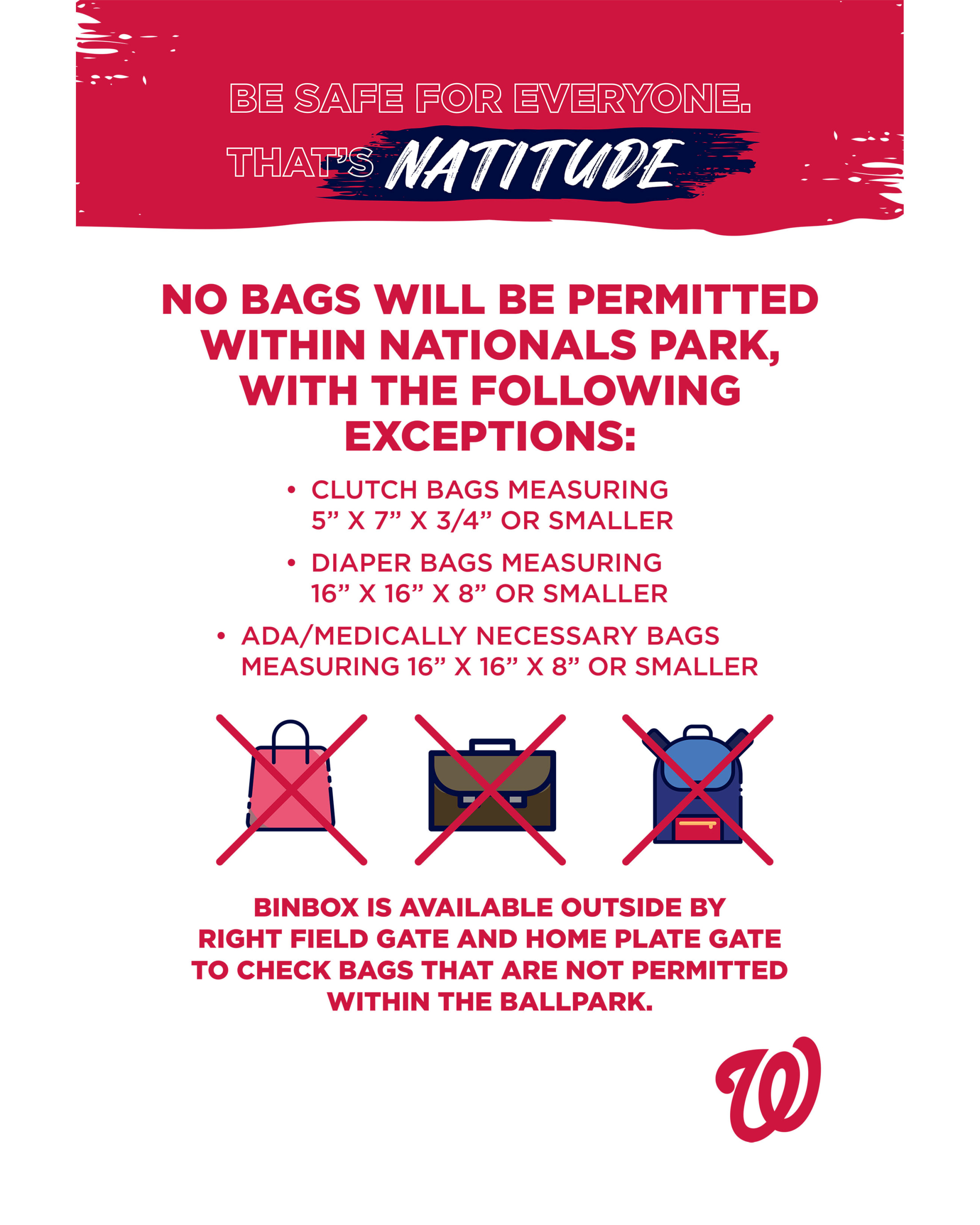 Binbox
Binbox will be positioned outside Right Field Gate and Home Plate Gate; they will be in position three hours prior to first pitch and will remain in position one hour after last pitch. Guests may choose between a medium or a large locker to check their belongings. Security personnel will be in position at both Binbox locations, but guests will be asked to divest their bags, and then put the items back into their bag, before placing their bag within a locker. Binbox staff will be onsite at each location to troubleshoot any website/app issues for purchases.