Aníbal to start Game 3 for Nats; Game 4 TBD
If Corbin used again in relief, Washington likely to go with Ross on Saturday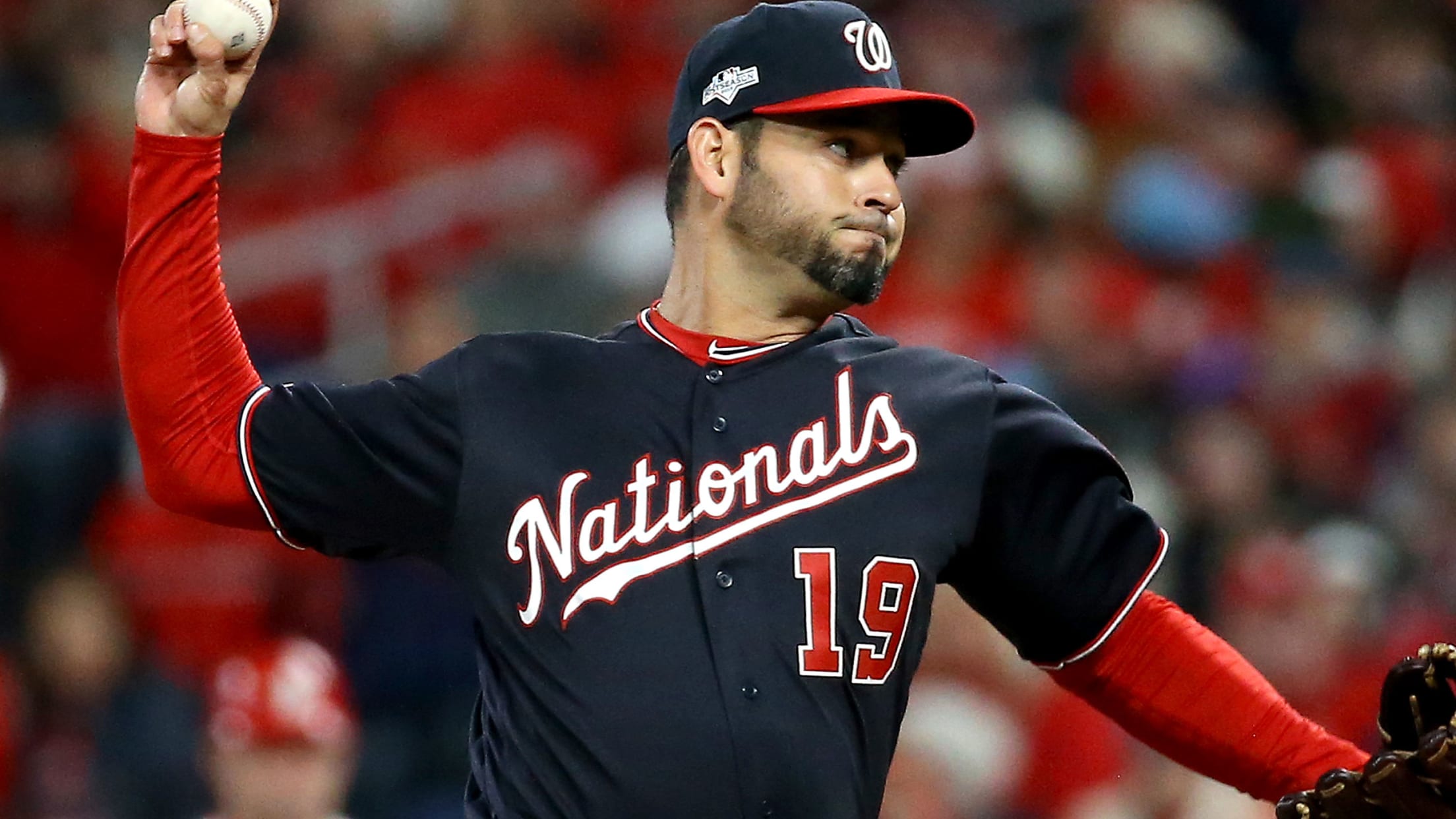 HOUSTON -- Veteran right-hander Aníbal Sánchez will start Game 3 of the World Series on Friday night in Washington, Nationals manager Dave Martinez revealed before Game 2 on Wednesday.
GM 2 features Strasburg-Verlander (8 ET, FOX)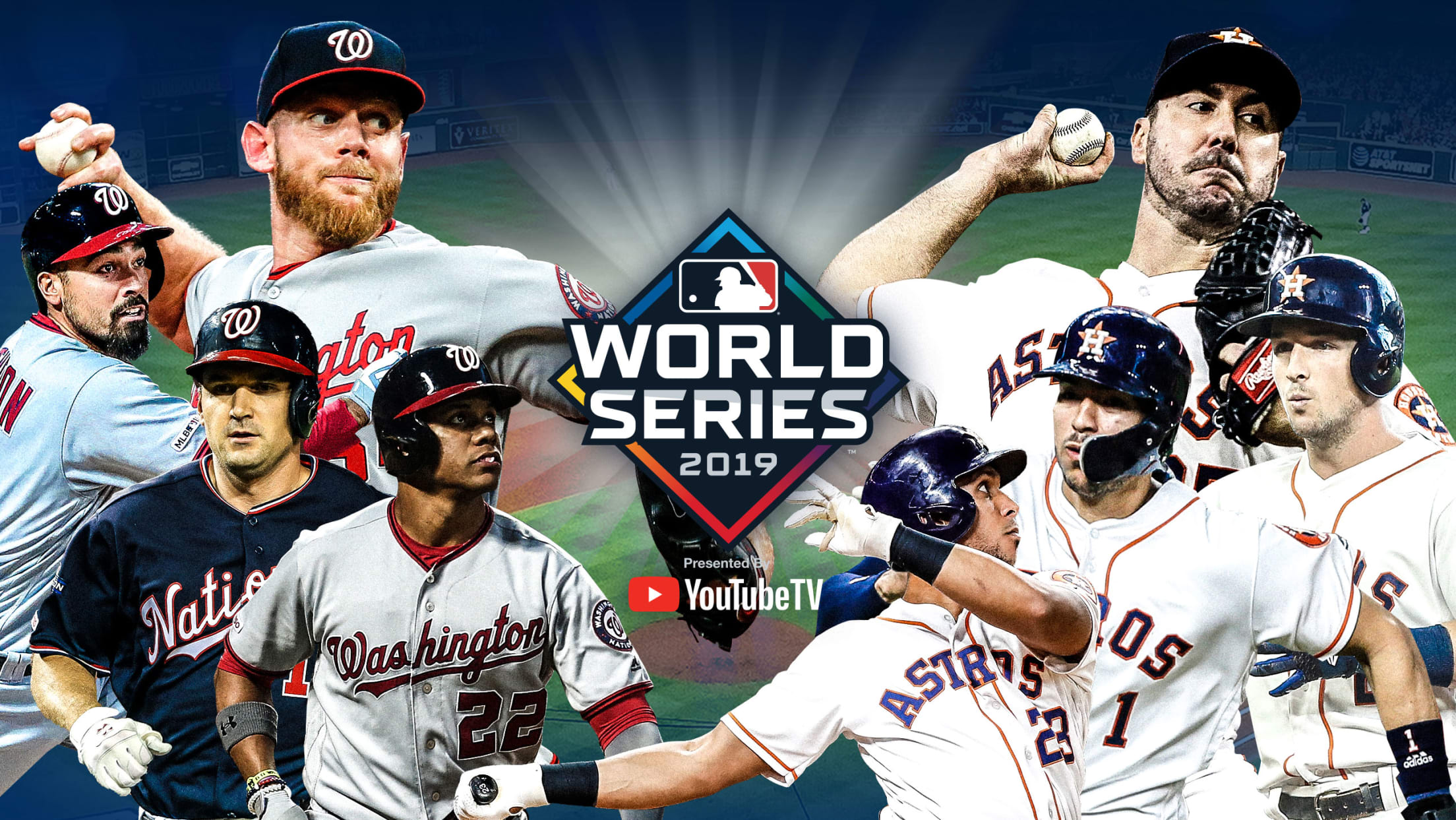 HOUSTON -- It would be mathematically offensive to call Wednesday's Game 2 of this World Series between the Nationals and Astros a must-win for Houston. But the sentiment isn't entirely incorrect.
4 must-see matchups in World Series Game 2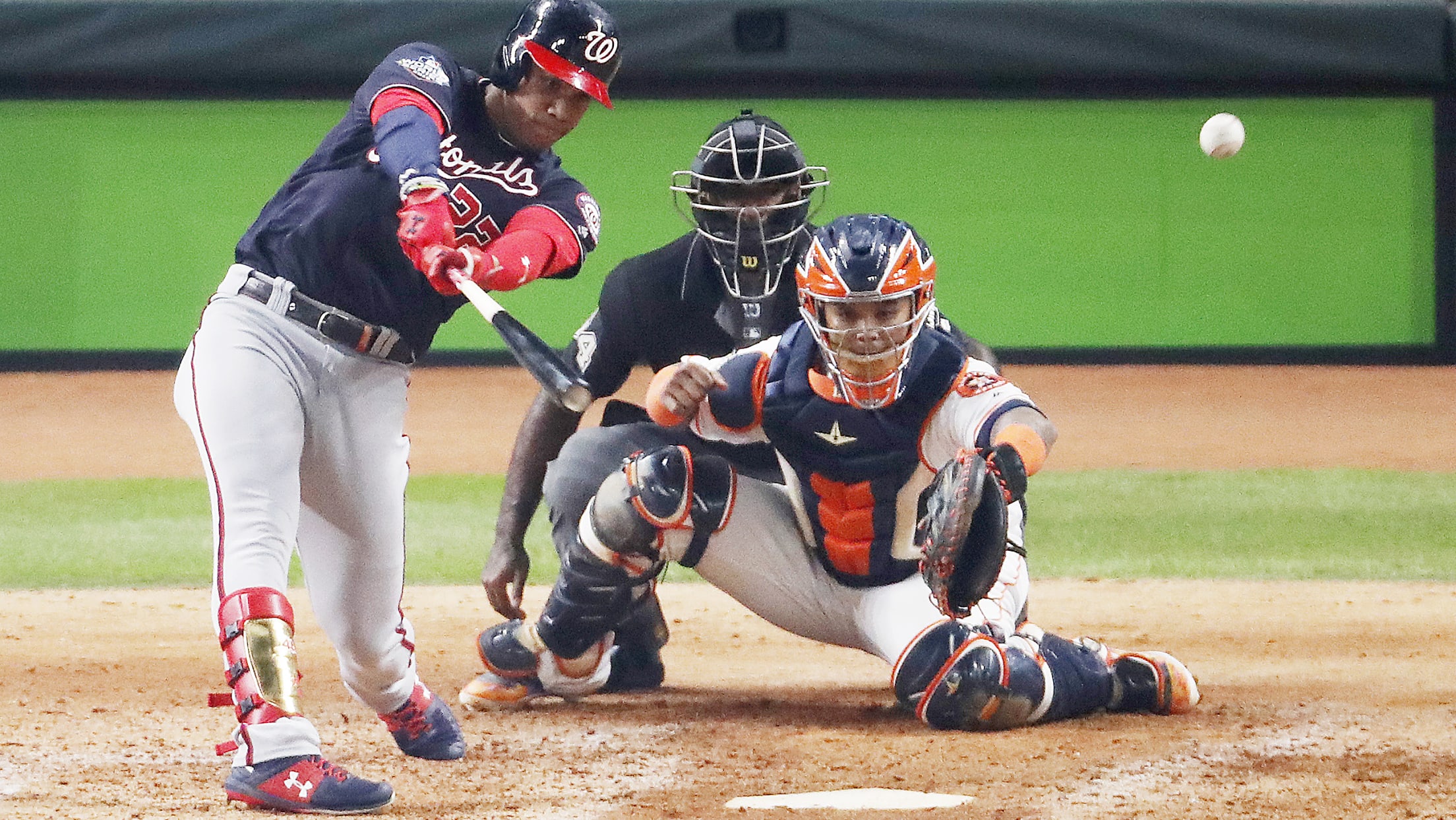 If Game 1 of the World Series gave us a preview of what's to come, we're in for another great Fall Classic.
After guarantee, Soto homers off Cole
Nats' 20-year-old phenom has historic World Series debut
HOUSTON -- Few hitters, especially those who bat left-handed, are capable of hitting balls onto the train tracks sitting above the left-field wall at Minute Maid Park. Since Statcast began tracking in 2015, no left-handed hitter had launched a ball 417 feet to the opposite field in this ballpark. But
Soto, Nats conquer Cole, take Gm 1 in Houston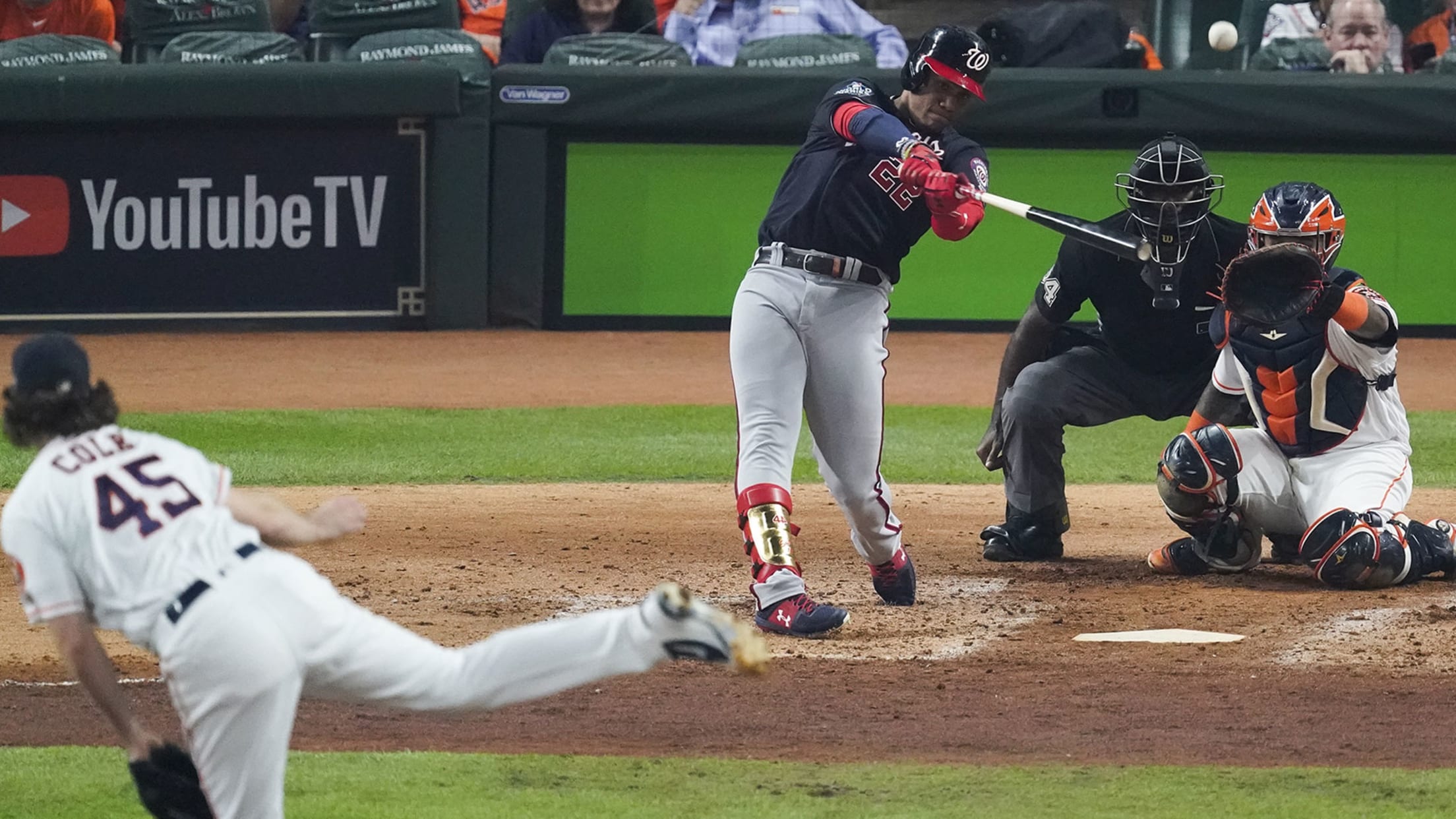 HOUSTON -- The anticipation of the opener of this World Series centered on the epic pitching matchup of Gerrit Cole vs. Max Scherzer. Heck, even the national anthem singer was the appropriately named Nicole Scherzinger.
Turner's steal means free tacos for America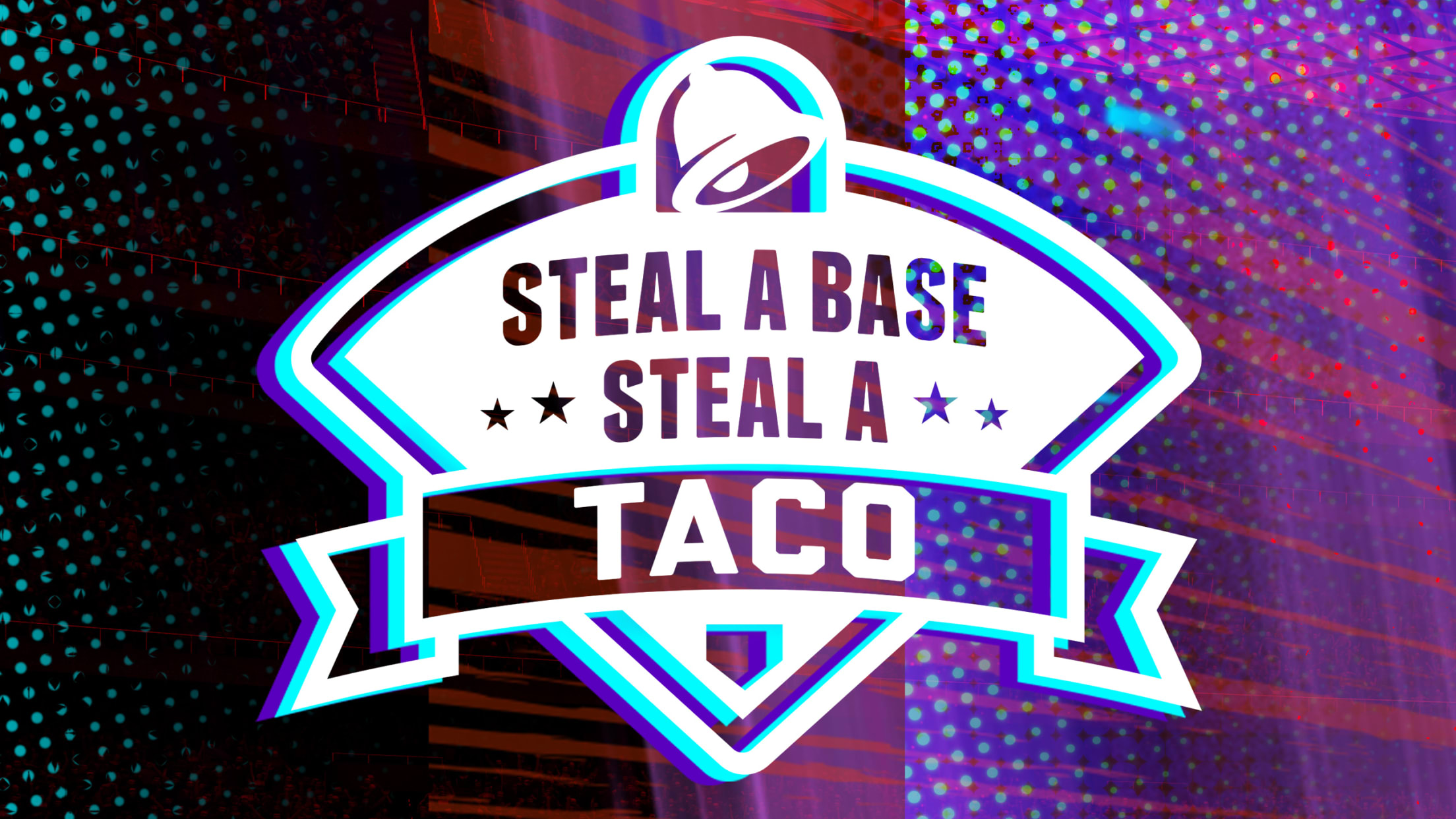 It didn't take long for Nationals shortstop Trea Turner to become this year's Taco Hero. The speedster swiped second base during the top of the first inning in Tuesday's World Series Game 1 -- which Washington won, 5-4 -- to net all of America free tacos as part of Taco
Scherzer weathers turbulence in Nats' G1 win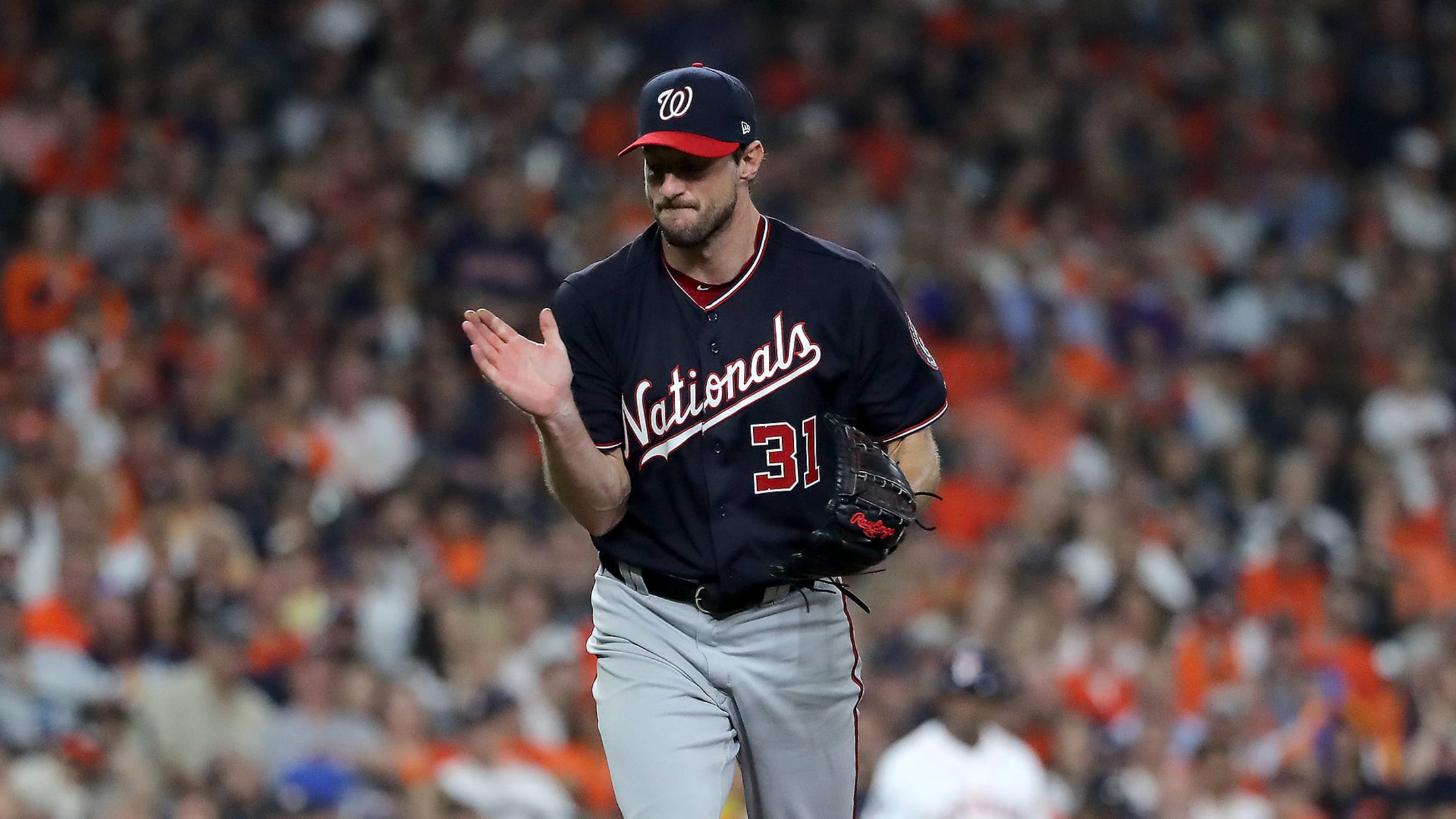 HOUSTON -- It's no secret that the Nationals intend to rely on their starting pitching in order to get past the Astros in the 2019 World Series. It wasn't always pretty, but Max Scherzer did just enough to come out on top in the highly anticipated pitching battle against Gerrit
Ranking the World Series players as prospects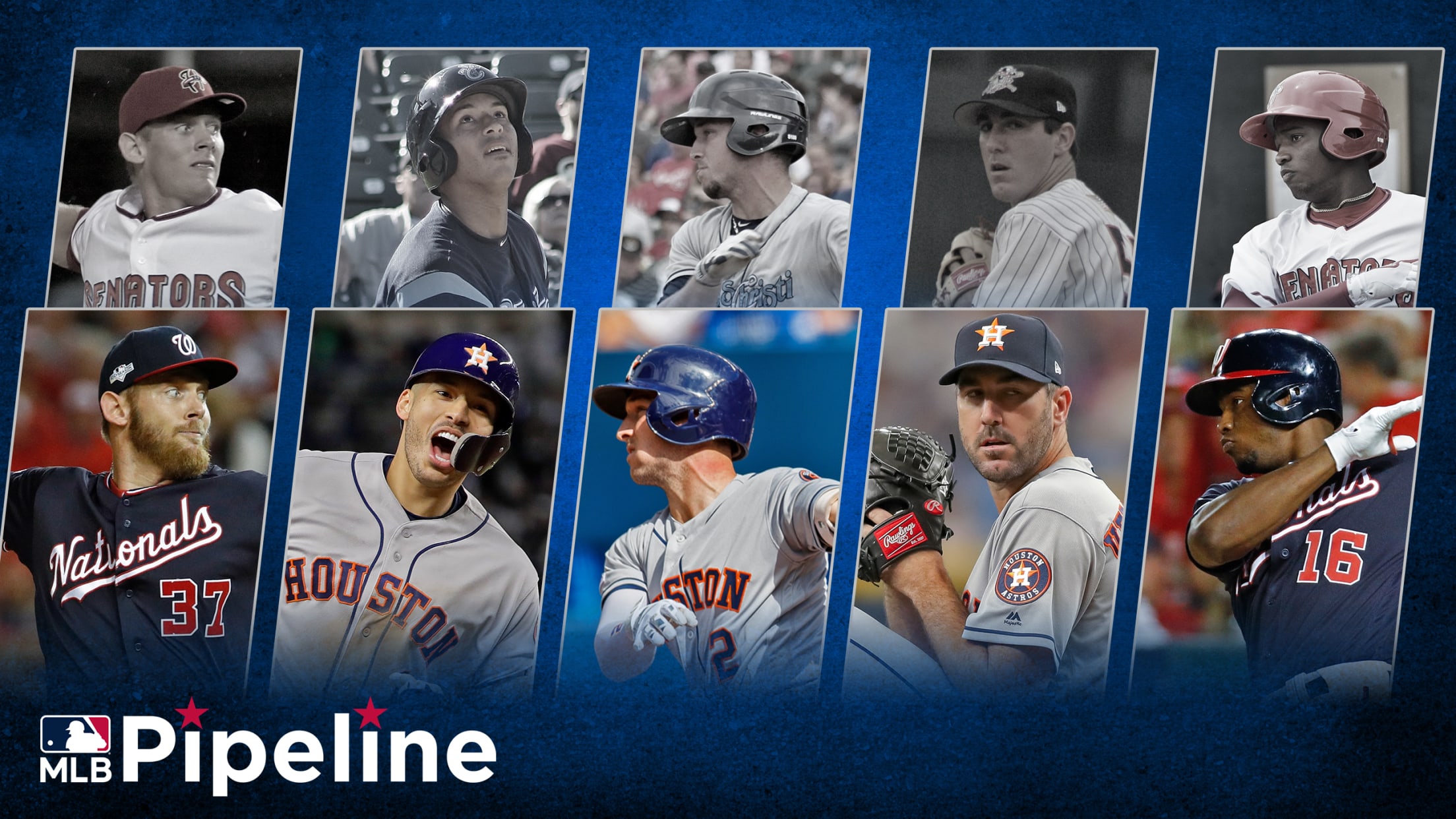 The Astros and Nationals built their pennant winners with a similar blueprint, parlaying first-round picks into superstars, making a couple of high-impact international signings and bolstering their pitching staffs via trades or free agency. Most of the key performers on both clubs were highly touted prospects in the Minors, with
Breaking down World Series keys after Game 1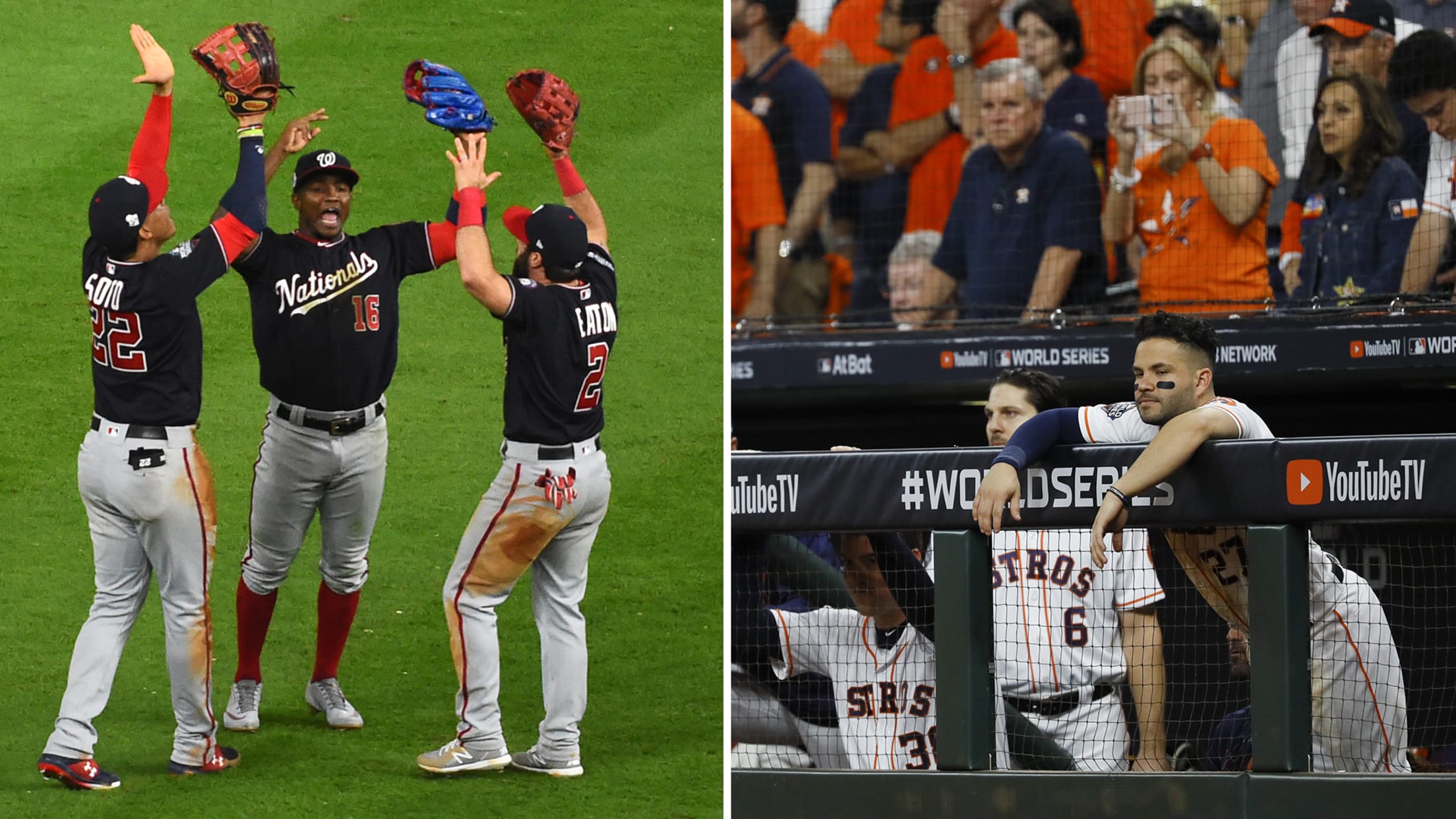 HOUSTON -- If you were surprised by Game 1 of the 2019 World Series, you haven't been paying attention. This is what the Washington Nationals do to teams. This is what they've done for the last five months. They play with a certain resolve and fearlessness, which may be a
Assisted by Corbin, Nats' bullpen seals G1 win
After Scherzer goes 5, Washington quartet closes out Series opener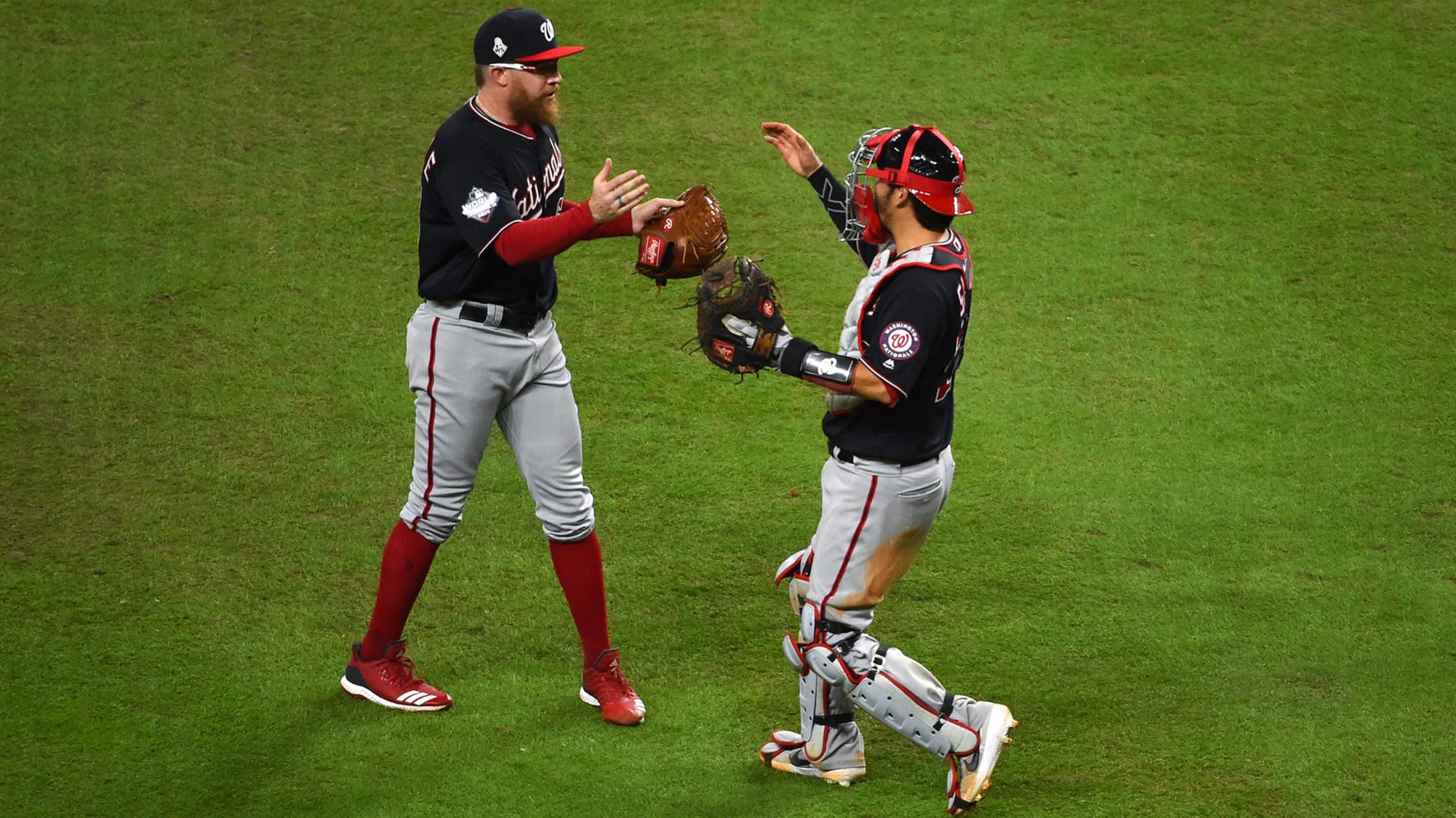 HOUSTON -- As Max Scherzer's pitch count rose, spiking early Tuesday evening and continuing to climb throughout the middle innings, the prevailing thought in the Nationals' bullpen was that at some point, Scherzer would find a way to correct the issue. As a precaution, Daniel Hudson and Sean Doolittle began
15 facts, figures about World Series Game 1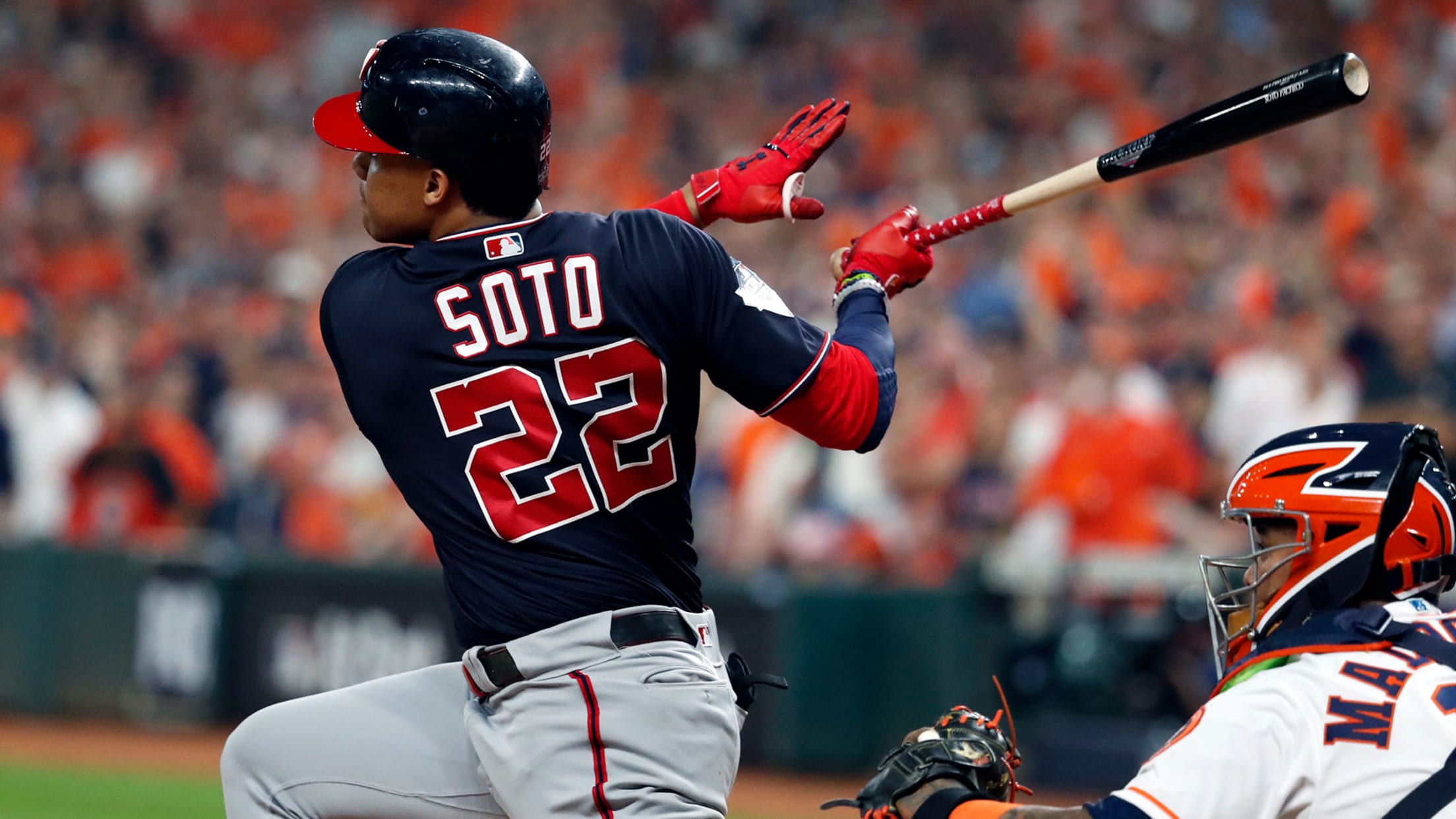 The 115th World Series jumped out to a thrilling start Tuesday night in Houston, with a duel between Gerrit Cole and Max Scherzer, the latest displays of postseason power from Juan Soto and George Springer and a tense battle that was decided by a single run. The Nationals, playing the
Nats-Astros joins World Series Game 1 greats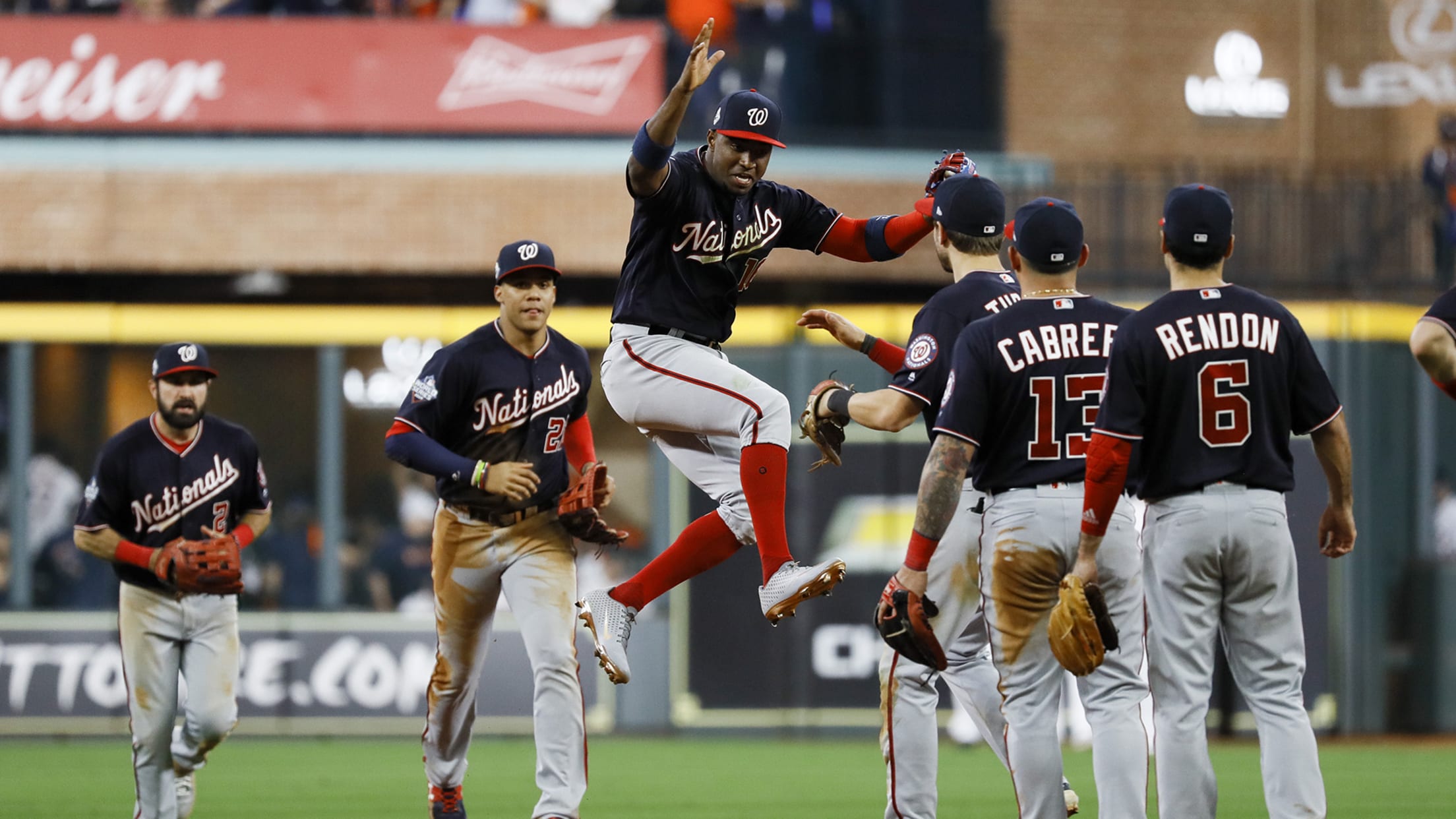 It's always important to get off to a good start, and what better way to start the Fall Classic than with a particularly memorable game? Game 1 of this year's World Series was one of the better openers in recent memory. Here's a look at some of the greatest World
Zim takes Cole deep in World Series debut
Veteran is third-oldest player to homer in first Fall Classic PA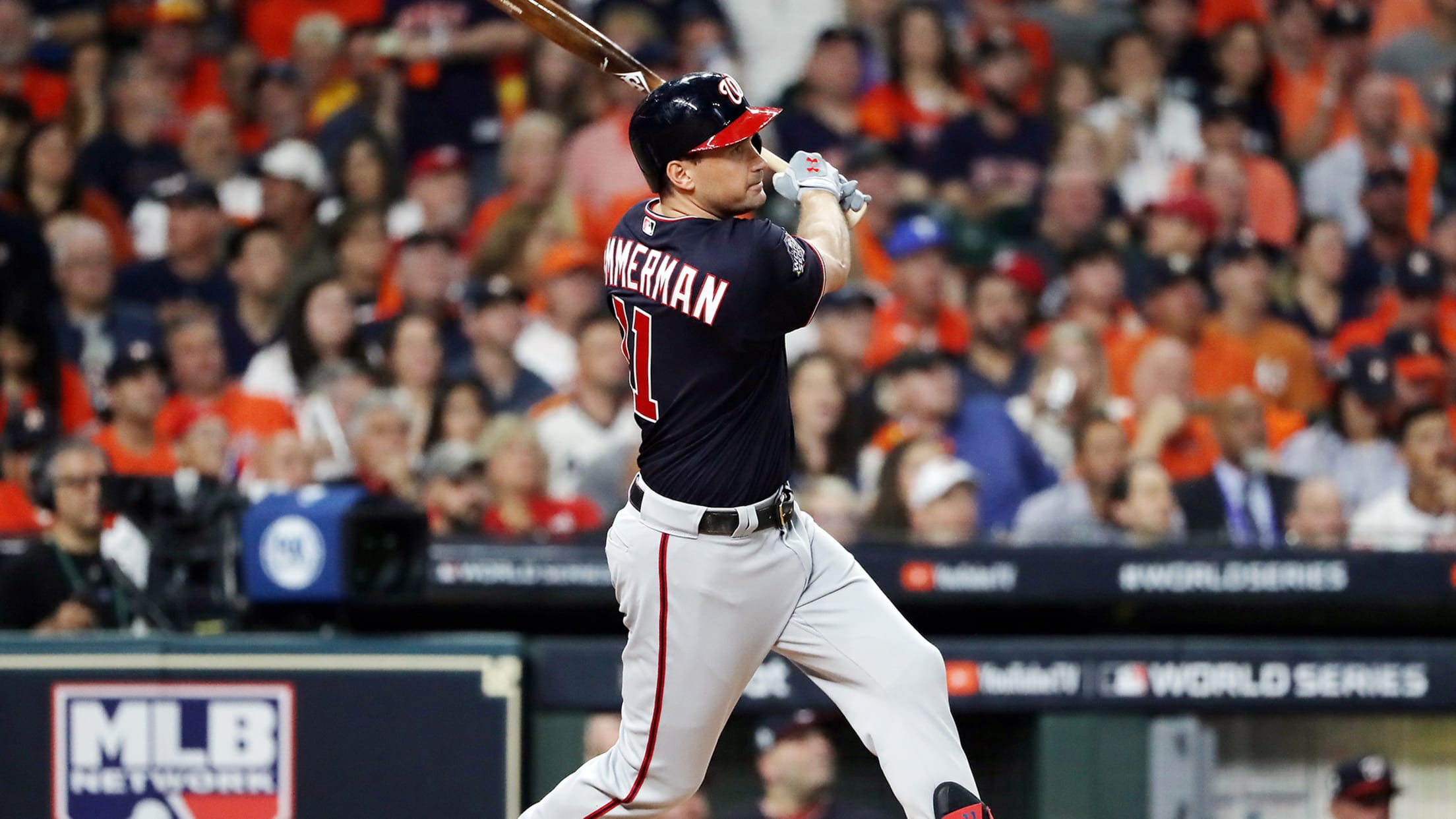 HOUSTON -- Ryan Zimmerman played for 15 seasons in the big leagues before getting a chance to play in the World Series, tied for the most among active position players. So when he finally got his chance to play in the Fall Classic, he made the most of it right
Ross, Suero on Nats' World Series roster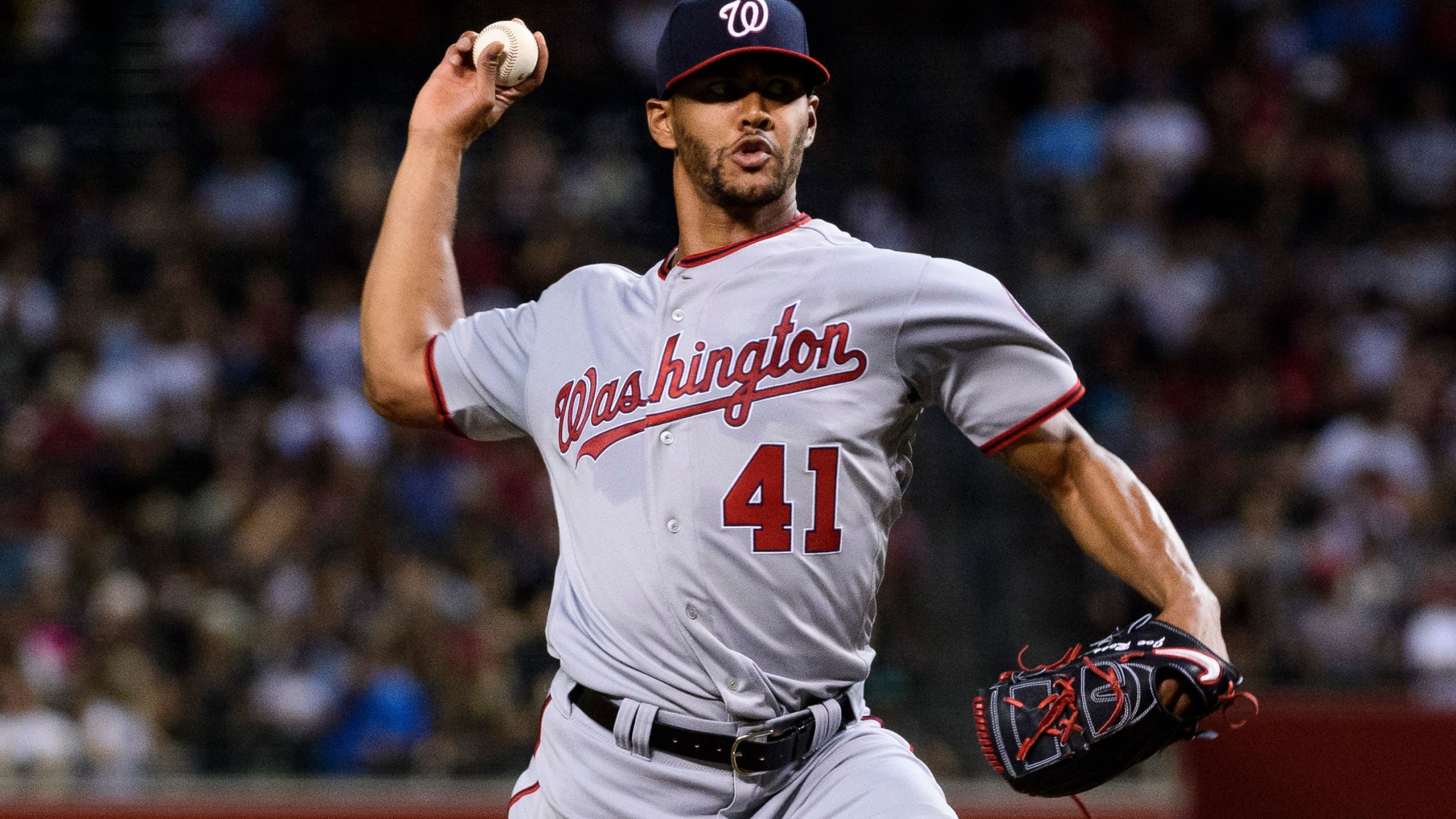 HOUSTON -- The Nationals revealed their World Series roster on Tuesday afternoon, making a couple of tweaks in the bullpen but largely keeping the group intact as they prepare for Game 1 against the Astros at Minute Maid Park.
Will extra rest help or hurt Nats in World Series?
Nine of last 10 teams to clinch pennant first lost in World Series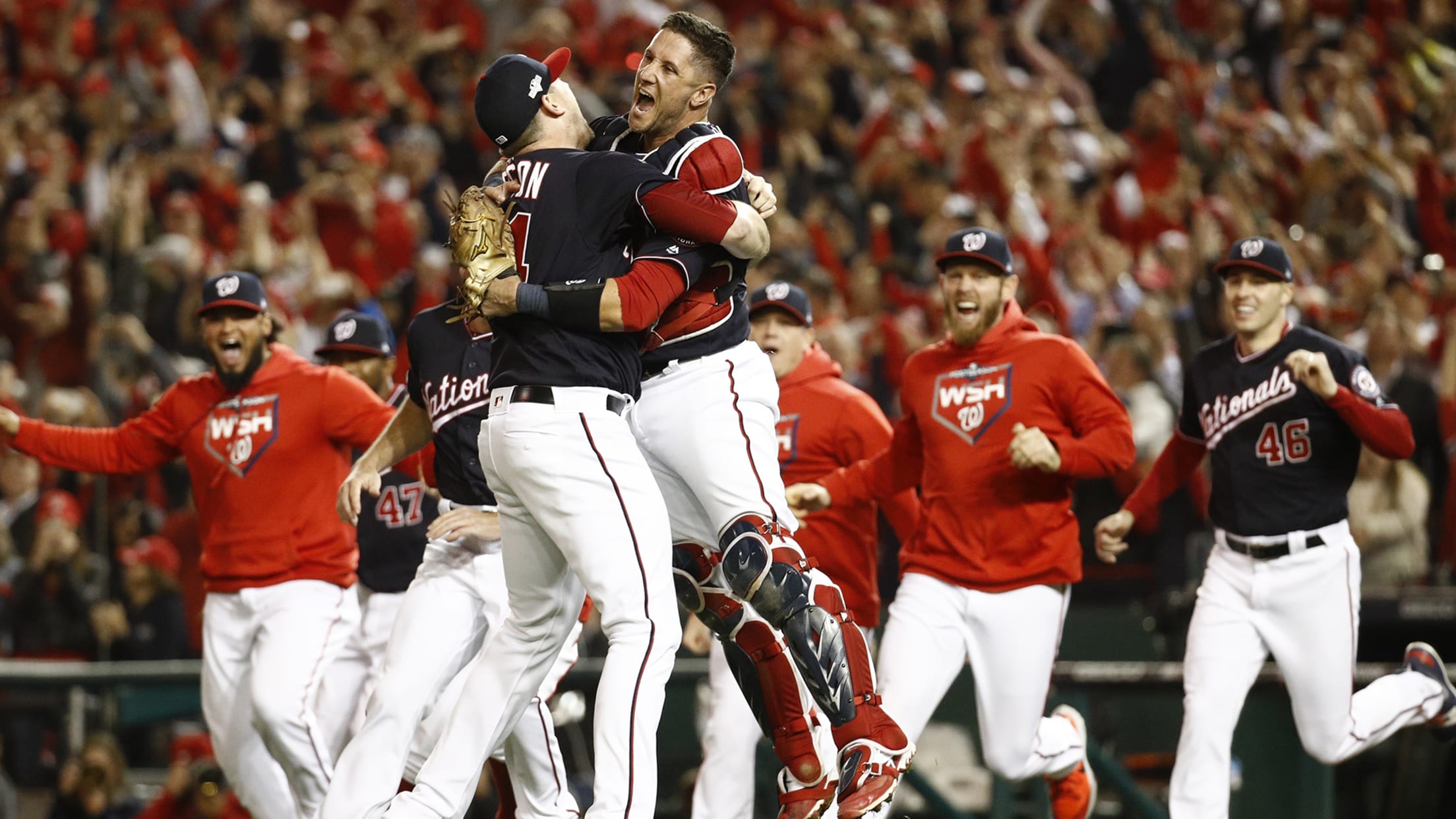 When the Nationals step the to the plate Tuesday to face Gerrit Cole and the Astros in Game 1 of the World Series, it will be Washington's first game in exactly one week.
Kendrick to serve as Nats' DH in AL park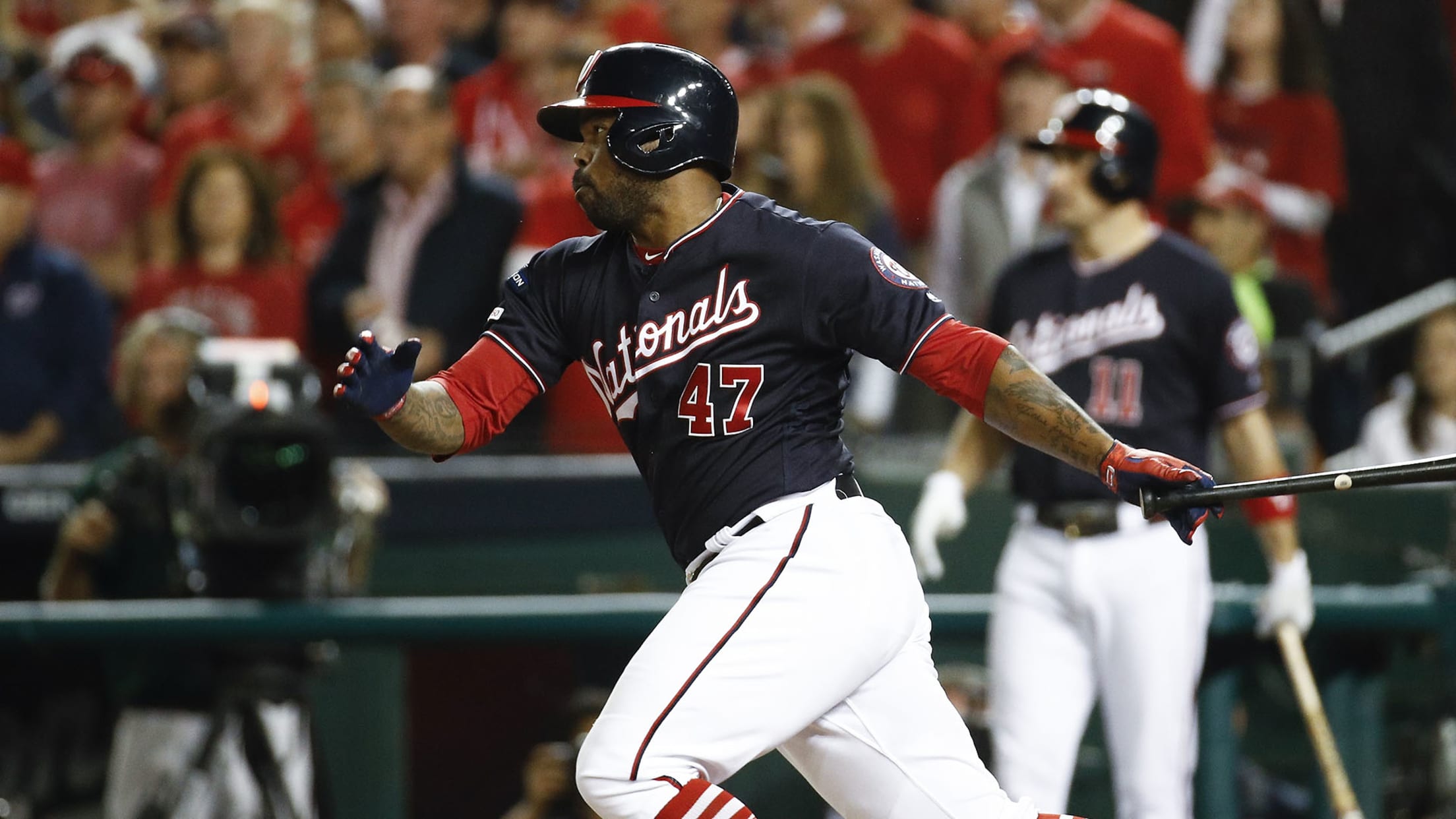 HOUSTON -- The Astros may have won home-field advantage in this best-of-seven World Series, but at least one National should benefit from Games 1 and 2 at Minute Maid Park.
Nationals Arizona Fall League updates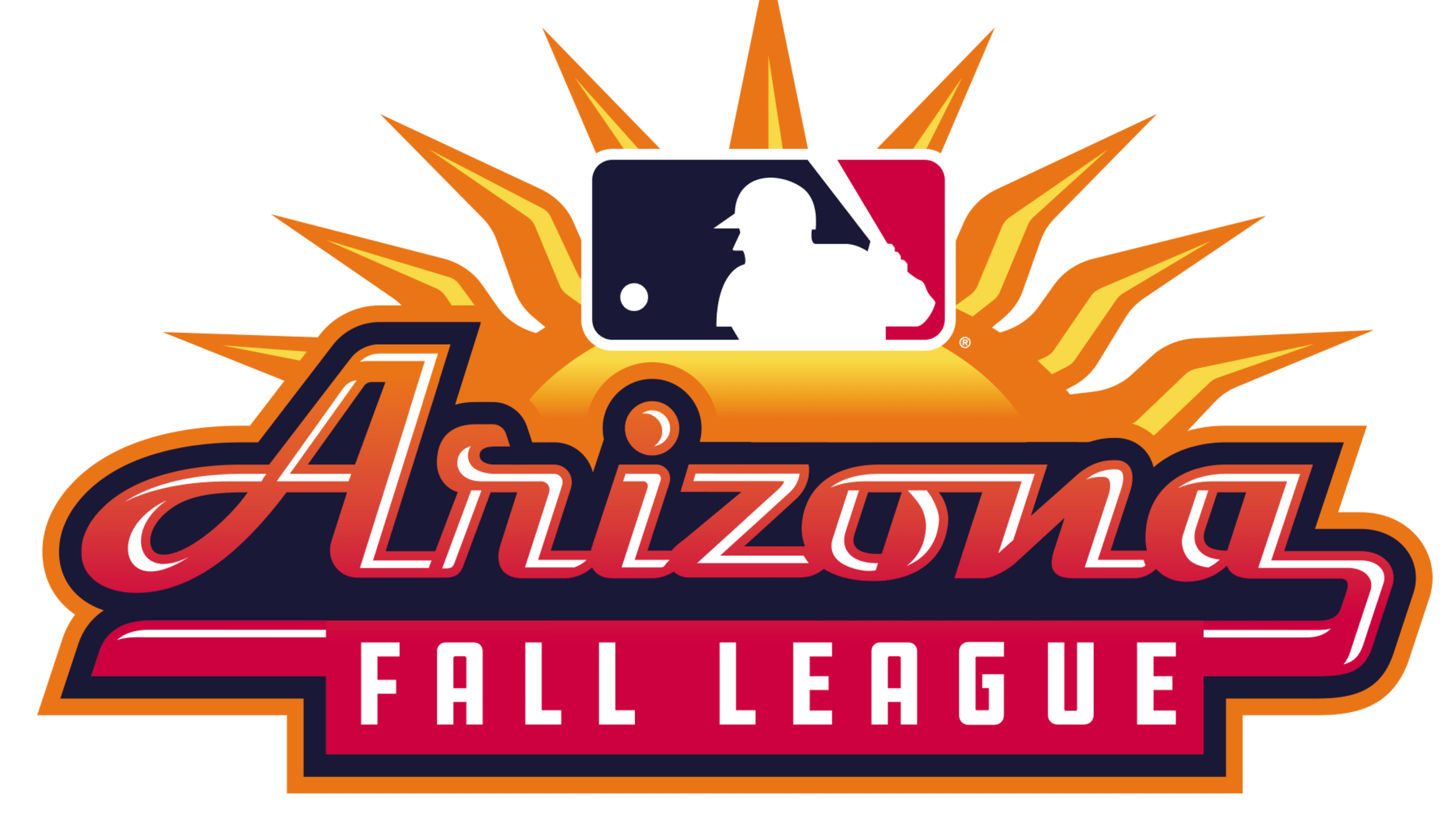 Eight Nationals prospects are playing for the Surprise Saguaros in the 2019 Arizona Fall League: Infielder Luis Garcia (No. 2, MLB No. 91), right-hander Sterling Sharp (No. 13), outfielder Cole Freeman (No. 26), left-hander Nick Raquet (No. 29), outfielder Nick Banks, and right-handers Andrew Lee and Pearson McMahan. Catcher Jakson
Three reasons to love Trea Turner
Nats star has crazy speed, sneaky power and sneakier dance moves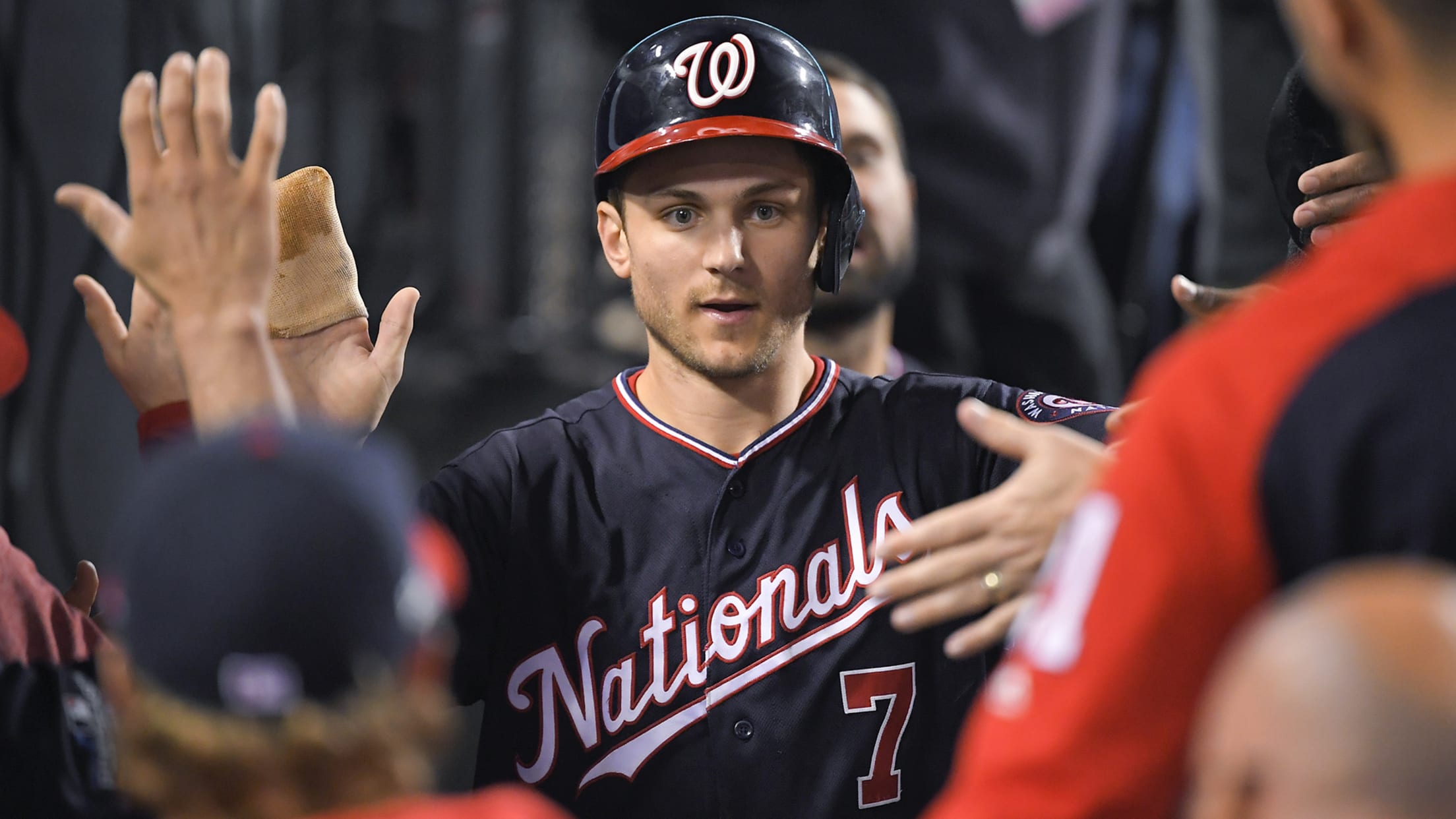 The Nationals have stars for days. They have a manic ace in Max Scherzer. They have quiet heroes like Anthony Rendon and Stephen Strasburg. A wunderkind in Juan Soto. But shortstop Trea Turner has been lightning in a bottle ever since he stuck with Washington for good four summers ago.
World is about to meet Nats' 20-year-old phenom
Fall Classic stage is a perfect platform for Soto's talents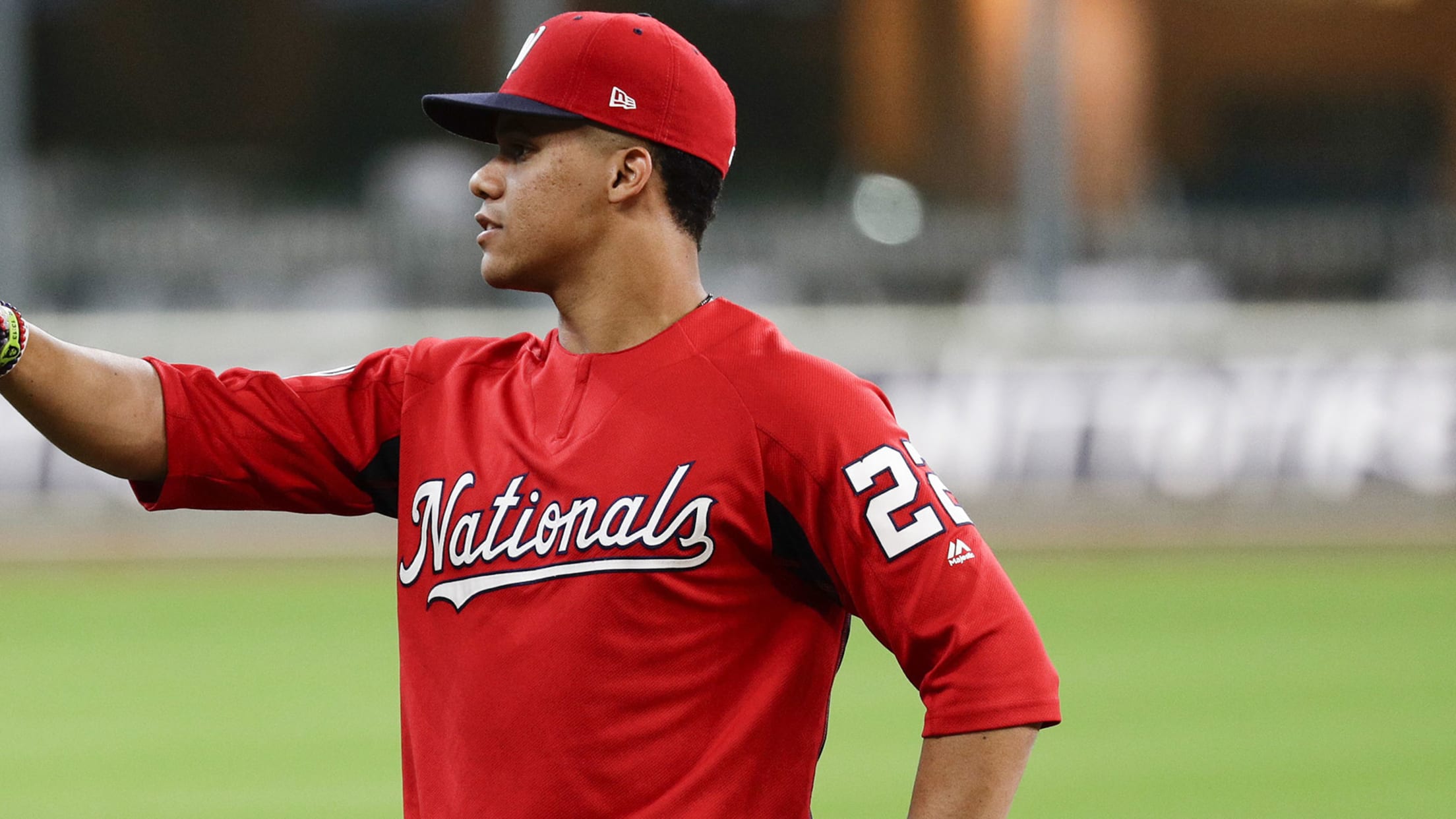 HOUSTON -- It's the night of Game 3 of the National League Championship Series and Juan Soto is not happy. His swing is betraying him. His timing is off, and he feels too far out in front of every pitch. In the dugout, he confers with hitting coach Kevin Long,
Nats veterans eager for World Series debuts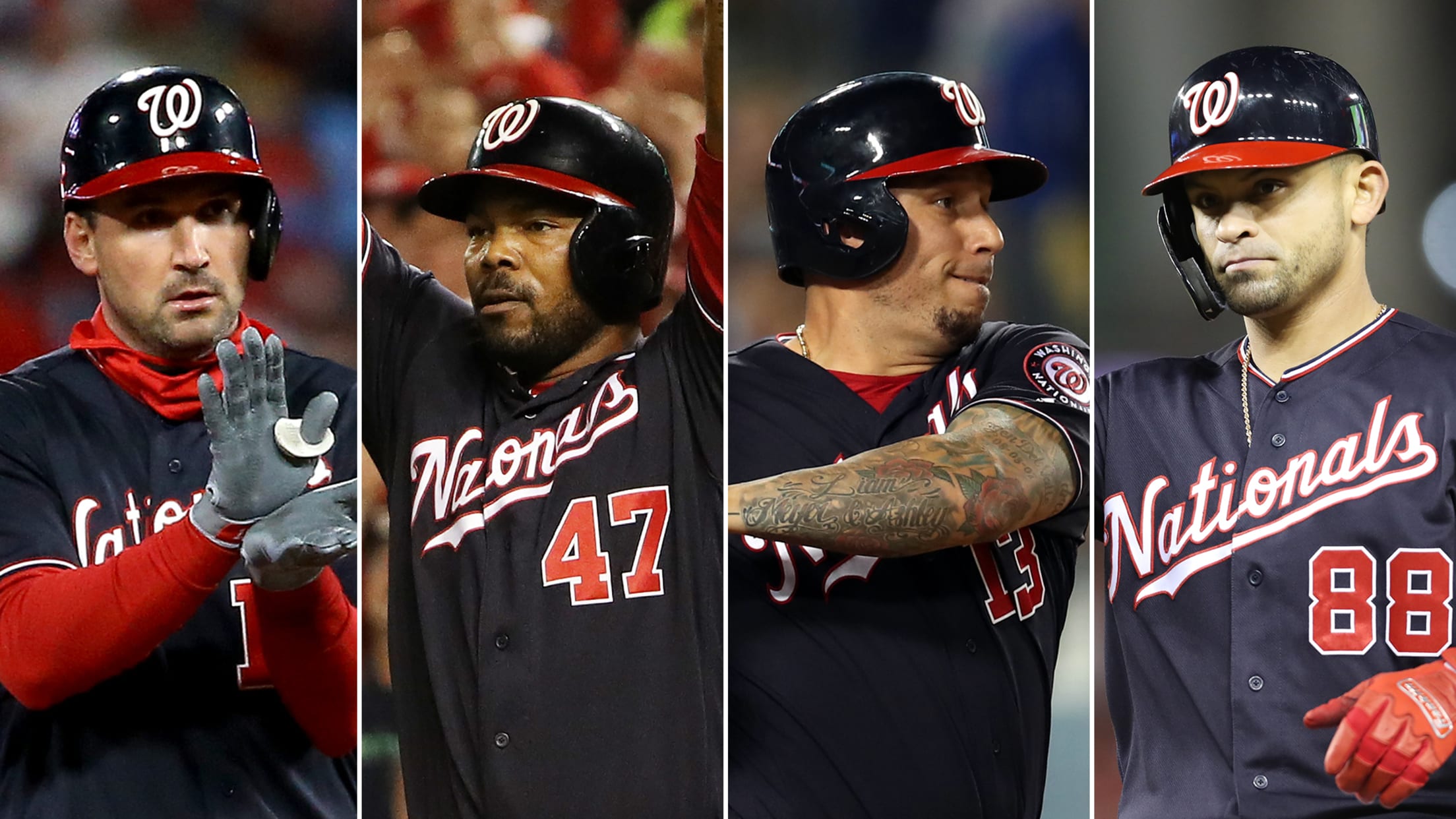 HOUSTON -- To say this World Series appearance has been a long time coming would be an understatement for more than a few Nationals veterans.
What are the 7 biggest World Series storylines?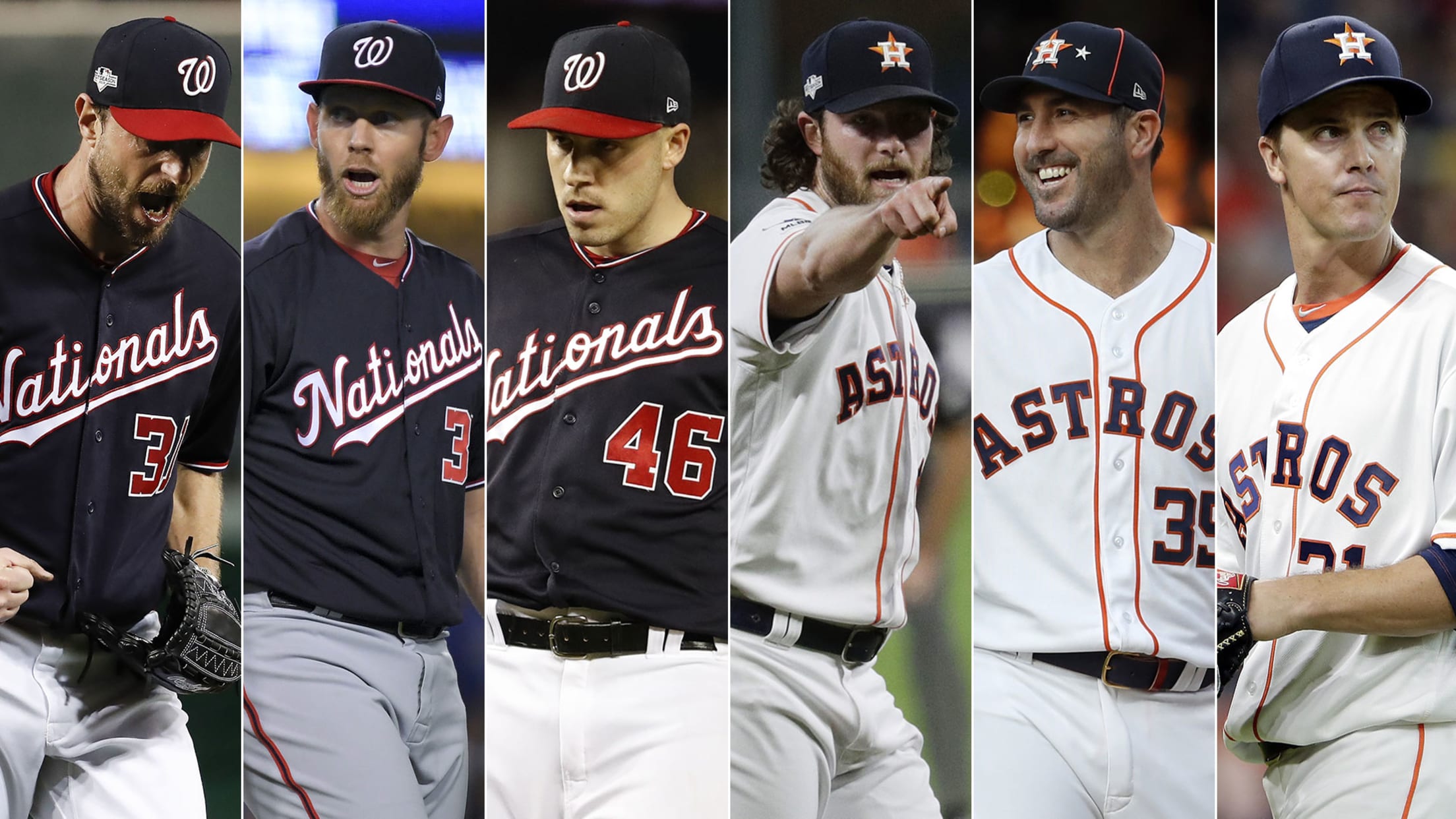 HOUSTON -- Welcome to a World Series featuring teams that are mirror images of one another in some important ways. You want Fall Classic storylines? We've got 'em. There are Cy Young winners and MVP finalists and dominant starting pitchers on both sides. There are also bullpen questions on both