Messy sixth sinks Nationals in Miami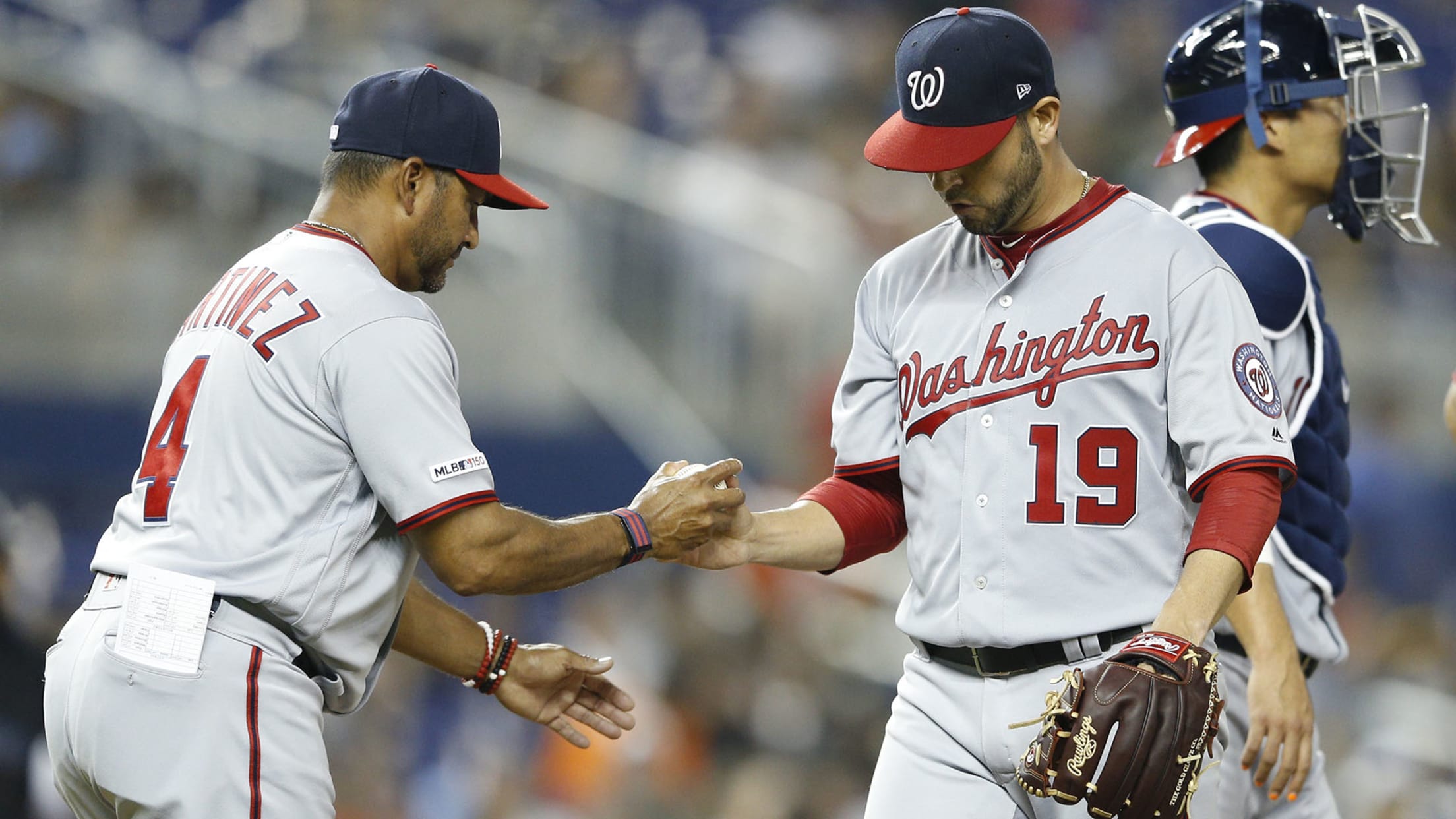 MIAMI -- If the opening weeks of the season have provided one takeaway, it's that the National League East appears to be as tightly contested as anticipated with the Phillies, Braves, Mets and Nationals all in position to compete for the division crown. The difference in the division could come
Nats recall Adams, Williams goes on injured list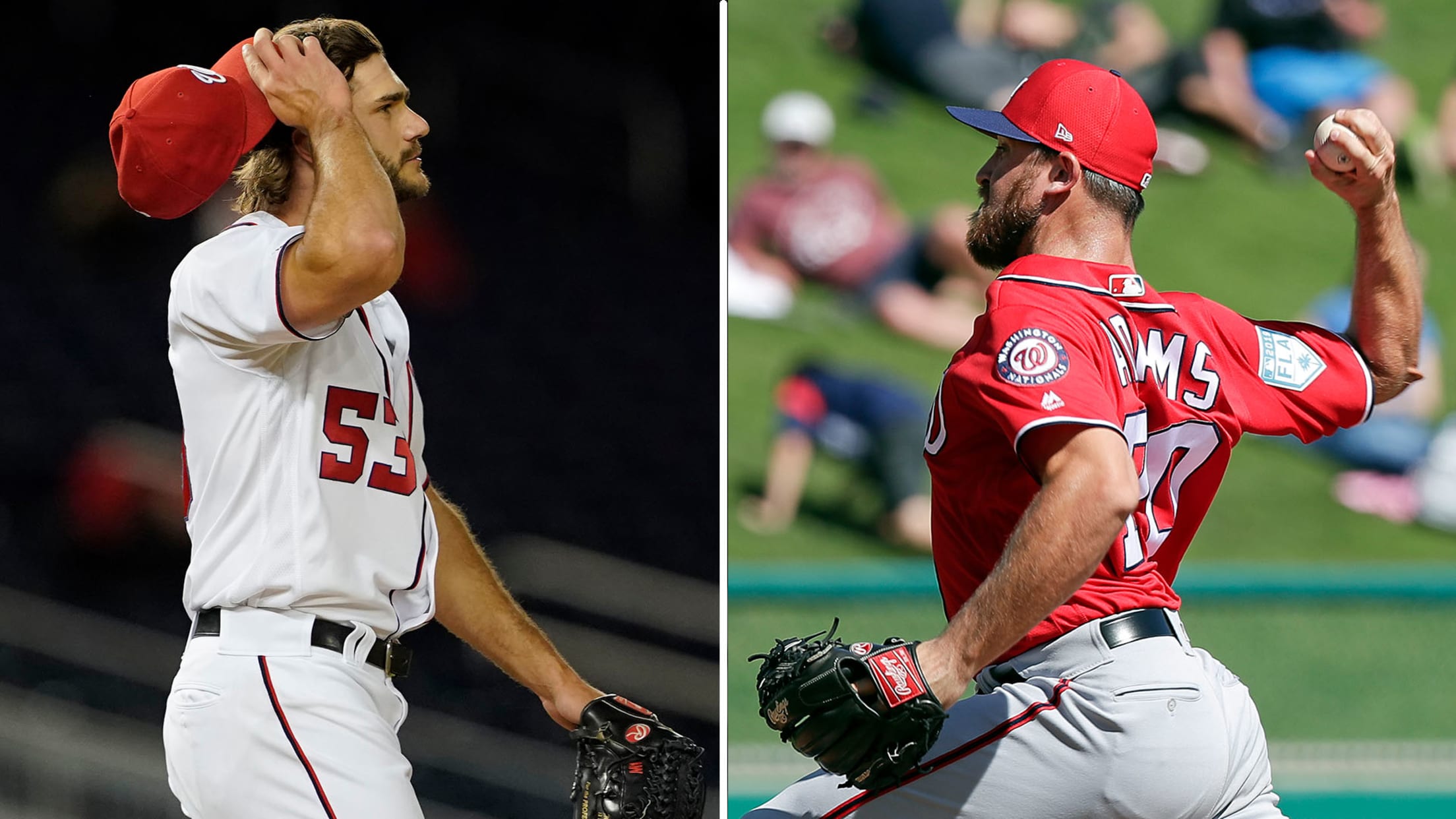 MIAMI -- The Nationals added a new arm to their beleaguered bullpen prior to Friday night's game against the Marlins, placing reliever Austen Williams on the 10-day injured list with a sprained right AC joint (retroactive to Thursday) and promoting reliever Austin Adams from Triple-A Fresno. Adams is the latest
Friday's top prospect performers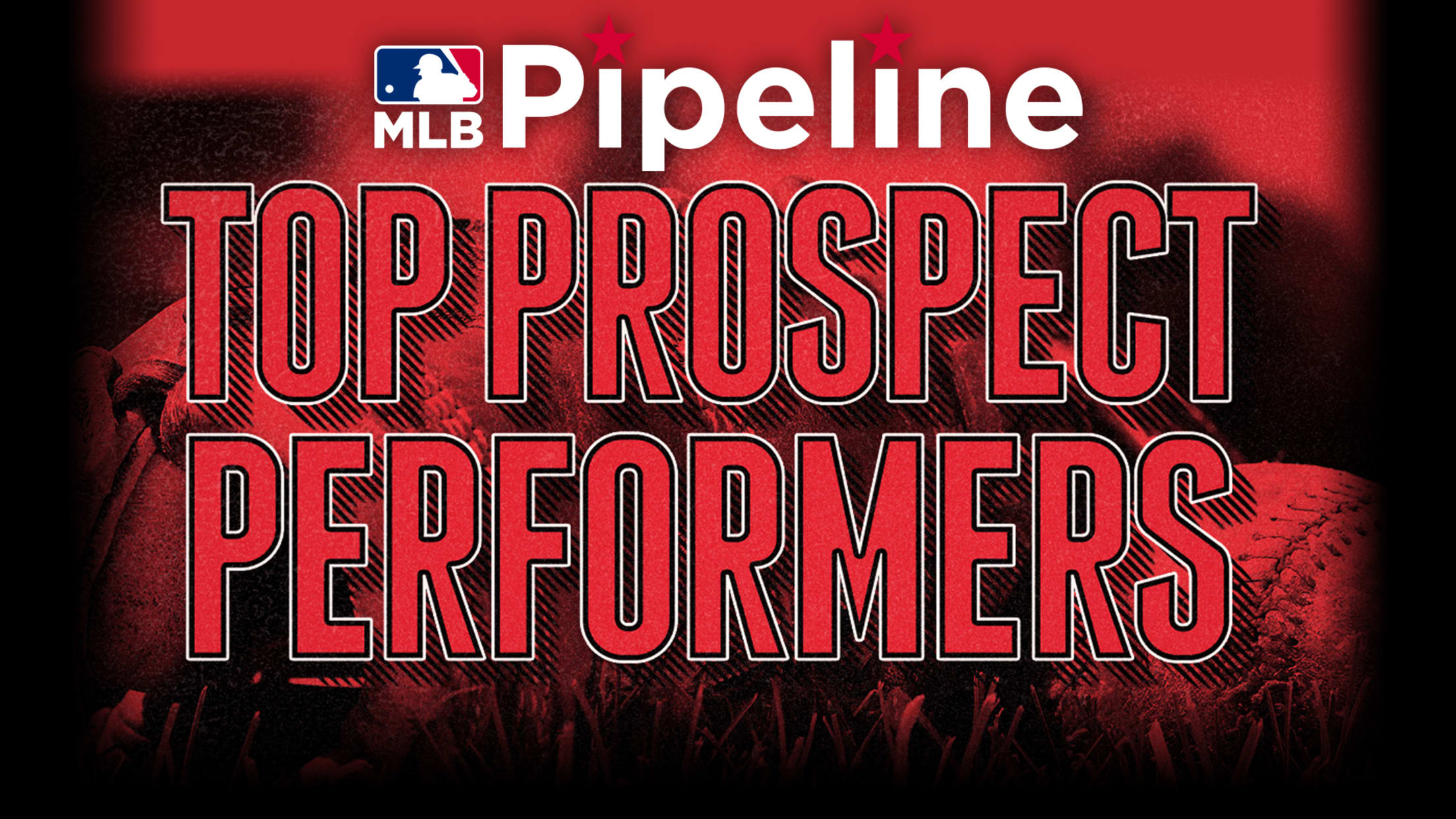 Here's a look at Friday's top Minor League performers from each team's Top 30 Prospects list: AMERICAN LEAGUE EAST Blue Jays: Jordan Groshans, SS/3B (No. 5) -- 1-for-4, 2B, BB, R, RBI (Class A Lansing) Groshans has been a force for the Lugnuts so far this season, and he added
Dominant Corbin picks up 1st win as a Nat
Lefty strikes out nine over 7 2/3 innings of one-run ball vs. Giants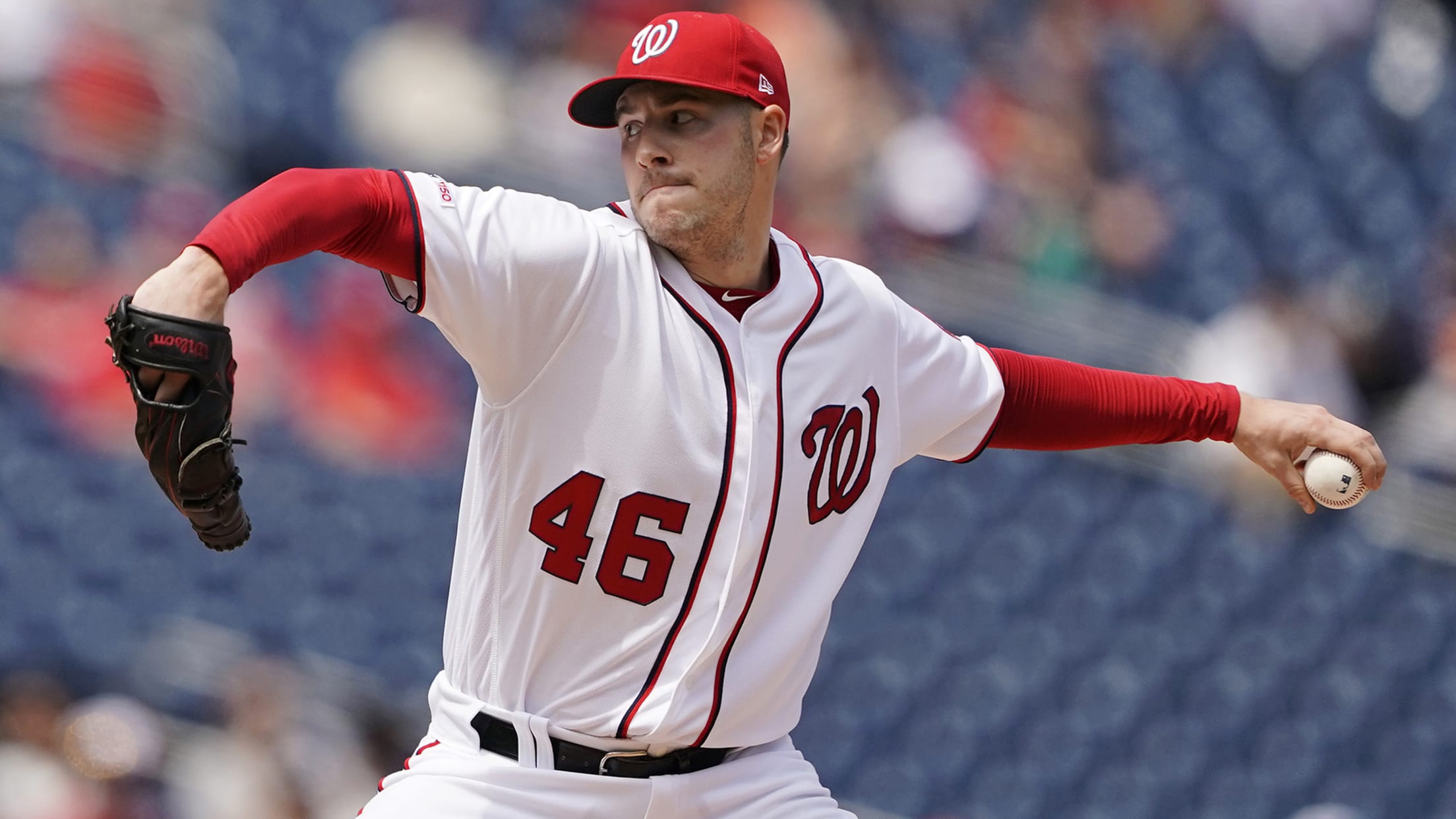 WASHINGTON -- Normally when a team inks a player to a contract as lucrative as the six-year, $140 million deal the Nationals awarded to left-hander Patrick Corbin this winter, that player enters the season as the center of attention. Yet Corbin has managed to fly under the radar at the
Fastball-masher Soto now adjusting to offspeed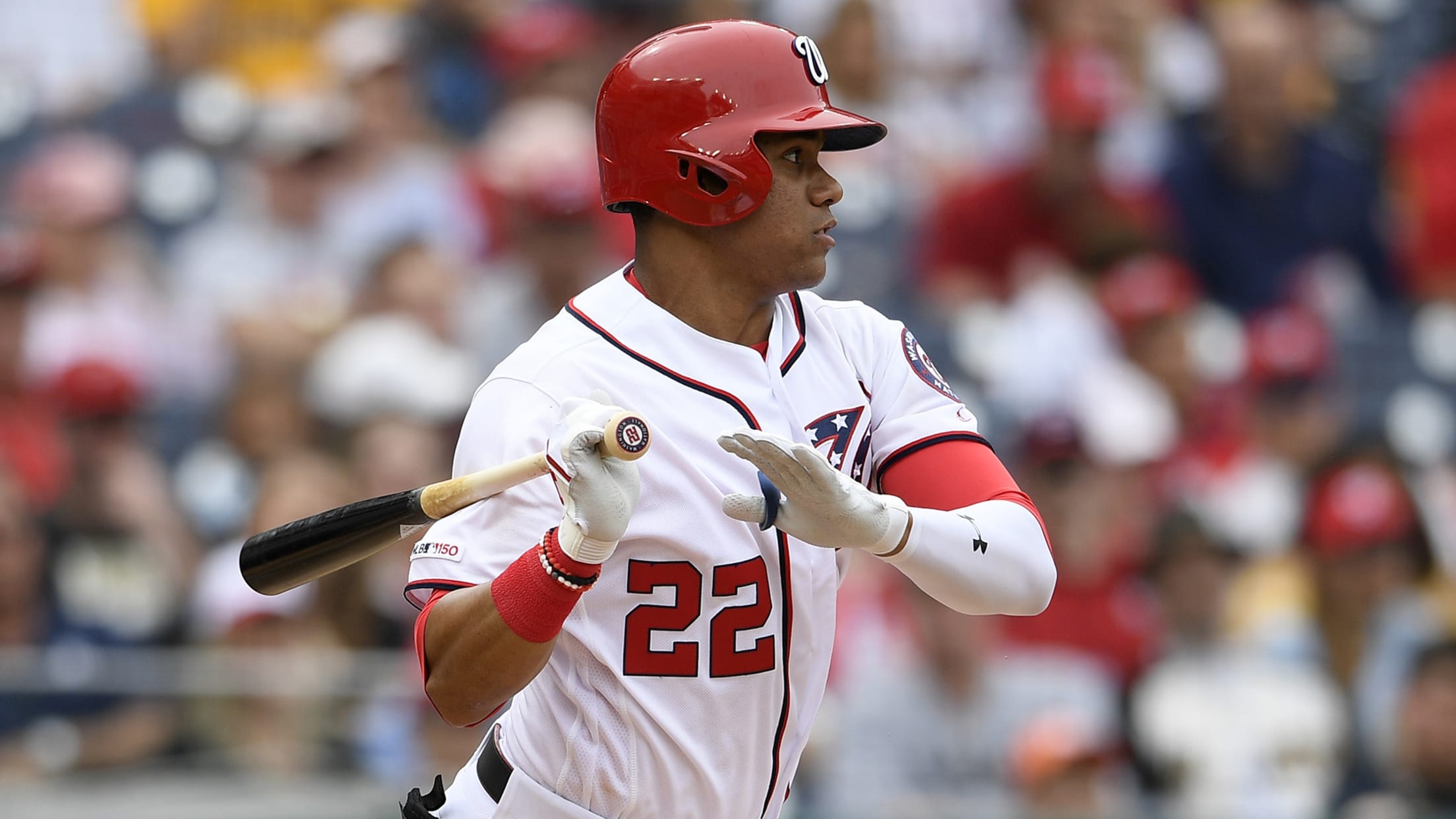 WASHINGTON -- A few days ago in the batting cage, Nationals hitting coach Kevin Long brought Juan Soto some information to help quantify what the second-year slugger had been facing at the plate. Nobody in the Majors had seen a lower percentage of fastballs than Soto at that point, and
Here's each team's closer of the future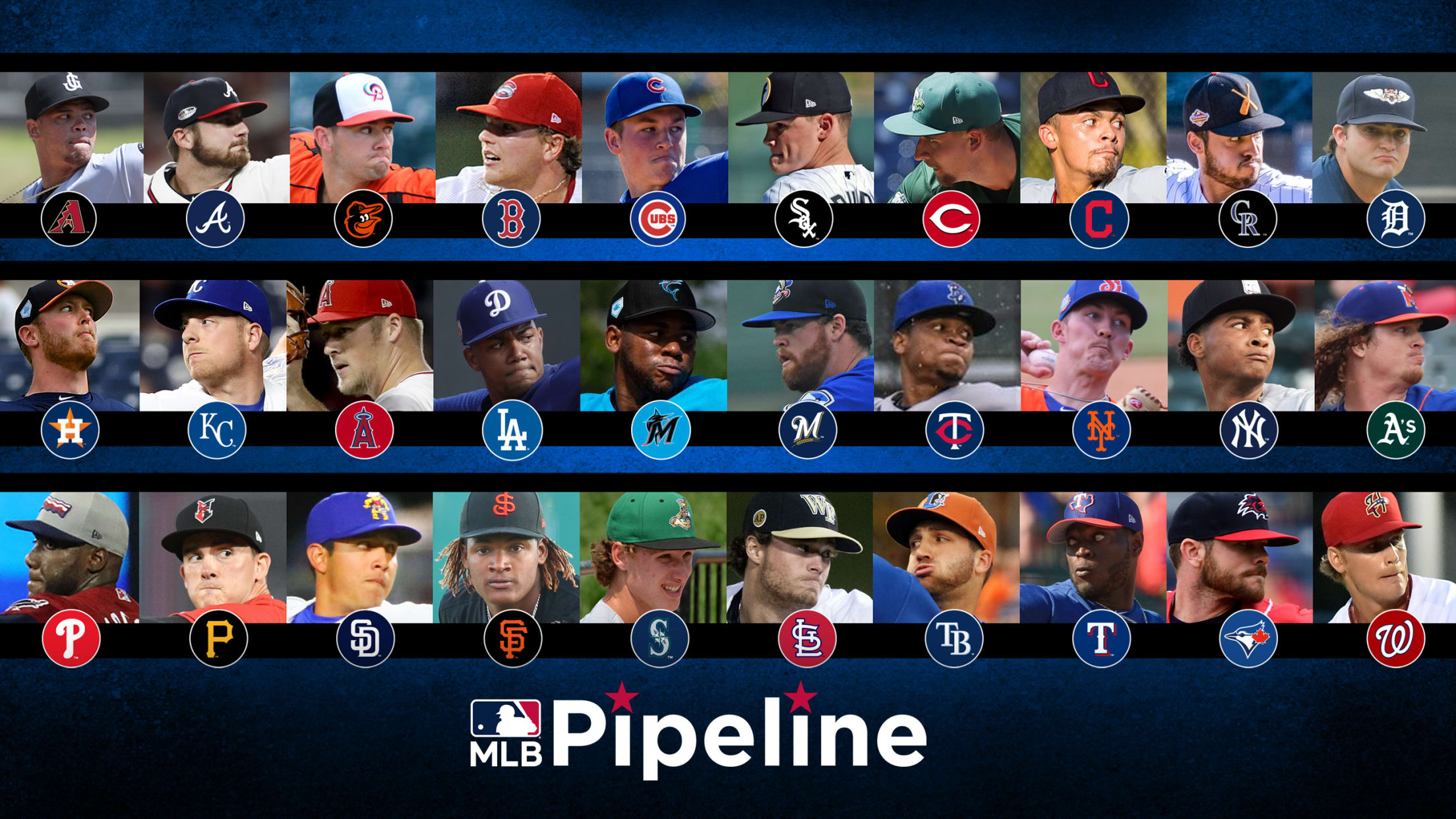 Identifying future closers isn't easy. Mariano Rivera, baseball's all-time saves leader and only unanimous Hall of Famer, began his pro career as a starter. So did Edwin Diaz and Wade Davis, the league leaders in saves a year ago, and many other pitchers who are nailing down the ninth inning
Each NL East team's secret weapon is ...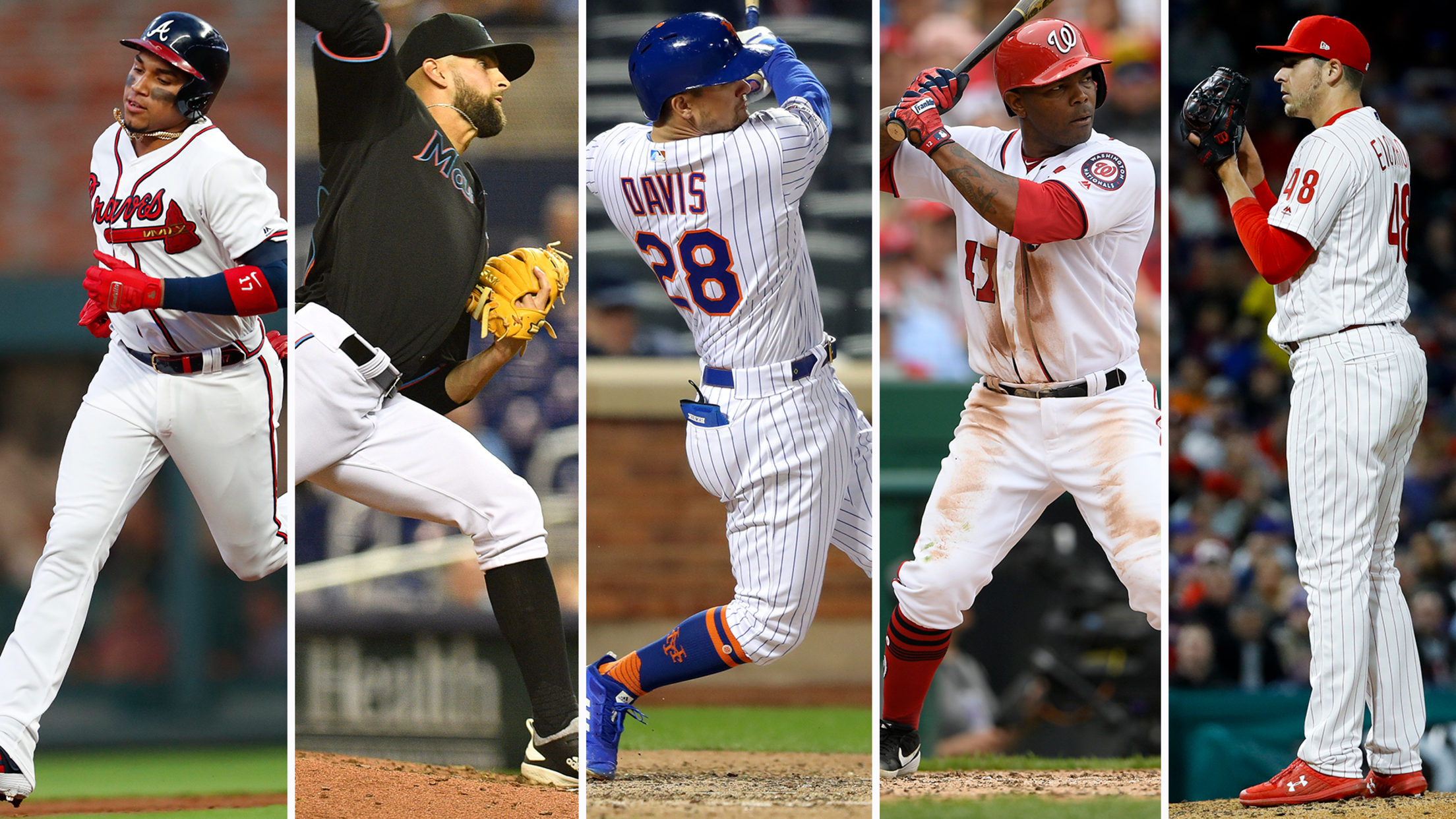 It will take more than sluggers, aces and closers to win the National League East this season. It will take role players and fifth starters and middle relievers, too. It might take somebody or something that nobody is expecting at all. We are talking about secret weapons, of course. It
Nats slug way to win with quartet of blasts
Soto, Kendrick, Adams, Suzuki power Washington to victory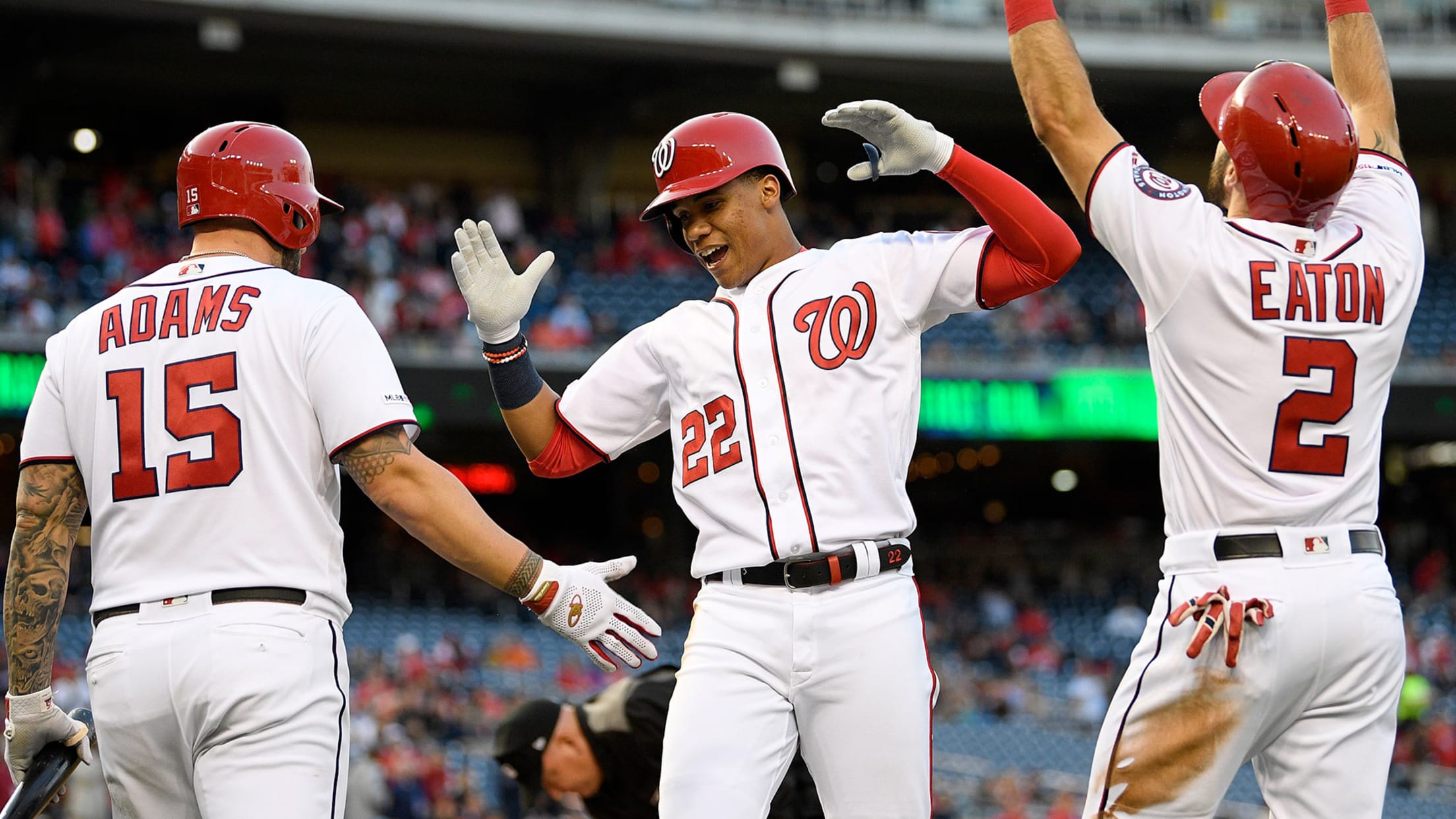 WASHINGTON -- The Nationals are going to have a set lineup this season as often as possible. It's the way that manager Dave Martinez prefers to keep things, believing the continuity each day can help give his hitters an edge. For Wednesday's game against the Giants, however, Martinez saw a
Kendrick's hot start creates conundrum at 2B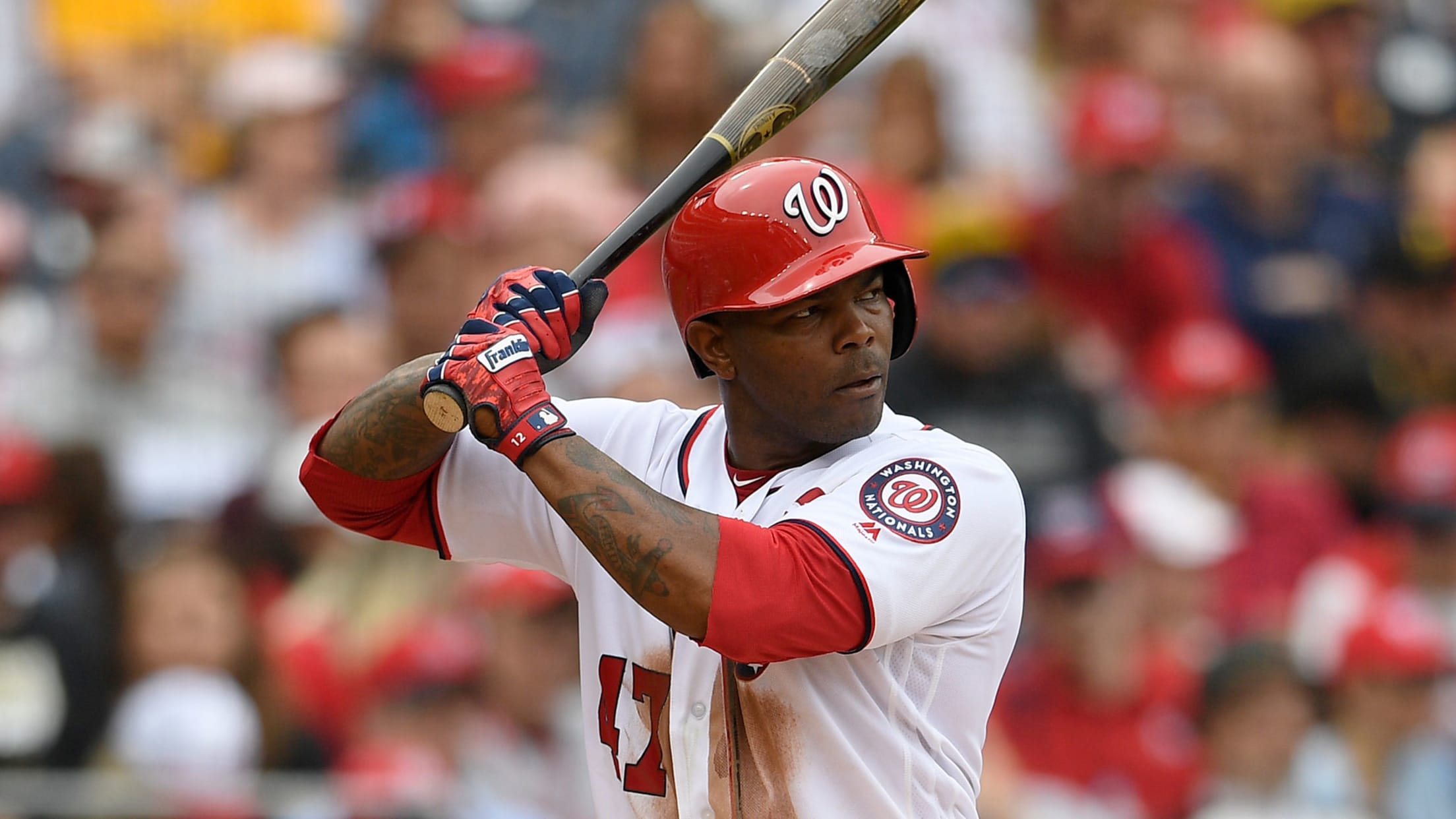 WASHINGTON -- Howie Kendrick started at second base Wednesday night against the Giants, the third time in the last four games that he got the nod over Brian Dozier, whom the Nationals signed during the offseason as one of their prime bounce-back candidates, but who has gotten off to a
Nats' pitching a mixed bag in loss to Giants
Strasburg fans 8, allows 3 homers; Rosenthal K's 2, allows 1 run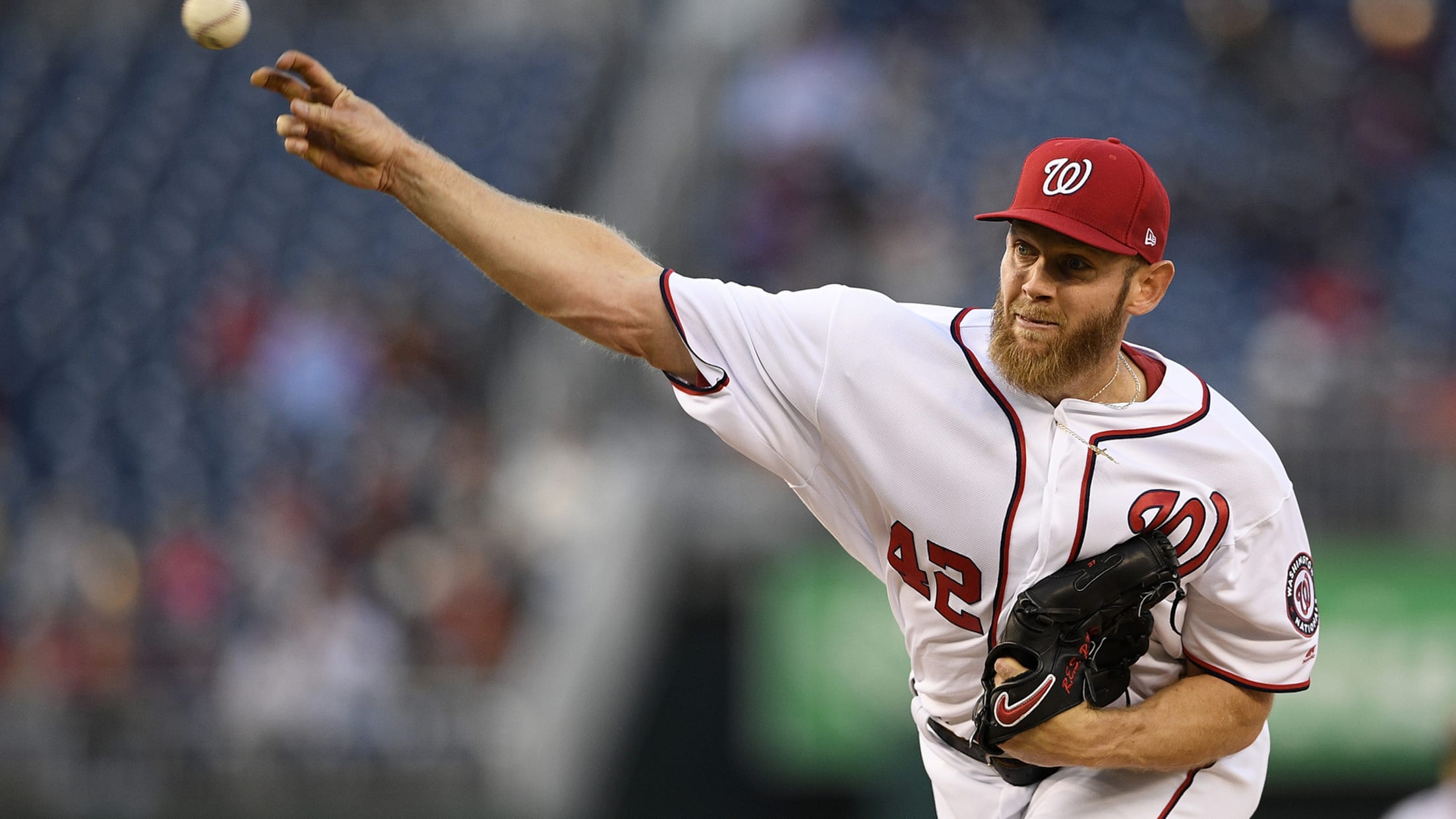 WASHINGTON -- The Nationals dropped Tuesday's series opener to the Giants, 7-3, and have now dropped three of the first four games on this six-game homestand. There was some good news Tuesday night: Anthony Rendon extended his career-best hitting streak to 14 games, and a key reliever got some promising
Nationals, Rendon resume contract talks
Veteran expected to seek pact similar to Arenado's 8-year, $260M deal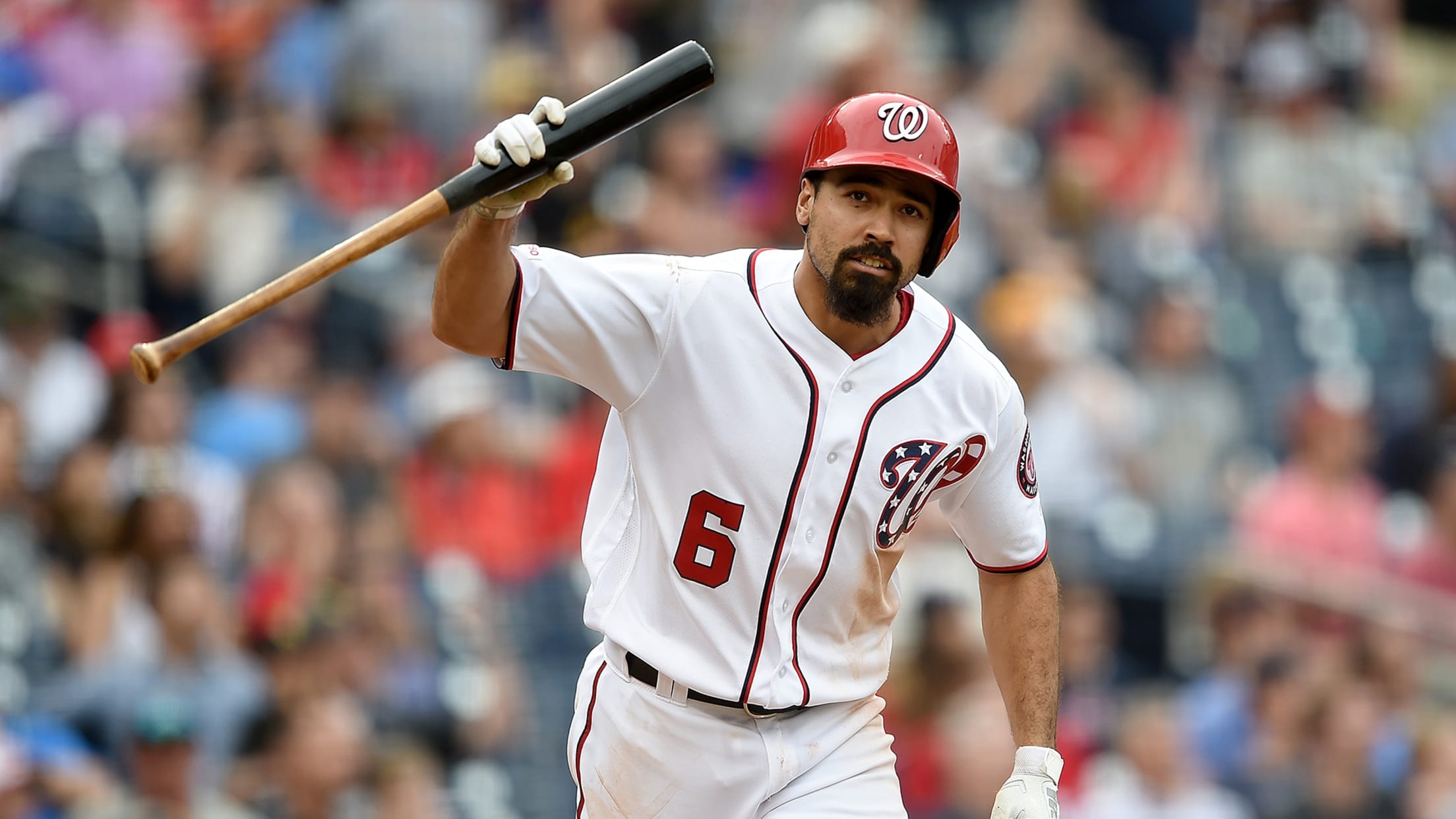 WASHINGTON -- Contract negotiations between the Nationals and third baseman Anthony Rendon resumed on Tuesday afternoon, when a few high-ranking members of the organization held an impromptu meeting with Rendon prior to Washington's game against the Giants. The meeting, which a source confirmed to MLB.com and was first reported by
Nationals host Black Heritage Day
Team honors Jackie Robinson's legacy one day after 72nd anniversary of his debut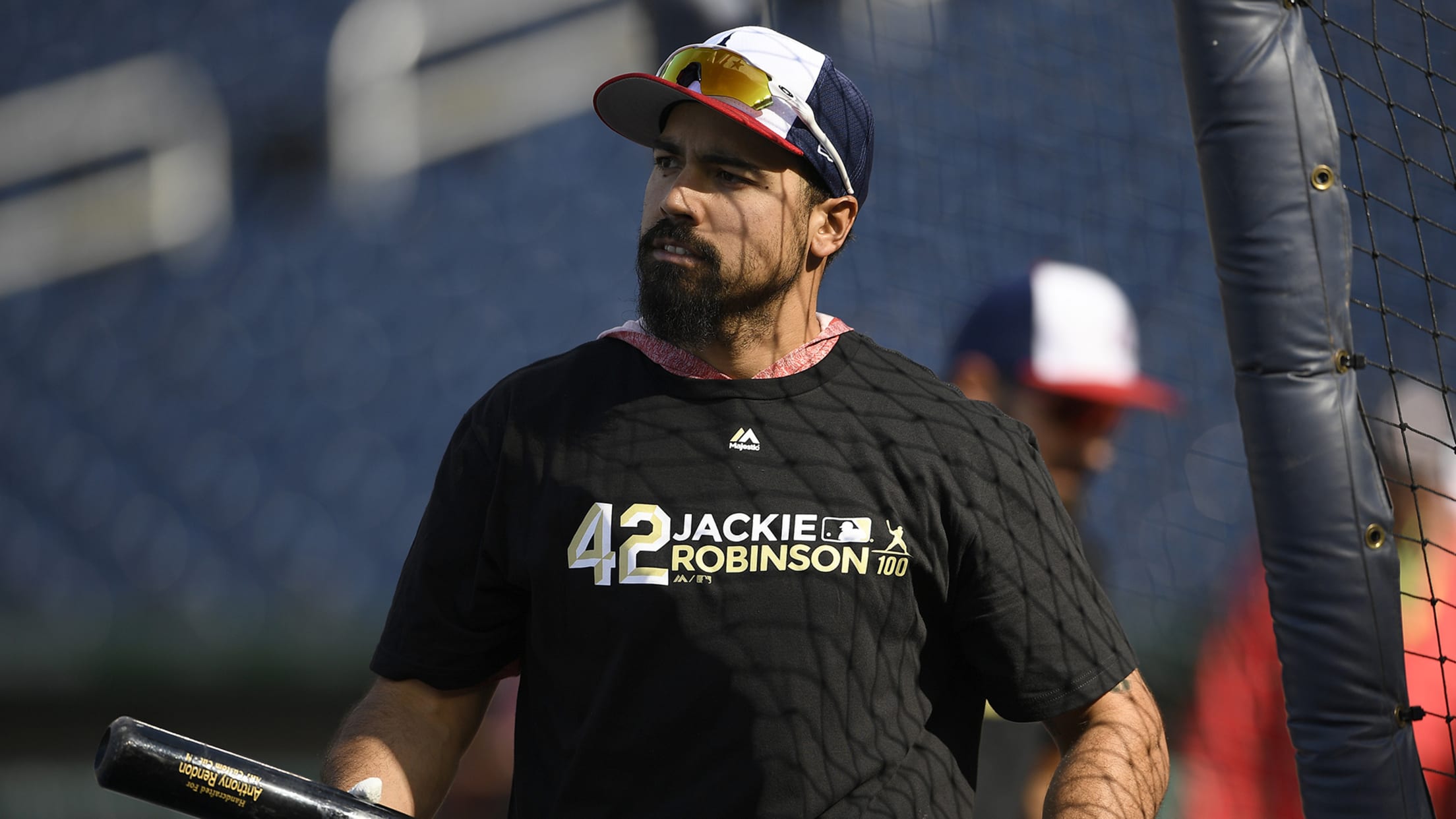 WASHINGTON -- As Major League Baseball commemorated Jackie Robinson Day across the league the past two days, the Nationals took the opportunity to also host Black Heritage Day on Tuesday at Nationals Park to honor the contributions of African Americans in baseball and in the D.C. area. This marks the
Fast start puts Rendon in spotlight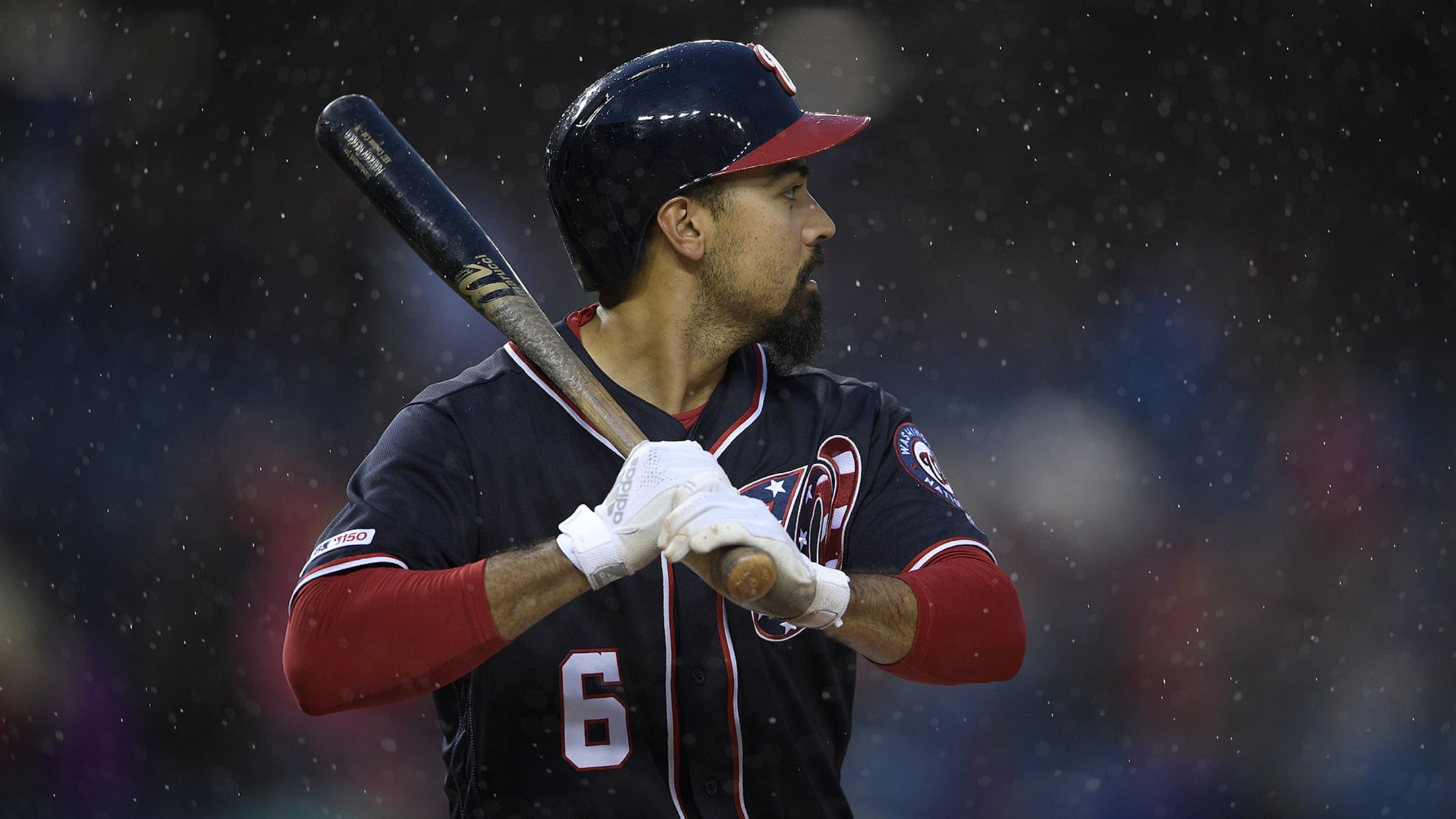 WASHINGTON -- All around the Nationals organization -- players, coaches, front office members and fans -- people are constantly perplexed as to why Anthony Rendon has never made an All-Star team. He is one of the game's best defenders at third base. He is one of the league's most consistent
In DC, a homecoming of sorts for Bochy
Giants skipper reminisces on Washington roots in final managerial visit
WASHINGTON -- The Giants' three-game series in Washington this week marks the first in which Bruce Bochy will be managing at a ballpark for the last time. And for Bochy -- who will retire after his 25th managerial season, a career that includes a 13-year tenure with San Francisco that
Scherzer's gem not enough to secure win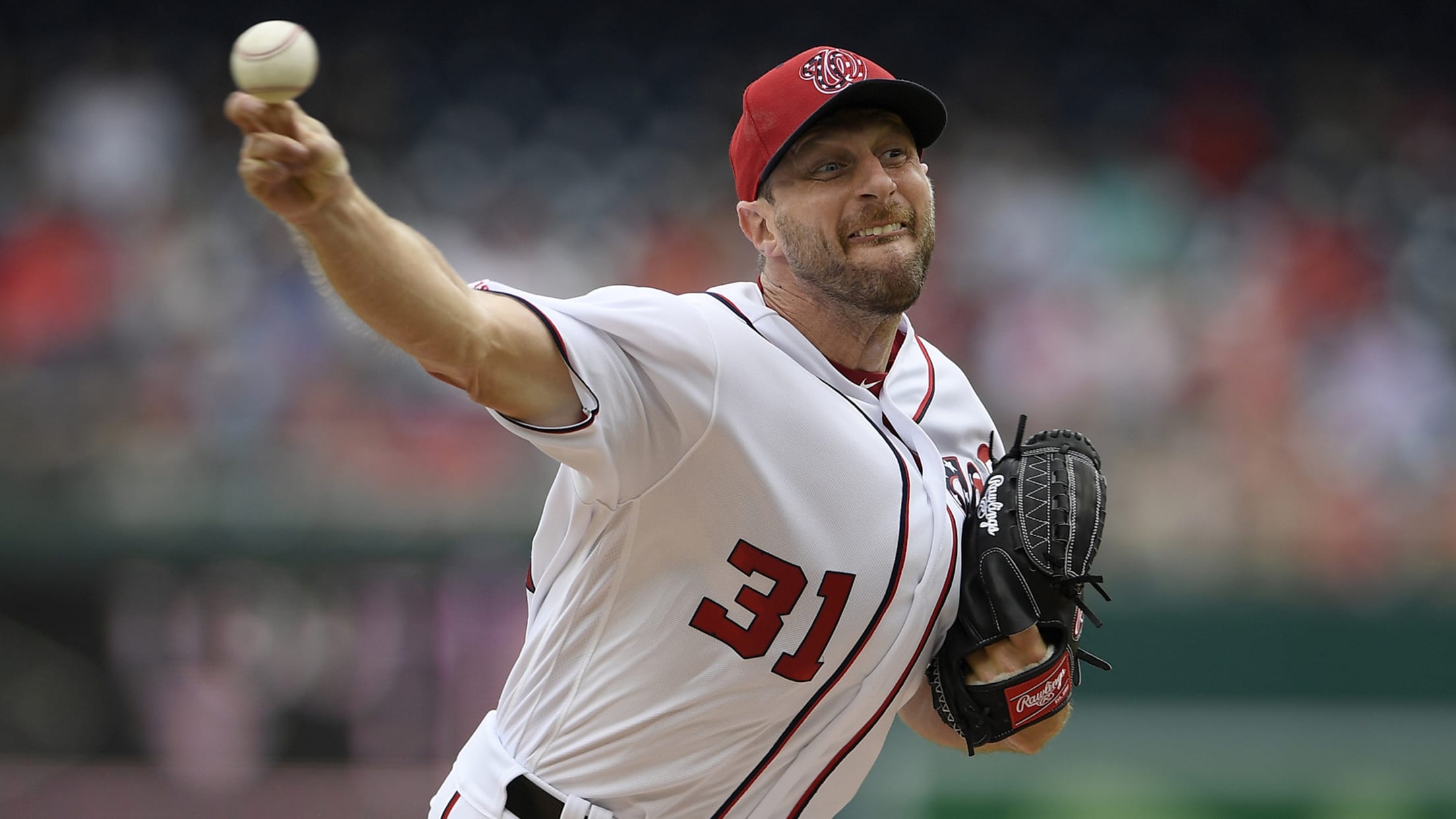 WASHINGTON -- The first few weeks of the season have sent the Nationals scrambling to find reliable arms in relief, forcing manager Dave Martinez to lean on anyone pitching well to try to close out tight games late. Wander Suero has become the latest player elevated to high leverage situations,
Power Rankings: Hot, cold starts shake it up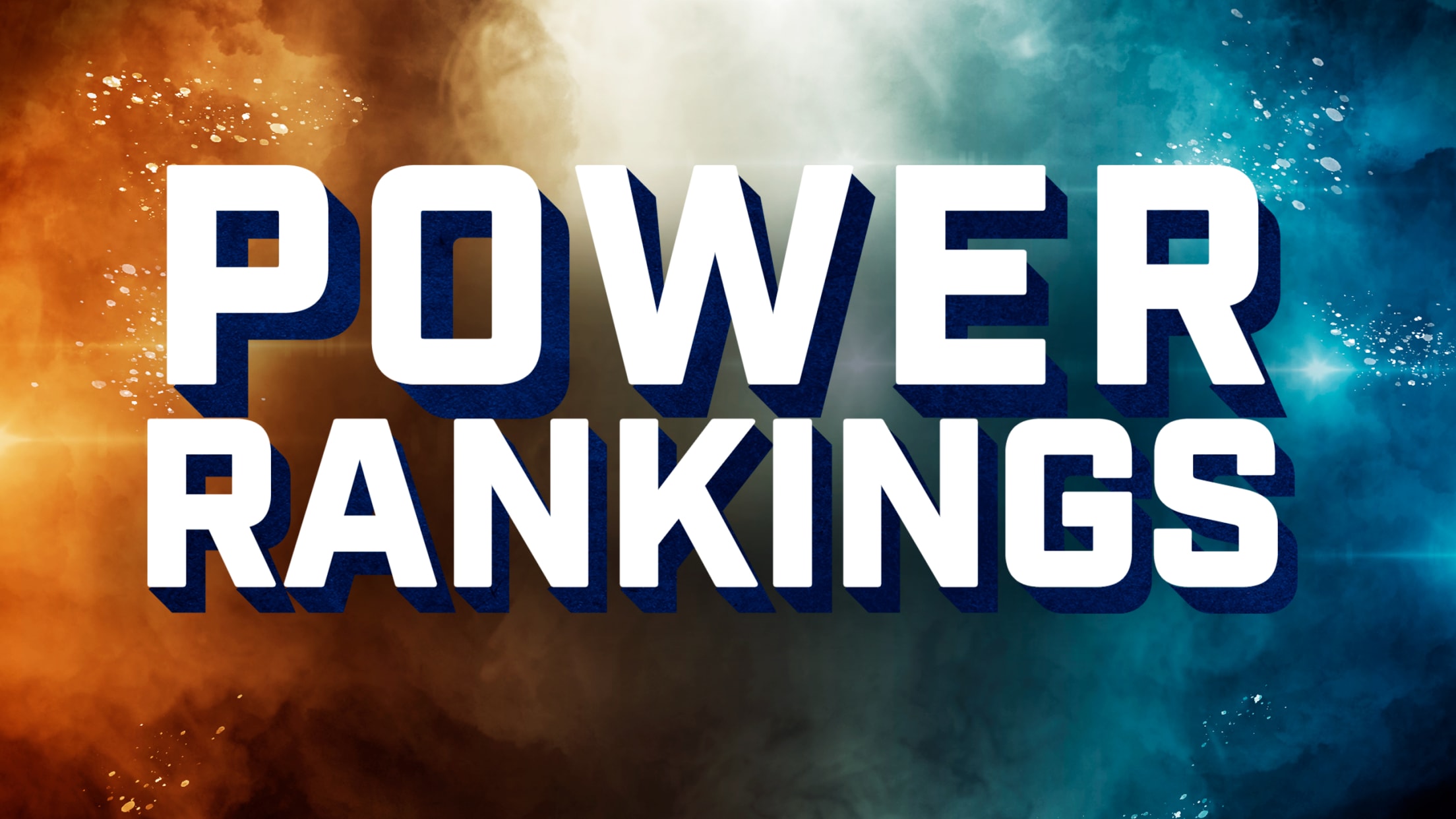 If the Dodgers were predicted to be the best team in the National League West, the Padres were targeted to be the most interesting. A little more than two weeks into the season, they're proving to be just that. While much of the country is trying to figure out what's
MLB Pipeline's Prospect Team of the Week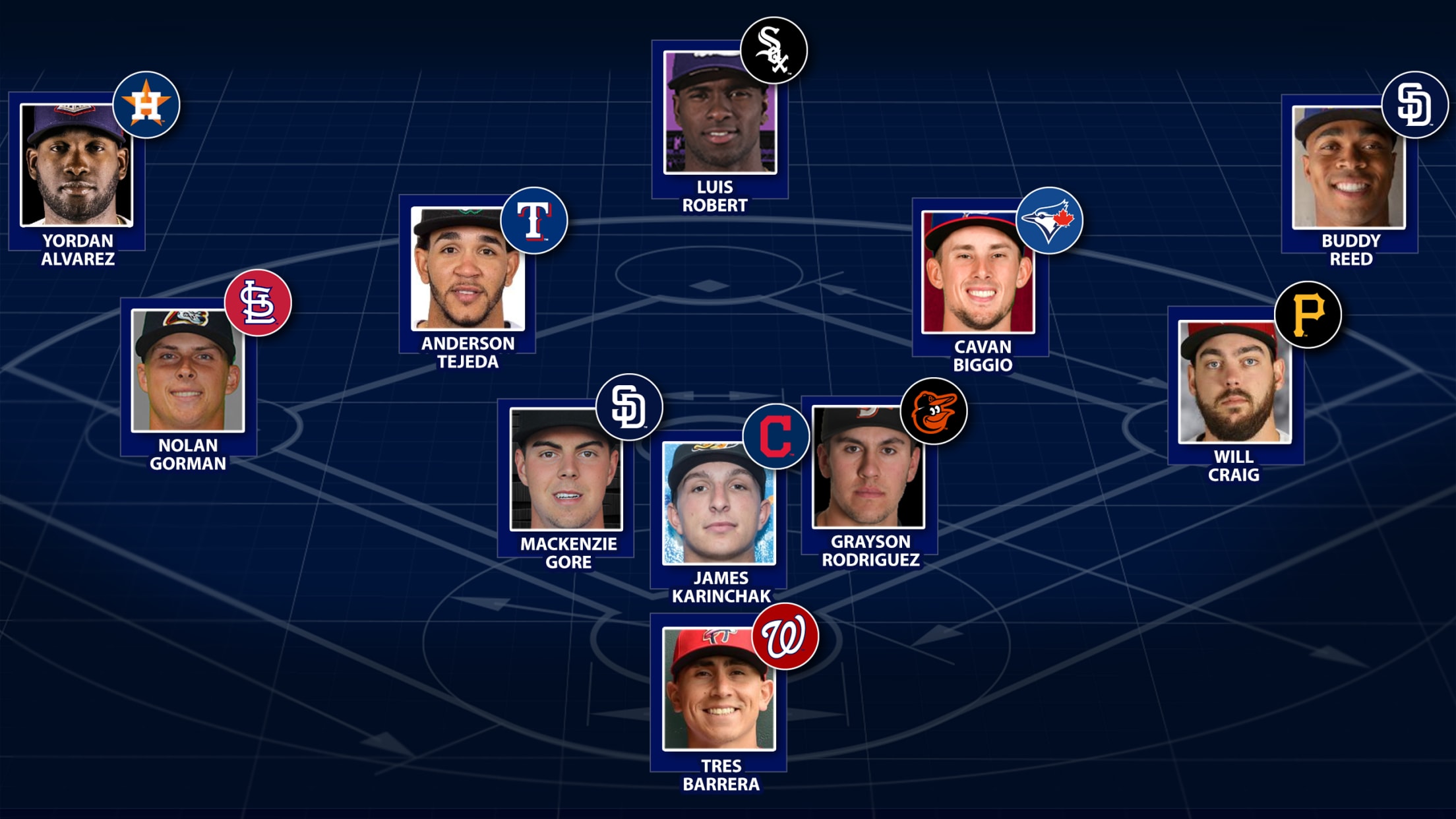 MLB Pipeline's Prospect Team of the Week honors the best performances from the previous seven days. Any Minor Leaguer currently on an organization Top 30 Prospects list on our Prospect Watch is eligible. For the season's first edition, we included the first 11 days of the Minor League season, which
New faces in 30 places: How are they faring?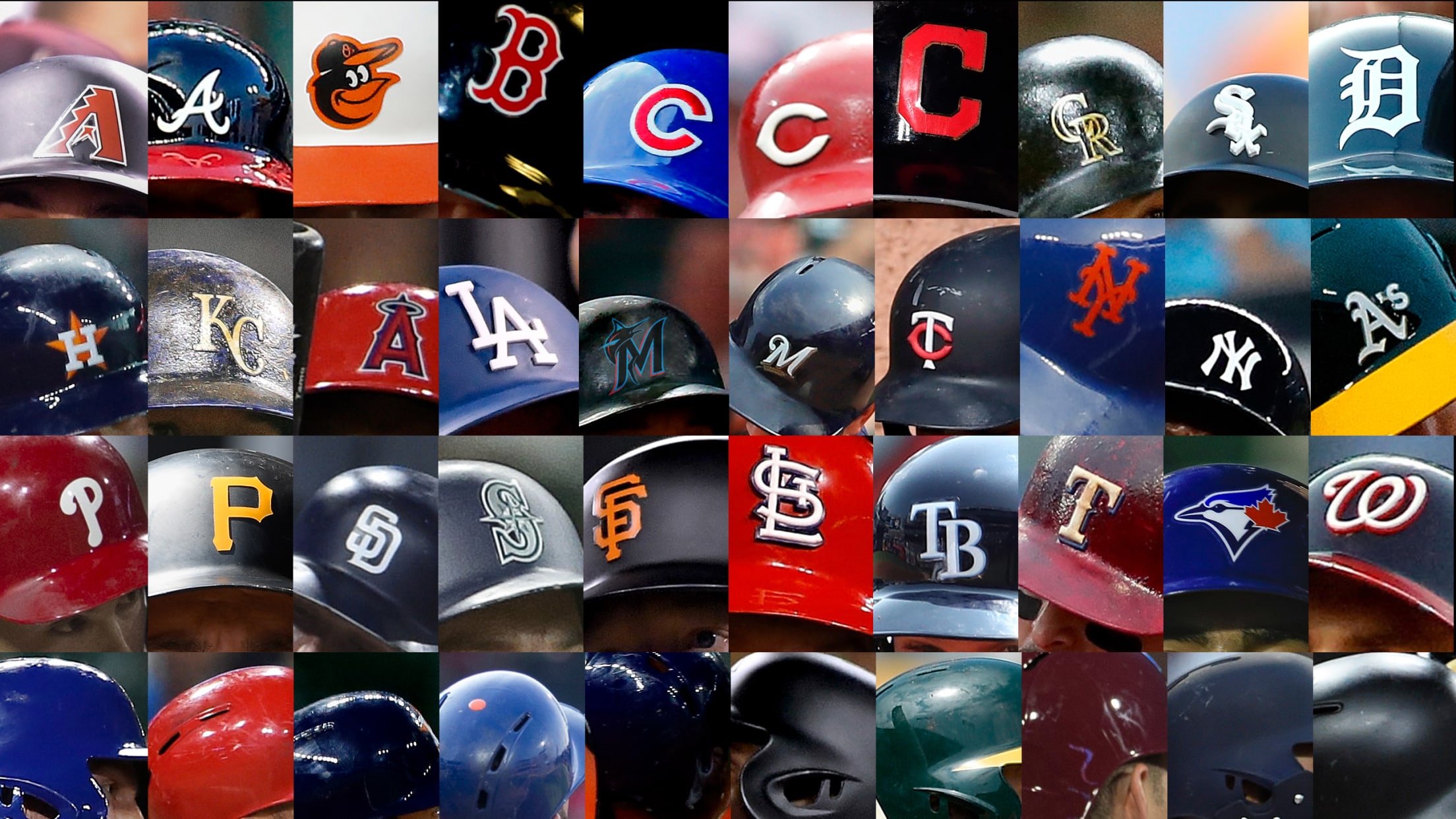 At this point, the cognitive dissonance is over: We're now used to seeing all these veteran players in their new uniforms. Bryce Harper is settling into his Phillies duds; Manny Machado looks just right with the Padres; how did it take this long for Paul Goldschmidt to put on a
Just like that, Eaton, Howie go back to back
Suero comes through in eighth to set up game-winning power surge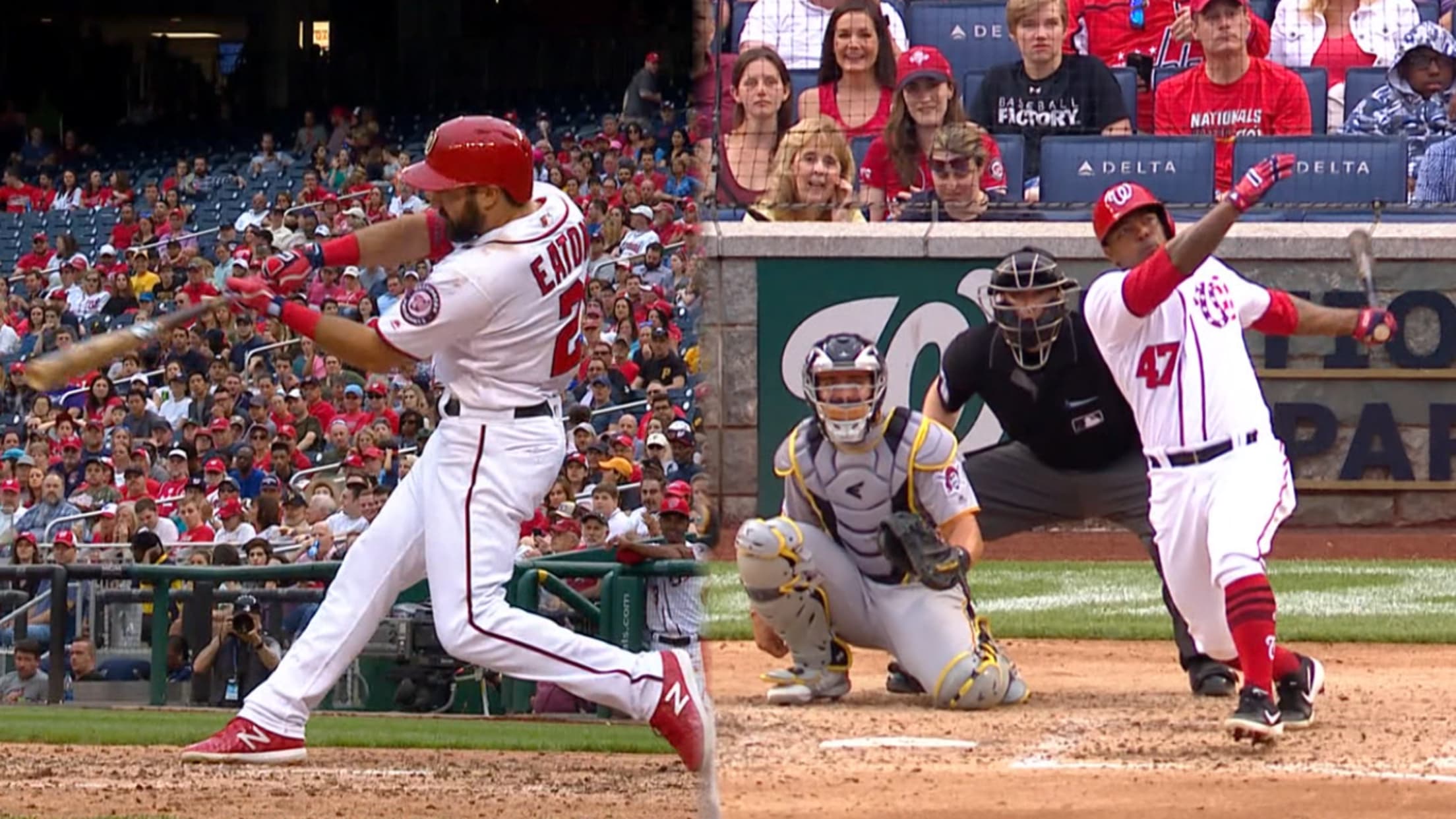 WASHINGTON -- During the middle of his nine-pitch at-bat with two outs in the eighth inning, Adam Eaton heard a few random scattered cheers from the crowd of 32,103 fans at Nationals Park. A few miles away at Capital One Arena in D.C., the Washington Capitals had just pulled off
Rendon's double makes Nationals history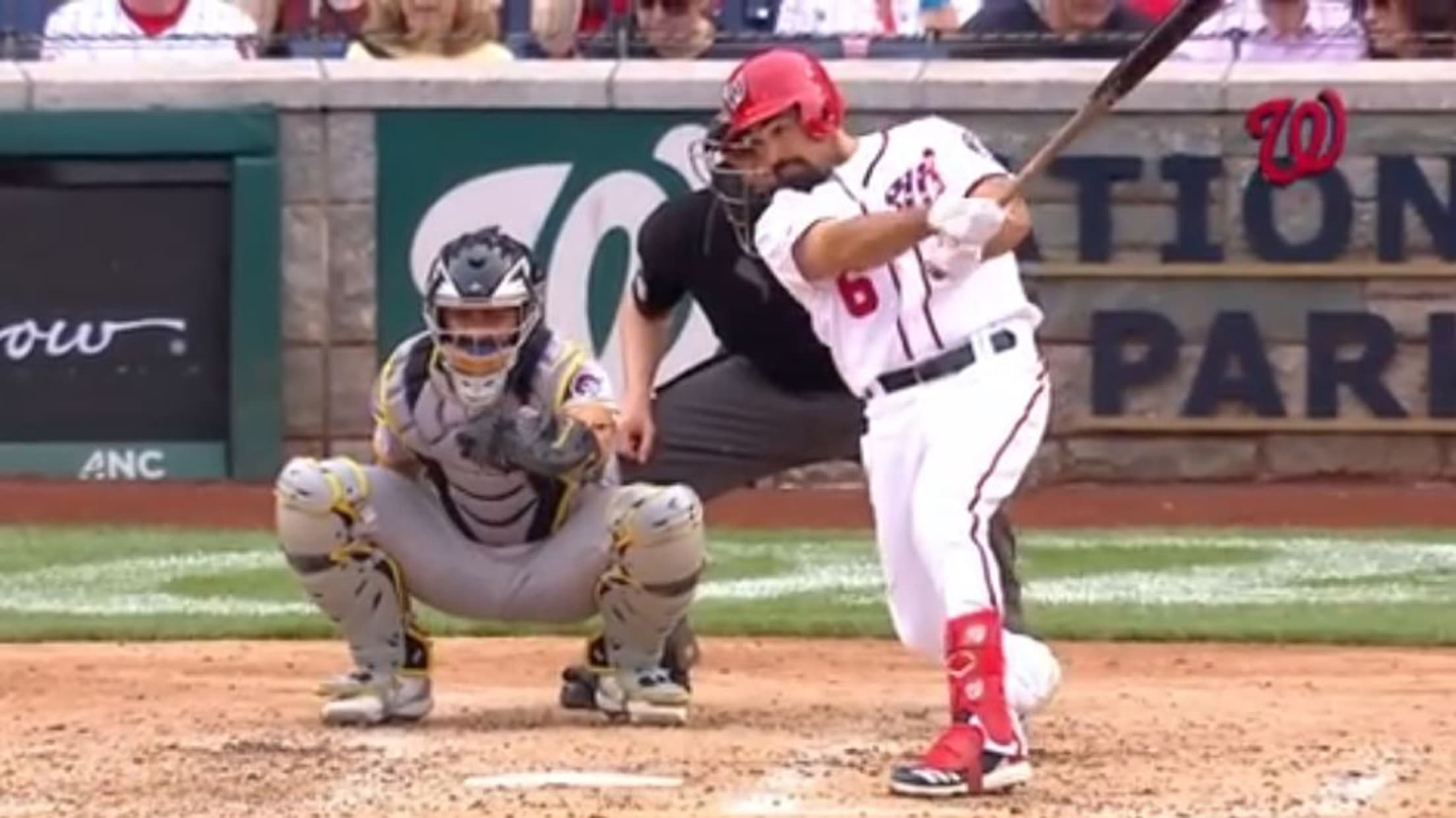 WASHINGTON -- With a leadoff double to begin the fourth inning, Anthony Rendon continued his red hot streak at the plate and racked up a new team record in the process during Saturday's 3-2 victory over the Pirates. Rendon's double marked the 10th consecutive game he has recorded an extra-base
Rendon belts 2 HRs, but 'pen falters in extras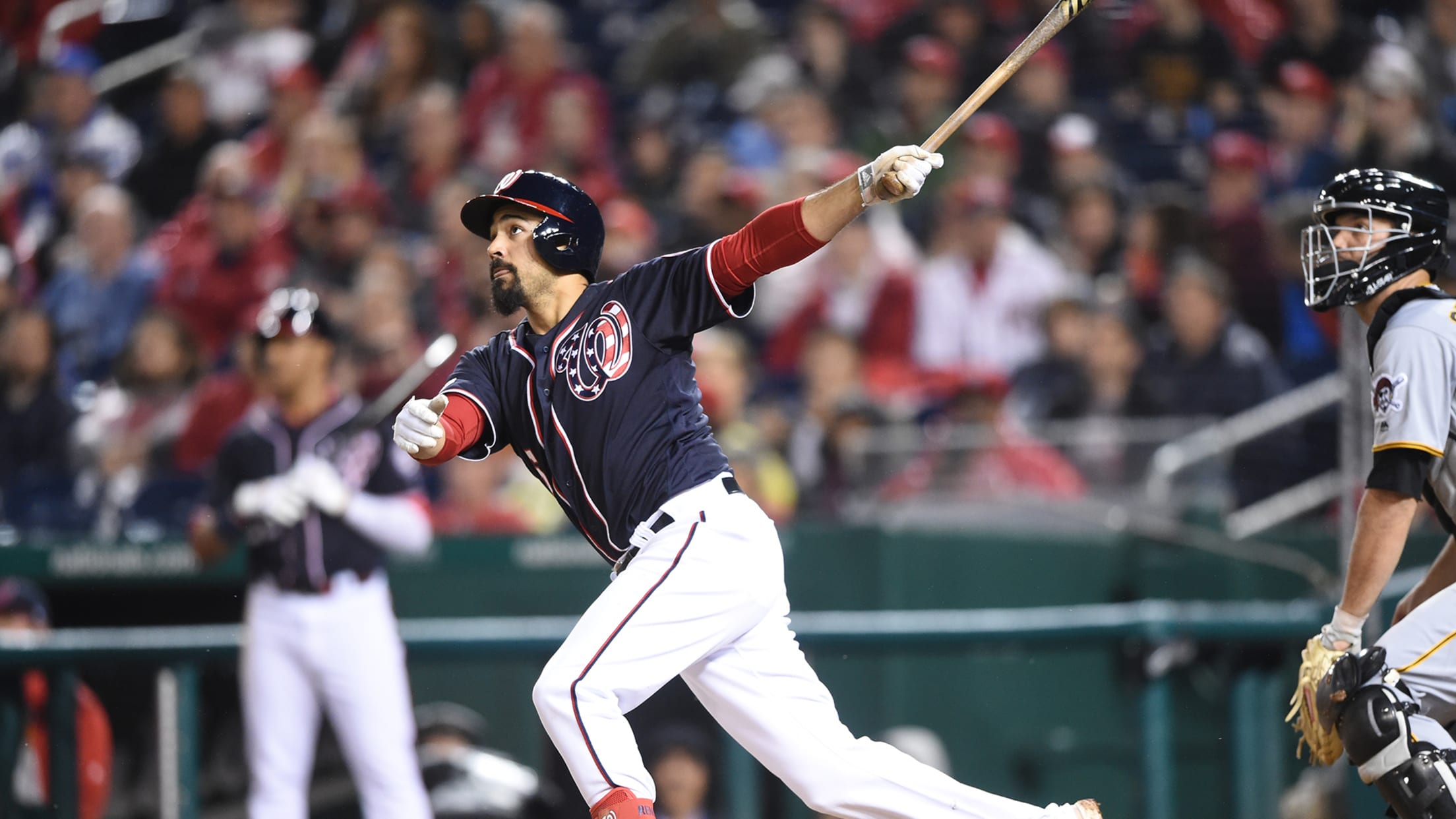 WASHINGTON -- The Nationals have been so encouraged by the start of the season because two areas of their team are working so smoothly. Their starting pitching staff has been stellar, including an excellent outing from left-hander Patrick Corbin on Friday, and their lineup has been clicking, paced by a
Scherzer, Sanchez swap weekend starts
Nats give ace extra day to rest right leg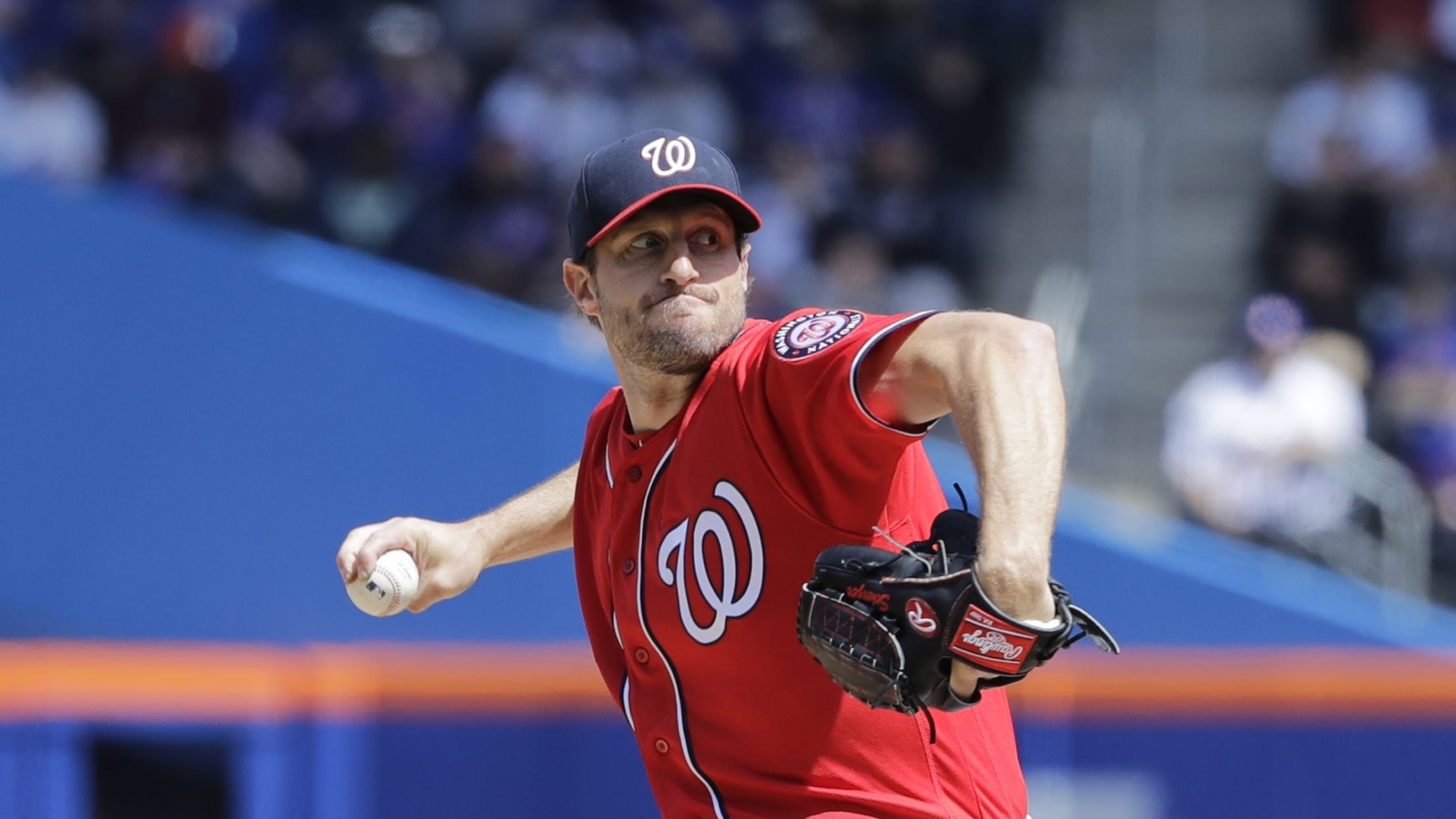 WASHINGTON -- The Nationals decided to flip Anibal Sanchez and Max Scherzer in the rotation this weekend against the Pirates, tabbing Sanchez to start Saturday afternoon and Scherzer to start Sunday, giving their ace an extra day to recover after taking a comebacker off his leg in his last outing.