Television
Nationals games are televised by MASN, the Mid-Atlantic Sports Network, throughout the Mid-Atlantic region. All games air on MASN or MASN2. MASN's television territory covers all or parts of six states and the District of Columbia, from Harrisburg, PA, to Charlotte, NC, including Maryland, Delaware, Virginia, and West Virginia. The network is carried by most cable and satellite providers in the mid-Atlantic region.
Please consult our Broadcast Schedule and your local listings for up-to-date information.
Radio Affiliates
In addition to the flagship station 106.7 The Fan, the Nationals Radio Network will broadcast portions of Washington's Spring Training and regular-season schedule to four states and the District of Columbia.
Radio affiliates are subject to change without notice.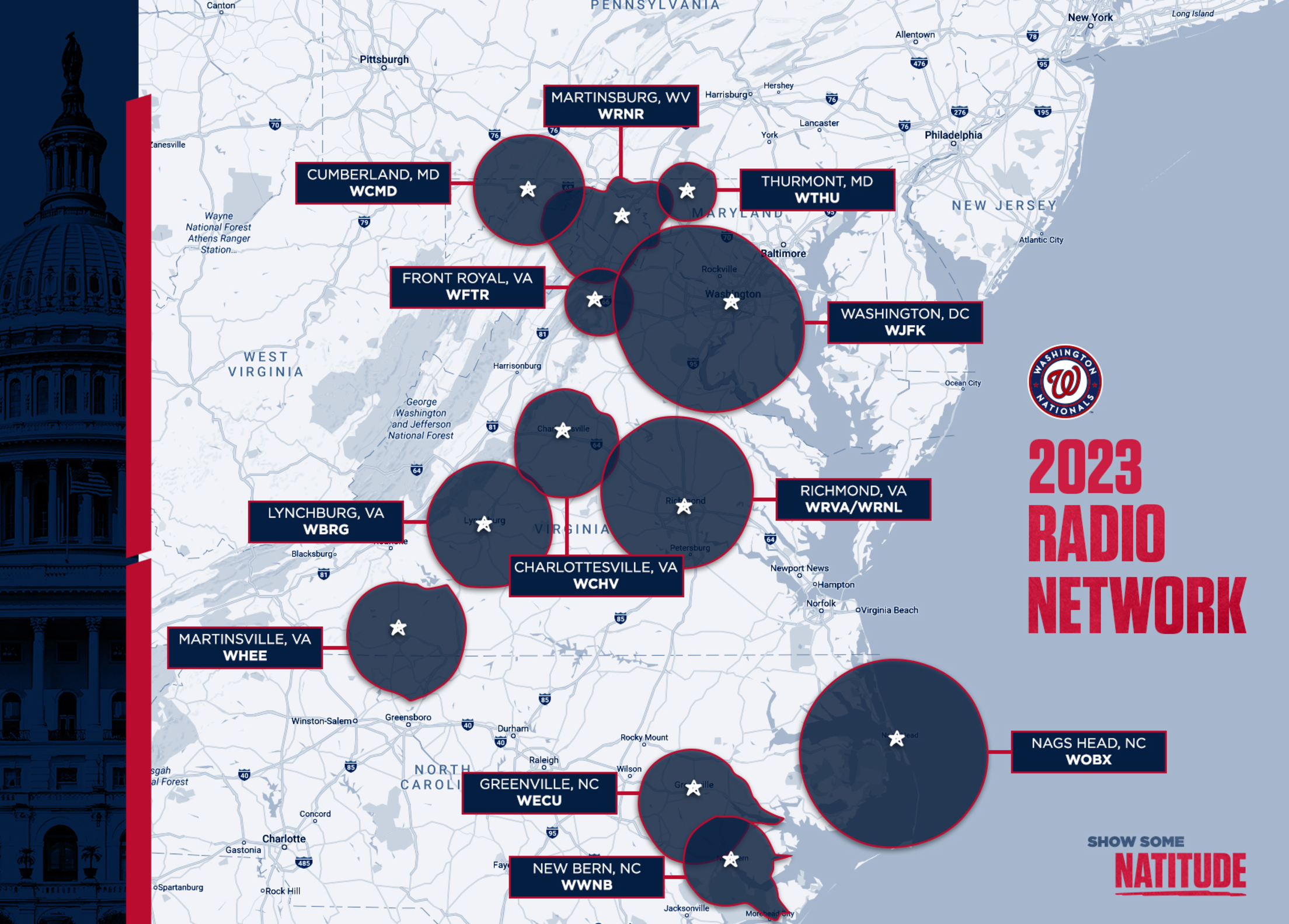 Washington, DC
Washington, DC WJFK 106.7 FM
Maryland
Cumberland, MD WCMD 1230 AM / 102.1 FM
Thurmont, MD WTHU 1450 AM
Virginia
Charlottesville, VA WCHV 107.5 FM
Front Royal, VA WFTR 1450 AM
Lynchburg, VA WBRG 105.1 FM / 1050 AM
Martinsville, VA WHEE 1370 AM
Richmond, VA WRVA 1140 AM / WRNL 910 AM
West Virginia
Martinsburg, WV | WRNR 740 AM / 106.5 FM
North Carolina
Greenville, NC WECU 1570 AM
Nags Head, NC WOBX 98.1 FM
New Bern, NC WWNB 1490 AM / 103.9 FM