Nationals Scoreboard Messages
The Washington Nationals are excited to begin our World Series championship defense when the 2020 60-game schedule starts on Thursday, July 23. Since the full impact of the coronavirus pandemic is still unknown, playing games in an empty ballpark is currently the best course of action to ensure the continued health and safety of our players, staff, employees, fans and community. As such, tickets for 2020 games at Nationals Park are not on sale, at least at this time.
We will continue to monitor ongoing events and evaluate best practices and precautions as recommended by public health experts. We will make an announcement when policy changes allow fans to attend games at Nationals Park once again.
For additional information, including Frequently Asked Questions, please click here.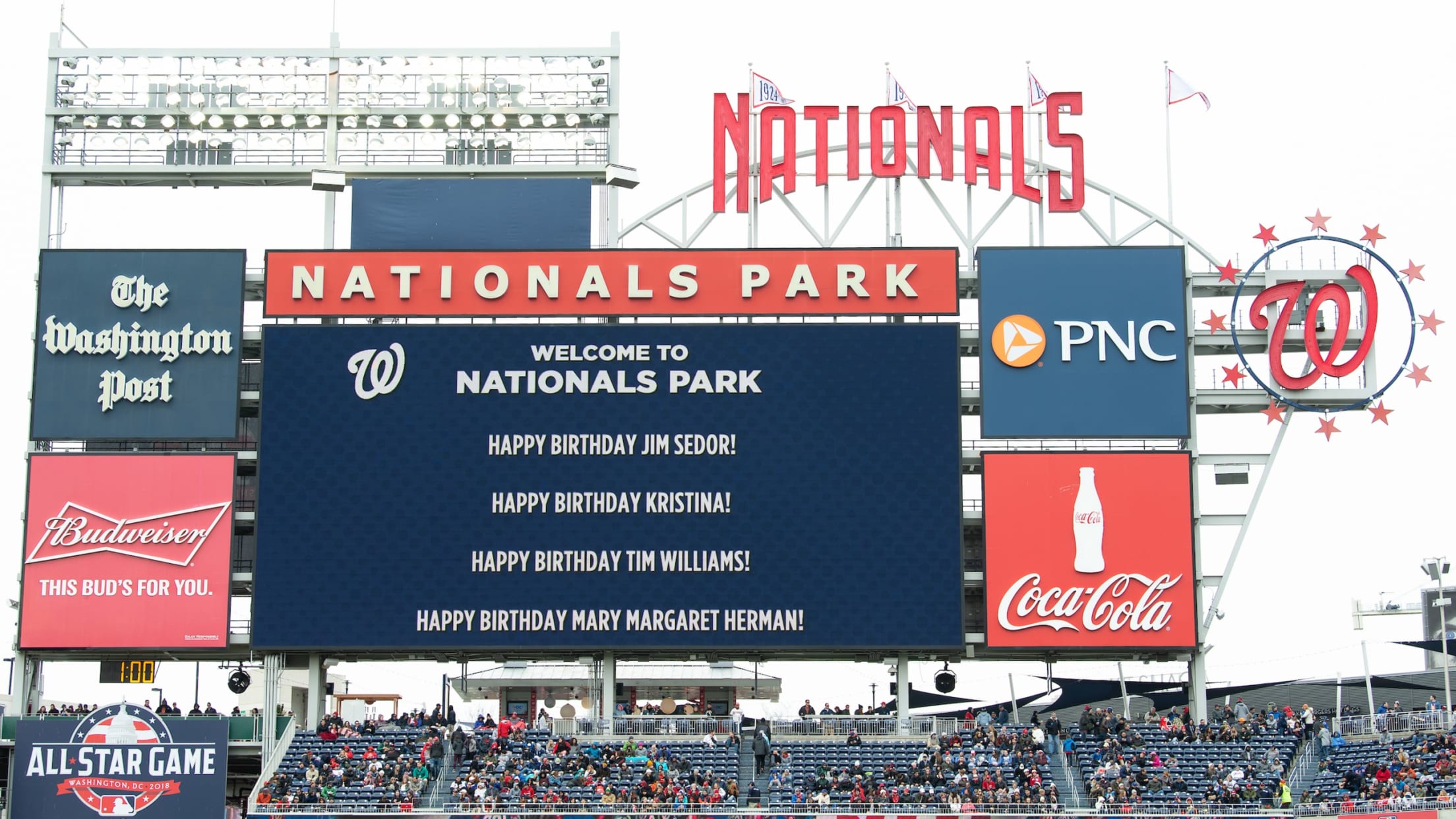 See your name in lights!
Commemorate a birthday, anniversary or special event by displaying a message on the NatsHD scoreboard during the middle of the fifth inning. Scoreboard messages can be reserved online with a $100 donation to the Washington Nationals Dream Foundation.
(Payment must be made prior to announcement. Your credit card will be charged upon approval of the message.)
Ordering Information
There is a limited number of messages available each game. Space is limited, so order your scoreboard message today.
Ordering Deadlines
Scoreboard Message requests must be submitted no later than 24 hours prior to game time.
Message Content
The Nationals reserve the right to approve and edit any message if necessary. Messages that are obscene, offensive, or include foul language will be not accepted.
Available Dates
If you do not see the game listed, you have missed the deadline to order online. Orders will be processed in the order in which they are received, and will be taken on a first-come, first-served basis. You will receive e-mail confirmation shortly after the close of the submission period to confirm your order.
Message Display
Scoreboard messages will appear during the middle of the fifth inning.
Message Length
Messages include a customizable line of 30 characters or less including spaces and punctuation. "Happy Birthday," "Happy Anniversary," etc. are not counted in the 30 character limit.
Proceeds from the scoreboard message program benefit the Washington Nationals Dream Foundation.
If you have any questions, please email us at [email protected].
Attending the game with a group? Group tickets start at just $9 and a wide range of pregame hospitality areas and unique on field experiences are available for groups of 13 or more.
Washington Nationals Bag Policy
Please note: Backpacks may not be brought into Nationals Park except as otherwise provided in the Nationals Bag Policy. For a complete list of permitted bags and details about the Binbox storage option please click the Read More button below.