Kids Eat Free
presented by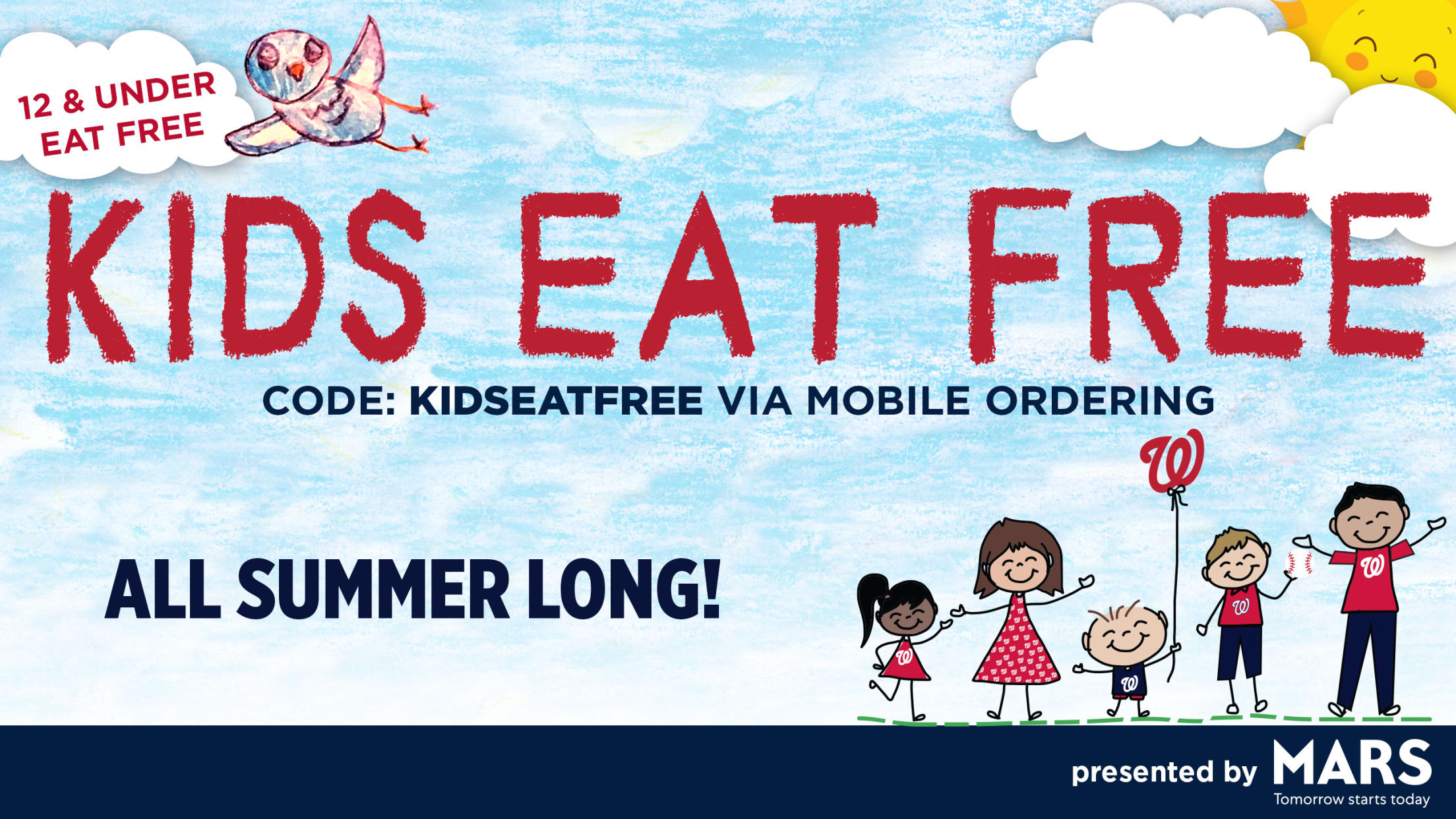 Spend time creating new memories with your kids at Nationals Park – and spend less on food while you're here. Kids Eat Free at every game this summer!*
Kids Meal includes a hot dog, chips and bottled water
Order from anywhere and minimize time spent in line using mobile ordering promo code KIDSEATFREE
Available to all kids ages 12 & under
Some meals may include a surprise giveaway!
*Available at every home game June 2 – September 3
How to Redeem Your Free Kids Meal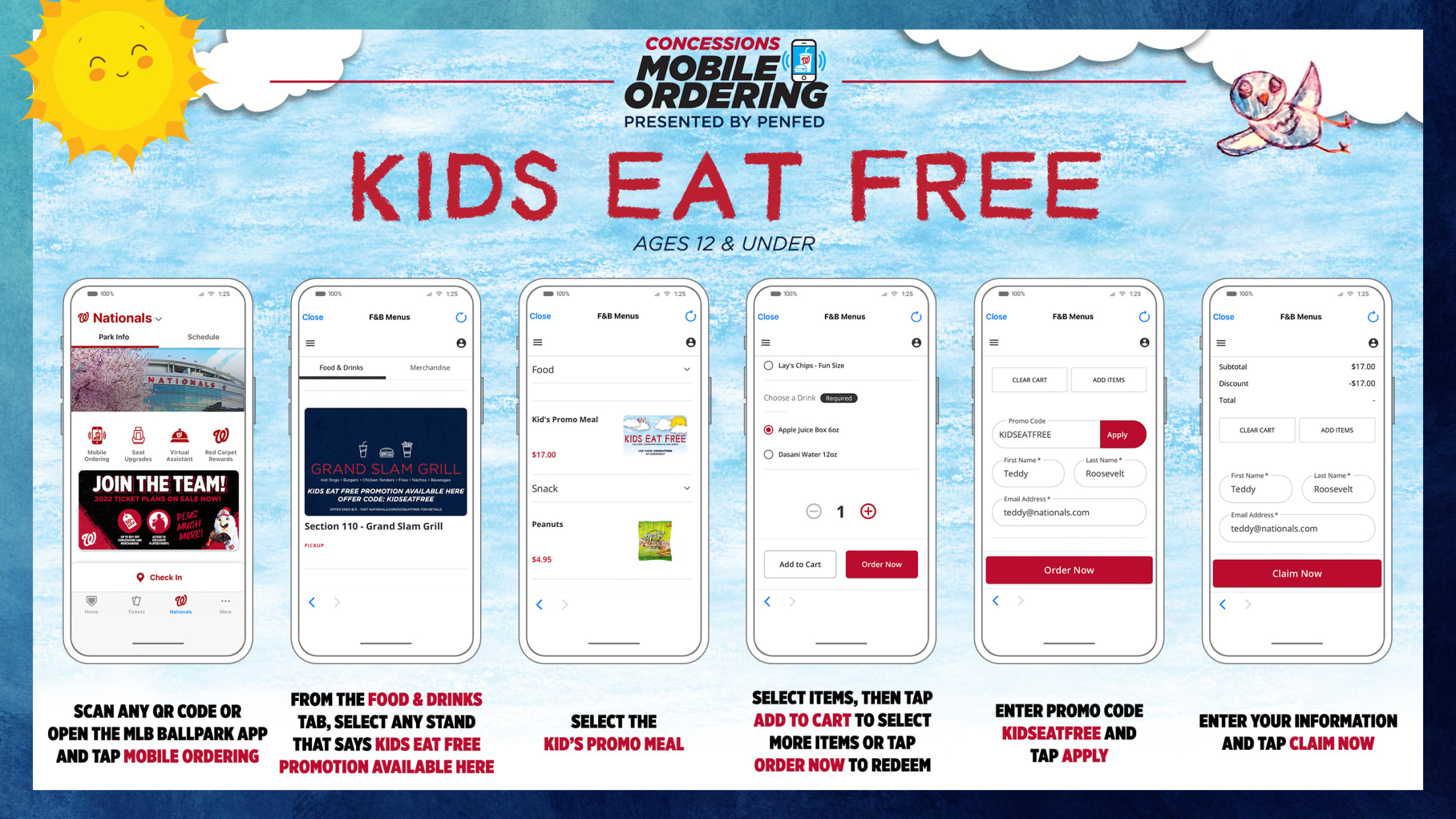 Kids Eat Free is available exclusively through mobile ordering using promo code KIDSEATFREE. Follow these simple steps to redeem your free Kids Meal:
Step 1: Scan any QR code or open the MLB Ballpark app and tap on Mobile Ordering. If you do not have the app, you can download it at nationals.com/app.
Step 2: From the Food & Drinks tab, select any stand that says "Kids Eat Free Promotion Available Here". Kids Eat Free promotion is available at Section 113 Kids Eat Free Kiosk, Section 143 Kids Eat Free Kiosk, Section 229 Nats Dogs and Section 301 Grand Slam Grill.
Step 3: Select the Kids Eat Free meal.
Step 4: Tap Add to Cart to select more items or tap Order Now to purchase.
Step 5: Enter the promo code KIDSEATFREE and tap Apply.
Step 6: Pay with eCASH or credit card and tap Pay Now.
Do not close out of the confirmation screen until after you pick up your order.
Android users may need to download a QR Code & Barcode Scanner app to scan QR codes.
Attend a Kids Eat Free Game
The Kids Eat Free program will be offered at every regular season home game at Nationals Park from June 2 – September 3!
Nationals Park Kids Activities
Treat your kids to an unforgettable summer with tons of other kid-friendly activities with the Nationals (click to see full details):
Frequently Asked Questions
Who can eat free at Nationals Park?
Kids ages 12 and under can receive a free Kids Meal.
When can kids eat free?
The program runs at all Nationals regular season home games Friday, June 2 – Sunday, September 3.
What is included in the free Kids Meal?
Each free Kids Meal consists of the following three (3) items:
One (1) Hebrew National hot dog
One (1) 1oz. bag of Lay's chips
One (1) Dasani bottled water
Where can I pick up my free Kids Meal?
After mobile ordering via the Ballpark app, meal may be picked up at the following concessions stands until the end of the 7th inning of each game:
Section 113 Kids Eat Free Kiosk
Section 143 Kids Eat Free Kiosk
Section 229 Nats Dogs
Section 301 Grand Slam Grill
Does my child have to be with me in order to redeem the free Kids Meal?
This offer is limited to one meal per kid age 12 & under per game. Parents or guardians may claim meals for no more than four (4) kids per game. All kids must be present at the time meal(s) are redeemed.
Can I pick up meals for my child's friends?
Parents can pick up meals for their child's friends provided all of the children are present when the meals are redeemed. Each parent can redeem a maximum of four (4) meals per game.
What if my child has a dietary restriction?
Please visit one of our Guest Services locations behind sections 103, 131 or 320 and a staff member can provide a voucher specific to your child's dietary restriction.
For groups of 20 or more, please call 202.675.NATS(6287) or email [email protected]
Limited time offer. Only valid for the games listed above, while supplies last. Only those children ages 12 and under are eligible to receive a "Kids Eat Free" meal. Meals are determined by the Washington Nationals. No exchange, return or substitutions. Limit one meal per child per game. No more than 4 meals total from a single MLB Ballpark (the "App") account. Redemption only via mobile ordering on the App by using the code KIDSEATFREE. Some meals may include a giveaway, subject to availability. Pricing varies by game and all seating is subject to availability. Promotions are subject to change without notice. The Washington Nationals may expand the use of netting. All sales are final. There are no refunds, exchanges or cancellations.
The Nationals reserve the right to change any and all 2023 access, benefits, promotions, seating locations and events (including, without limitation, location, dates and times) without notice based upon: 1) federal, city, state and/or local government orders, mandates or restrictions; 2) the guidance or recommendations of a recognized health agency (i.e. Centers for Disease Control or the World Health Organization); 3) the ongoing developments of the COVID-19 pandemic; and 4) any other reason as determined by the Nationals and/or Major League Baseball in their sole discretions.