Nats make a difference at Food and Friends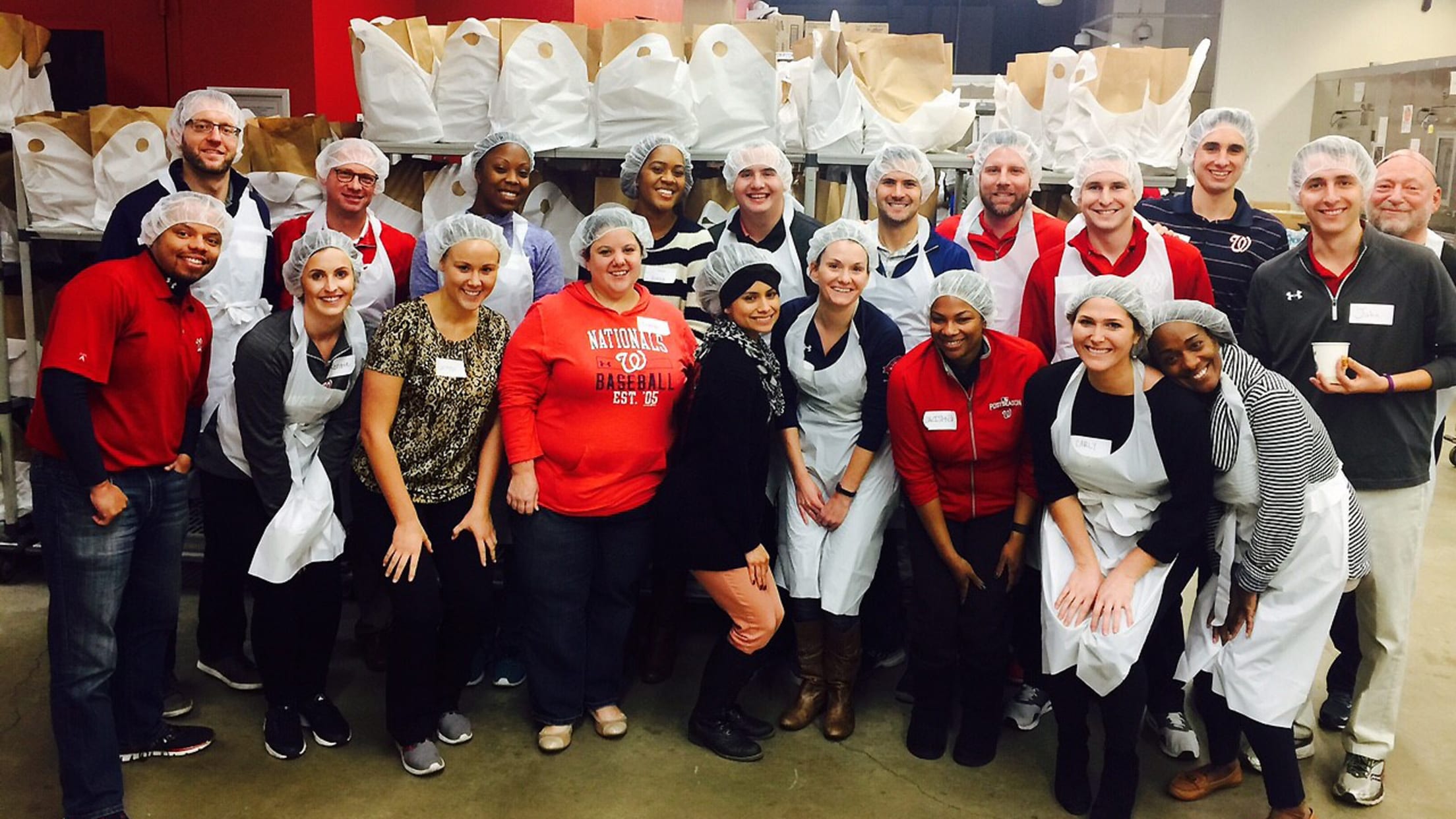 About 35 members of the Nationals volunteered at Food and Friends to help prepare Thanksgiving meals. (Nationals)
WASHINGTON -- Members of the Nationals' front office spent Monday preparing turkeys, portioning out side dishes and helping fix meals during the organization's annual visit to Food and Friends ahead of Thanksgiving.Food and Friends helps prepare and deliver meals and nutrition counseling to people living with HIV/AIDS, cancer and other
WASHINGTON -- Members of the Nationals' front office spent Monday preparing turkeys, portioning out side dishes and helping fix meals during the organization's annual visit to Food and Friends ahead of Thanksgiving.
Food and Friends helps prepare and deliver meals and nutrition counseling to people living with HIV/AIDS, cancer and other life-challenging illnesses within the Washington, D.C., area. The organization was founded in 1988, during the AIDS crisis, and began serving people with HIV/AIDS because of how often they had been ostracized and left without access to nutritional food. The Nationals have volunteered there around Thanksgiving for the past nine years.
:: Baseball's Giving Spirit ::
"It means a tremendous amount to have their support," said Abigail Seiler, the communications manager for Food and Friends. "In the past, we've had players and people from the front office and it's a great way to bring new people to our facility. It's a great way to spread the word about Food and Friends' mission and the clients that we serve."
• Nationals in the community
Food and Friends has grown from its inception in a church basement with 20 volunteers into an organization with its own facility that includes a state-of-the-art kitchen and pantry. In 2000, the group expanded to include help for cancer patients, people in hospice care or anyone medically compromised. Food and Friends takes volunteers year-round to help prepare and deliver meals and also accepts donations of healthy foods. About 35 members of the Nationals volunteered Monday.
Although there is no income requirement to receive help from the organization, Seiler said about 80 percent of the people they help end up being below the poverty line. The organization is especially important considering how heavily reliant people in the D.C. area are on public transportation.
"So imagine when you're sick," Seiler said. "It's even harder to get out of the house and get to the grocery store."
And following in the spirit of gratitude, Mark Lerner, one of the team's principal owners, wrote a message to Nationals fans thanking them for their support this season.