Former farmhand Corredor sets prospects on right path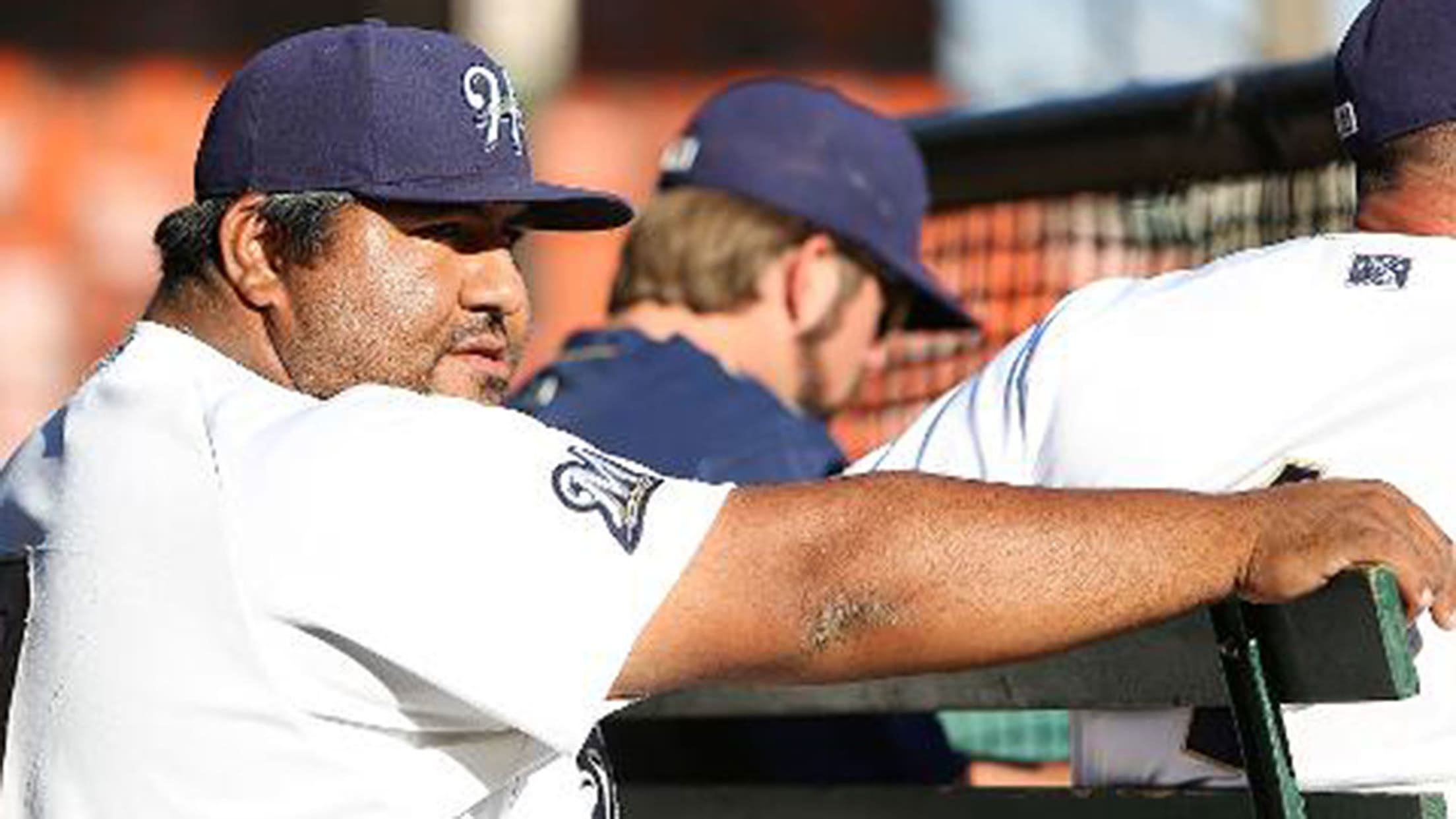 Former Brewers Minor Leaguer Nestor Corredor is entering his eighth season as a manager. (Helena Brewers)
PHOENIX -- After seven seasons catching and pitching in the Brewers' Minor League system, Nestor Corredor tried civilian life.But a stint managing Corredor's family's general store in Venezuela lasted just two weeks."I was glad when the Brewers re-opened their team in the Dominican Republic]," Corredor said, "because that opened the
PHOENIX -- After seven seasons catching and pitching in the Brewers' Minor League system, Nestor Corredor tried civilian life.
But a stint managing Corredor's family's general store in Venezuela lasted just two weeks.
"I was glad when the Brewers re-opened their team [in the Dominican Republic]," Corredor said, "because that opened the door for me."
Corredor was already in the Dominican helping a friend open a baseball complex, when the Brewers decided to return full-time to the summer league there in 2010. Corredor then managed that team to the postseason in his first of three seasons leading the club.
Corredor has steadily moved up the ranks. He managed the Arizona Rookie League Brewers from 2013-15, then moved to Helena of the Pioneer League in 2016. He will manage there again this season, an important assignment considering many of the Brewers' college Draft picks begin their professional careers at that level.
"He's helped me so much, catching-wise," said catcher Dustin Houle, who played for Corredor in the Dominican and in Arizona. "In 2013, I was in extended camp. Me and him had a competition throwing to second base; who could have the better time to second? He was kicking my butt. He's 300 pounds and he's throwing 1.8 [seconds] down to the bag.
"I just remember watching him and how he did it, and that's the day it clicked for me."
Brewers manager Craig Counsell remembers Corredor from the latter's three years as a catcher in big league camp. At that time, Corredor was already identified as having a future in the player development ranks.
"Nestor was that guy, for sure," Counsell said. "He's got the personality that people are drawn to him. He's engaging.
"You can ask all the guys in that room [the clubhouse] -- your first manager in professional baseball has a huge impact on you. He kind of gives you the introduction. It's the first impression of what your life is going to look like."
Counsell remembers his first professional manager in the Rockies organization, Gene Glynn, who is now the Twins' third-base coach.
"I remember his rants," Counsell said. "I remember him walking home three miles one time. He wouldn't take the bus, he was so mad at us. The bus leaves, and you see Gene walking home, and he's like storming, drinking a beer, mad at us. You just remember that stuff, I don't know why. This was your first time doing this.
"The stuff you learn, the work habits, the routines you learn from that first manager, it's an important job. I think a lot of organizations are very cognizant of who they put in that job."