The next elite free agent to sign will be ...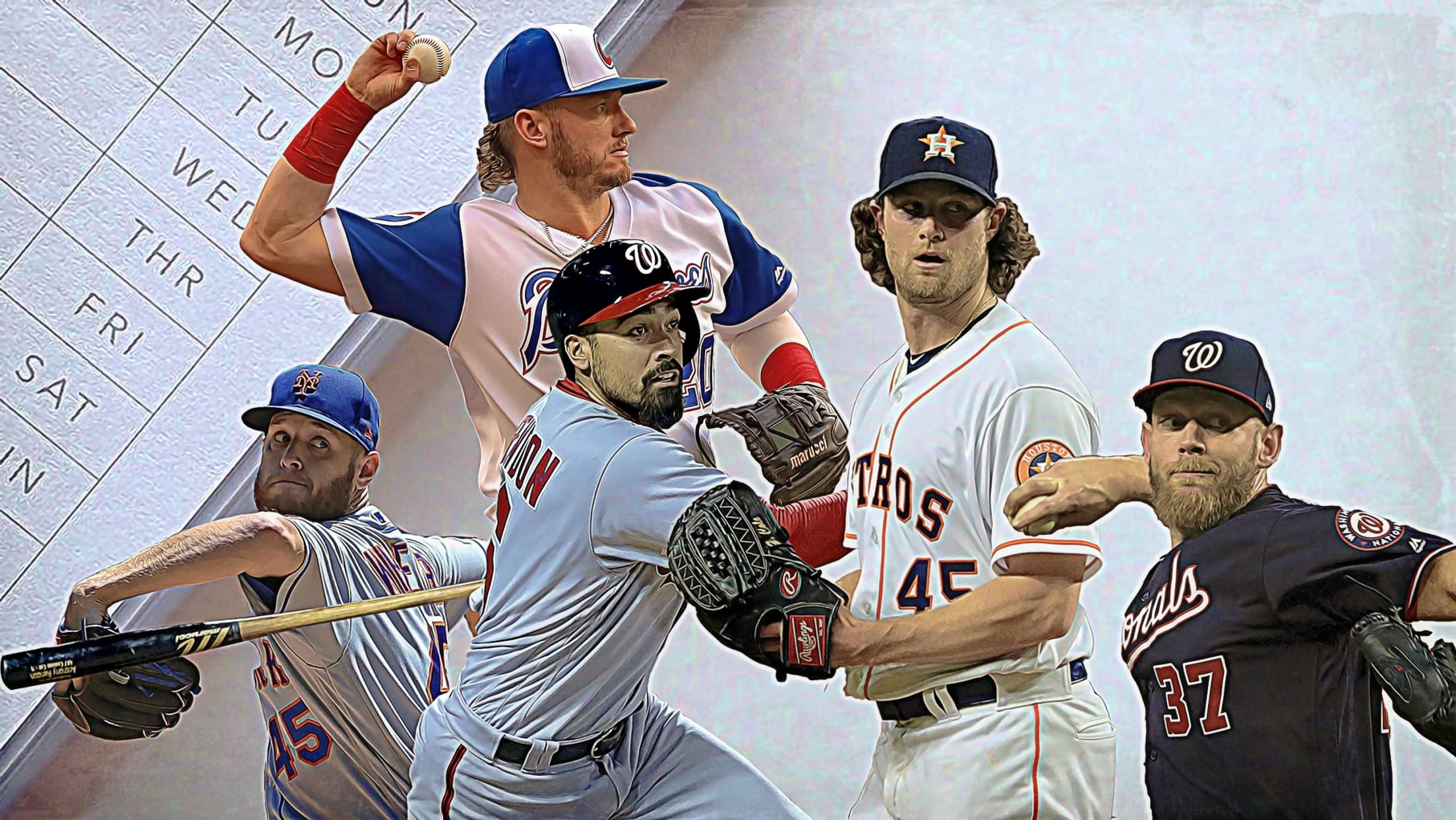 Yasmani Grandal's four-year, $73 million contract with the White Sox was the first large splash of the 2019-20 Hot Stove season. The Braves have signed the offseason's other multiyear free-agent deals, with relievers Will Smith and Chris Martin and catcher Travis d'Arnaud. So, who's next? Among star free agents --
Yasmani Grandal's four-year, $73 million contract with the White Sox was the first large splash of the 2019-20 Hot Stove season.
The Braves have signed the offseason's other multiyear free-agent deals, with relievers Will Smith and Chris Martin and catcher Travis d'Arnaud.
So, who's next?
Among star free agents -- and we'll count Gerrit Cole, Anthony Rendon, Stephen Strasburg, Josh Donaldson and Zack Wheeler in this group -- Donaldson is perhaps most likely to sign before the end of the Winter Meetings in San Diego, which run from Dec. 8-12.
Donaldson, who will turn 34 on the first day of the proceedings at the Hilton San Diego Bayfront, has a clearer value in the marketplace than his peer at third base, the 29-year-old Rendon.
Rendon, the best position player available in this market, quipped during the National League Championship Series that he hopefully wouldn't be playing baseball when he's 36 -- the age at which then-Nationals teammate Howie Kendrick became a postseason sensation.
Still, few within the industry will be shocked if Rendon signs a seven-year contract -- through his age-36 season -- given his MVP-caliber production this year.
Donaldson is a different case, mostly because of his age. He posted a .900 OPS and hit 37 home runs over 155 games with the Braves this year, in a return to the form that made him an All-Star in Oakland and Toronto and the 2015 American League MVP.
The Rangers are known to have interest in both Rendon and Donaldson. A seminal question of the Rangers' offseason is whether they will remain in the Rendon sweepstakes -- which could continue until January or February -- or sign Donaldson to a shorter, cheaper contract in the coming weeks.
The interest in Donaldson is sufficient enough that some in the industry expect he will land a three-year contract, perhaps at a similar salary to the $23 million he earned in each of the past two seasons. But it's unclear if any team will offer him a four-year deal at that value.
Given recent trends in the free-agent market, a three-year contract likely would be viewed as a victory for Donaldson and his representatives. The previous two offseasons combined to yield 26 contracts of at least three guaranteed years; over that period, no position player older than 32 signed a deal of that length.
Among the "Big Five" remaining free agents, here's the projected order of signing after Donaldson. Ages listed are as of Opening Day 2020.
Zack Wheeler, RHP, age 29
There is a sentiment in the industry that he could sign as early as the Winter Meetings. He's drawing broad interest, from the Phillies, White Sox, Twins, Padres and Angels, among others. MLB Network insider Ken Rosenthal recently reported that the Reds are also pursuing Wheeler.
Wheeler didn't pitch in the Majors during the 2015 and '16 seasons, while undergoing (and recovering from) Tommy John surgery on his right elbow. He also missed time this year due to shoulder fatigue. Because of those factors, it's unclear whether clubs will be comfortable offering a contract of five guaranteed years.
That said, over the past two years he is 12th in MLB with a total of 377 2/3 innings pitched, which should put some of the concerns about his durability to rest. And his combined 8.9 WAR during that stretch (per FanGraphs) ranks ninth, ahead of former Mets teammate Noah Syndergaard (8.5) and even Strasburg (8.1).
Wheeler will be less expensive to sign than Strasburg or Cole, so he appeals to teams -- like the White Sox, Angels and Padres -- that want to preserve resources to pursue offensive upgrades as well.
Stephen Strasburg, RHP, age 31
When Strasburg opted out of the final four years of his contract with the Nationals, some in the industry expected he would re-sign with the franchise quickly on a long-term deal. That hasn't happened. It's increasingly apparent that Strasburg is surveying options across the Major Leagues.
Strasburg, a father of two, lives in his native San Diego area during the offseason. Thus, signing with a team in Southern California has appeal to his family. The region's three teams -- the Dodgers, Angels and Padres -- are seeking rotation help this winter.
Scott Boras, the agent for Strasburg and fellow free-agent starter Gerrit Cole, referenced 2020's status as a leap year when describing his clients.
"This is a 'leap year' for premium pitching, too," Boras told MLB.com on Monday. "Like Randy Johnson, CC Sabathia and Max Scherzer in past free-agent cycles, these are pitchers who will bring you rings. It's difficult to say when the next time will be that we're going to see pitchers of this caliber available again.
"In this franchise 'leap year,' if you don't leap, you're losing."
Jacob deGrom's extension with the Mets last March is one reason that next year's free-agent pitching class is thinner than the current group. With deGrom off the board, the top names for next year are Trevor Bauer, James Paxton and Marcus Stroman. Therefore, improving teams with rotation needs for 2021 -- like the Blue Jays -- could choose to begin their shopping one year early.
Anthony Rendon, 3B, age 29
The Rangers want to have a new superstar in place for the opening of Globe Life Field this spring, and Rendon -- a Texas native -- is the strongest candidate of all. The Rangers also are pursuing trade possibilities, but none are as talented as Rendon, who finished third in NL MVP Award voting this year.
Other teams reported to have interest in Rendon, such as the Dodgers, would need to trade or reshuffle their position players to free up third base. It could benefit Boras, who represents Rendon, to wait for the industry to churn through those trade possibilities at the Winter Meetings before Rendon makes his decision.
Gerrit Cole, RHP, age 29
The Yankees are interested in Cole -- who grew up a fan of that team -- but even their financial might may not compare to the allure of pitching close to home. Cole attended Orange Lutheran High School, less than 5 miles from Angel Stadium. And the Angels have been perhaps the most aggressive Major League team in speaking with free-agent pitchers this offseason.
Boras likely will be comfortable continuing Cole's free agency well into the New Year, as he would be an upgrade to any team's rotation. Still, the price tag is going to be steep, possibly historically so. Some in the industry believe Cole has targeted the record for average annual value on a pitching contract -- $33 million, set by former Houston teammate Justin Verlander -- over an eight-year deal. The record for largest overall deal for a pitcher is the seven-year, $217 pact that David Price and the Red Sox agreed to prior to the 2016 season, and it seems likely Cole's deal will exceed that in terms of overall value.
As Boras has shown year in and year out, most recently with Bryce Harper last offseason, he has not been afraid to have his clients wait awhile for the right deal, which is why Cole is last on this list.
Jon Paul Morosi is a reporter for MLB.com and MLB Network.