Margevicius 'going to work through' rough patch
Padres lefty surrenders 4 home runs in short start against Bucs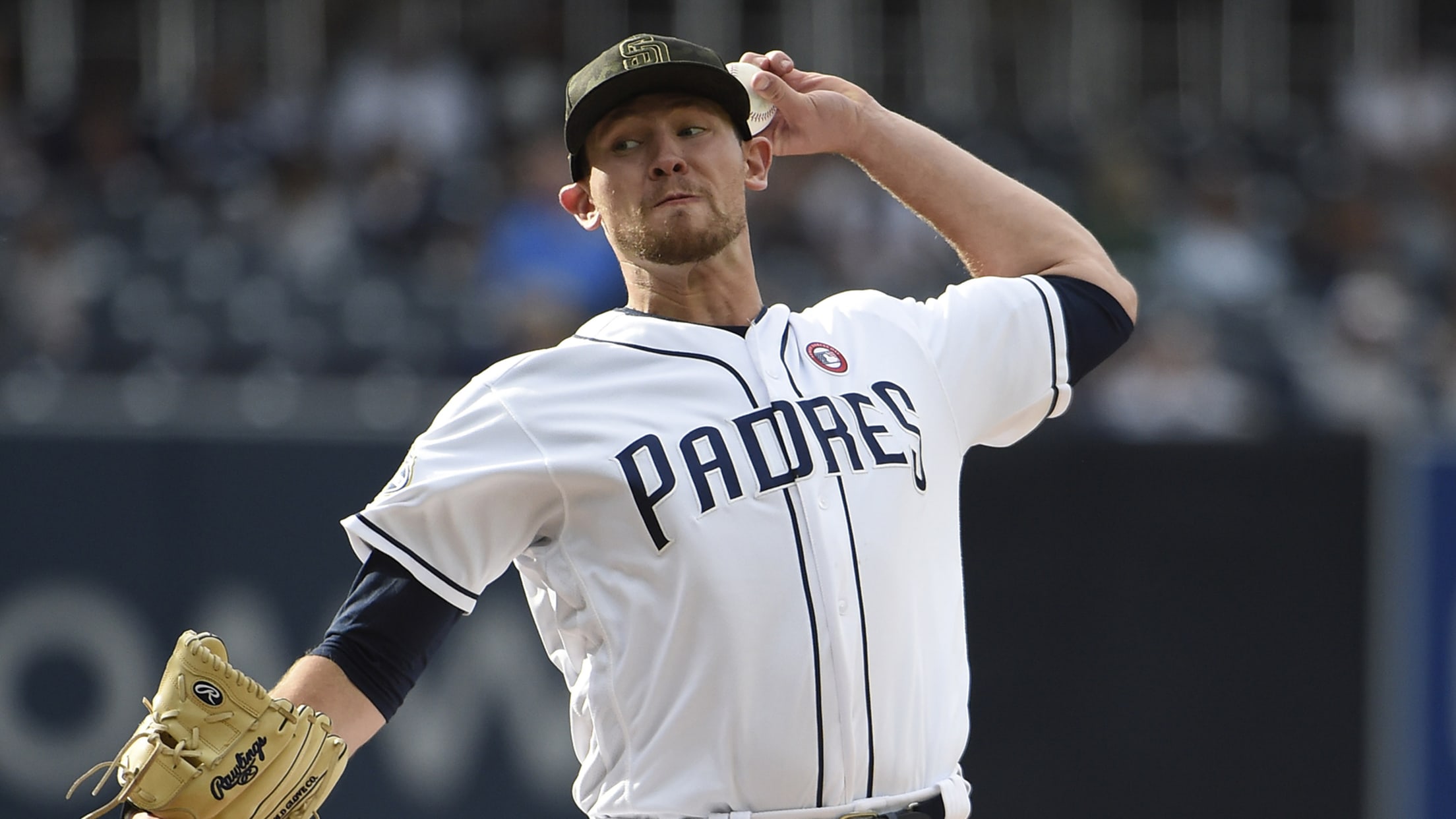 SAN DIEGO -- Since before Spring Training, the Padres have been vocal about their desire to create in-house rotation competition this season. Turns out, they might be staging an impromptu rotation battle this weekend. At the end of camp, Nick Margevicius was named the surprise fifth starter over Cal Quantrill
SAN DIEGO -- Since before Spring Training, the Padres have been vocal about their desire to create in-house rotation competition this season. Turns out, they might be staging an impromptu rotation battle this weekend.
At the end of camp, Nick Margevicius was named the surprise fifth starter over Cal Quantrill and Logan Allen, and he rewarded the club's faith with a strong start to his big league career. He posted a 1.69 ERA in his first three starts and a 3.23 mark through six.
But since the calendar flipped to May, the 22-year-old left-hander has struggled, as the league adjusts to his high-80s fastball and diverse pitch mix. Margevicius was roughed up over four-plus innings on Saturday in the Padres' 7-2 loss to the Pirates at Petco Park. His command -- pinpoint through the Minors and early April -- has gone missing, and his May ERA ballooned to 8.59.
"It's something I'm going to go back to this week and work on," said Margevicius, who allowed four homers and six runs. "You get up here, and it's not so easy. It's just a constant process. I'm just going to keep working through it. It's a rough spot for me. But I'm going to work my way through it."
Coincidentally, San Diego plans to promote Quantrill, ranked as its No. 10 prospect by MLB Pipeline, for a spot start in Sunday's series finale. Should Quantrill impress, it's worth wondering what might happen in the next trip through the rotation. The Padres are using a six-man staff temporarily, but that won't last past Sunday. They have enough off-days over the next two weeks to keep their young starters fresh.
"He's got to hit his spots," Green said of Margevicius. "There's not enough velo there to miss spots and get away with it. ... But we like Nick. We're confident he's going to bounce back. We know he's going to locate. It's just part of learning and growing at this level."
Margevicius didn't win the final rotation spot until after San Diego's final Cactus League game. Quantrill and No. 6 prospect Allen were both roughed up, and Margevicius earned the job. The Padres haven't altered their rotation since (discounting some spot starts from callups to provide extra rest for the regulars).
They haven't needed to. Padres starters entered play on Saturday with a 3.70 ERA, good enough for seventh in the Majors.
"They have some good young pitching there," Pirates skipper Clint Hurdle said. "They do. It just takes some time, sometimes, for them to grow the way you want them to. They don't always grow and pop at the same time, either. But they have good stuff."
For Margevicius to maintain his rotation job, he'll need to be much better than he was on Saturday night against Pittsburgh. He hung breaking pitches to Josh Bell in the second and third innings. Bell left the yard both times. Bryan Reynolds and Gregory Polanco also went deep. Meanwhile, the Padres' offense threatened but never broke through.
"We left an army on the basepaths," Green said. "We did a nice job taking walks today, and we had a lot of hits. We just didn't cash in."
In the coming months, and years, the Padres' rotation competition should get tougher. Dinelson Lamet is expected back from Tommy John surgery this summer, and Garrett Richards should follow -- if not this year, then next. The 21-year-old Allen should make a push this season, too, and a midseason trade remains on the table. Eventually, big-time prospects like MacKenzie Gore (No. 2) and Luis Patino (No. 4) will join the fray.
"We like a lot of the guys we have to pitch in the rotation now and to pitch in the rotation in the future," Green said. "Depth is a good thing. Inevitably with depth, you have more competition. There's something about every one of these guys that we like a lot."
For the past several years, the Padres have espoused the belief that the five best starters in their organization would rise to the top. They wouldn't pay any mind to experience or service time. That's how Margevicius, who hadn't pitched a regular season game above Class A Advanced, won a big league job this spring.
In other words: Margevicius earned his place in the starting five because of his performance. He's going to be pushed in his quest to keep it.