Senzel's debut: Here's what you need to know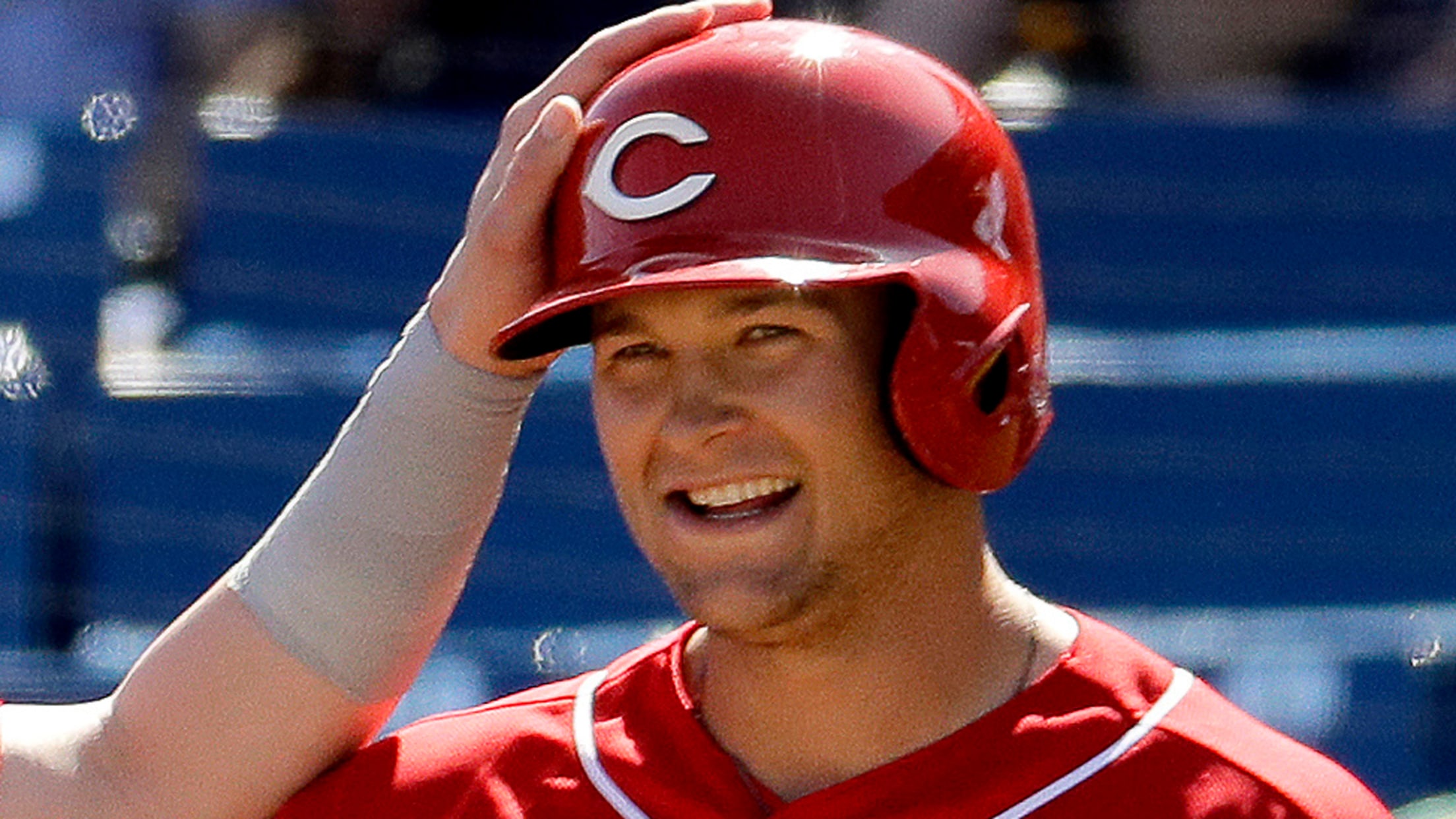 CINCINNATI -- If you're a Reds fan, you've likely been itching for the day that top prospect and center fielder Nick Senzel finally gets his first promotion to the Major Leagues. Now multiply that anticipation to infinity for Senzel and his family. Senzel's debut will be tonight vs. the Giants,
CINCINNATI -- If you're a Reds fan, you've likely been itching for the day that top prospect and center fielder Nick Senzel finally gets his first promotion to the Major Leagues. Now multiply that anticipation to infinity for Senzel and his family.
Senzel's debut will be tonight vs. the Giants, as he was called up from Triple-A Louisville by Cincinnati on Friday, ahead of the opener of a four-game series vs. the Giants. He will start in center field and bat second, said the Reds, who made room on the 25- and 40-man rosters by optioning right-hander Matt Bowman to Louisville and transferring second baseman Scooter Gennett to the 60-day injured list.
Senzel, 23, has been on the express route to the big leagues since he was the second overall pick in the 2016 MLB Draft and signed for a $6.2 million bonus. MLB Pipeline ranks him as the No. 5 overall prospect in baseball.
Here are some frequently asked questions and the answers to prepare you for Senzel's arrival to Great American Ball Park:
Where can I watch his first game?
Fox Sports Ohio will carry the Reds vs. Giants game at 7:10 p.m. ET. It will also be made available as the MLB.TV Free Game of the Day. On radio, it can be heard on 700 WLW-AM, the team's flagship station.
How will Senzel help the Reds?
Cincinnati is ranked at the bottom of the Major Leagues in team batting average and near the bottom in on-base percentage. With a hitting approach that is advanced for his age, Senzel has bat speed and can make hard contact consistently and can also work the counts for walks. He will likely replace currently struggling center fielder Scott Schebler, whom the Reds were counting on for offensive punch. The team also misses the contribution of injured hitter Scooter Gennett, so Senzel has a good chance to pick up some of the slack.
Why center field?
A third baseman for the University of Tennessee when he was selected by the Reds, Senzel probably didn't think he would debut in the big leagues as their center fielder. But that's where things wound up.
Because the Reds have had Eugenio Suarez at third base and Gennett at second base already, Senzel's paths were blocked. But once Billy Hamilton was non-tendered in the offseason, Senzel immediately set his sights on becoming the new everyday center fielder. Schebler won the role out of Spring Training, in part, so Senzel could get more experience at the new position since he played 12 games in center during Spring Training. An eye on service time to position him for an extra season of control before free-agent eligibility was also likely a factor.
How well does he play center field?
Senzel is athletic, has speed, quality instincts and a good first step on contact to track fly balls. During Spring Training, he was still working on improving his routes and some of the finer points of the position -- mostly stuff that comes with experience. There were few mistakes on the field in Arizona and many on the club were impressed.
"What's incredible about it, coming into it, thinking that a guy who has never played center field before made that much progress in such a short period of time and made the decision that difficult," Reds manager David Bell said after Senzel was reassigned to Minor League camp on March 22. "I think to put that in perspective how difficult he made that and how close he is, it says so much about how he went about it and the player that he is and the athlete that he is."
What about the injuries?
It was expected that Senzel would have made his debut last season, but a string of misfortune got in the way. He missed most of last May dealing with vertigo (he has been symptom-free since last year). In June, he suffered a fractured right index finger that required season-ending surgery. He batted .310/.378/.509 with six home runs in 44 games with Louisville. Senzel also needed arthroscopic surgery to remove bone chips from his right elbow in the fall while he was first learning to play outfield in instructional league.
On March 25 during a Minor League game in Arizona, Senzel sprained his right ankle when his spike caught in the dirt while sliding. That also delayed his progress but he has completely recovered and resumed playing on April 23 for Louisville.
How was Senzel performing in the Minors?
In eight games with Louisville since returning, Senzel is batting .257/.316/.371 with one home run. In 35 at-bats, he also struck out 13 times. His best game was Monday vs. Toledo, when he went 3-for-6 with a homer and four runs scored while batting leadoff.
Over four seasons in the Reds system, Senzel is a career .312/.388/.508 hitter with 28 homers and 132 RBIs.
What number will Senzel wear?
Senzel will wear No. 15, which was assigned to him during Spring Training. The most recent Reds player to sport No. 15 was Dilson Herrera last season. Notable players who have worn it for Cincinnati include outfield great George Foster (1973-81) and outfielder Glenn Braggs (1990-92). It was also the first number Hall of Fame shortstop Barry Larkin was assigned when he debuted in 1986.
Who is pitching for San Francisco?
The Giants will call up No. 23 prospect Tyler Beede to start tonight after Derek Holland went on the 10-day injured list Tuesday with a left index finger bruise. Beede, 25, struggled last year in his big league debut with seven earned runs allowed over 7 2/3 innings in two starts. At Triple-A Sacramento this season, the right-hander is 1-1 with a 1.99 ERA in five starts.
Recent Reds first-round selections to reach the Majors:
2013: OF Phillip Ervin, debuted in '17
2011: RHP Robert Stephenson, debuted in '16
2010: C Yasmani Grandal, debuted in '12 with the Padres
2009: RHP Mike Leake, debuted in '10 without playing in the Minors
2008: 1B Yonder Alonso, debuted in '10
Reds' National League Rookie of the Year Award winners:
RHP Scott Williamson (1999), 3B Chris Sabo (1988), RHP Pat Zachry (1976), C Johnny Bench (1968), 3B/2B Tommy Helms (1966), OF/IF Pete Rose (1963), OF Frank Robinson (1956)
Mark Sheldon has covered the Reds for MLB.com since 2006, and previously covered the Twins from 2001-05. Follow him on Twitter @m_sheldon and Facebook.