Hinch admires Aoki's 'meticulous nature'
Outfielder impressing at camp, looking ahead to WBC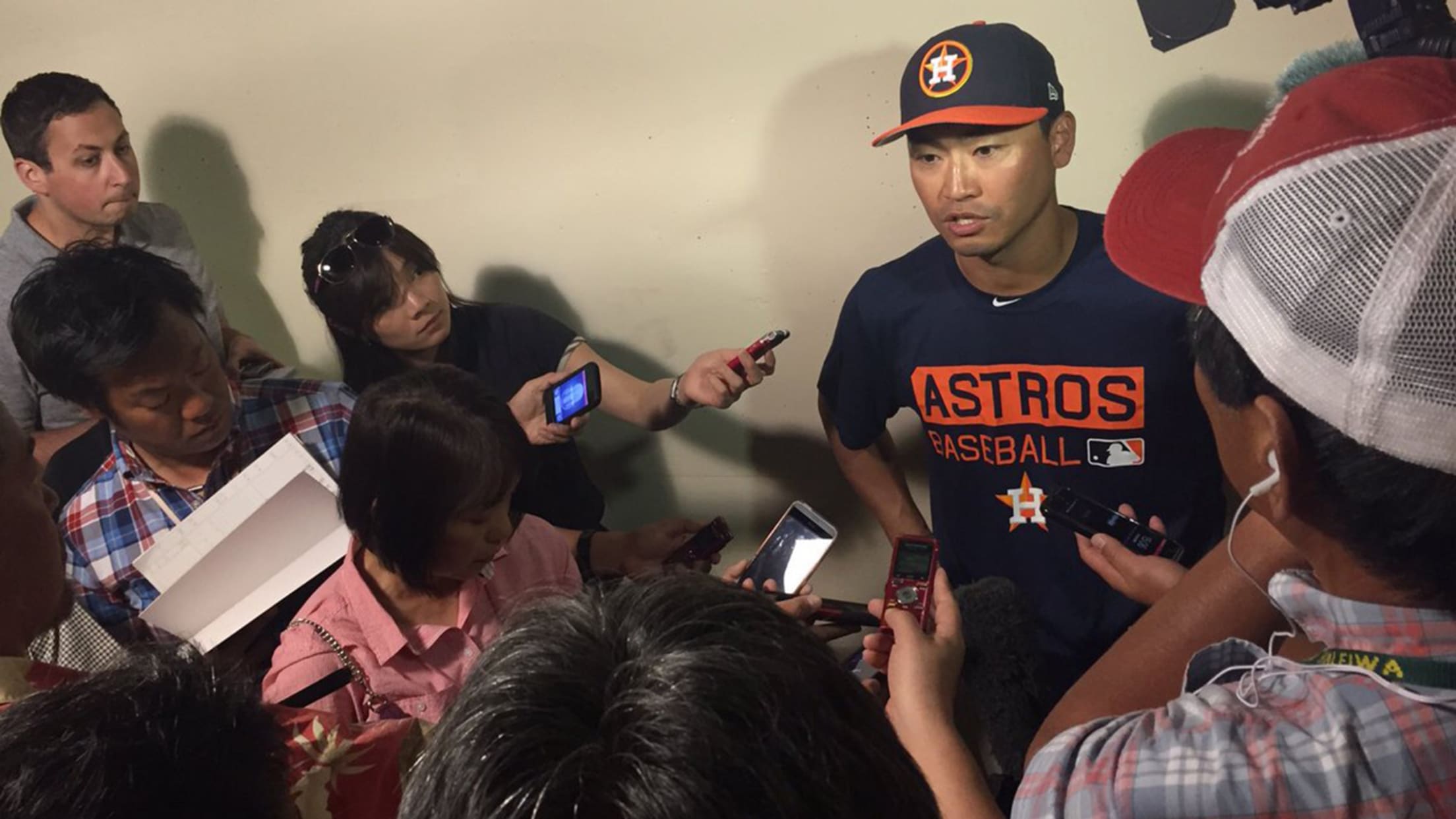 Norichika Aoki went 1-for-2 with a walk and a run in the Astros' 3-2 win over the Braves on Sunday. (Astros Twitter)
LAKE BUENA VISTA, Fla. -- Astros manager A.J. Hinch wasn't quite able to let outfielder Norichika Aoki play a full nine innings -- pulling him from Sunday's game against the Braves after he was grazed on the shoulder by a pitch -- but the veteran squeezed in enough work to
LAKE BUENA VISTA, Fla. -- Astros manager A.J. Hinch wasn't quite able to let outfielder Norichika Aoki play a full nine innings -- pulling him from Sunday's game against the Braves after he was grazed on the shoulder by a pitch -- but the veteran squeezed in enough work to make him feel comfortable as he leaves camp for the World Baseball Classic.
Aoki -- who went 1-for-2 in the Astros' 3-2 win over the Braves on Sunday, and 3-for-5 in the Astros' first two Grapefruit League games -- will depart for Japan on Monday. He'll fly from Orlando to Chicago, then take a 13-hour flight from Chicago to Tokyo, where he'll spend time with family before beginning workouts.
Aoki, 35, is the only Major League player on Japan's World Baseball Classic roster, and he's the oldest player, too. After participating in the 2006 and '09 tournaments, Aoki didn't play in the '13 World Baseball Classic.
• Spring:Tickets | Ballpark | 40-man roster | NRIs
"I played over here for six years in the Major Leagues," said Aoki, who spent this past year with the Mariners. "I played for five teams here. I've gotten to know a lot of the guys who are here. I know a lot of the players I'm going to be playing against. It's going to be different to play against them as a country. It will be country to country. I'm really excited, and hopefully I can experience really good moments in the WBC."
Hinch just wants Aoki to return healthy, but the outfielder made a good first impression in his first Astros camp with his preparation.
"He's very efficient with his work, and he's very focused when he's on the field," Hinch said. "His personality is starting to come out a little bit as we get a week into this. Watching him from afar, you see the quality of the at-bats and meticulous nature in which he conducts himself on the field. Being close to him and seeing it firsthand, there's a lot of work that goes on behind for him to be such a good hitter."