Notable Opening Day marks in Phillies history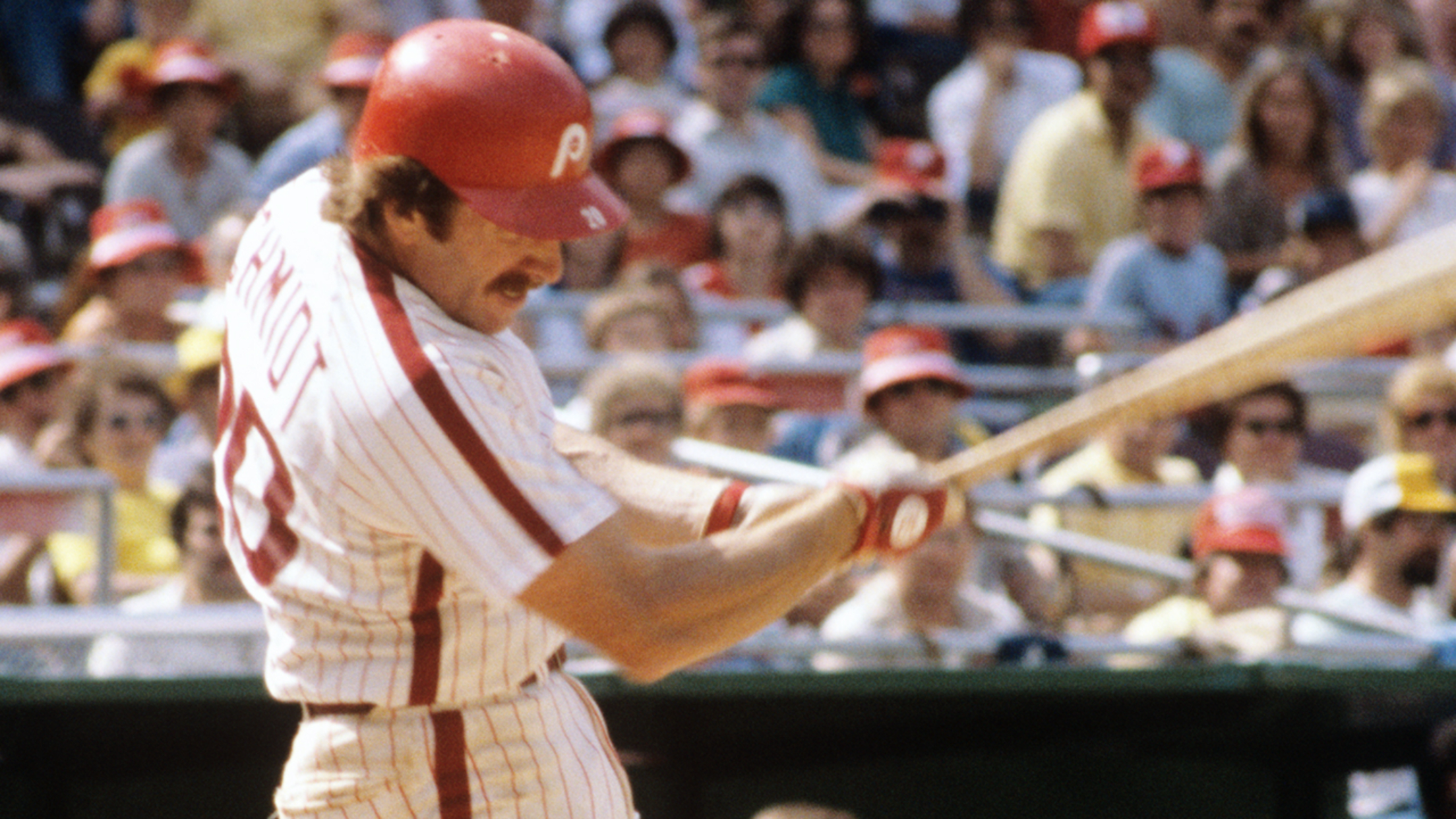 Hall of Famer Mike Schmidt is the Phillies' all-time leader in Opening Day starts (16) and home runs (5). (Phillies)
When the Phillies take the field at Great American Ball Park on Monday, it will mark the sixth time they have opened the season in Cincinnati. The Reds hold a 3-2 lead, having won the last two (1981 and '86). Dayton, Ohio, native Mike Schmidt homered in the last opener
When the Phillies take the field at Great American Ball Park on Monday, it will mark the sixth time they have opened the season in Cincinnati. The Reds hold a 3-2 lead, having won the last two (1981 and '86). Dayton, Ohio, native Mike Schmidt homered in the last opener in Cincinnati. The Hall of Famer is the team leader in Opening Day starts and home runs. Some other notable Opening Day marks:
Most Opening Day starts
C Mike Lieberthal (10)
1B Fred Luderus and Ryan Howard (9)
2B Chase Utley (8)
SS Jimmy Rollins (14)
3B Schmidt (16)
LF Greg Luzinski (9)
CF Richie Ashburn (10)
RF Johnny Callison (9)
P Steve Carlton (14)
Club records
Most home runs: Schmidt (5); Scott Rolen and Rollins (3)
Most wins: Robin Roberts (5)
Most starts: Carlton (14)
Most losses: Carlton (9)
Most shutouts: Chris Short (3)
Notable season openers
• May 1, 1883: The Phillies lost their initial opener, 4-3, to Providence at Recreation Park at 24th and Columbia Avenues when the Grays scored four runs in the eighth to overcome a 3-0 deficit. Attendance: an estimated 1,200. Future Hall of Famer Charles (Old Hoss) Radbourn was the winner, the first of 48 victories for him that season. John Coleman was the loser, the first of his 48 defeats (13 wins).
• April 19, 1900: Phillies won at Boston, 19-17, in 10 innings in the highest-scoring opener in baseball history. Boston tied the game by scoring nine in the ninth inning.
• April 9, 1913: Phillies won the first game played in Brooklyn's Ebbets Field, 1-0, over the Dodgers. RHP Tom Seaton was the winner.
• April 14, 1914: CF Sherry Magee became the first Phillies player to homer twice on Opening Day in a 10-1 win over the New York Giants at Baker Bowl.
• April 14, 1915: Phillies won at Boston, 3-0, as Grover Cleveland Alexander blanked the defending World Series champions. The Phillies went on to win their first National League pennant.
• April 19, 1937: Phillies wpon a doubleheader, beating Boston, 2-1, in 11 innings and 1-0 at Braves Field. It was the only time the Phillies started the season with a twin bill.
• April 19, 1938: Emmett Mueller of the Phillies and Ernie Koy of Brooklyn each hit a home run in their first Major League at-bat in the first inning of a 12-5 Brooklyn victory, the last season opener at Baker Bowl. The Phillies moved permanently to Shibe Park in July.
• April 12, 1965: Phillies won the first NL game played in Houston's Astrodome over the Colt 45s. LHP Chris Short tossed a four-hitter and 3B Dick Allen homered.
• April 13, 1955: Roberts lost a no-hitter at Connie Mack Stadium when Alvin Dark singled with one out in the ninth inning. Robbie prevailed, 4-2, over the Giants. Richie Ashburn, injured late in Spring Training, saw his club-record consecutive-games played streak end at 730.
• April 7, 2000: LHP Randy Wolf was the winner, 3B Scott Rolen hit first homer and the Phillies prevailed, 4-1, in first game in Houston's Enron Field.
• April 4, 2005: Charlie Manuel made his Phillies managerial debut in an 8-4 win at Citizens Bank Park, the first game for the Washington Nationals, formerly the Montreal Expos.
• April 5, 2010: 3B Placido Polanco drove in six runs in an 11-1 romp at Washington. RHP Roy Halladay won his Phillies debut. Polanco's six RBI were the most for a Phillies player since Magee drove in six in 1914.
• April 1, 2011: PH John Mayberry Jr. delivered a walk-off single to cap a three-run ninth inning that lifted the Phillies to a 5-4 win over Houston at Citizens Bank Park.
• April 5, 2012: Halladay tossed eight, two-hit shutout innings as the Phillies won, 1-0, in Pittsburgh. It was the third 1-0 Opening Day win in franchise history.
• March 31, 2014: Rollins drove in four runs as the Phillies romped, 14-10, at the Texas Rangers, the most Opening Day runs for the club since 19 in 1900.
Larry Shenk is the Phillies' team historian.