AL notes: Bauer, Vlad Jr., Cruz, Stroman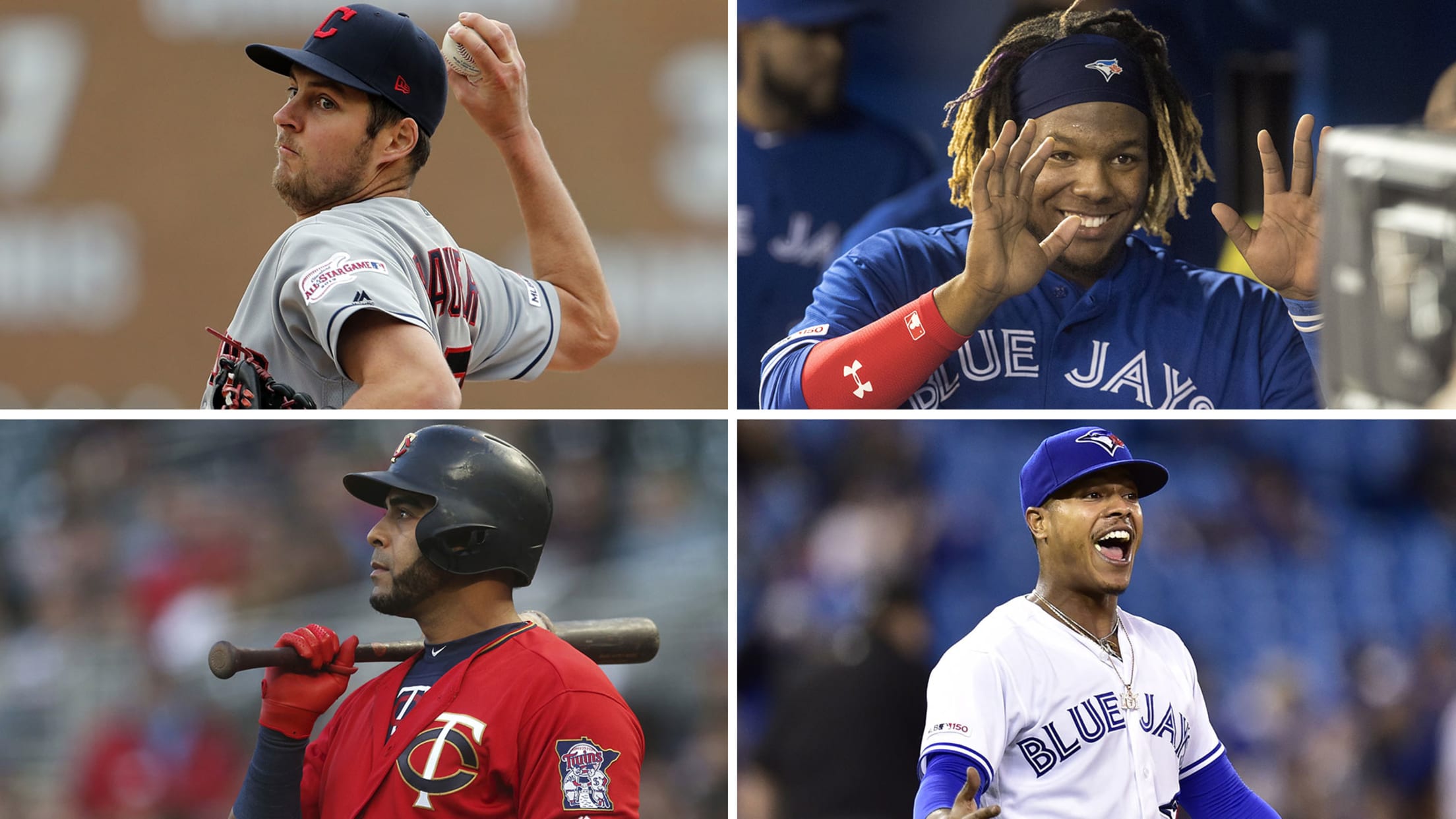 As I polled more than two dozen big league executives on a variety of topics earlier this week, I also asked them to predict the biggest name to be moved prior to the July 31 non-waiver Trade Deadline. Giants ace Madison Bumgarner's name was mentioned far more than any other,
As I polled more than two dozen big league executives on a variety of topics earlier this week, I also asked them to predict the biggest name to be moved prior to the July 31 non-waiver Trade Deadline.
Giants ace Madison Bumgarner's name was mentioned far more than any other, but one of the more intriguing players to receive a vote was Cleveland right-hander Trevor Bauer.
"It would be a frenzy if he was made available," an American League executive said.
Bauer is 4-1 with a 2.45 ERA in seven starts this season, while the Indians are 5-2 when he starts and 11-11 when he doesn't. Corey Kluber's fractured arm won't make it any easier for Cleveland to keep pace with the first-place Twins; if things begin to fall apart, might the Indians shop Bauer this summer?
"I think they'd have a lot of suitors," an AL GM said.
Unlike most summer trade targets, Bauer isn't a two- or three-month rental; he's under club control through 2020, eligible for arbitration next winter for the final time.
Still, as one National League GM pointed out, Bauer was available via trade over the winter, so it "wouldn't change much" if the Indians were to let it be known that he was on the block once again. But unlike the offseason, when teams have a plethora of trade and free-agent options available, adding a frontline starter in the heat of a playoff race can be an intoxicating opportunity.
"People hate to part with prospects in the offseason," the AL exec said. "When you're sniffing a pennant, they'll trade them."
In addition to the potential asking price, two execs pointed to Bauer's outspoken personality as a red flag. The pitcher made headlines this week with a social media video trolling Astros third baseman Alex Bregman.
"I'm curious how his makeup would hurt his value," another AL executive said. "There's a negative perception."
The Vlad Jr. media swarm
We've been talking about Vladimir Guerrero Jr. for such a long time, it's easy to forget he's only been in the Majors for a week.
The attention thrust in his direction isn't going away any time soon, but the Blue Jays are doing their part to make sure their phenom isn't overwhelmed or inundated by outside noise, taking a careful approach with any non-baseball requests that could distract the youngster.
Richard Griffin, the club's director of baseball media, is a former longtime baseball columnist for the Toronto Star, so he knows what the media is looking for from the game's top prospect. Guerrero has been told to direct any interview requests to Griffin and his staff, something the 20-year-old "has been comfortable with" to this point, according to Griffin.
"It allows us to control the access he's going to get, especially at this stage when everyone wants a piece of him," Griffin said. "We don't turn anybody down; we just want to let him know in advance what's going to be expected of him that day, just so he can be a part of that 25-man clubhouse."
The Yankees faced a similar situation in 2017 when Aaron Judge burst on to the scene with 10 home runs during the first month of the season. Unlike Guerrero, Judge had been up -- and struggled -- the previous August, but the demand for Judge's time became immense once he started mashing in 2017.
"All you need to do is recognize that it could be an issue that prevents someone from being all they can be," Yankees general manager Brian Cashman said. "Between his agency and the player directly, you honestly communicate about the pitfalls, the upside, the downside. You loop in your media relations director and make sure they manage the asks as best they can. It's more of an educational component; there's only so much time in a day. There's time for work, time for play and time for rest."
The Yankees had put Judge (and the rest of their young players) through ample media training, but nobody can prepare for the crush of requests that comes with that kind of success.
"Vlad is supposed to be kind of a savior; we didn't have that situation," said Jason Zillo, the Yankees' director of media relations. "Once Judge got good, he became that guy, but it wasn't a countdown for him to make his debut."
It would be understandable for the Blue Jays to want the positive publicity that comes with the promotion of a prospect such as Guerrero, especially one with Hall of Fame bloodlines. But Griffin said the front office -- including team president Mark Shapiro and general manager Ross Atkins -- are on board with the current approach.
"What's best for the club is going to be the result of what Vlad does on the field, not off the field," Griffin said. "As his performance gets to the expectations, that will take care of itself. Right now, I'm afraid that the hype will outperform the performance at this stage. He's only 20 years old and he's only been in the Majors for four or five games. This is a guy who is going to be face of this franchise for years to come. He doesn't need to go 0-to-100 in 30 seconds."
Series to watch: Twins-Yankees
Minnesota makes its lone visit of the regular season to the Bronx this weekend, where the Twins have been swept in three of the past four seasons (1-12 overall). The Twins enter the weekend in sole possession of first place in the AL Central, riding a balanced lineup that includes six hitters with an OPS of at least .829.
One of those mashers is Nelson Cruz, whose impact is being felt in a major way after he signed a one-year, $14.3 million deal that includes a $12 million option for 2020. Cruz is slashing .305/.400/.573 through his first 24 games and has brought a much-needed veteran presence to the middle of Minnesota's lineup.
"If he was rolling over, not walking and not hitting the ball out of the ballpark, then it wouldn't be quite the presence," an AL general manager said. "It's not just the big name standing in the box; you have to have good at-bats. But there's no question that having an adult in the lineup that is performing is extremely powerful."
The Yankees return home from a successful West Coast swing in which they went 6-3, though they were swept by the D-backs in a two-game set to finish the trip. New York could get infielders Miguel Andujar and DJ LeMahieu back this weekend, bolstering a lineup that has held its own with several stars on the injured list.
One other intriguing subplot this weekend: Michael Pineda, who went 31-31 with a 4.16 ERA for the Yankees during parts of four seasons (2014-17), will return to Yankee Stadium for the first time since leaving the club as a free agent. He is Minnesota's probable starting pitcher on Sunday.
Awards watch: Stroman for Cy?
Marcus Stroman's April had him on the Cy Young Award radar, but the Blue Jays ace had his first subpar start of the season Wednesday, allowing five runs (four earned) over 3 1/3 innings in a loss to the Angels.
Stroman's ERA rose from 1.43 to 2.20, leaving only one AL starter with a sub-2.00 ERA: Tampa Bay right-hander Tyler Glasnow.
The 25-year-old carries his league-best 1.75 ERA into his start Friday night against the Orioles, looking to become the Majors' first six-game winner.
Stealth star of the week
Jose Abreu had himself quite a week, slashing .545/.583/.909 with two home runs, two doubles and 11 RBIs in 22 at-bats entering play Thursday. His big bat helped the White Sox go 4-1 during that stretch, sweeping a two-game set against the Tigers and taking two of three from the Orioles. Through his first 28 games this season, Abreu has an .893 OPS and is tied for the AL lead with 30 RBIs. An impending free agent, Abreu will be mentioned in a lot of trade rumors this summer as the White Sox continue their rebuild.
Mark Feinsand, an executive reporter, originally joined MLB.com as a reporter in 2001.