Pinder says family tradition taught him patience
Utility man reflects on Christmas memories, gift-giving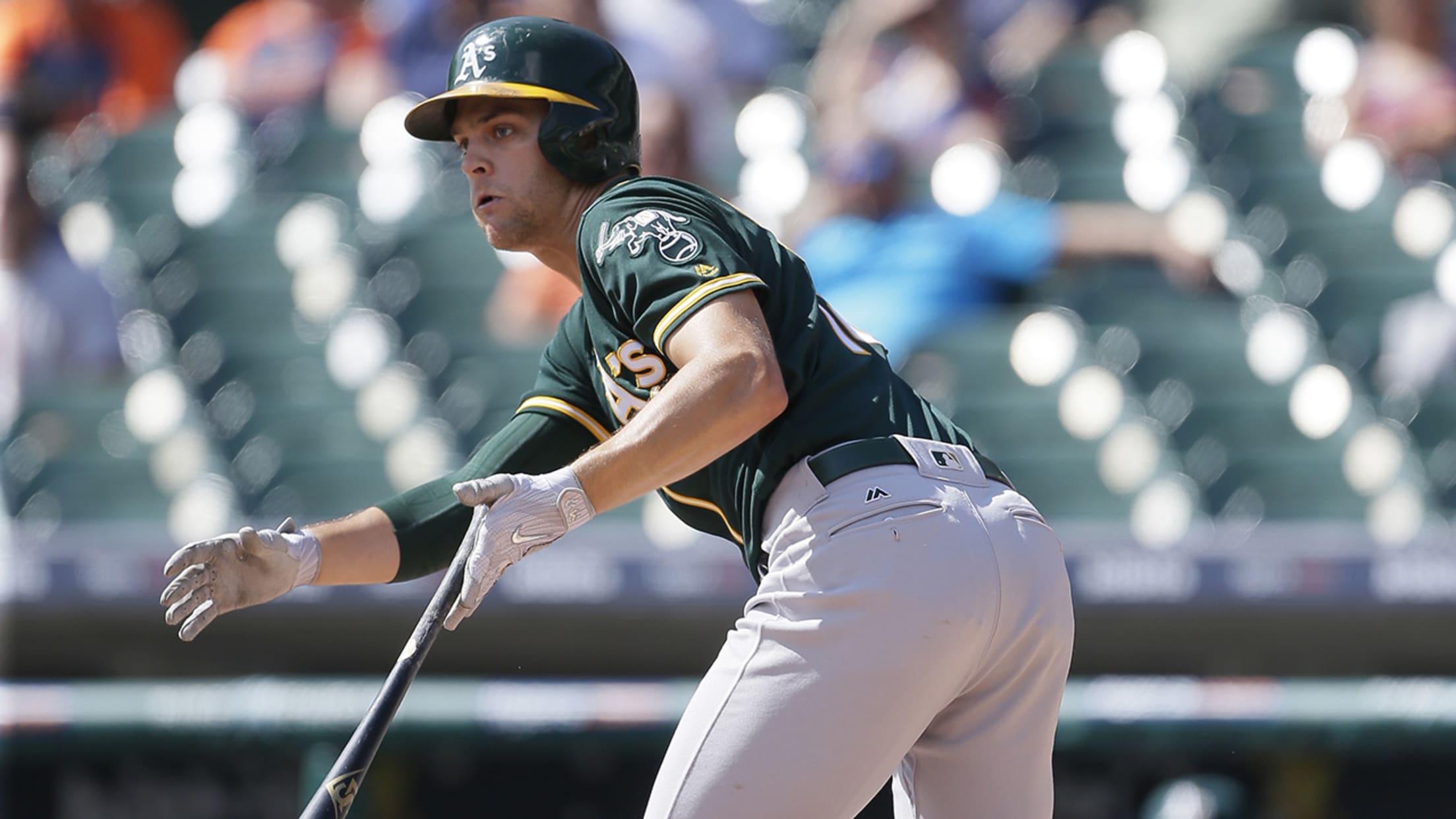 Chad Pinder says he didn't ask for anything this Christmas. (Getty Images) (Duane Burleson/Getty Images)
Versatile and valuable, Chad Pinder is readying for another season as the A's ultimate utility man. The 25-year-old has been going through his offseason workouts in Charleston, S.C., with plans to momentarily break free from his routine to enjoy the holiday season with his fiancée, Taylor, and his family in
Versatile and valuable, Chad Pinder is readying for another season as the A's ultimate utility man. The 25-year-old has been going through his offseason workouts in Charleston, S.C., with plans to momentarily break free from his routine to enjoy the holiday season with his fiancée, Taylor, and his family in Virginia.
Pinder recently took time to chat with MLB.com about Christmas memories, gift-giving and more, including his thoughts on the A's latest doings:
MLB.com: What is your favorite thing about this time of year?
Pinder: Honestly, just getting home and being around the family because with a big family it's hard to get everyone in the same place at the same time, so when we're able to get all four kids and our parents and my grandma, it's nice.
MLB.com: Do you have any favorite holiday traditions?
Pinder: We always did Christmas at our house, and my grandparents would come. Nothing crazy other than your typical stuff. We're very detailed as far as the presents and stuff. It goes in order. You never go out of turn, and we spread it out. It's an all-day event for sure.
MLB.com: So only one person is opening up a gift at a time?
Pinder: Yeah. It usually starts with my little sister because she's the youngest, and then we'll go youngest to oldest, all the way around, then we'll take a break and eat the breakfast my grandma usually makes, the quiche and different little things, and then we'll go back in for round two and finish up. We usually get going pretty early because even when I was in high school my sister was really young, so she would get up super early and we'd start early and it's usually a good four-hour ordeal.
MLB.com: Sounds like a good way to teach kids patience.
Pinder: No doubt. It's funny. I guess the older I got the more patience I got. Growing up, I can remember literally the second one person is done opening you're scrambling because you want your turn.
MLB.com: What is at the top of your Christmas wish list this year?
Pinder: I literally asked for nothing. I specifically said I don't need anything. I'm good. I just don't need anything. If I need something, I usually just go get it.
MLB.com: What is the best gift you've ever received?
Pinder: I can remember two. One of them wasn't done on Christmas, but when I was growing up we had an indoor basketball deal. We had an indoor hoop, and it was awesome because that's when I was in middle school playing basketball. That was one of my favorites, then one year we got a big joint game room where we had an Xbox and a bunch of games and a bunch of different movies. We were very lucky our parents spoiled us on Christmas.
MLB.com: How would you describe yourself as a shopper?
Pinder: I'm a good gift-giver. I'm a big Cyber Monday guy. I'm not a big go out and shop person, so I did all my shopping on Cyber Monday. I'm all over it.
MLB.com: What would you get Matt Chapman?
Pinder: Oh, that's a good one. What would I get Matt Chapman for Christmas? I want that to be a good one, so let me think about that one.
Pinder later texted MLB.com, "Probably get him this book," with a photo of a book titled, 'Keep It Shut: What to Say, How to Say It, and When to Say Nothing at All.' Asked about Chapman's potential reaction, Pinder replied, "He would probably throw it away. Chap has no filter, which is what makes him the best. Nothing he doesn't know. I tell him that all the time. It's why we love him."
MLB.com: What's the best gift you've given?
Pinder: Last year, I got my jersey from my debut, the ball from my first hit and the lineup card framed for my dad. He was stunned. He was speechless, to be honest with you.
MLB.com: What are your picks for best holiday movie?
Pinder: The Grinch. That's No. 1 for sure. The one with Jim Carrey. And I'll always watch the "Home Alone" movies if they're on during Christmas time.
MLB.com: What do you think about how the team's coming together?
Pinder: From my standpoint, I think it's awesome. We added a guy in Stephen Piscotty that's proven in the big leagues. He's a great player, a great hitter, great outfielder. I've heard nothing but great things about the guy, so I'm excited to add him to the dynamic of the clubhouse. I know we have a great core, and adding Piscotty is big for us.
Obviously losing Ryon Healy is tough because we've been with him for so many years, and losing that presence in the clubhouse and just on a personal level as a friend is tough, but that's part of the game, and I think he benefits from that as well, being able to go to Seattle and play a position every day or whatever it may be.
I'm excited for this year. I think we have a great core of guys. We all keep in touch during the offseason, too, so I think we're in a good spot.
Jane Lee has covered the A's for MLB.com since 2010.