Herrera clears waivers, outrighted to Triple-A
Phillies outfielder was designated for assignment Tuesday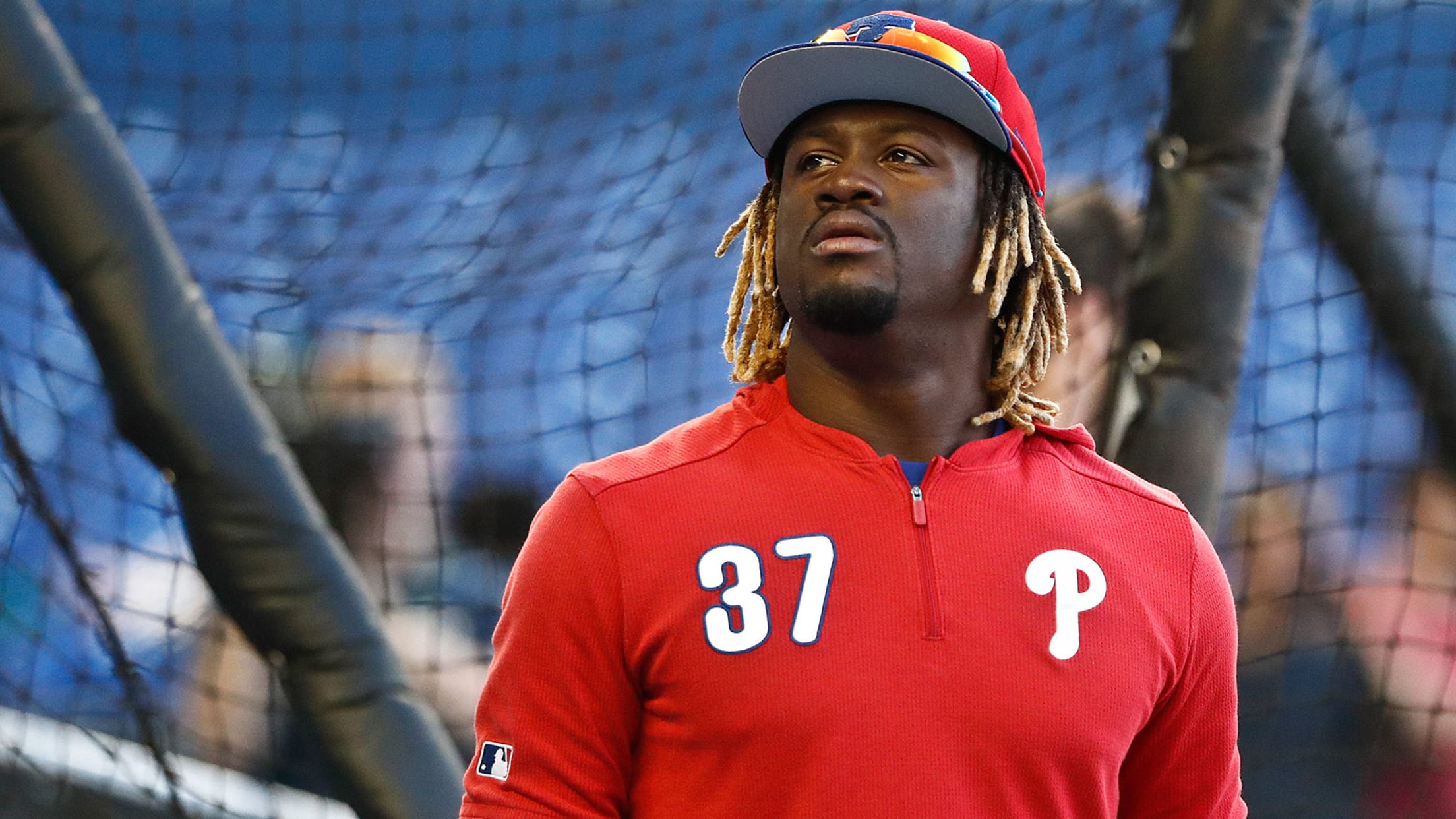 PHILADELPHIA -- It is increasingly difficult to imagine Odúbel Herrera playing for the Phillies again. Herrera cleared waivers and was outrighted to Triple-A Lehigh Valley on Thursday, two days after being designated for assignment. The 28-year-old outfielder was once a rising star -- a 2014 Rule 5 Draft pick who
PHILADELPHIA -- It is increasingly difficult to imagine Odúbel Herrera playing for the Phillies again.
Herrera cleared waivers and was outrighted to Triple-A Lehigh Valley on Thursday, two days after being designated for assignment. The 28-year-old outfielder was once a rising star -- a 2014 Rule 5 Draft pick who became a National League All-Star in '16 and an integral piece of Philadelphia's rebuild. But Herrera was arrested in May in Atlantic City, N.J., on a charge of simple assault of his girlfriend, and everything changed.
The charge was dismissed, but Herrera served an 85-game suspension for violating MLB's Joint Domestic Violence, Sexual Assault and Child Abuse policy. The baseball landscape for the Phillies altered significantly since then, which included the promotion and development of center fielder Adam Haseley, the acquisition of veteran corner outfielder Jay Bruce and Tuesday's acquisition of outfielder Nick Martini, who was claimed off waivers from the Reds.
Martini's arrival -- he will compete for a bench job this spring -- allowed the Phillies to remove Herrera from the 40-man roster, despite there being two years remaining on the five-year, $30.5 million contract extension he signed in December 2016.
The $6.1 million average annual value of Herrera's contract will continue to count against the team's Competitive Balance Tax total the next two seasons.
"It hasn't played out exactly as we would have hoped," Phillies general manager Matt Klentak said.
Herrera is owed $19.5 million over the next two seasons ($7 million in 2020, $10 million in '21 and a $2.5 million buyout on a '22 club option). The Phillies have found no trade interest to this point. They could release Herrera, but the Collective Bargaining Agreement states that he can not be released for his off-the-field actions after serving his suspension.
Herrera is likely to be in Minor League camp in Clearwater, Fla., next month. He should accept his Minor League assignment, otherwise he will forfeit the remaining $19.5 million on his contract. But none of this means Herrera is guaranteed to open the season with Lehigh Valley, either.
Klentak spoke to Herrera on Tuesday.
"He understands," Klentak said. "This is a baseball decision. The construction of the roster last spring when Odúbel was initially suspended is much different than what it is today. The outfield construction is very different. And on top of that, Odúbel wasn't very good for the first couple months last year. More than anything, this is a baseball decision."
Herrera's last two seasons haven't been good, actually. He hit .249 with a .711 OPS and 88 OPS+ from 2018-19. He had a .629 OPS in 39 games before his suspension last season. But there is no question the arrest and suspension affected Herrera's future with the Phillies. If that had not happened, Philadelphia might not have acquired Bruce or promoted Haseley, even if Herrera had struggled offensively.
"It's impossible to project what might have happened in an alternate universe," Klentak said. "I'm not sure."
This is Herrera's real universe: he likely will come to Minor League camp at Carpenter Complex in February, just a few hundred feet from the left-field wall at Spectrum Field, but much further away from rejoining the Phillies.