Breaking down every Opening Day matchup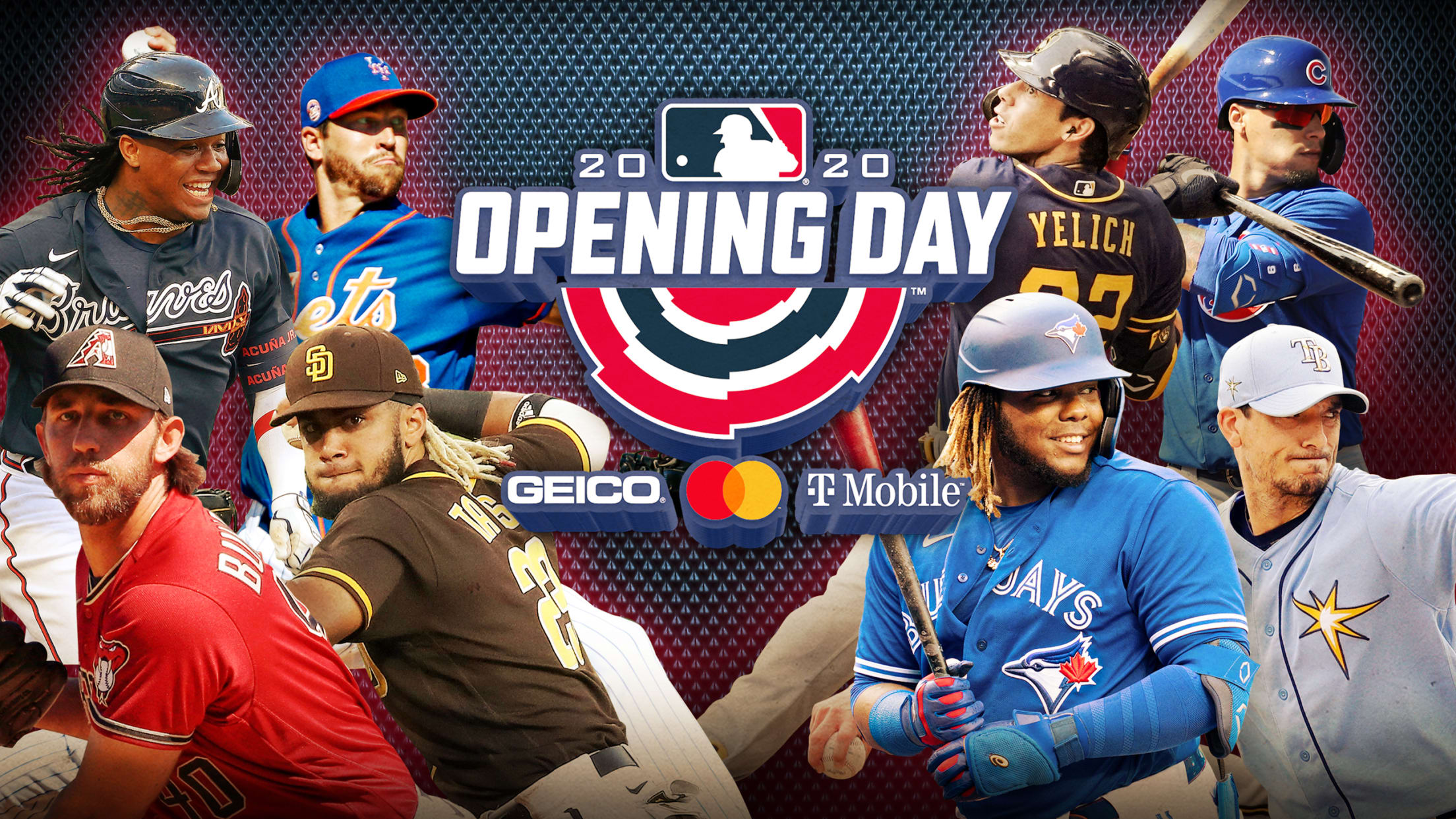 The 2020 MLB season is now officially underway -- at least for four of the 30 teams. Everyone else is set to begin on Friday, July 24, and there is still a lot more to look forward to. The action got going on Thursday night, with Gerrit Cole and the
The 2020 MLB season is now officially underway -- at least for four of the 30 teams. Everyone else is set to begin on Friday, July 24, and there is still a lot more to look forward to.
The action got going on Thursday night, with Gerrit Cole and the Yankees playing spoiler for the first, rain-shortened game of the Nationals' World Series title defense. Then the baseball world turned its eyes out west, where Mookie Betts' first Dodgers hit and daring baserunning play helped lead the seven-time defending National League West champs past the rival Giants.
Los Angeles and San Francisco play again Friday night, but the day's other 13 matchups all are of the season-opening variety. The action will begin in Queens, with the Mets' Jacob deGrom looking to start a run for his third straight NL Cy Young Award as he takes on the Braves. And there is plenty more intrigue across this slate -- including the debuts of Nick Castellanos and Mike Moustakas with the Reds (vs. Tigers), Hyun Jin Ryu with the Blue Jays (at Rays), Josh Donaldson with the Twins (at White Sox) and Madison Bumgarner with the D-backs (at Padres).
It will continue to be an Opening Day like no other due to the coronavirus pandemic, obviously falling much later on the calendar and staged without standing-room-only crowds in the seats. It also kicks off a wholly unique 60-game schedule that is completely regional: Teams will play two-thirds of their games against division foes, and then the remaining one-third against clubs in geographically corresponding divisions in the opposite league (East vs. East, Central vs. Central, West vs. West). And MLB announced another wrinkle Thursday night, with the expansion to a 16-team playoff field for 2020.
Here is a breakdown of all 14 Friday matchups, listed in order of start time (all times ET). Every game is available live on MLB.TV (local and national blackout restrictions apply), and those that will be broadcast nationally on ESPN or MLB Network have been noted below.
Braves at Mets (4:10 p.m., ESPN): Opening Day has been the Mets' time to shine, as the franchise ranks first all-time in winning percentage (.655) in the first game of the season, including victories in 38 of the past 50 openers and each of the past three. It also helps to have Jacob deGrom on the mound as he looks to become the first pitcher to win three straight Cy Young Awards since Randy Johnson (1999-2002). The Braves will counter with 22-year-old Mike Soroka, who will be the franchise's youngest Opening Day starter since 1878. Soroka, who had the NL's lowest home run rate last year, will have to contend with slugger Pete Alonso, who is fresh off setting MLB's rookie home run record (53). MORE>
Tigers at Reds (6:10 p.m., MLB Network): For the seventh straight season, Nick Castellanos will be playing in a Tigers opener. But this time will be a bit different, as he will be making his Reds debut. Castellanos, who signed with Cincinnati as a free agent, will become the rare high-profile player to face his old club on his first Opening Day in a new uniform. While Detroit tries to turn things around following a 114-loss season, Castellanos will be attempting to lead the Reds to their first postseason appearance since the 2013 NL Wild Card Game. Meanwhile, Joey Votto is slated to start his 12th straight Opening Day -- the longest active streak for a first baseman. MORE>
Blue Jays at Rays (6:40 p.m.): This Opening Day will look quite a bit different for Toronto, which has a new ace in free agent acquisition Hyun-Jin Ryu, who will be making his Blue Jays debut. This also will be the first Opening Day for some 2019 midseason callups such as Vladimir Guerrero Jr., Bo Bichette and Cavan Biggio. Coincidentally, it was at Tropicana Field in 2011 where the elder Vladimir Guerrero made the final Opening Day start of his Hall of Fame career, playing for the Orioles. The younger Guerrero will step in against a pitcher 15 years his senior in the Rays' Charlie Morton (36), who will become the oldest pitcher to start on Opening Day for any team since 41-year-old Bartolo Colón for the 2015 Mets. MORE>
Marlins at Phillies (7:05 p.m.): The Joe Girardi era begins in Philly with some new faces (such as shortstop Didi Gregorius) but also with the now-familiar sight of Aaron Nola on the mound. Nola will become the first Phillies pitcher since Hall of Famer Roy Halladay (2010-12) to start three straight openers, and he will look for support from the likes of Bryce Harper, whose five career Opening Day homers tie him with Albert Pujols for the lead among active players. The Marlins will be trying to win their opener for the first time since 2014, thereby snapping the NL's longest Opening Day losing streak. MORE>
Royals at Indians (7:10 p.m.): Starting the season at home for only the second time in the past eight seasons, the Indians will begin the post-Corey Kluber era by handing the ball to Shane Bieber following his breakout 2019 campaign. The righty will be the first pitcher other than Kluber to start an opener for the team since Justin Masterson in '14. Cleveland is trying to rebound from becoming the first MLB team since the '05 Indians to miss the playoffs while winning at least 93 games. The Royals, in manager Mike Matheny's team debut, will start Danny Duffy on the mound for the third time over the past four season openers. Slugger Jorge Soler will set out to defend his AL home run title after crushing a surprising 48 last year. MORE>
Brewers at Cubs (7:10 p.m., ESPN): These two teams are separated by less than 90 miles, and there has been little daylight between them over the past few years. Since 2017, the NL Central rivals have identical records (271-216), with the Cubs holding a tiny edge (30-28) in head-to-head matchups, and both clubs winning one division title and making the postseason twice. They figure to be close again in 2020, as part of a highly competitive division. Both teams also have first-time Opening Day starters in this one, with Chicago's Kyle Hendricks taking on Christian Yelich and company, and Milwaukee's Brandon Woodruff facing off against Javier Báez and the rest of the Cubs' big bats. MORE>
Orioles at Red Sox (7:30 p.m.): Surprisingly, this is the first time the Orioles will begin their season at Fenway Park since 1966, when Brooks Robinson and Frank Robinson both homered in a win over Carl Yastrzemski and the Sox. That's one of many Opening Day victories for Baltimore, which owns the third-best record all-time in openers (.593), although its eight-game win streak ended last year against the Yankees. Boston will play its first Opening Day without Mookie Betts since 2015, but the Red Sox have no shortage of firepower in a lineup that features Xander Bogaerts, Rafael Devers and J.D. Martinez. MORE>
Rockies at Rangers (8:05 p.m.): Opening Day for the Rangers means the grand opening of their new ballpark, Globe Life Field. Texas is also unveiling its frontline starting pitching trio of Lance Lynn, Mike Minor and newly acquired two-time Cy Young Award winner Corey Kluber over the course of Opening Weekend. Lynn, whose 246 strikeouts last season were the third-most by a Rangers pitcher (behind Nolan Ryan's 301 in 1989 and Yu Darvish's 277 in 2013), gets the ball for Game No. 1. For the Rockies, superstar Nolan Arenado begins his eighth season looking to extend his MLB infielder record of seven straight Gold Gloves to start his career -- and he has to be a favorite to win a third straight Platinum Glove, too. MORE>
Twins at White Sox (8:10 p.m.): The Bomba Squad is back after setting the MLB single-season home run record with 307 last year (beating the Yankees by one). The ageless Nelson Cruz -- who became just the fourth 38-year-old with a 40-homer season after Barry Bonds, Darrell Evans and Hank Aaron -- and newcomer Josh Donaldson (37 homers for the Braves in '19) lead the Twins into 2020. The up-and-coming White Sox squad features sophomore Eloy Jiménez (31 homers last year) and rookie Luis Robert (MLB's No. 3 prospect), to go along with first-time Opening Day starter Lucas Giolito, who went from the worst ERA among qualified starters in 2018 to fifth-best in the AL last season. MORE>
Pirates at Cardinals (8:15 p.m.): Jack Flaherty just pitched one of the best second halves of all time in 2019 -- his 0.91 ERA after the All-Star break was the third-lowest ever for a qualified pitcher. Now the Cardinals' 24-year-old ace gets his first career Opening Day start, trying to pick up where he left off as St. Louis seeks a second straight NL Central crown in 2020. Pittsburgh is led by breakout slugger Josh Bell, whose 37 home runs last season were a record for a Bucs first baseman and the most by any Pirate since Brian Giles in 2002. MORE>
D-backs at Padres (9:10 p.m.): Madison Bumgarner is about to pitch his first game ever in a non-Giants uniform. The three-time World Series champion makes his D-backs debut as Arizona's Opening Day starter, his sixth time getting the ball on Opening Day. Bumgarner has more strikeouts against the Padres, 231, than he does against any other team. The Padres' young stars lead the way into the 2020 season, as 24-year-old Chris Paddack gets his first career Opening Day start -- he had a 1.08 ERA against the D-backs as a rookie -- and 21-year-old Fernando Tatis Jr. headlines San Diego's lineup. MORE>
Mariners at Astros (9:10 p.m.): Reigning AL Cy Young Award winner Justin Verlander takes the mound for Houston, fresh off joining the 3,000-strikeout club and notching his first career 300-strikeout season. The Astros, who fell just short in Game 7 of last year's Fall Classic, will try to finish the job this year after a tumultuous offseason and bring new manager Dusty Baker that elusive World Series ring in his "last hurrah." For the Mariners, playing Opening Day stateside is a change from a year ago -- remember, they kicked off the 2019 season in Japan (Ichiro's sendoff series). Marco Gonzales started that game in the Tokyo Dome, and he starts this year in Houston, maintaining his Opening Day starter duties after Félix Hernández started the previous 10 openers for Seattle. MORE>
Giants at Dodgers (9:40 p.m.): At one point this offseason, it looked like Ross Stripling would no longer be a member of the Dodgers. Now he'll be on the mound for the team's second game of the season. The right-hander -- whose would-be trade to the Angels in February fell apart before it could become official -- has been a valuable swingman for L.A. over the past four seasons. He'll take on a Giants club that will try again to land new manager Gabe Kapler his first win.
Angels at Athletics (10:10 p.m., ESPN): Mike Trout begins his 10th season in Major League Baseball, and that means he's about to officially become eligible for the Hall of Fame. The reigning and three-time AL MVP is the best position player of all time at his age -- at least, by Wins Above Replacement, with Trout's 72.8 WAR through his age-27 season ranking No. 1 in history ahead of Ty Cobb. On the other side, the A's are seeking their third straight postseason appearance after earning AL Wild Card berths in 2017 and '18. They're led by third baseman extraordinaire Matt Chapman, the AL's back-to-back reigning Platinum Glove winner. MORE>
OPENING DAY RECORDS TO KNOW
All records go back to 1904, unless otherwise noted.
SINGLE-GAME RECORDS
Most Opening Day home runs: 3 (tie)
Matt Davidson (2018), Dmitri Young (2005), Tuffy Rhodes (1994) and George Bell (1988)
Opening Day 2018 was memorable for a lot of reasons, and one of them was Davidson's three-homer game for the White Sox, which tied the Opening Day record (and started a season-long crushing of the Royals by Davidson). Bell was the first player to homer three times in a season opener, doing so for the Blue Jays against the Royals on April 4, 1988. Six years later, Rhodes hit three homers in the Cubs' 1994 opener against the Mets. And Da Meat Hook had three for the Tigers on Opening Day 2005 against the Royals.
Most Opening Day RBIs: 7 (tie)
Corey Patterson (2003) and Brant Alyea (1970)
Alyea set the record in 1970, batting in the Twins' lineup behind Hall of Famers Rod Carew and Harmon Killebrew and eight-time All-Star Tony Oliva. Alyea went 4-for-4 against the White Sox in a 12-0 win, socking a pair of three-run homers. Patterson, the No. 3 overall pick in the '98 Draft by the Cubs, matched him in 2003 for Chicago at Shea Stadium. His day also included four hits and two big flies in a 15-2 Cubs romp.
Most Opening Day hits: 5 (tie)
Aaron Miles (2005), Craig Biggio (2001), Jeff Kent (1998), Nellie Fox (1959), Dale Mitchell (1950), Harlond Clift (1937), Billy Herman (1936), Ty Tyson (1927), Babe Ruth (1921), Larry Doyle (1915), Eddie Collins (1913) and Bobby Byrne (1911)
There have been 12 players with five hits on Opening Day, but none since Rockies second baseman Miles did it 15 years ago in a Coors Field classic, in which Colorado rallied for four runs off of Trevor Hoffman in the ninth for a 12-10 win. That capped off a seven-year run that saw three players get five hits in openers, but prior to Kent pulling off the feat in 1998, it hadn't happened in 39 years (Fox).
Most Opening Day strikeouts: Camilo Pascual, 15 (April 18, 1960)
On Opening Day 1960, the Washington Senators right-hander fired a 15-strikeout complete game to beat the Red Sox and set the mark for most K's in a season opener. The only run he allowed? A homer to Ted Williams in his final Opening Day.
Most runs scored on Opening Day: Indians, 21 (April 14, 1925)
The Indians set the Opening Day runs record in a wild 21-14 win over the Browns. Down 13-9 in the eighth inning, Cleveland scored 12 runs in the frame, with Hall of Famer Tris Speaker hitting the go-ahead homer. The Browns made 10 errors in the game, tied for the most ever.
RARE FEATS
Opening Day cycle: Gee Walker (April 20, 1937)
Walker is the only player to hit for the cycle on Opening Day, doing so for the Tigers in 1937 against the Indians. Walker completed the cycle in reverse order -- he homered in the second inning, tripled in the fourth, doubled in the fifth and singled in the seventh -- in one of the best Opening Day performances ever.
Opening Day no-hitter: Bob Feller (April 16, 1940)
Feller's brilliance in the Indians' season opener in 1940 produced the only no-hitter on Opening Day in MLB history. Feller was just 21 years old when he shut down the White Sox on an appropriately blustery day in the Windy City. It was the first of three no-hitters the Hall of Famer would throw in his career.
CAREER RECORDS
Most Opening Day starts (pitcher): Tom Seaver, 16
Seaver had two nicknames -- The Franchise and Tom Terrific -- and his Opening Day record speaks to both. Seaver's 16 Opening Day starts are the most of any pitcher, and 11 were for the Mets, a franchise that he defined for so long. He was, of course, terrific in those openers -- Seaver went 7-2 with a 3.13 ERA and 81 strikeouts, second-most all-time.
Most consecutive Opening Day starts: Jack Morris, 14 (1980-93)
Morris' Hall of Fame legacy is being an indomitable workhorse, and his record 14 consecutive Opening Day starts (for three teams) is representative of that. Morris had a career 3.39 ERA in season openers, and he's one of only two pitchers since 1980, along with Rick Mahler, with at least three complete-game victories on Opening Day.
Most Opening Day wins: Walter Johnson, 9
The Big Train was a beast on Opening Day. Johnson went 9-5 with a 1.31 ERA in his 14 career Opening Day starts. Twelve of those starts were complete games, and seven of them were shutouts. Both of those are Opening Day records.
Most Opening Day saves: 6 (tie)
Francisco Rodriguez and Rollie Fingers
Fingers and K-Rod are two of the most successful closers to ever play the game, and they're tied for the most Opening Day saves. Rodriguez saved season openers for four teams (the Angels, Mets, Brewers and Tigers) and Fingers for three (the A's, Padres and Brewers).
Most Opening Day strikeouts: Randy Johnson, 107
It's entirely unsurprising that one of the most fearsome strikeout artists of all time would top the list of Opening Day strikeouts. The Big Unit had four double-digit strikeout performances in season openers, including 14-K starts for the Mariners in 1993 and '96.
Most Opening Day home runs: 8 (tie)
Adam Dunn, Ken Griffey Jr. and Frank Robinson
Robinson spread his homers out across four teams, homering in season openers for the Reds, Orioles, Angels and Indians. All of The Kid's Opening Day homers came for the Mariners, including two on Opening Day 1997 against the Yankees. Dunn's eight included two multi-homer Opening Days, in 2005 and '07, for the Reds.
Most Opening Day hits: Pete Rose, 31
Major League Baseball's hit king is also its Opening Day hit king. Charlie Hustle notched 31 base knocks in season openers, including three-hit games in 1974, '76 and '81, as well as eight other multihit games. It certainly helped that he also set a record by playing in 23 Opening Day games.
Most team wins on Opening Day: Cubs, 78
Since MLB began as we know it with the founding of the NL in 1876, the Cubs have more wins on Opening Day than any other franchise, including one over the Rangers last year. (Their overall record is 78-64-2.) Chicago's curse-breaking World Series run in 2016 started with an Opening Day win, and so did their championship run 108 years earlier in 1908.
Best team winning percentage on Opening Day: Mets, .655
The Mets are 38-20 on Opening Day and have won 38 of their past 50, including a 2-0 win over Max Scherzer and the eventual World Series-champion Nationals last season. Interestingly, the franchise lost its first eight Opening Day games from its inception in 1962 (even the '69 Miracle Mets lost their season opener). But the Mets' second World Series run in '86 did start with an Opening Day win.