O'Day accepts Bob Feller Act of Valor Award
Orioles reliever honored for community service to veterans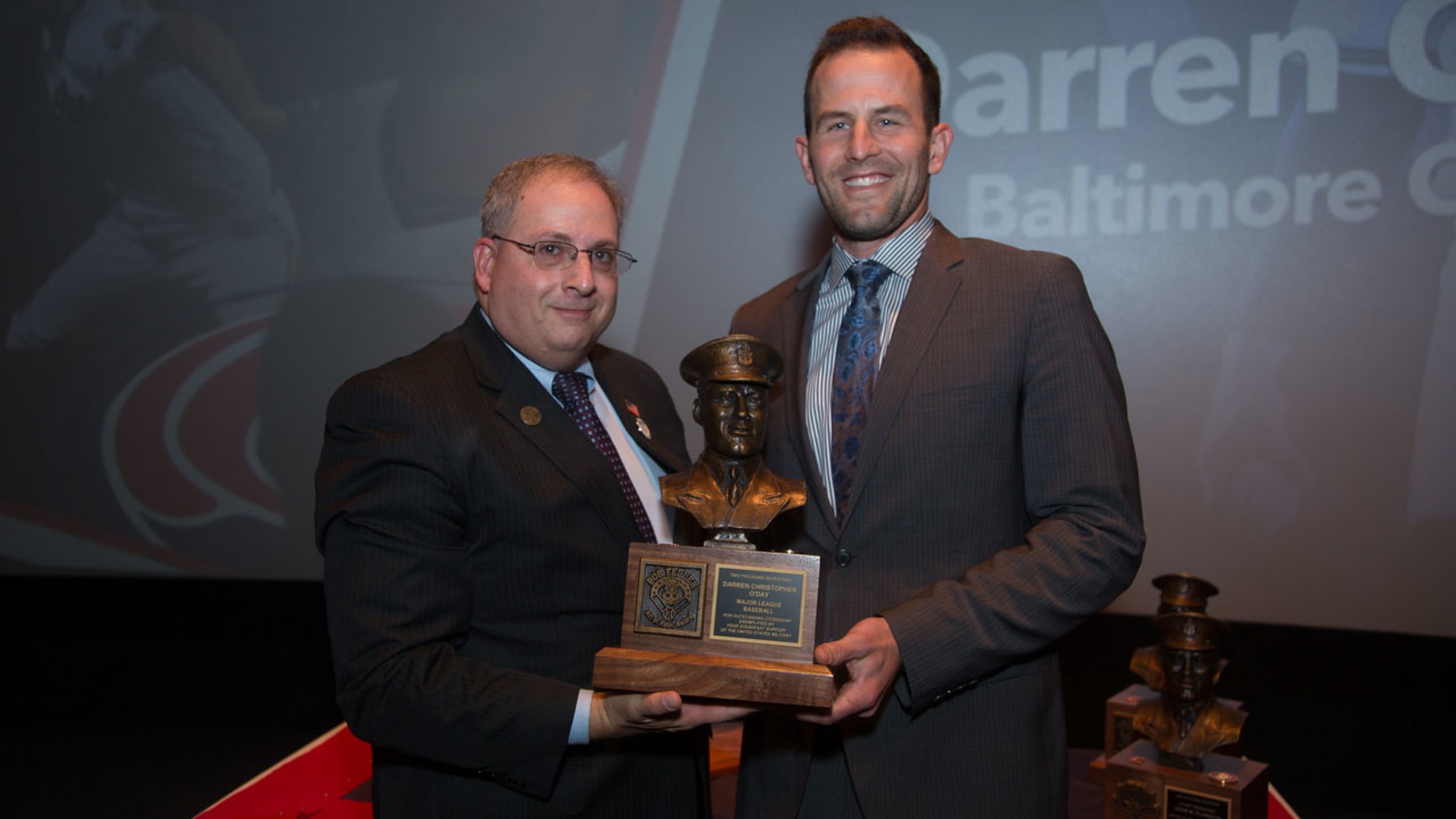 Darren O'Day: "To be associated with [Bob Feller] and win an award named in his honor with those virtues is a tremendous honor." (Orioles)
BALTIMORE -- Orioles reliever Darren O'Day received the prestigious Bob Feller Act of Valor Award on Thursday night at the U.S. Navy Memorial in Washington."I think this award is a tremendous honor to win because of the character, courage and valor that Bob Feller displayed when he chose to enlist
BALTIMORE -- Orioles reliever Darren O'Day received the prestigious Bob Feller Act of Valor Award on Thursday night at the U.S. Navy Memorial in Washington.
"I think this award is a tremendous honor to win because of the character, courage and valor that Bob Feller displayed when he chose to enlist in the Navy the day after the Pearl Harbor bombing," O'Day said. "What might not be known is he was exempt from the draft, but he 100 percent chose to go fight, and I think it's just a great example of someone that values what it costs to maintain our freedom, the way we want to live. It's not cheap, it's not easy.
"To be associated with him and win an award named in his honor with those virtues is a tremendous honor. Tonight, when I gave my speech, I thanked a lot of people because I don't think I would have done it by myself. So a lot of special people helped me get there. Especially I would like to thank the Baltimore Orioles, their public relations and community relations staff, and my wife, [Elizabeth]."
Loved celebrating our amazing supporter @DODay56! He is this year's Bob Feller Award winner! Thank you for all your support of USO! pic.twitter.com/5J0JbPscGM

— USO-Metro (@USOMetroDC) November 16, 2017
The award annually highlights a player who embodies the values, integrity and dedication to serving the United States that Feller showed. O'Day has been incredibly active in helping veterans and their families, annually visiting the Walter Reed National Military Medical Center with teammates when the Orioles play the Nationals in D.C.
O'Day and his wife have also helped facilitate the donation of proceeds from the auction of the Orioles' July 4 uniforms to the USO of Metropolitan Washington-Baltimore. This year's auction raised $22,000.
Last but not least, we would like to honor our 2017 Bob Feller Act of Valor winner, Darren O'Day, of the @orioles. Over the past several years, O'Day has been a strong supporter of the military in Baltimore. pic.twitter.com/KlZTGxGf0k

— Feller Act of Valor (@ActofValorAward) November 16, 2017
A regular participant in the Orioles' Military Sunday Suite program, O'Day was honored with the Oriole Way Award from the Oriole Advocates, which honors a player who has made significant contributions on and off the field and serves the community.