Tuesday's best: Akin flirts with no-hitter for Frederick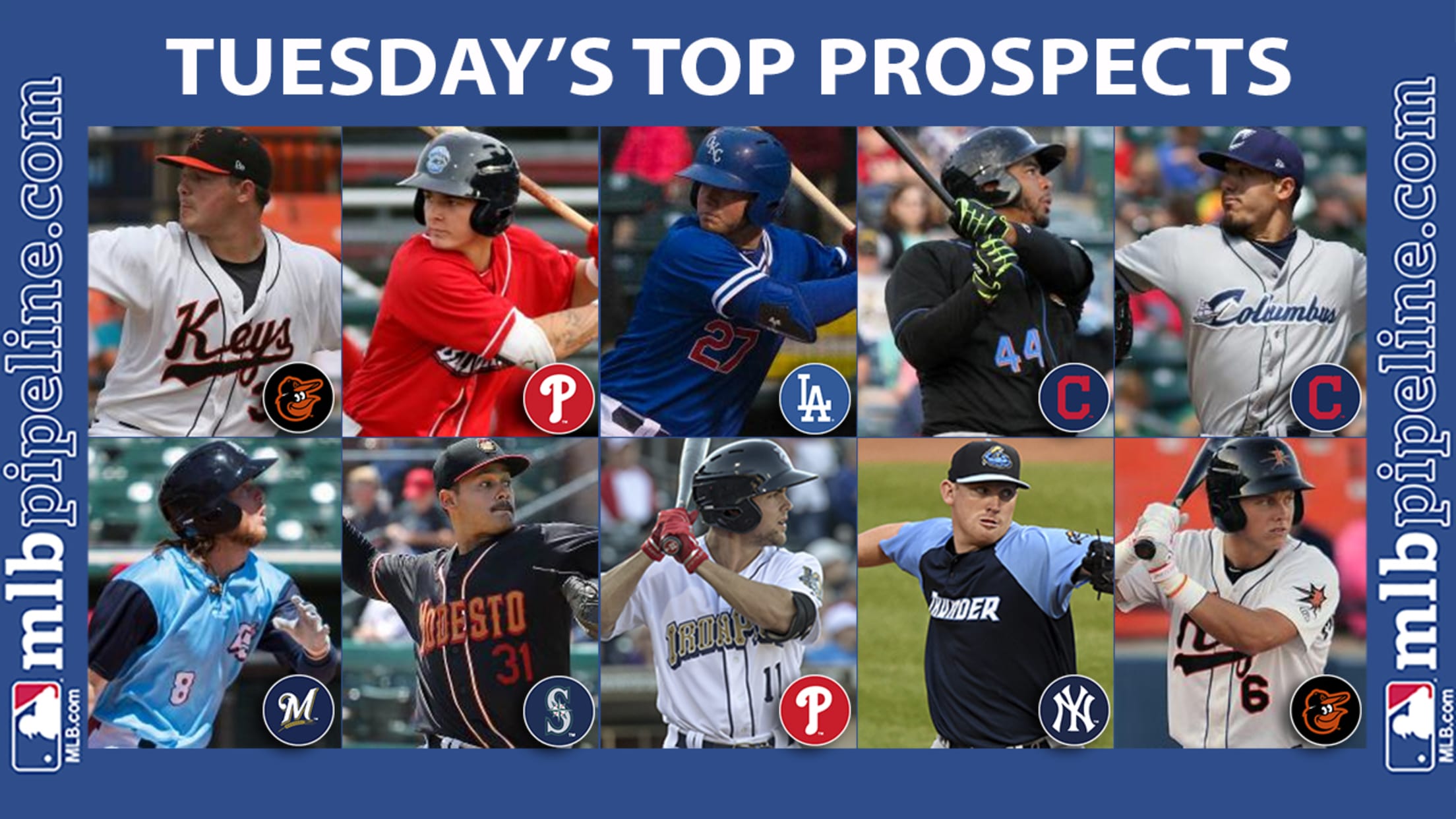 Keegan Akin had showed progress in each of his starts this month before putting it all together on Tuesday to fire a career-high eight scoreless frames and lead Class A Advanced Frederick past Wilmington, 5-1.The Orioles' No. 5 prospect carried a no-hit bid into the eighth inning before allowing a
Keegan Akin had showed progress in each of his starts this month before putting it all together on Tuesday to fire a career-high eight scoreless frames and lead Class A Advanced Frederick past Wilmington, 5-1.
The Orioles' No. 5 prospect carried a no-hit bid into the eighth inning before allowing a two-out single to center field. It was the only hit allowed by the left-hander, as he struck out six and walked three while tossing a season-high 110 pitches, 71 for strikes.
"My command got better as my outing went," Akin told MilB.com. "My slider was working good for me today as an off-speed pitch, but I'd say establishing the fastball command was definitely a huge part of the success."
Though he'd already thrown 93 pitches entering the eighth inning, Akin, 22, made a strong case to remain in the game by tallying back-to-back strikeouts to open the frame. The next batter, Cody Jones, brought Akin's no-hit bid to an end.
"When I was in the dugout, I was thinking about [the no-hitter]," Akin said, "but when I got on the mound, it was 'go' time and I kind of forgot about it a little bit.
"I knew I had to lock it in mentally," he continued. "With the first two guys striking out, I was smelling blood in the water. But then on the first pitch, it was just a jam shot for a base hit. I just knew [it was a hit] in the back of my head."
Akin struggled during the first two months of the season, prompting the Orioles to allow him some additional time off at the end of May to get his mechanics and approach back on track.
Since returning on June 4, all he's done is post a 0.90 ERA and a 0.80 WHIP with 31 strikeouts in his last 30 innings (five starts), during which he's lowered his season ERA to 3.76 from 5.95. Opposing hitters, meanwhile, are batting just .130 with zero home runs against him in that span.
Pacing the Keys at the plate was Orioles No. 4 prospect Ryan Mountcastle, who extended his hitting streak to seven games with a 2-for-4 effort that included a solo home run and a double. The 20-year-old shortstop is hitting .317/.344/.563 this season, with 14 home runs and 28 doubles in 72 games.
The rest of the best performances from top prospects Tuesday
• No. 14 overall prospect Mickey Moniak (Phillies' No. 2) connected on a solo homer and went 3-for-5 in Class A Lakewood's loss against Greensboro. It was the third multihit performance in five games for the 19-year-old outfielder, who's hitting .276/.329/.406 with three homers and 17 doubles in his first full season.
• No. 51 overall prospect Alex Verdugo (Dodgers' No. 2) extended his hitting streak to 17 games by going 1-for-4 for Triple-A Oklahoma City. The 21-year-old outfielder has raised his slash line from .306/.383/.399 to .342/.411/.463 in that span. Willie Calhoun (No. 70 overall, Dodgers' No. 3), meanwhile, came through with a game-tying two-run homer in the fourth inning. It was his third homer in his past six games and 17th of the season, giving him a share of third place on the Pacific Coast League leaderboard.
MILB Video - Title: Watch: Verdugo extends streak - Url: http://www.milb.com/r/video?content_id=1548246583
• No. 82 overall prospect Bobby Bradley (Indians' No. 4) homered in his final three at-bats, in three consecutive innings, on three consecutive pitches, to finish 3-for-5 with a season-high seven RBIs in Double-A Akron's 10-4 victory over Erie. The performance comes near the end of a month that's seen him hit .301 with seven home runs with 22 RBIs in 23 games.
MILB Video - Title: Bradley's three homers - Url: http://www.milb.com/r/video?content_id=1547520283
• Brewers' No. 10 prospectBrett Phillips filled out the stat sheet as he went 4-for-7 with three extra-base hits and four RBIs to pace Triple-A Colorado Springs in a doubleheader sweep of Omaha. The 23-year-old outfielder started his day by going 2-for-3 with a triple and two RBIs before adding a home run and a double with two more RBIs in the nightcap. He's hitting .289 with 13 home runs in 63 games.
MILB Video - Title: Phillips goes yard - Url: http://www.milb.com/r/video?content_id=1547869883
• Indians' No. 16 prospect Shawn Morimando set a career high with 12 strikeouts as he recorded his second five-hit shutout in three starts for Triple-A Columbus. He faced the minimum 27 batters in the performance thanks to a pair of ground-ball double plays as well as two outfield assists, all while throwing 74 of his 106 pitches for strikes. After a shaky start to his season, the left-hander rebounded to go 4-0 with a 1.43 ERA in 37 2/3 innings (five starts) in June.
MILB Video - Title: Morimando completes shutout - Url: http://www.milb.com/r/video?content_id=1547785383
• Mariners' No. 23 prospect Pablo Lopez fired a season-high seven scoreless frames, allowing three hits and striking out five, in his best start for Class A Advanced Modesto. Though his 5.77 ERA leaves much to be desired, the 21-year-old righty owns a solid 66-to-11 strikeout-to-walk ratio in 73 1/3 innings, during which he's allowed just four homers while posting his usual strong ground-ball rate.
• Phillies' No. 11 prospect Scott Kingery posted his third multi-homer game of the season and first since joining Triple-A Lehigh Valley on Monday. After going 1-for-5 in his Triple-A debut, the 23-year-old second baseman hit a solo shot in the first inning and added a two-run blast in the fifth to finish 2-for-5. He's now tied for the Minor League lead, with 20 home runs in 71 games.
MILB Video - Title: Kingery's second homer - Url: http://www.milb.com/r/video?content_id=1547157983
• After establishing a career high with 10 strikeouts in his Double-A debut on June 15, Yankees' No. 20 prospectZack Littell matched that total while tossing six scoreless frames in his second start for Trenton. The 21-year-old righty threw 97 pitches, 59 for strikes, as he scattered three hits and walked two. He's now 11-1 in 13 starts (15 appearances) this season, with a 1.49 ERA and 1.07 WHIP in 84 1/3 innings.
MILB Video - Title: Littell's 10th strikeout - Url: http://www.milb.com/r/video?content_id=1547520383
"He doesn't get rattled at all," Trenton manager Bobby Mitchell told MiLB.com. "He's very confident in the way he pitches and his stuff, and he keeps going with what he's got. He doesn't try to overthrow.
"He's driven, no doubt about it," he added. "It might not be outwardly driven, but you know. The way he just takes the ball and nothing bothers him. He just gets out there and pitches. His demeanor is so calm. … So far, I haven't seen any kinks in the armor at all."