Wallace retires from role as O's pitching coach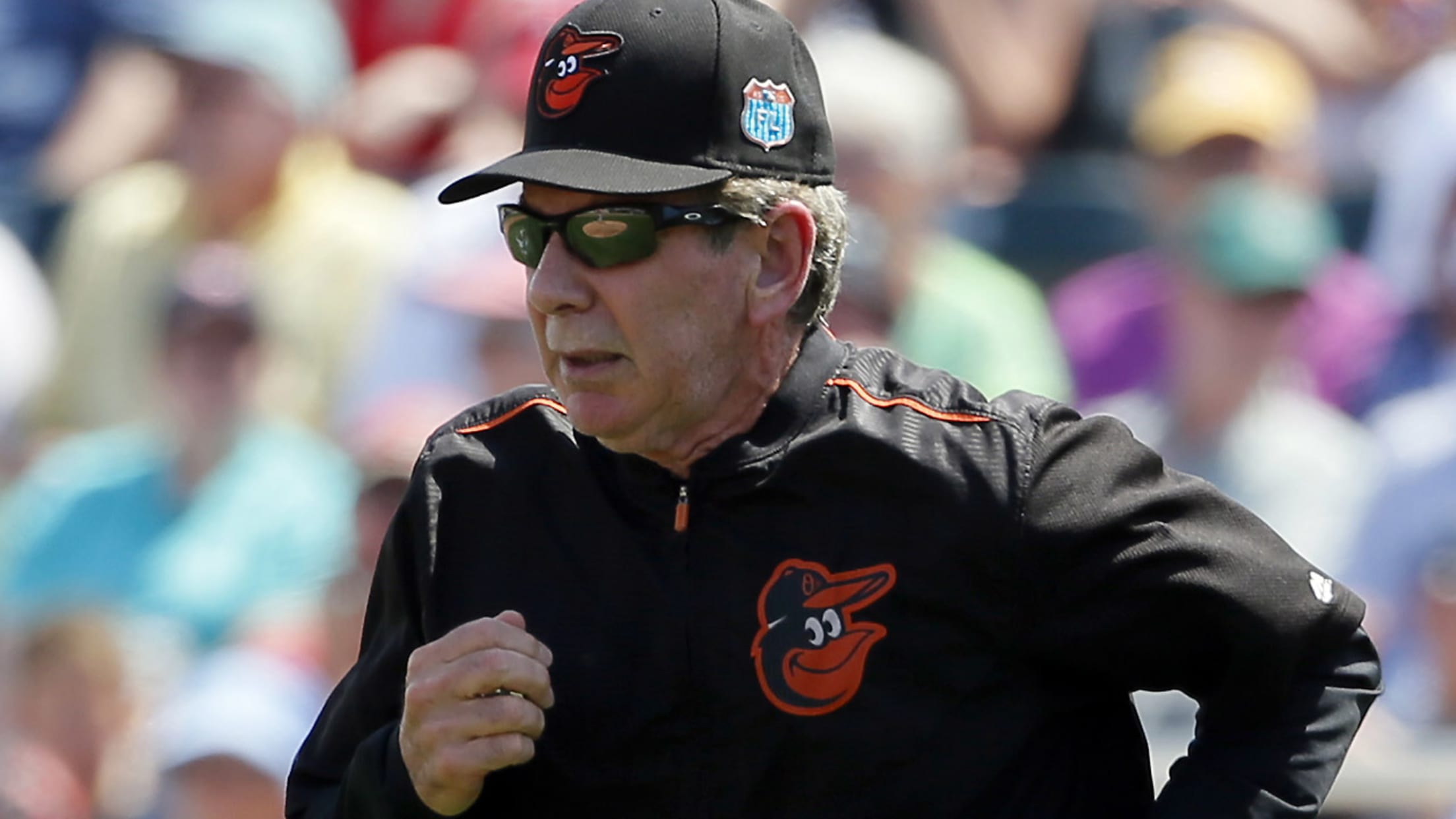 Dave Wallace, who began coaching in the big leagues in 1995, joined the Orioles in 2013. (AP) (Tony Gutierrez/AP)
ARLINGTON -- It was the right time for Orioles pitching coach Dave Wallace, who announced earlier in the week that he was retiring from being the club's full-time pitching coach.Though Wallace, 69, still hopes to be involved in baseball in a less grueling capacity, he's also looking forward to enjoying
ARLINGTON -- It was the right time for Orioles pitching coach Dave Wallace, who announced earlier in the week that he was retiring from being the club's full-time pitching coach.
Though Wallace, 69, still hopes to be involved in baseball in a less grueling capacity, he's also looking forward to enjoying a slower pace.
"Things happen in your life and you want to kind of smell the roses a little bit," said Wallace, who was hired by Baltimore in October 2013. "I'm getting up there in age a little bit and didn't want to get to a point where somebody's got to force you out. I think greed gets a lot of people … I want to see the grandkids, see my daughter."
Wallace, who left the team on multiple occasions during the season to fly home, previously served as the Braves' Minor League pitching coordinator. He is hoping to still be involved in the development side of things.
"What I'd like to do, my passion has been developing young pitchers," said Wallace, whose big league coaching career began in 1995 with the Dodgers. "Whether that be in uniform [or] part-uniform, part-front office. I'm not going to say I'm sure there will be opportunities, but I feel pretty confident … somewhere in the industry. I still love the kids, I still love developing the young guys. It's so much fun to be with Kevin [Gausman] and [Dylan] Bundy. I love those guys.
"My experience is pretty extensive, so I'm not that concerned about what's going to be out there, if anything at all."
Orioles manager Buck Showalter, who announced the news on Thursday, said the organization was going to look inside the organization first when searching for a replacement, and that the rest of the coaching staff is expected to remain in place -- including bullpen coach Dom Chiti, who will also receive consideration for Wallace's vacated position.
"The ability Dom has he can do almost anything he wants," said Wallace, who voiced his support for Chiti in Friday's conference call. "I'm not surprised at all if he's one of the stronger candidates. You'd have to talk to Buck and Dom, but I know the respect he has in that clubhouse."
As for Wallace, he'll enjoy laying low this offseason.
"Probably for the first time in my life, I'm not worried about where you're going to work or what you're going to do," he said. "I feel relieved that I can check out the landscape a little bit and see what I'm going to do."