O's pitching woes highlight 3rd straight loss
Wilson tagged for 8 runs in just 3-plus frames vs. Mariners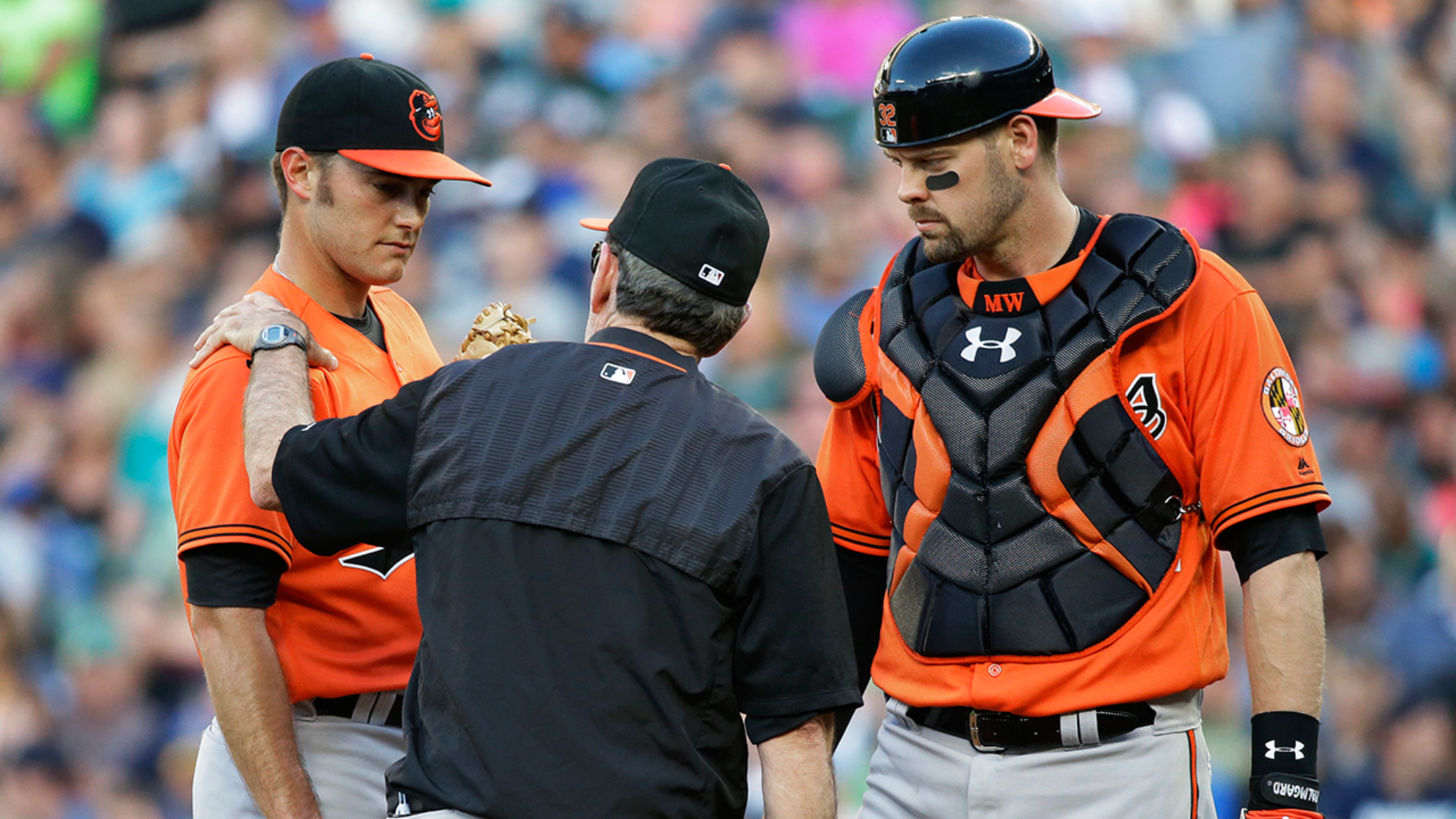 Tyler Wilson allowed a season-high three home runs in Saturday's 12-6 loss to Seattle. (AP)
SEATTLE -- Following Friday's loss, Orioles manager Buck Showalter mentioned the unconventionality in which this year's first-place Baltimore team -- with a powerful lineup and bullpen -- has been assembled.But after Saturday's 12-6 loss, the O's third straight, it's becoming apparent that some cracks are starting to show.Namely, the starting
SEATTLE -- Following Friday's loss, Orioles manager Buck Showalter mentioned the unconventionality in which this year's first-place Baltimore team -- with a powerful lineup and bullpen -- has been assembled.
But after Saturday's 12-6 loss, the O's third straight, it's becoming apparent that some cracks are starting to show.
Namely, the starting pitching.
Orioles starter Tyler Wilson went a season-low three-plus innings, allowing eight earned runs and paving the way for an ugly pitching night that saw five Mariners homers.
"It was kind of a perfect storm tonight," said Wilson, who has a 5.22 ERA in 16 games, 13 starts. "A lot of things didn't go very well, and I won't make any excuses. I just need to be a little bit better.
Wilson, part of an O's rotation that entered the day ranked 26th in baseball -- with a 4.94 ERA -- allowed a season-high three home runs. He couldn't record an out in the fourth and the O's bullpen was forced to pick up the slack.
"We talked to him, he's tried to make some adjustments, but he's not the only one," Orioles manager Buck Showalter said of Wilson. "We just haven't been able to get very deep in games with our starters for what's been a pretty extended period, with some exceptions. That puts a real toll on your bullpen."
Baltimore, which got a quality start from Kevin Gausman on Friday, has gotten quality outings in just five of their last 15 games, and its rotation ERA is ranked 13th in the American League. Through five games of this 2-3 road trip, they have allowed 19 earned runs over 24 2/3 innings pitched.
Sunday's starter, Ubaldo Jimenez, has a 6.63 ERA, Yovani Gallardo has a 5.77 ERA and Gausman's is at 3.97. Even Opening Day starter Chris Tillman, who has been their best starter, has run into trouble of late, gaining nearly a run in ERA (2.87 to 3.71) over his last three starts.
"No, it's not concerning," Orioles catcher Matt Wieters said of the rotation. "We are going to have to keep working and get better. We're in a good spot now and we just have to continue to improve. Our staff works hard and they'll keep working hard and we'll get the best out of them."