O's unveil '18 slate, host Twins in opener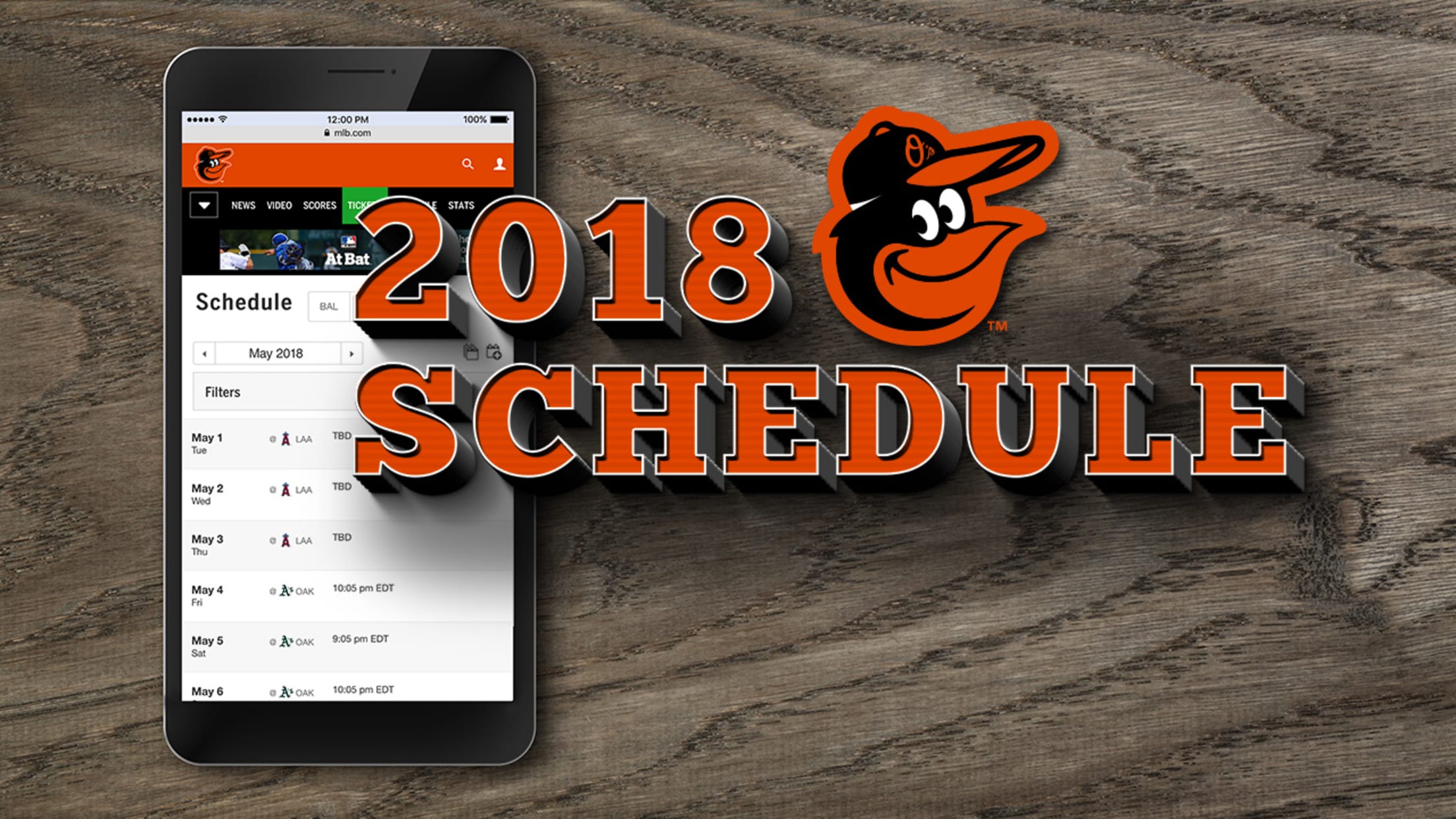 BALTIMORE -- For the second time in three years, the Orioles will host the Twins to kick off a new season. Baltimore will open the 2018 campaign at Camden Yards against Minnesota on March 29 before embarking on a seven-game road trip to Houston and New York.Orioles' 2018 regular-season scheduleThe
BALTIMORE -- For the second time in three years, the Orioles will host the Twins to kick off a new season. Baltimore will open the 2018 campaign at Camden Yards against Minnesota on March 29 before embarking on a seven-game road trip to Houston and New York.
Orioles' 2018 regular-season schedule
The schedule, unveiled on Tuesday, includes two West Coast trips and a Beltways Series separated by several weeks. The O's and Nationals -- who played back-to-back series this year -- will square off at Camden Yards on May 28-30 and in D.C. on June 19-21.
This year's Interleague schedule will have the O's facing the National League East. They'll travel to Citi Field to play the Mets on June 5-6, Atlanta on June 22-24 and Philadelphia on July 3-4.
They'll also host the Phillies May 15-16, the Marlins on June 15-17 and the Mets on Aug. 14-15.
Baltimore will host the Rangers for a three-game set before the All-Star break, and they'll head to Toronto to kick off the second half on July 20-22.
The first West Coast trip kicks off on May 1 in Anaheim with the O's heading to Oakland after that. They return to the Pacific time zone to play Seattle on Sept. 3, part of an unusual three-city trip that starts in Kansas City, goes to Seattle and ends against Tampa Bay.
Noticeably absent in the final month is any American League East matchups at Camden Yards, with the O's playing on the road against the Red Sox, Yankees and Rays. Baltimore's final series in Toronto will be on Aug. 20-22, but they will host the Blue Jays twice after that in the stretch run of the season.
The O's will finish the season at home against the Astros in a four-game set that concludes on Sept. 30.