O's weighing pitching options for Wednesday
Showalter hasn't named starter for Interleague game vs. Padres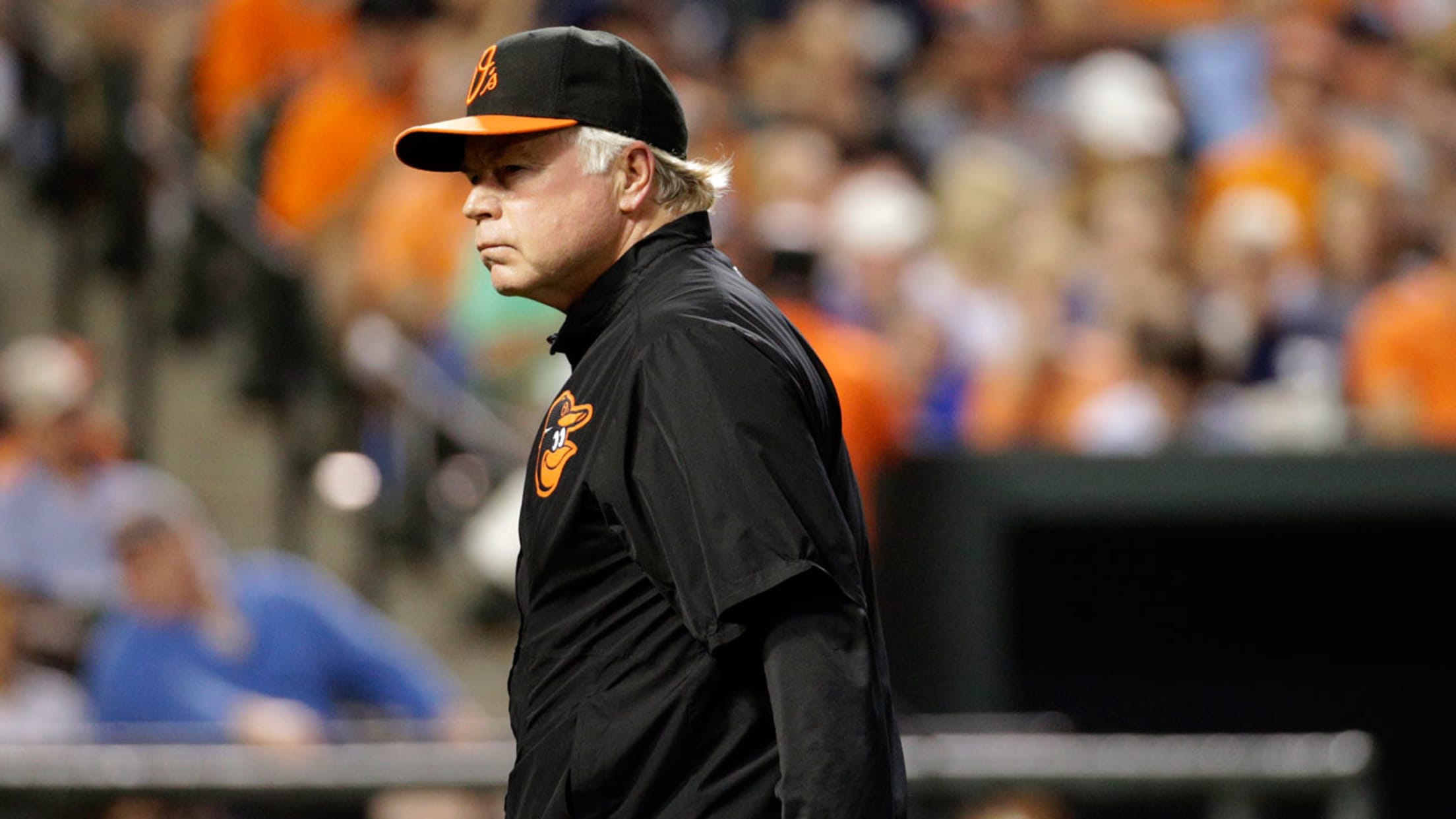 "We're just trying to get to that off-day on Thursday," manager Buck Showalter said on Monday about a starter for Wednesday. (AP)
ARLINGTON -- Orioles manager Buck Showalter is still undecided on his starting pitcher for Wednesday's game against the Padres."I wouldn't handicap it," Showalter said before Monday's game against the Rangers, on whether he is leaning toward a reliever making a spot start out of the bullpen or a Minor League
ARLINGTON -- Orioles manager Buck Showalter is still undecided on his starting pitcher for Wednesday's game against the Padres.
"I wouldn't handicap it," Showalter said before Monday's game against the Rangers, on whether he is leaning toward a reliever making a spot start out of the bullpen or a Minor League callup. "See where we are when the smoke clears [Monday and Tuesday]. "We're just trying to get to that off-day on Thursday."
That is also the first day Manny Machado is eligible to return from his four-game suspension assessed for his role in the scuffle against Kansas City.
The spot in the rotation opened when the O's sent Mike Wright to Triple-A Norfolk after the right-hander was hammered for eight runs on six hits, including three home runs, over 3 2/3 innings against the Blue Jays on Friday.
The O's are playing with a roster of 24 while Machado is away from the team, a challenge for in-game situations and "with your pitchers," Showalter said.
The schedule hasn't offered any reprieves. Baltimore is in the midst of a run of 29 games in 30 days. Monday's game with Texas was originally a scheduled off-day, but was filled with a makeup game for a rainout in April.
"Obviously, we lost a good player [Machado], but it creates a lot of things you can't do during a game," Showalter said. "It's definitely a penalty, especially when you lose a position player. Playing at 24 is a challenge."
Worth noting
• Right-hander Hunter Harvey, who is recovering from a sports hernia, is set to throw live batting practice on Tuesday, according to Showalter.
• Showalter this season will become the 28th manager in baseball history to win 1,400 games. His secret: "I've had good players and opportunity. Sometimes certain things, you get just by hanging around. Frank Howard reminded me a long time ago ... some of the best baseball people were guys that weren't around winning clubs. And some of the shakier guys seem to be in the right place at the right time. You got good players, things kind of work out for you. I've been fortunate to have a lot of good players."
• Said Showalter on infielder Jonathan Schoop: "I just feel confident Jon will be as good as he's capable of being. Some guys you see their potential, but you're not sure they'll be able to get to it because of some other challenges that are self-inflicted. Jon's not going to get drunk with success. That one [home run he hit on Sunday] should have counted a run plus. I think if you hit one that far, you should get half a run more." The ball traveled a projected 458 feet from the plate, according to Statcast™.
John Henry is a contributor to MLB.com based in Texas.