The Wizard back in shape, leading annual clinic
Hall of Fame shortstop's 'Play Ball with Ozzie' kicks off Induction Weekend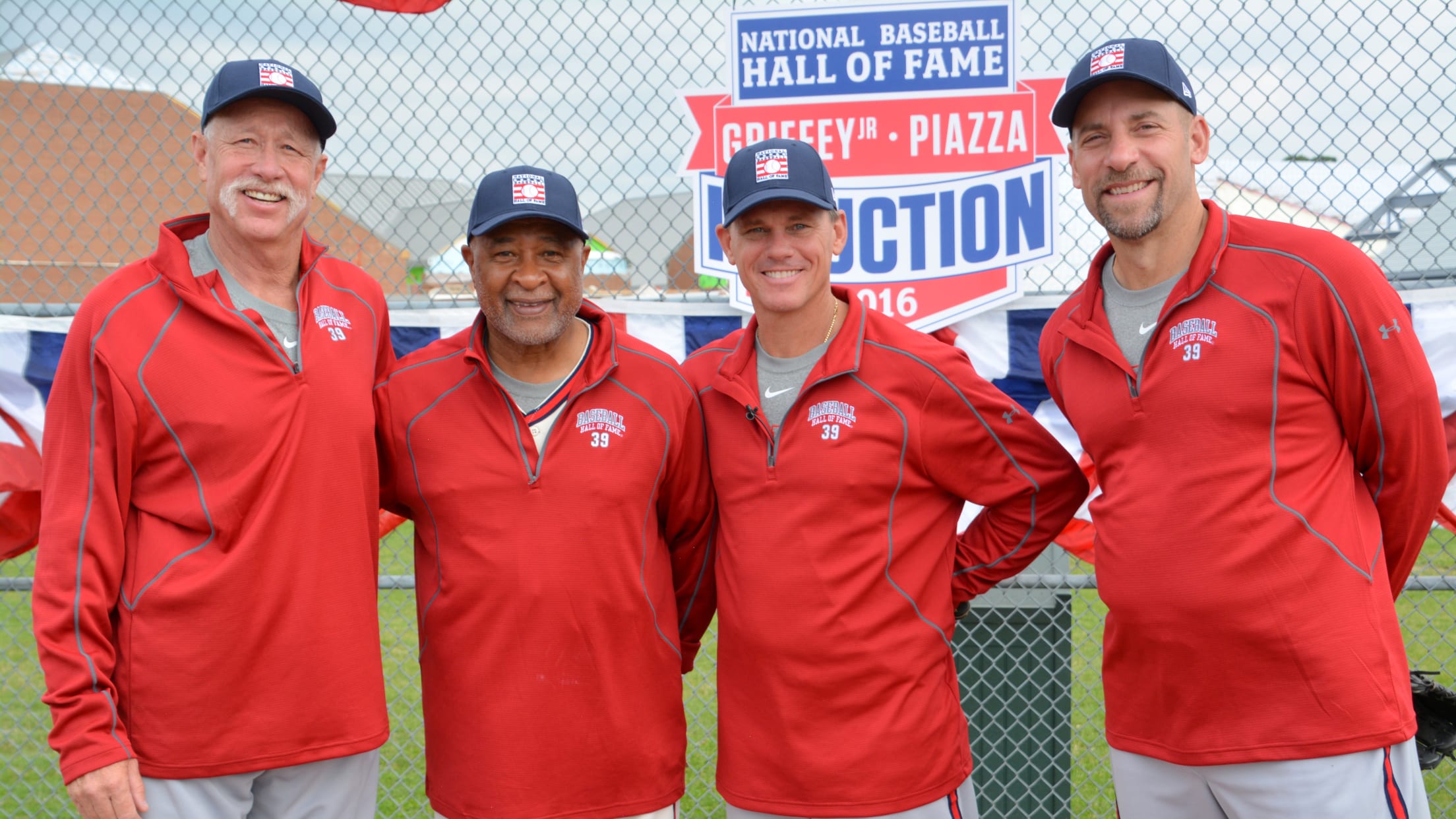 Goose Gossage, Ozzie Smith, Craig Biggio and John Smoltz took part in Smith's annual event. (Ben Platt/MLB.com) (Picasa)
COOPERSTOWN, N.Y. -- This was the 15th consecutive year that Hall of Fame shortstop Ozzie Smith led his "Play Ball with Ozzie" clinic.The fundraiser that included a group of 42 kids began bright and early Friday morning on an all-dirt Little League-sized infield behind the Clark Sports Center.:: Complete Hall
COOPERSTOWN, N.Y. -- This was the 15th consecutive year that Hall of Fame shortstop Ozzie Smith led his "Play Ball with Ozzie" clinic.
The fundraiser that included a group of 42 kids began bright and early Friday morning on an all-dirt Little League-sized infield behind the Clark Sports Center.
:: Complete Hall of Fame coverage ::
As always, it's the first event of Hall of Fame Induction Weekend, and each year, it involves a different group of Hall of Famers as The Wizard's supporting cast. This year, Ken Griffey Jr. and Mike Piazza will be inducted into the Hall on Sunday. Coverage of the inductions will begin on MLB Network and MLB.com at 11 a.m. ET, with the ceremonies beginning live at 1:30 p.m. ET.
And this year, Smith was aided by fellow inductees Rich "Goose" Gossage, Craig Biggio and John Smoltz. For the latter pair, it's their first return to this little hamlet on the banks of Lake Otsego since they were inducted last year.
Smith has recovered enough from a lower back injury to again spearhead the project.
"It's all about raising money and keeping a connection with the fans, and I think it's a great way to do it," said Smith, the longtime wizard of a defensive shortstop for the Padres and Cardinals who was inducted in 2002. "What we try to do every year is bring somebody different out and give the fans a chance to meet them more on a personal level."

As far as the fundraising aspect of it goes, a Hall official said Friday's session would raise $30,000. The National Baseball Hall of Fame and Museum is a nonprofit organization, and that money is much needed for the Hall's education and intern projects.
Smith has long been one of the most giving and visible of the Hall of Famers.
"Having an opportunity to be here with him is really something special," said Biggio, a fellow middle infielder who started 1,959 games at second base during his 20-year career, all with the Astros. "Ozzie, what did he have, 14 or 15 Gold Gloves? Offensively, he actually taught me to hit the ball the other way. Obviously he was nicknamed 'The Wizard' for a reason."
Actually, Ozzie won 13 Gold Gloves in his 19-year career, all in succession from 1980-92. But who's counting? In comparison, more recent Hall of Fame shortstops Barry Larkin and Cal Ripken Jr. won a combined five -- three and two, respectively.
Of course, Smith amassed 2,460 hits as compared to Ripken's 3,184 and Biggio's 3,060.
Those are all the numbers that make up a Hall of Famer.
"You have to be healthy and be able to put up the numbers year in and year out," Smith said. "That's what really separates even some of the great players and Hall of Famers."
Smith played in less than 140 games only once in any non-strike season for the first 14 years of his career, and he played in as many as 158 five times. He was no Ripken, who shattered Lou Gehrig's record by ultimately playing in 2,632 consecutive games, but he was just as durable.
Smith's traditional back flip as he took the field for the Cardinals to open the game on the artificial turf of old Busch Stadium was a constant symbol of his athleticism and became his trademark. He hasn't done that pretty much since he retired in 1996.
Smith is 61 years old now, so it must have felt very strange to him when his back gave out this past April while conducting a clinic with Gossage in the Dallas area. He said he had taken a few swings and went out to play the field, when suddenly he couldn't turn any more.
"My L-2 and L-3 pretty much just left me," Smith said, referring to those Lumbar Spinal Disks in his lower back. "So I just had to take some time off. I was out of commission as far as golf was concerned for two months."
Smith had a herniated disk that caused nerve pain to shoot down his legs. He doesn't usually miss Hall of Fame events, but was hurting so badly this past May 28 that he couldn't make the Hall of Fame Classic at nearby Doubleday Field. Smith annually manages his team, called The Wizards, which was skippered by Andre Dawson in his stead this year.
The team lost to the Knucksies on sixth-inning homers by Melvin Mora and Jerry Hairston Jr., ironically a pair of light-hitting middle infielders. Smith hit 28 homers in his career and is often chided about that figure by Cardinals fireballer and Hall of Famer Bob Gibson, who hit 24 in 17 seasons.
But we digress. Smith shunned surgery.
"I didn't want to deal with that at all," he said. "God made us perfect. And once you take something out and cut into your body, it's no longer perfect. So I wanted to do everything I could to rehab it the best that I could, and that's what I did."
Smith looked no worse for the wear on Friday, standing on first base, talking to a small group of kids and their parents, imparting the wisdom of The Wizard. Biggio was on second, Smoltz on third and Gossage on the mound. After about 15 minutes, the groups shifted positions.
It's what Ozzie loves to do best. Work with the fans, work with the kids.
"That's what this is about," he said. "When you're a nonprofit, you've got to find ways of raising money. There's no better way to do that than to do what it is you do and have fun doing it."