Paddack, Meadows among top prospect performers Saturday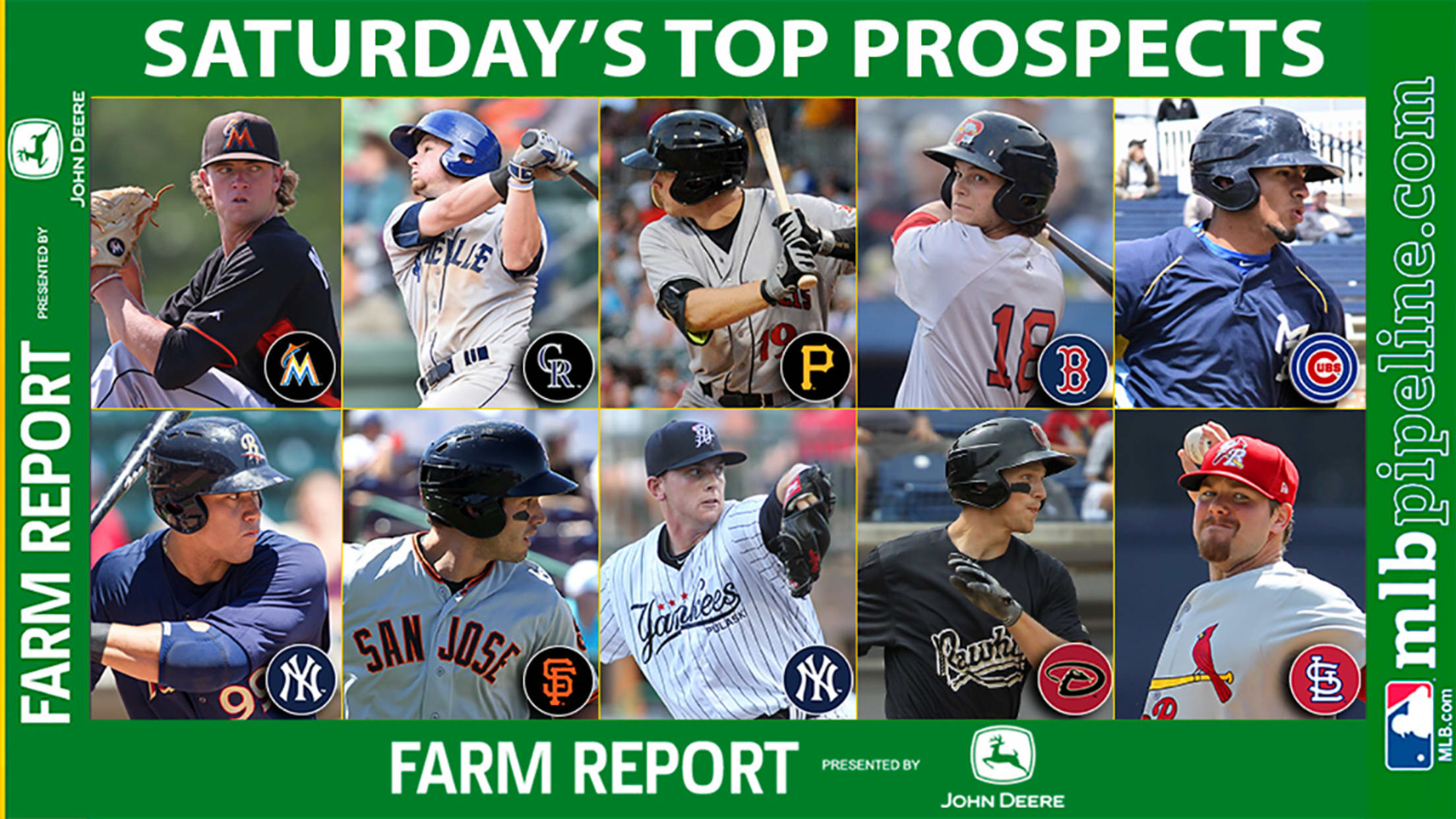 The Class A Rome Braves must be tired of facing Greensboro right-hander Chris Paddack.After he struck out a career-best 11 hitters over five no-hit frames against Rome in his last start on June 12, Paddack, the Marlins' No. 17 prospect, managed to improve on that performance by firing five perfect
The Class A Rome Braves must be tired of facing Greensboro right-hander Chris Paddack.
After he struck out a career-best 11 hitters over five no-hit frames against Rome in his last start on June 12, Paddack, the Marlins' No. 17 prospect, managed to improve on that performance by firing five perfect innings against the Braves on Saturday.
"I felt great," Paddack told MiLB.com after the game. "All my stuff was working from the start. Just going out there every inning and every pitch just trying to compete. I want to give a shoutout to my catcher [Roy Morales]. We were on the same page from the start and he had confidence just as much as I did in every pitch. When your catcher has confidence in you, it's really a confidence-booster."
He struck out eight -- giving him 19 strikeouts between the two starts -- and needed only 54 pitches (41 strikes) to complete the outing.
"Today, I think I threw 54 pitches in five innings," Paddack said. "I just want to show them that I can go deeper than five innings. Six or seven innings and 75 pitches. I just want to show them that I can do that and maybe they'll change their minds. I'm just going out there every start and taking it one pitch at a time."
MILB Video - Title: More information - Url: http://www.milb.com/r/video?content_id=831072083
Paddack's gem ultimately was spoiled, however, as Greensboro's bullpen allowed Rome to walk it off in the ninth inning, 3-2.
Paddack, 20, has been sensational to begin his first full season, posting a 1.16 ERA and 0.47 WHIP with a 39-2 strikeout-to-walk ratio in 23 1/3 innings (five starts) for the Grasshoppers. He's also held opposing hitters to just nine hits and a .115 average.
For his career, Paddack, the Marlins' eighth-round pick in the 2015 Draft, owns a 1.83 ERA, a 0.80 WHIP and a 78-9 strikeout-to-walk ratio in 68 2/3 innings (16 games/12 starts).
The rest of the best performances from top prospects Saturday
• No. 10 overall prospect Brendan Rodgers hit his ninth home run of the season and first since May 26 in Class A Asheville's win against Columbia. The Rockies' No. 1 prospect's average is up to .295 after collecting multiple hits in three straight games.
• Making his Triple-A debut for Indianapolis, No. 16 overall prospect Austin Meadows extend his hitting streak to 25 games by going 3-for-4 with a triple and two RBIs. During the streak, the Pirates' No. 1 prospect is hitting .418 with six home runs, seven triples and 12 doubles. No. 44 overall prospectJosh Bell (Pirates' No. 3) also collected multiple hits for the Indians as he connected on his 10th home run as part of a 2-for-4 performance.
MILB Video - Title: More information - Url: http://www.milb.com/r/video?content_id=830989583
• Andrew Benintendi (No. 21 overall) helped pace Double-A Portland's offense in a win against Richmond, going 2-for-5 with a two-run homer. The Red Sox's No. 3 prospect has hit all three of his Double-A home runs in his past eight games, six of which have been multi-hit efforts. Overall, he's hitting .305/.365/.500 with 32 extra-base hits and 49 RBIs through 62 games.
MILB Video - Title: More information - Url: http://www.milb.com/r/video?content_id=831535383
• No. 24 overall prospect Gleyber Torres (Cubs' No. 1) scored both of Class A Advanced Myrtle Beach's runs in their 2-1 win over Potomac in Game 1 of their doubleheader. Torres went 2-for-3 with a solo home run -- his eighth in 66 games this season. No. 68 overall prospect Ian Happ (Cubs' No. 3) also had a productive day at the plate for the Pelicans, finishing 4-for-6 with three doubles, a walk, a run scored and one RBI in the doubleheader.
• No. 27 overall prospect Aaron Judge filled out the box score in Triple-A Scranton/Wilkes-Barre's win against Gwinnett. The Yankees' No. 2 prospect hit a two-run homer, his 10th, scored two runs, walked and stole a base in the contest. Over his last 10 games, Judge is batting .286 with three home runs, 13 runs scored and more walks (9) than strikeouts (8).
MILB Video - Title: More information - Url: http://www.milb.com/r/video?content_id=831393383
• Giants No. 5 prospect Chris Shaw provided all of Class A Advanced San Jose's offense in a loss to Rancho Cucamonga as he went 2-for-2 with a solo home run and a double while also walking twice. The 2015 first-rounder is hitting .278 with an .883 OPS and 14 home runs through 64 games in his first full pro season.
• Making his Triple-A debut, Giants No. 10 prospectAdalberto Mejia fired seven scoreless innings to lead Sacramento past El Paso. The 22-year-old lefty allowed four hits and struck out eight while throwing 65 of his 92 pitches for strikes. Prior to his promotion, Mejia had posted a 1.11 ERA over his last 48 2/3 frames (seven starts) for Double-A Richmond.
MILB Video - Title: More information - Url: http://www.milb.com/r/video?content_id=832253483
• Yankees No. 16 prospect Drew Finley allowed a run but was unhittable over six innings in his season debut for Class A Short Season Staten Island, which ultimately threw a 10-inning combined no-hitter in a walk-off win over Brooklyn. The 2015 third-rounder issued one walk, hit two batters and struck out five in the outing.
MILB Video - Title: More information - Url: http://www.milb.com/r/video?content_id=832018483
• Colin Bray powered Class A Advanced Visalia to a win over Lake Elsinore with his first career mutli-homer game. The D-backs No. 21 prospect had three hits in the contest, including a pair of solo home runs, giving him three in 64 games for the season.
• Cardinals No. 22 prospect Trey Nielsen fired six scoreless inning and matched his season high with eight strikeouts in Double-A Springfield's win over Northwest Arkansas. The 24-year-old righty allowed a pair of hits and walks while throwing 56 of his 93 pitches for strikes.