Monday's best: Morejon excels in best start of young career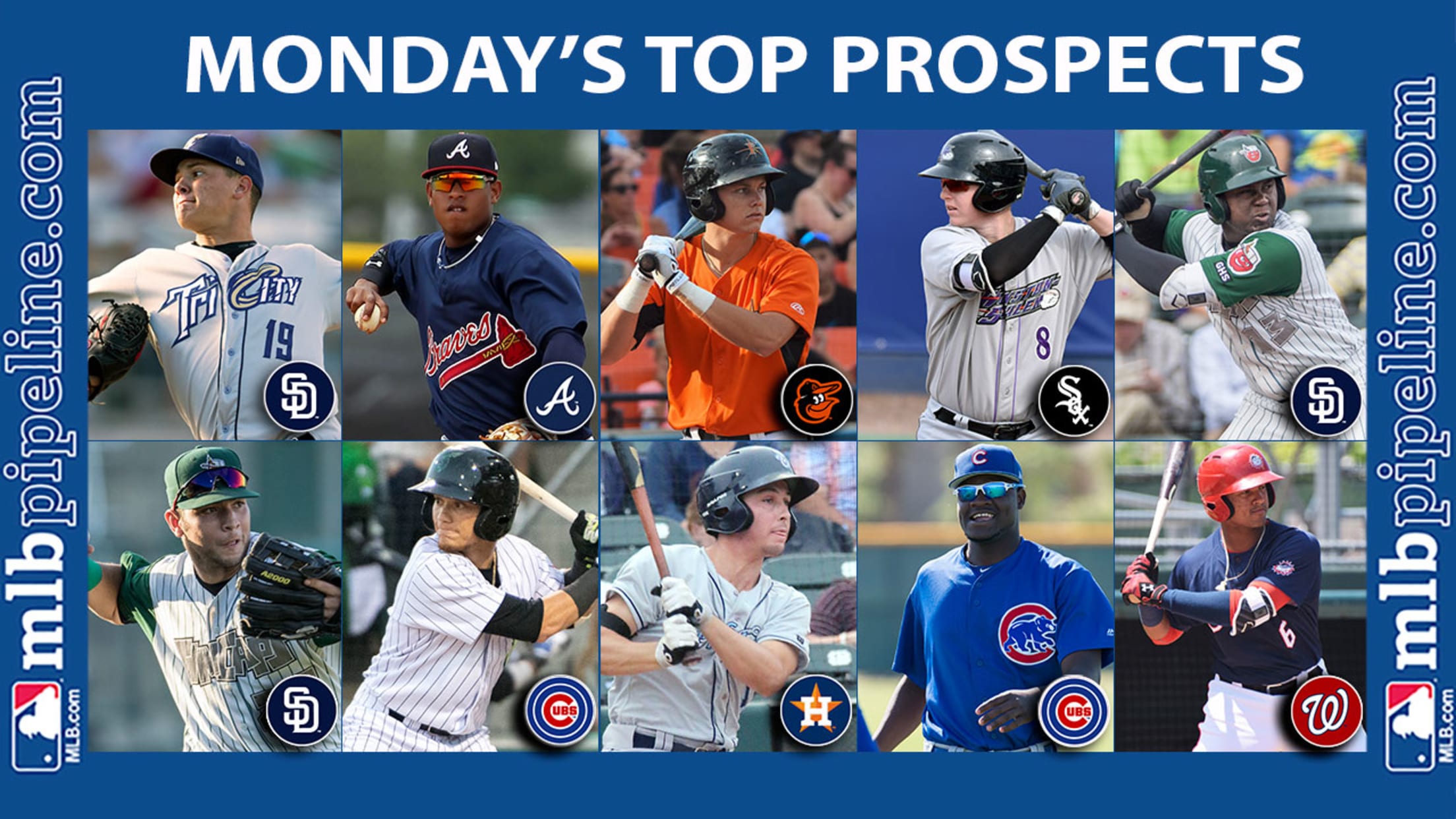 Adrian Morejon spun the best start of his young career as he led Class A Tri-City to a 5-0 win over Eugene.Morejon, the No. 88 overall prospect, gave up just four hits across six innings in what was his first scoreless start.The Padres' No. 3 prospect threw 54 of his
Adrian Morejon spun the best start of his young career as he led Class A Tri-City to a 5-0 win over Eugene.
Morejon, the No. 88 overall prospect, gave up just four hits across six innings in what was his first scoreless start.
The Padres' No. 3 prospect threw 54 of his 84 pitches for strikes, matched a career high with six strikeouts and didn't issue a walk for the fourth time in five starts.
Morejon, whom the Padres signed for $11 million in 2016, got off to a fast start as he retired seven of the first eight batters he faced and didn't surrender a hit until the third inning. The 18-year-old did get into a bit of trouble in the sixth as the first two batters reached via base hits.
MILB Video - Title: Watch: Morejon notches strikeout - Url: http://www.milb.com/r/video?content_id=1598972283
However, Morejon induced an infield popup, and after the runners advanced to second and third with just one out, he recorded a pair of punchouts to end the threat.
The strong performance improved his record to 2-1 with a 2.88 ERA through the first five starts of his career.
Other top prospect performances from Monday's action:
• No. 24 overall prospect Kevin Maitan (Braves' No. 2) turned in his third straight multi-hit effort for the GCL Braves. Maitan, whom the Braves signed for $4.25 million in July 2016, also had the first two-RBI game of his career. Maitan is off to a fast start so far, batting .421 with at least one hit in all five games he's played.
• Orioles No. 4 prospect Ryan Mountcastle put together a big game for Class A Advanced Frederick as he went 3-for-5 with two doubles and a pair of RBIs. Mountcastle has hits in seven of eight games this month and is batting .312 through 82 games this season.
• White Sox No. 7 prospect Zack Collins hit a walk-off grand slam to cap a five-RBI night for Class A Advanced Winston-Salem. Collins, who finished 3-for-5 in the contest, has homered in each of his past two games for the Dash, bringing his season total to 12. Collins is batting just .221 this season but has hits in four of five games this month, including two multi-hit efforts.
MILB Video - Title: Collins' game-winning slam - Url: http://www.milb.com/r/video?content_id=1598735783
• Padres prospects Jorge Ona (No. 7) and Hudson Potts (No. 12) combined to go 5-for-10 with seven RBIs in Class A Fort Wayne's 13-4 win over Lansing. Ona got things started with an RBI single in the first, but Potts highlighted the frame with a two-run homer, his 10th of the season. Ona finished the game 3-for-5 with four RBIs, while Potts went 2-for-5 with three RBIs.
• Cubs No. 8 prospect D.J. Wilson matched his career high with four hits and set a career high with six RBIs in a 4-for-5 game for Class A South Bend. Wilson, whose previous career high for RBIs was three, also hit his seventh homer of the season in the game.
• Astros No. 11 prospect Garrett Stubbs put together a big game for Double-A Corpus Christi. Stubbs set a season high with four hits and collected a pair of doubles as part of a 4-for-5, three-RBI effort.
• Cubs No. 13 prospect Jose Paulino spun his second scoreless start of the season for Class A South Bend. The 22-year-old lefty gave up four hits and struck out five over five strong innings. Paulino has had a bit of a rough season, posting a 5.12 ERA through 17 games, but has been throwing better lately, allowing one earned run or fewer in five straight appearances.
MILB Video - Title: Paulino records fifth strikeout - Url: http://www.milb.com/r/video?content_id=1598435083
• Nationals No. 13 prospect Anderson Franco had one of the best games of his young career and provided the bulk of the offense as he led Class A Hagerstown to an 8-5 win over Kannapolis. Franco set career highs with two homers, including a grand slam, and six RBIs.
• Astros prospects Yordan Alvarez (No. 14) and Jake Rogers (No. 21) led Class A Advanced Buies Creek to a 4-2 win over Down East. Alvarez extended his hitting streak to eight games as he went 2-for-3 with a double and an RBI, while Rogers provided the power with two RBIs and his 14th homer of the season. Rogers has homered in three straight games and four times in his past five contests.
• Orioles No. 15 prospect Alex Wells extended his scoreless streak to 18 innings with six scoreless frames for Class A Delmarva. Wells, who has now posted back-to-back scoreless outings, threw 58 of his 80 pitches for strikes, giving up just two hits while striking out four and walking none.
• Marlins No. 15 prospect Jeff Brigham was in complete control, throwing 70 of his 90 pitches for strikes in a strong start for Class A Advanced Jupiter. Brigham, who has a 2.60 ERA through eight starts, matched his season high with nine strikeouts across six scoreless innings. He didn't issue a walk and gave up just four hits.
• Cardinals No. 30 prospect Ryan Helsley carried a no-hitter into the seventh inning of his start for Class A Advanced Palm Beach. Helsley finally gave up a hit to begin the seventh and was lifted two batters later after 95 pitches (59 strikes). The 22-year-old walked three while striking out seven in 6 1/3 innings.