Padres' bullpen off to solid start
Galvis reaches base in all 8 games; Hosmer records 5 doubles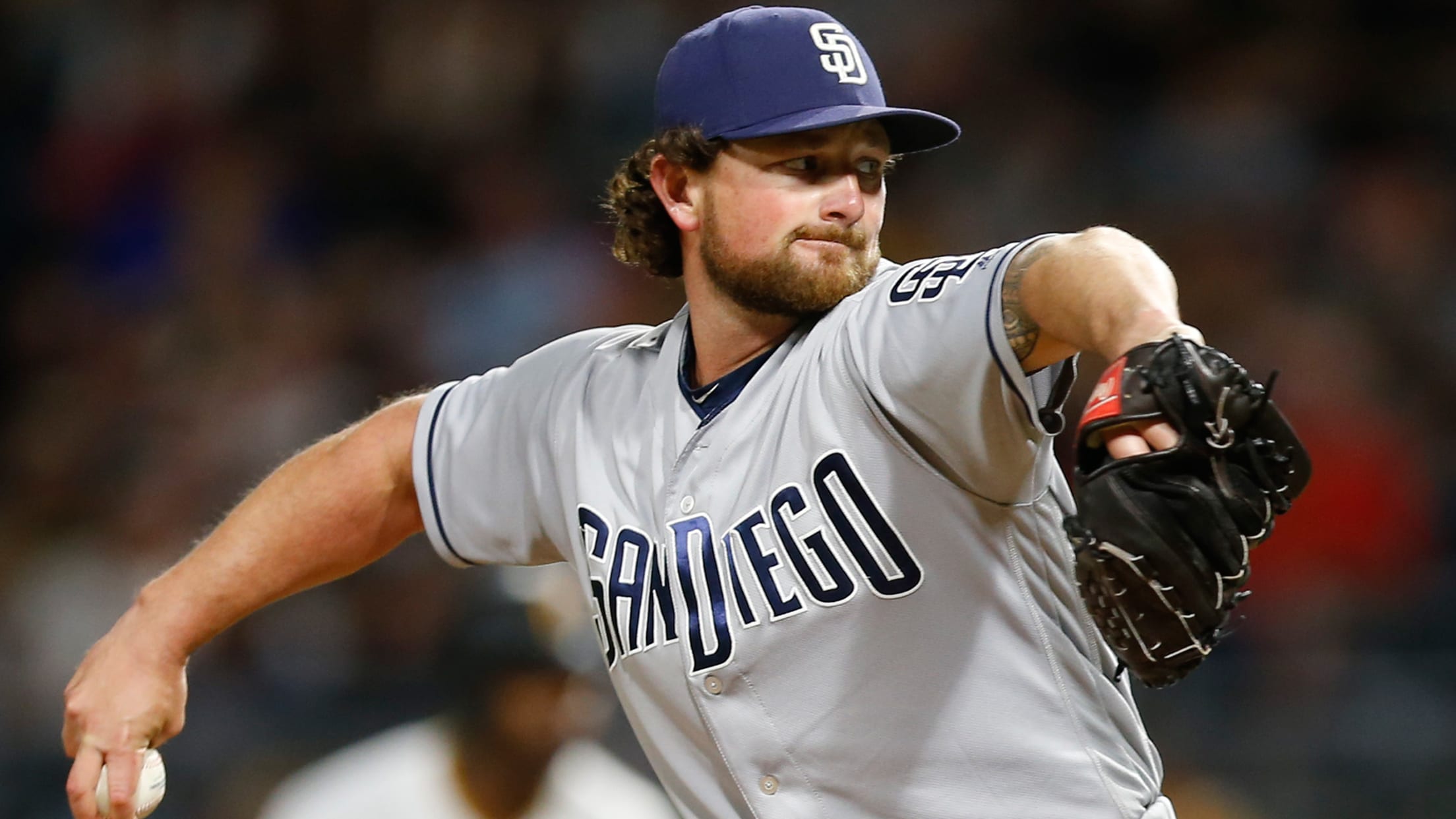 Bill Center, longtime sportswriter for U-T San Diego, is an employee of the Padres.Although he picked up his second save Friday night in Houston, Padres closer Brad Hand is off to a bit of a slow start.But the six other relievers who have been with the Padres since Opening Day
Bill Center, longtime sportswriter for U-T San Diego, is an employee of the Padres.
Although he picked up his second save Friday night in Houston, Padres closer Brad Hand is off to a bit of a slow start.
But the six other relievers who have been with the Padres since Opening Day have a 1.37 ERA and a 0.84 WHIP through the first eight games.
Leading the way are right-handers Jordan Lyles, Craig Stammen and Kirby Yates. All have a 0.00 ERA after a combined 15 innings.
Lyles struck out four in two perfect innings in relief of Luis Perdomo Friday night in the Padres' 4-1 win over Houston. In four appearances, Lyles, who was moved from rotation consideration to the bullpen during the final week of Spring Training, has allowed no runs on three hits and a walk with eight strikeouts in 6 1/3 innings over four appearances.
Stammen has allowed a hit and a walk with three strikeouts in five innings over four appearances. Yates has allowed a hit and a walk with five strikeouts in 3 2/3 innings in four appearances.
Although Hand is 0-2 with a blown save against two saves in his five appearances, only two of the eight runs charged against him were earned.
Notes
• Shortstop Freddy Galvis continues his torrid start to the season. He is the only Padre to reach base in all eight games. He is hitting .370 (10-for-27) with a double, a homer and five RBIs. He has also drawn five walks for a .469 on-base percentage.
• First baseman Eric Hosmer is on pace to have 101 doubles. He has five after eight games. The Padres' single-season record for doubles was 49 in 1997. Hosmer is off to a 9-for-31 start with five walks.
• Catcher Austin Hedges, who started the 2017 season by going 0-for-24, is off to another slow start. He is 2-for-21 with a double and a homer. Hedges has drawn two walks with 10 strikeouts.
• Center fielder Manuel Margot is also off to a slow start, although he has hits -- including a homer Thursday -- in the past two games. Margot is 4-for-29 with three walks. He has struck out only four times.
• Outfielder Jose Pirela had the Padres' second three-hit game of the season Friday (the first was Christian Villanueva's three-homer game). Pirela has hit safely in six of the Padres' first eight games, going 10-for-34 with two doubles and a homer for three RBIs and five runs scored.