These are the likely DH choices for the Padres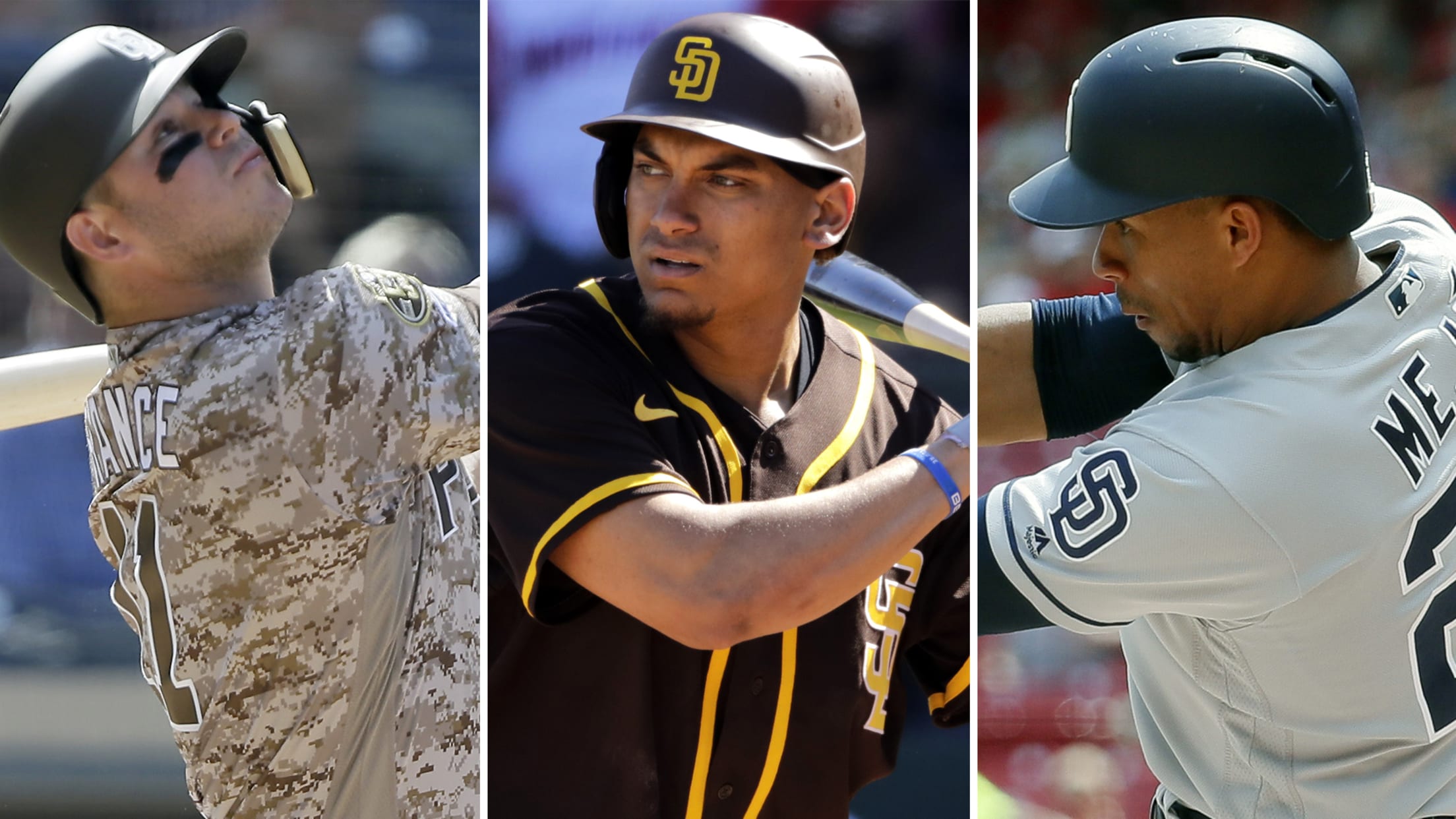 SAN DIEGO -- The Padres didn't sculpt their 2020 roster with a designated hitter in mind. But based on their current in-house options, they might benefit nicely from the new rule, anyway. On Tuesday, Major League Baseball announced that players will report to camp by July 1 for a season
SAN DIEGO -- The Padres didn't sculpt their 2020 roster with a designated hitter in mind. But based on their current in-house options, they might benefit nicely from the new rule, anyway.
On Tuesday, Major League Baseball announced that players will report to camp by July 1 for a season set to begin on July 23 or 24. That season will include a designated hitter in all National League lineups for the first time.
• Padres FAQ: Details on the upcoming season | MLB FAQ
That could be good news for the Friars, who spent most of the spring with several bat-first options vying for places in the starting lineup. A perfect role for Josh Naylor, Ty France or Francisco Mejía may have just opened up.
"We have some bats that we feel like it's going to give an opportunity for guys to come in and compete for more at-bats, have a regular place in the lineup," said Padres general manager A.J. Preller. "Then also, you can use the position guys that are on the field and give a day off to some of the guys that regularly play the field."
Manager Jayce Tingler, who had spent his entire playing and coaching career with American League organizations, using a regular DH, noted that the rule would have a positive effect on his pitchers. With a shortened camp, those pitchers won't need to spend any of their prep time swinging, bunting or running the bases.
"From a player safety standpoint, I'm happy they're doing it this year," Tingler said. "As far as how we're going to utilize that DH, obviously, we've got three weeks of Spring Training, but we're going to have some options."
Here's an early look at those options:
1. Josh Naylor
Naylor is perhaps the likeliest Padre to slot into the DH role, given his high-ceiling lefty bat and his struggles in the outfield. As a rookie, Naylor batted just .249 with a .719 OPS last season. But playing time was sporadic for the then-22-year-old, and he raked at every level of the Minor Leagues before his callup.
Naylor appeared to have been relegated to a bench spot this spring when Trent Grisham and Wil Myers pulled ahead in the race for starting jobs in center and right field, respectively. Meanwhile, left fielder Tommy Pham has fully recovered from an offseason right elbow injury and is expected to man left.
2. Ty France
In February 2019, France entered camp as the Padres' presumed starter at third base. Then, they signed Manny Machado. With Eric Hosmer entrenched at first, there was no obvious path to playing time for France. Until now.
Like Naylor, France mashed in the Minors but has never been given regular playing time in the big leagues. He batted .234/.294/.402 in 69 games a season ago. A righty hitter, France is the obvious choice to start against left-handed pitching. But if he wants to earn everyday at-bats in the DH spot, he'll likely need to outperform Naylor against righties.
3. Francisco Mejía
This one's tricky. As always, the Padres' decision at catcher will come down to Austin Hedges' excellent glove vs. Mejía's promising bat. If Hedges wins the starting job because of his defensive prowess, it might behoove the Padres to keep Mejia's bat on the bench, rather than in the DH spot.
Hedges is a career .201 hitter, and Tingler could be expected to pinch-hit for Hedges in big spots. If the Padres are carrying two catchers, that leaves Mejía to enter the game behind the dish. But if he's already in the lineup, the Padres would lose their right to a DH.
It might be worth the risk. Maybe the 24-year-old Mejía breaks out, and his bat is too good to leave out of the starting lineup. Maybe Hedges proves himself valuable enough for a lineup spot, too, with an offensive season similar to his 2018 campaign. In that case, the Padres could use the DH to get both into the same lineup.
4. Rotating DHs
Sure, Pham is healthy again. Sure, Fernando Tatis Jr. has fully recovered from the lower-back ailment that sidelined him late in the 2019 season. But there might be days when the Padres simply decide to use the DH spot as a chance to get one of them off their feet, while keeping their bats in the lineup.
It's also worth wondering which outfielder hits the bench if Franchy Cordero finds his form against right-handed pitching. Given Cordero's elite athleticism, he'd presumably earn a spot in one of the corners, with either Pham or Myers sliding into a DH role.