Tracing history of Padres' eight 3-HR games
Villanueva's career night had 3 HRs, 4 runs scored, 5 RBIs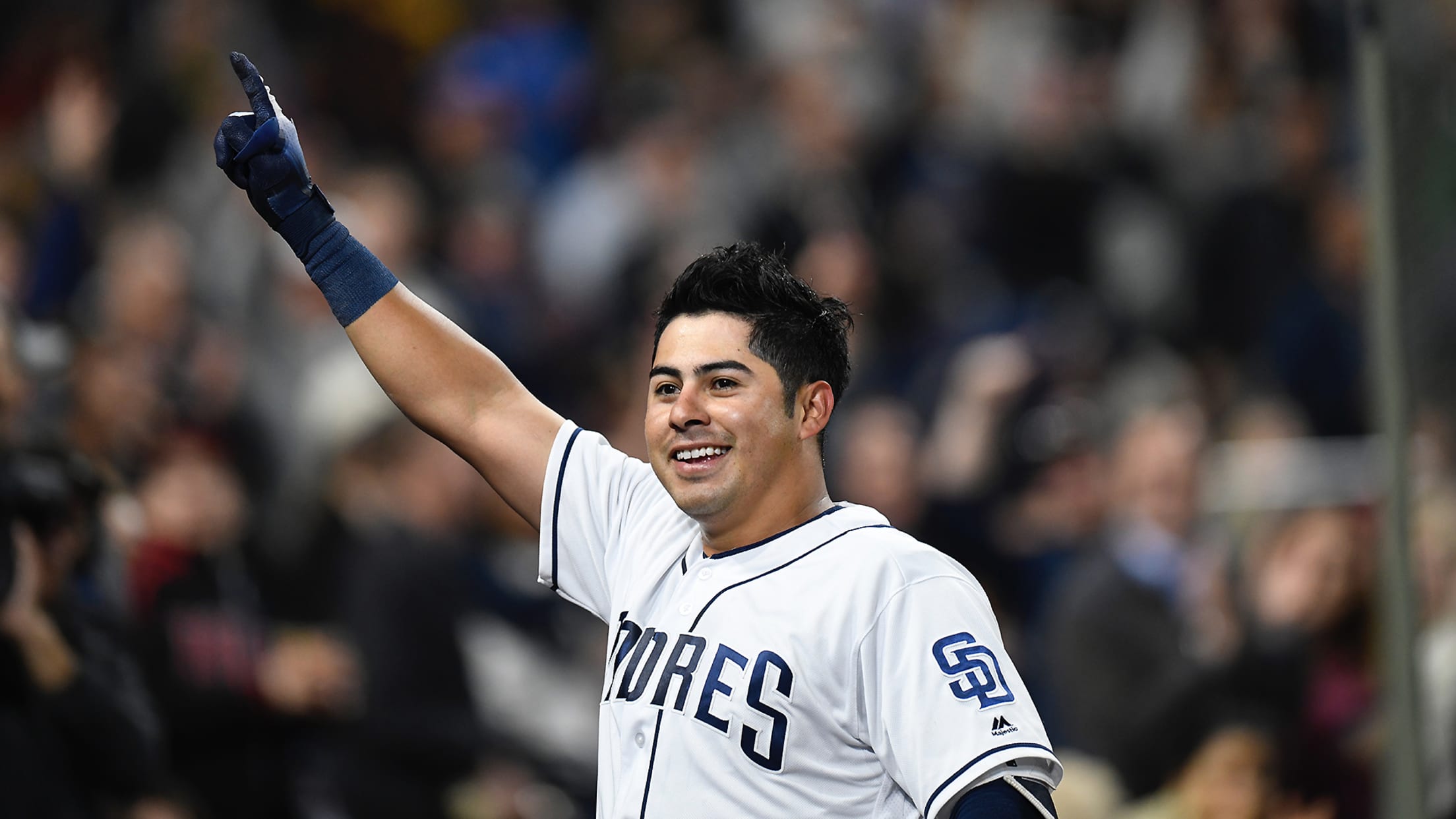 Bill Center, longtime sportswriter for U-T San Diego, is an employee of the Padres.Christian Villanueva's three-homer game Tuesday night against the Colorado Rockies was the eighth in the history of the Padres, but only the second in the 15 seasons at Petco Park.The first three-homer game at Petco Park was
Bill Center, longtime sportswriter for U-T San Diego, is an employee of the Padres.
Christian Villanueva's three-homer game Tuesday night against the Colorado Rockies was the eighth in the history of the Padres, but only the second in the 15 seasons at Petco Park.
The first three-homer game at Petco Park was by Hunter Renfroe against Arizona last Sept. 20. That was also the first three-homer game by a Padres rookie. Villanueva's was the second.
For the game, Villanueva was 3-for-3 with three homers and a hit-by-pitch for four runs scored and five RBIs. He had a 1.000 on base percentage and a 4.000 slugging percentage for a 5.000 OPS.
First baseman Nate Colbert was the first Padres player to have a three-run homer game on Aug. 1, 1972, in the second game of a doubleheader in Atlanta. That was the record-setting doubleheader for Colbert in which he tied Stan Musial's Major League record of five homers in a doubleheader and set a then Major League record for 13 RBIs in a doubleheader.
Center fielder Steve Finley is the only Padre to have two, three-homer games. The first was May 19, 1997 at San Diego Jack Murphy Stadium. The second came five weeks later on June 23 at San Francisco. It was nearly 25 seasons between Colbert's three homer game and the first of Finley's two.
Third baseman Ken Caminiti had a three-homer game at Dodger Stadium on July 12, 1998. Second baseman Bret Boone had three homers in a 10-inning game at Cincinnati on June 23, 2000. And Phil Nevin had a three-homer game against Colorado on Oct. 6, 2001, at Qualcomm Stadium.
NOTEBOOK
• Villanueva has played nine games at Petco Park in his brief Major League career and has six homers. In five games against the Rockies, the 26-year-old third baseman is 7-for-13 with five homers and 10 RBIs. In his first 14 Major League games, Villanueva is 14-for-39 (.359) with a double, seven homers, 12 RBIs and nine runs scored. He has a .375 on-base percentage and a .923 slugging percentage for a 1.298 OPS. Villanueva was once a top prospect with the Rangers and the Cubs before he missed the entire 2016 season with a fractured right fibula. The Padres signed him as a Minor League free agent on Dec. 12, 2016.
• Freddy Galvis has hit safely in four of the season's first five games (6-for-18) with a home run and five RBIs. He is hitting .333 with a .429 on-base percentage and a .500 slugging percentage for a .929 OPS.
• Relievers Craig Stammen and Kirby Yates have yet to allow a run in three appearances apiece. Both worked a perfect inning Tuesday night against the Rockies. Stammen has worked three perfect innings with two strikeouts. Yates has allowed a hit and a walk with three strikeouts in 2 2/3 innings.
• Clayton Richard makes his second start of the 2018 season Wednesday night against the Rockies at Petco Park. A year ago, the left-hander allowed five hits and two walks with five strikeouts over eight scoreless innings as the Padres defeated the Dodgers in Los Angeles. He was the first Padres pitcher to pitch eight or more scoreless innings since 2014 and the first left-hander to accomplish the feat since he did it against the Dodgers on Sept. 21, 2010.