Padres are 7-3 when Ross starts
Hand 9-for-9 in save chances in May; notes on Villanueva, Hosmer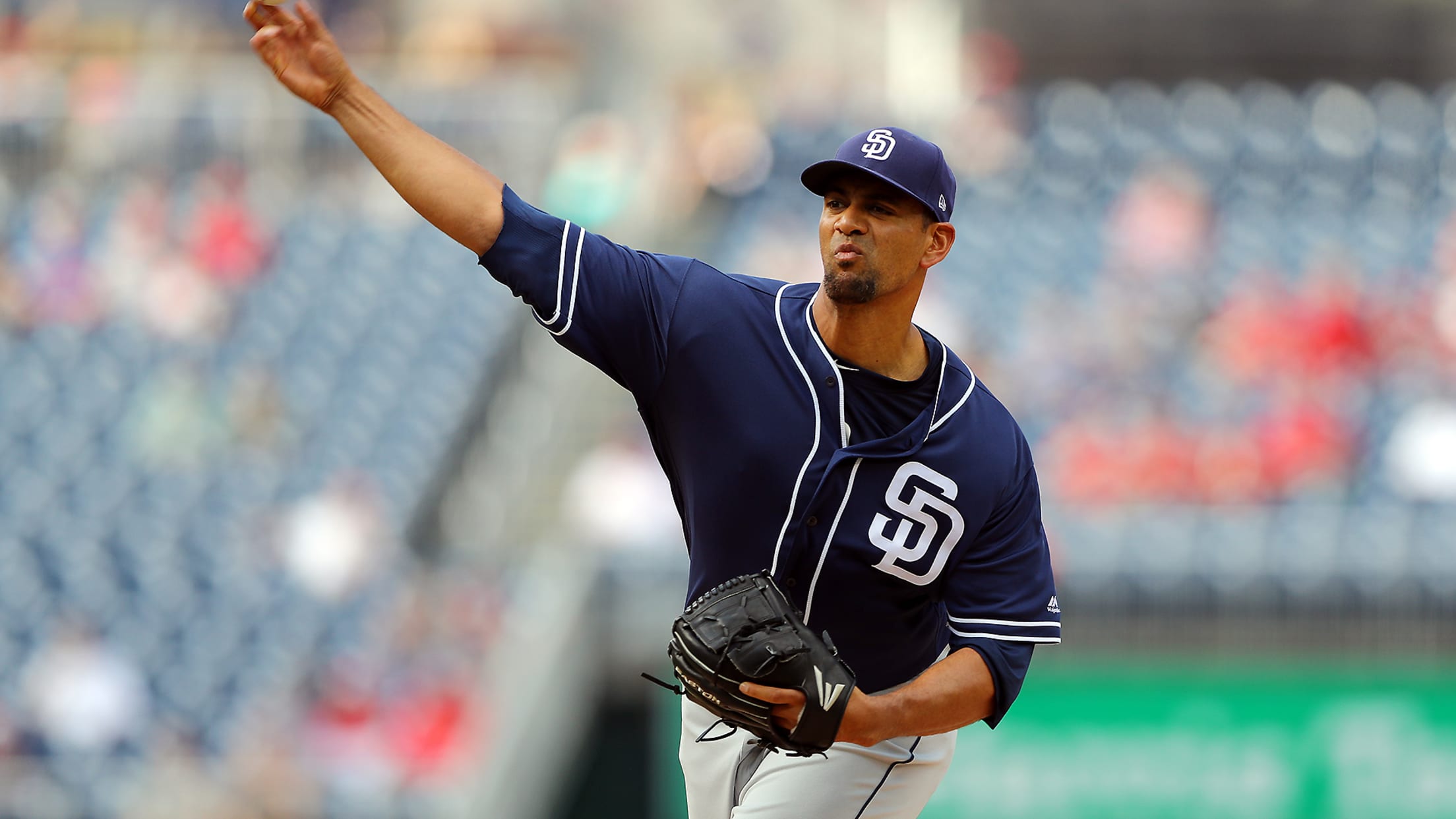 WASHINGTON, D.C. - MAY 23: Tyson Ross #38 of the San Diego Padres pitches during a game against the Washington Nationals at Nationals Park on Wednesday, May 23, 2018 in Washington, D.C. (Photo by Alex Trautwig/MLB Photos via Getty Images) (Alex Trautwig/Getty Images)
Bill Center, longtime sportswriter for U-T San Diego, is an employee of the Padres.Tyson Ross has a modest 4-3 win-loss record after 10 starts.But the Padres are 7-3 when Ross starts, including wins in each of his last three starts.Ross is 2-0 on the Padres' current 10-game road trip, allowing
Bill Center, longtime sportswriter for U-T San Diego, is an employee of the Padres.
Tyson Ross has a modest 4-3 win-loss record after 10 starts.
But the Padres are 7-3 when Ross starts, including wins in each of his last three starts.
Ross is 2-0 on the Padres' current 10-game road trip, allowing three runs on 10 hits and five walks with 11 strikeouts over 12 2/3 innings for a 2.13 ERA. His season ERA is down to 3.13.
Wednesday marked the fifth straight start that Ross worked six or more innings. He also allowed two or fewer runs in a start for the sixth time this season -- and for the third straight start and for the sixth time in the last eight starts.
Ross threw 110 pitches Wednesday, eclipsing 100 pitches for the fifth straight game -- setting a new career-long streak for most consecutive starts with 100 pitches or more. His nine strikeouts Wednesday equaled his second-highest total in a game this season.
NOTEBOOK
• Wednesday marked the fourth time this season that Hand went beyond a one-inning save. It was his first five-out save of the season. The only other time he sought a five-out save this season resulted in his second and most recent blown save on April 30. Hand has converted nine straight saves in May to give him 15 for the season and 37 for his Padres career - or one shy of tying Randy Myers for 10th on the Padres' all-time list of saves leaders. In 10 appearances this month, Hand has allowed one run on six hits and six walks with 18 strikeouts in 12 1/3 innings for a 0.73 ERA.
• Manuel Margot's RBI single in the fifth inning Wednesday gave the Padres a 1-0 lead and raised his team-leading batting average with runners in scoring position to .385 (10-for-26) with a triple, nine RBIs and three walks. His .290 (9-for-31) career batting average against Washington is the second-highest among active Padres players, trailing only 2B Jose Pirela at .317 (13-for-41).
• Eric Hosmer was hitting .056 (1-for-18) against the Nationals this season before he went 2-for-4 Wednesday. The two hits extended Hosmer's on-base streak to 12 straight games. He has hit safely in 10 of those games.
• Christian Villanueva's two-run double Wednesday continued his strong run since his franchise-record 0-for-37 streak was snapped. Since then, Villanueva is 8-for-24 (.333) with two doubles, three home runs, eight RBIs and three runs scored.
• Jose Pirela was 0-for-4 Wednesday, ending a five-game hitting streak.