Kids flaunt skills at Padres' Pitch, Hit & Run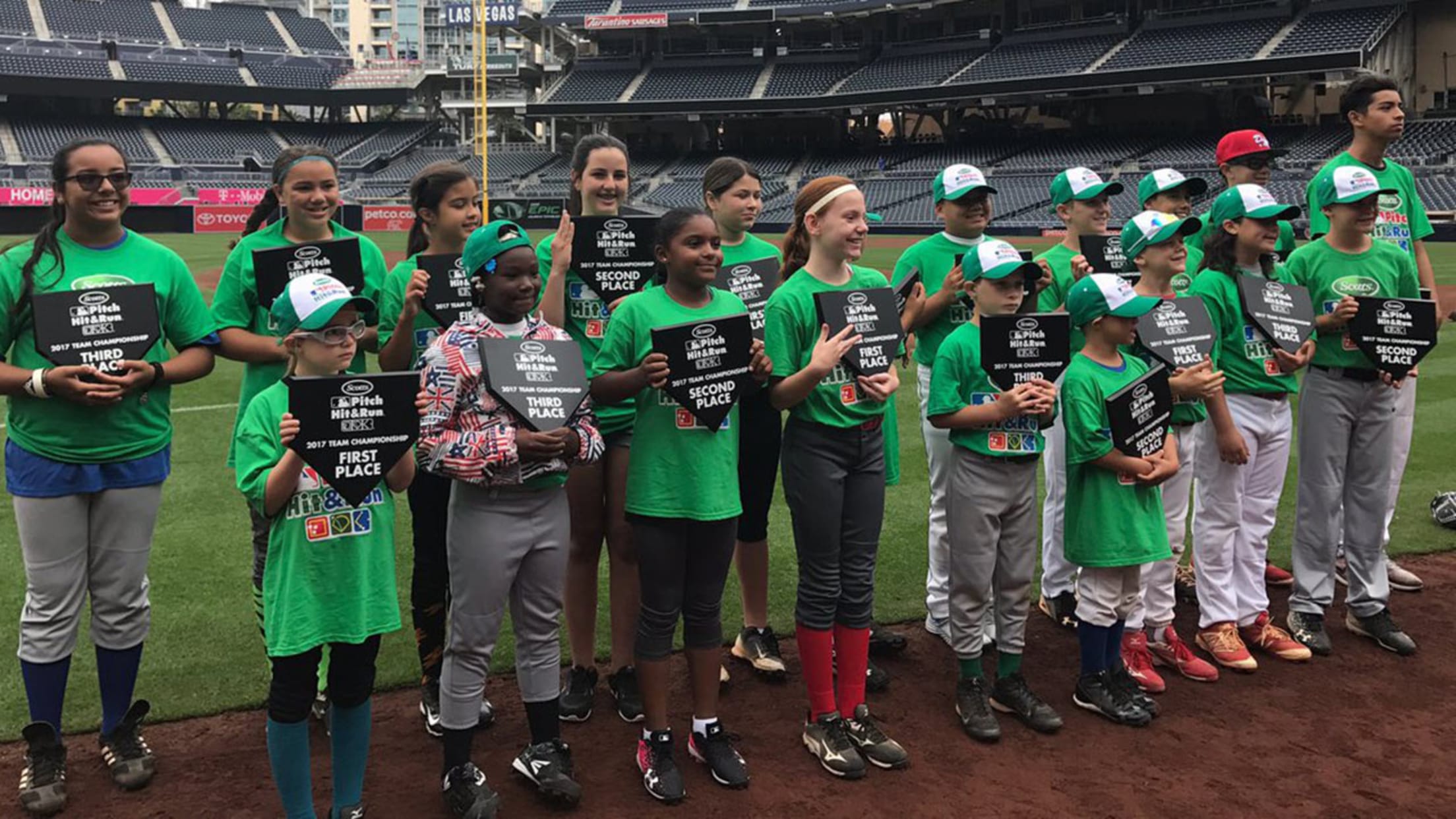 Local kids competed in the Padres' Pitch, Hit & Run competition on Saturday. (Padres)
SAN DIEGO -- Enrique Resendez had been to Petco Park before; his family used to have Padres season tickets. He'd been on the field before; he ran the bases after a game once. But he never had a day in the park like Saturday.Resendez was one of 20 boys and
SAN DIEGO -- Enrique Resendez had been to Petco Park before; his family used to have Padres season tickets. He'd been on the field before; he ran the bases after a game once. But he never had a day in the park like Saturday.
Resendez was one of 20 boys and girls who competed in the Scotts Pitch, Hit & Run competition at Petco Park on Saturday, winning the age-13/14 baseball division.
"It was surreal," Resendez said. "What an experience."
Saturday's other winners were Rylen Eastlack (7/8 softball), Mya Bartlett (9/10 softball), Michelle Kramer (11/12 softball), Kylie Romero (13/14 softball), Lukas Waite (7/8 baseball), AJ Curry (9/10 baseball) and Kurt Felix (11/12 baseball).
The competitors were judged on their ability to throw strikes, hit off a tee and run on a second-to-home setup in Petco Park's left-field corner. The winners of each division will be compared to winners from the other 29 clubs, with the top three scores of each advancing to the finals during All-Star Week in Miami. The finalists will be announced June 26 on MLB Network.
"It's a great opportunity for kids to come out and show off their individual skills in a non-team setting," said Matt Engleka, a Pitch, Hit & Run representative. "It really highlights those kids that may have for the first time picked up a bat and ball at the grassroots levels and gives them the opportunity to advance through the competition to get here to Petco Park."
Some #FuturePadres were out at @PetcoPark bright and early for Pitch, Hit & Run this morning! 👏🏃 pic.twitter.com/mnXwSBXfwU

— San Diego Padres (@Padres) June 10, 2017
Before the event began, some fathers and daughters scattered around Petco Park's southern gates to play catch. Boys practiced their swings, envisioning the tee and opportunity that would soon be in front of them; some men did, too, their reasoning less clear. Other assembled family members dealt with an early-morning light rain.
Once on the field, the competitors shared stories about their favorite positions and teams. As the hitting competition started, three boys discussed their goal of hitting the ball the farthest, not the hardest, an early debate over launch angle and exit velocity.
Resendez, a 14-year-old from San Diego, towered over the rest of the field. About six feet tall, he's always been the tallest in pictures, he said, and that was no different at Petco Park, as some of the younger competitors were about half his height.
His favorite event is hitting, though he favors pitching when in a game. Resendez's height might have detracted from his running; he was worried he was too slow to take home first. "I didn't think I was going to win," he said. "Now I have a chance to go to Miami."
Other competitors weren't so lucky, but the day was special for them all the same.
"The best part for us is seeing the expression on the kids' faces when they get to walk out onto the field," Engleka said. "Some of these kids have never been to a Major League Baseball game before, never been to a Major League park, and now, here they are for their achievements along the way. The smiles on their faces, when they light up when they see this place, it's just unbelievable. They're basically on the same field [that] their idols are."
Pitch, Hit & Run, the official youth skills competition of Major League Baseball, invites kids to demonstrate their pitching, hitting and running abilities in baseball and softball. The competition coincides with this weekend's Play Ball initiative between Major League Baseball, USA Baseball and USA Softball, which encourages widespread participation in all forms of baseball/softball activities among all age groups, especially youth. The initiative also provides players, parents and coaches with resources to help find events and leagues, as well as proper play information and instruction, through playball.org.
Nathan Ruiz is a reporter for MLB.com based in San Diego.