Here are Players' Weekend nicknames for Friars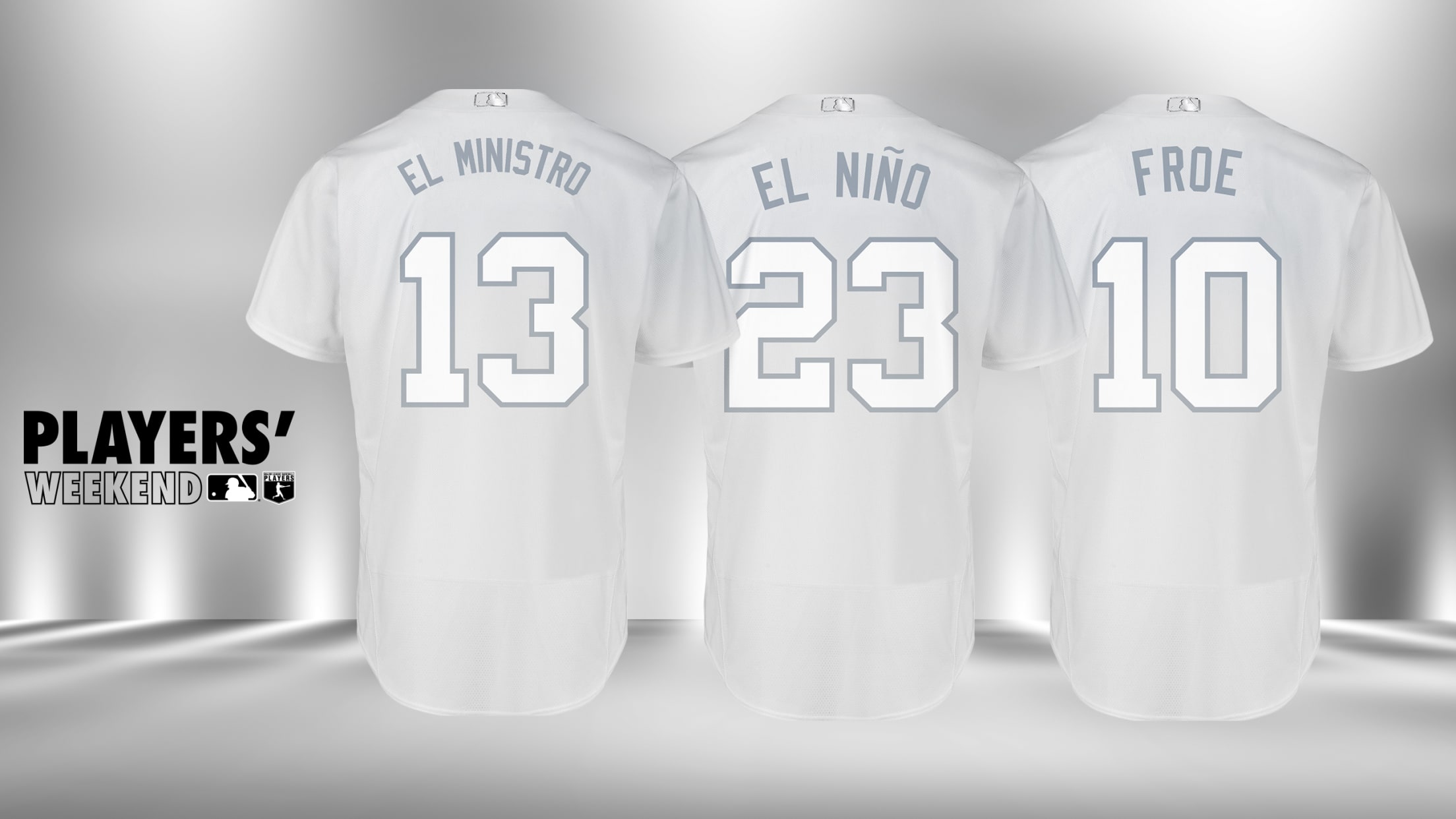 The third edition of MLB Players' Weekend will be the first one to take place in San Diego for the Padres, as the team hosts the Red Sox for three games Aug. 23-25. Here are the nicknames the Padres will use on the back of their uniforms, with descriptions for
The third edition of MLB Players' Weekend will be the first one to take place in San Diego for the Padres, as the team hosts the Red Sox for three games Aug. 23-25.
Here are the nicknames the Padres will use on the back of their uniforms, with descriptions for those that aren't entirely obvious.
• MLB Players' Weekend nicknames
Michel Báez: "PAPASO"
In the children's book "Papacito," the protagonist was a tall character. Baez, now 6-foot-8, was always tall as a child. He was given that as a nickname, and it eventually morphed to "Papaso."
Carl Edwards Jr.: "STRING BEAN SLINGER"
At 6-foot-3 and only 170 pounds, Edwards certainly fits the "string bean" moniker. Plus, he brings a high-octane fastball which sits in the mid-to-high 90s, so "String Bean Slinger" surely fits.
Robbie Erlin: "BOBBY B."
The other members of the Padres' bullpen have called Erlin "Bob" for years. Lately, they've taken to calling him Bobby and filling in the blanks with various last names that start with "B." ("Bobby Ballgame" for instance.)
Greg Garcia: "GG"
Austin Hedges: "(TREE, HOG EMOJIS)"
Hedges has gone by "Hedgey" for the past two Players' Weekends. This year, he's going as "Hedge Hog" instead, and he decided to use emojis to make things interesting.
Eric Hosmer: "PAPO"
A Cuban term of endearment akin to "Dude," Hosmer is paying tribute to his Cuban roots with his Players' Weekend nickname. He's referred to as "Papo" regularly in the Padres' clubhouse and has now worn the same name on his jersey for all three Players' Weekends.
Ian Kinsler: "KINS"
Dinelson Lamet: "EL FLACO"
Lamet was skinny as a child, and the word skinny in Spanish is literally "flaco." The nickname was first given to him by a childhood friend.
Eric Lauer: "GOMER"
Gomer Pyle was a character on "The Andy Griffith Show." When Lauer was a kid, his dad gave him the nickname, though no one has called him Gomer in years.
Joey Lucchesi: "JOEY FUEGO"
Lucchesi's college teammate at Southwest Missouri State dubbed him "Joey Fuego" while trying to think up a creative nickname for Lucchesi's Twitter handle. That nickname stuck through the Minors, and Lucchesi occasionally goes by "Fuego" in the Padres' clubhouse.
Manny Machado: "EL MINISTRO"
Machado was dubbed "El Ministro de Defensa" -- "The Minister of Defense" in Spanish -- for his brilliant glovework. This year, he's taking that nickname to Players' Weekend.
Manuel Margot: "YOANDRY"
Yoandry is a family nickname Margot has had for years, to the point he can't remember when they first began using it. It has stretched into the Padres' clubhouse, though it isn't used regularly.
Francisco Mejía: "FRANKY"
Adrian Morejon: "MORE"
Andres Munoz: "EL PLEBE"
In other Spanish-speaking cultures, "El Plebe" takes on something of a derogatory meaning akin to "punk kid." In Munoz's native Mexico, it's viewed in a more endearing light. He was an outgoing child who played multiple sports, and his friends from track dubbed him "El Plebe" -- a nickname typically reserved for a youngster with an outgoing personality.
Wil Myers: "WIL"
Josh Naylor: "NAYLZ"
Chris Paddack: "SHERIFF"
Padres fans began calling Paddack "the Sherriff" this spring as an ode to his Texas roots, his no-nonsense demeanor and the cowboy hat and boots he wears on start days. The nickname took off when Paddack burst onto the scene with a strong first month. Padres fans began wearing cowboy hats to his starts and badges with "Paddack's Posse" inscribed on them.
"That's when it hits me, man," Paddack said. "On days when I'm pitching, I don't notice that stuff because I'm locked in. But on the days when I'm not pitching ... that's when I really soak that in. It's just another reminder that I've made it to the big leagues, and my dream has come true."
Luis Perdomo: "EL CHAMAQUITO"
After Perdomo was selected in the Rule 5 Draft in 2015, his teammates began calling him "Chamaquito," which loosely translates to "youngster." At the time, he was making the jump from Class A Advanced to the Majors.
• Shop for Players' Weekend gear
Cal Quantrill: "QUAN"
Hunter Renfroe: "FROE"
Craig Stammen: "TRIG"
Trigger was a nickname given to Stammen by one of his friends' fathers. Over the years, it was shortened to Trig.
Matt Strahm: "STRAHMY"
Fernando Tatis Jr.: "EL NIÑO"
"I was always the kid," Tatis said. "I always played with bigger, older guys than me, so everyone called me "El Niño. Then, it got even bigger in winter ball."
Tatis was first called El Niño -- "the kid" in Spanish -- as a 12-year-old in his native Dominican Republic. It stuck. Now, he uses the nickname as an important reminder that he's just playing ball.
"I'm always trying to be happy," Tatis said. "If I go 0-for-4, I'm still smiling, trying to have a good time with my boys. I always remember it's a game. You're not always going to win. But no matter what, you have to a good time. Be the best version of yourself. Be a kid."
Luis Urías: "WICHO"
"Wicho" was a nickname given to Urias by his mother. It doesn't translate directly to anything. But when another kid on one of Urias' childhood teams heard the nickname, Urias was promptly dubbed "Wicho," and it stuck.
Trey Wingenter: "TERRY"
As a Minor Leaguer, Wingenter routinely quoted the movie, "The Other Guys." His teammates began calling him "Terry" after detective Terry Hoitz, played by Mark Wahlberg.
Kirby Yates: "CHUBBS SENIOR"
Yates is the proud owner of a bulldog named Chubbs -- who even made it into the team's "Padres and Puppies" calendar, which is released each year.