Rebounding trio powering Padres' surge
Hosmer, Machado, Myers all delivering on their promise in 2020
Suddenly, the Padres are the talk of the baseball world. It all starts with 21-year-old MVP candidate Fernando Tatis Jr., while rookie Jake Cronenworth has emerged as a surprising star and 23-year-old Trent Grisham as one of the offseason's savviest acquisitions. And now general manager A.J. Preller brought in an
Suddenly, the Padres are the talk of the baseball world.
It all starts with 21-year-old MVP candidate Fernando Tatis Jr., while rookie Jake Cronenworth has emerged as a surprising star and 23-year-old Trent Grisham as one of the offseason's savviest acquisitions. And now general manager A.J. Preller brought in an unprecedented haul of players before Monday's Trade Deadline.
The young stars and new faces are deservedly drawing quite a bit of attention, but a trio of veteran position players are another huge reason why San Diego is off to a 23-16 start -- the fourth-best record in the National League, despite a shutout loss on Thursday.
Let's look back at three splashy Padres transactions from the past few years:
• Jan. 17, 2017: OF Wil Myers signs a six-year, $83 million extension through 2022 (plus $20 million club option for '23).
• Feb. 19, 2018: 1B Eric Hosmer signs an eight-year, $144 million contract through 2025.
• Feb. 21, 2019: 3B Manny Machado signs a 10-year, $300 million contract through 2028.
When they signed their deals, Myers was heading into his age-27 season, Hosmer his age-28 season and Machado his age-26 season. They were supposed to be the base upon which the Padres built. But the early returns were not promising. (wRC+ is park-adjusted, with a league average of 100. WAR figures are from FanGraphs).
Myers, 2017-19: 393 G, .768 OPS, 103 wRC+, 3.0 WAR
Hosmer, 2018-19: 317 G, .728 OPS, 93 wRC+, -0.5 WAR
Machado, 2019: 156 G, .796 OPS, 108 wRC+, 3.1 WAR
In 2019 alone, these three key lineup cogs combined for essentially average offensive production (99 wRC+) and 3.2 WAR. That value came almost entirely from Machado, who nonetheless qualified as something of a disappointment after crossing the 6-WAR mark in three of the previous four campaigns.
This season has been a completely different story, to say the least, and not just because they accounted for three of the four grand slams that "Slam Diego" hit in consecutive games last month to accomplish a first in MLB history.
Hosmer/Machado/Myers, 2020: 101 G, .955 OPS, 152 wRC+, 3.9 WAR
Each of the three has at least a 147 wRC+, ranking among the top 40 hitters across MLB (minimum 100 plate appearances), and together they have already surpassed their combined 2019 value. The trio is a major reason why Padres position players led MLB in slugging (.484), OPS (.825), wRC+ (121) and WAR (9.4), spurring a team that has roughly 99% odds of snapping the game's third-longest postseason drought.
We like our plates full. 🍽 pic.twitter.com/vjEaggZuiq

— San Diego Padres (@Padres) August 21, 2020
How are they doing it?
To oversimplify, a hitter has two main avenues of potential improvement:
1) Make more contact
2) Make better contact
Doing one is difficult. Doing both at the same time is a huge challenge, given that these two goals can often be at odds. Yet Hosmer, Machado and Myers are managing to pull off this neat trick in 2020.
As first noted recently by Ryan Bloomfield of Baseball HQ, there is only a select group with 100-plus appearances this season who have both decreased their strikeout rate by at least 3 percentage points while also increasing their barrel rates by at least that much, compared with 2019. (Barrel rate measures how often a hitter makes optimal contact, the type that typically produces extra-base hits). Entering Friday, Hosmer, Machado and Myers were three of only 11 MLB hitters to have done that (Tatis is a fourth).
Hosmer: -9.4% K-rate (24.4% to 15.0%) | +5.6% barrel rate (7.2% to 12.8%)
Machado: -4.2% K-rate (19.4% to 15.2%) | +4.6% barrel rate (8.0% to 12.6%)
Myers: -7.2% K-rate (34.3% to 27.1%) | +4.7% barrel rate (11.2% to 15.9%)
Hosmer raises his sights
Hosmer has been an obvious candidate for the so-called "launch angle revolution" for some time now. In 2019, for example, he ranked in the 86th percentile of Major League hitters with a 46.0% hard-hit rate, yet in only the 42nd percentile in barrel rate. Hosmer hit the ball hard as often as Cody Bellinger or Bryce Harper, yet he was a below-average offensive producer.
Among the 225 players who put at least 250 balls in play last season, Hosmer had the second-lowest average launch angle (2.1 degrees) and fourth-highest ground-ball rate (56.8%). This season, his 9.0-degree launch angle and 45.3% ground-ball rate are much closer to average, with Hosmer having one of MLB's biggest launch angle increases.
Hosmer is mum on any mechanical changes, as is Jayce Tingler, but the Padres' manager did say recently that Hosmer is "on plane" with his swing. Take Hosmer's ability to make hard contact and add more balls pulled in the air, and you have many more opportunities for damage, such as when Hosmer blasted a 443-foot homer Wednesday, his longest as a Padre.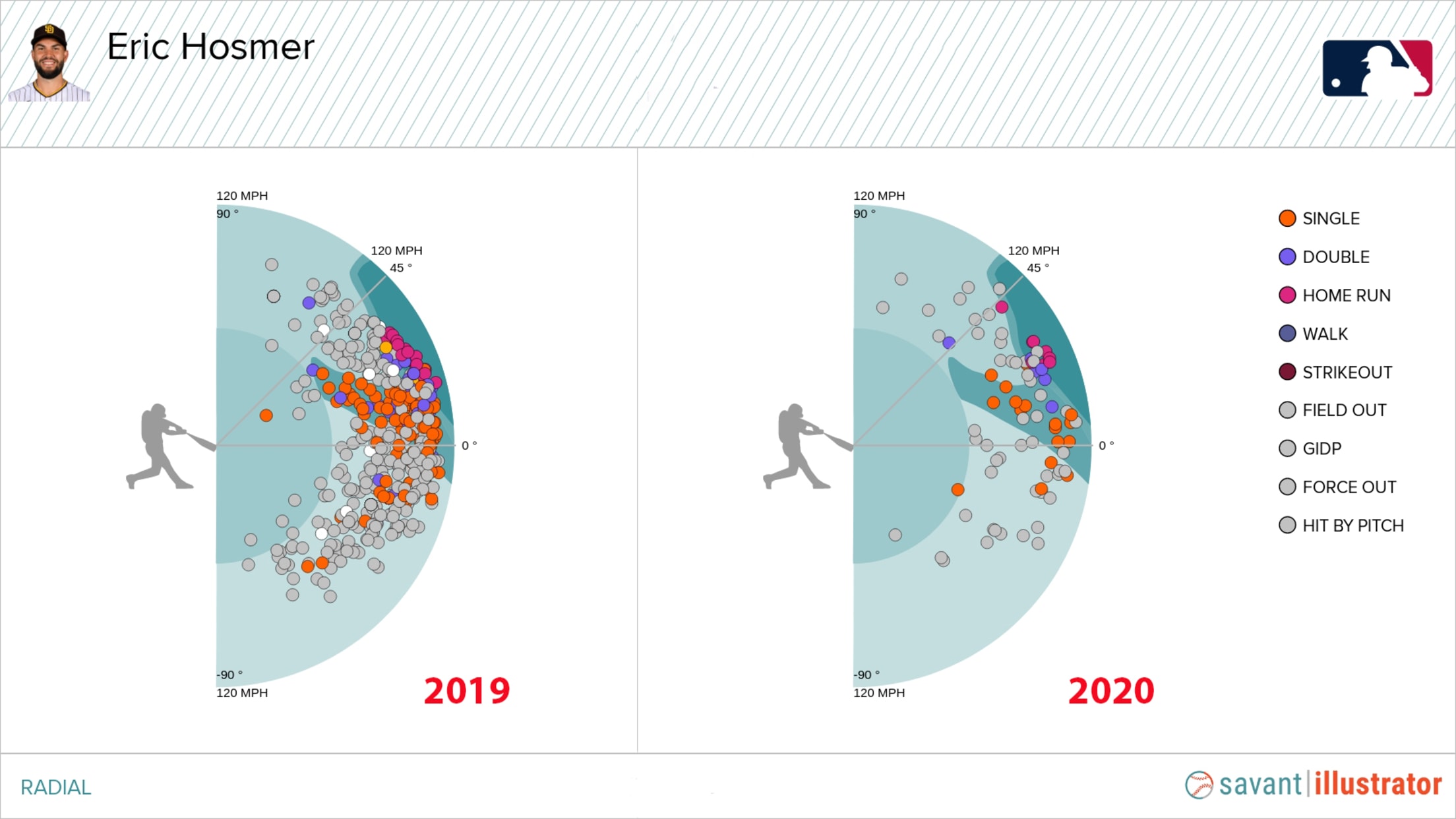 Manny gets red-hot
Machado was still a solid player in 2019, but he wasn't the superstar the Padres had envisioned. Then he got off to a slow start this season. But from Aug. 9 through Wednesday, he hit .378/.426/.767 with nine homers and 25 RBIs over 23 games, capturing back-to-back NL Player of the Week honors.
The difference isn't necessarily as obvious as with Hosmer, but one thing Machado is doing this season is being more selective.
2019: 69.0% in-zone swing rate, 28.5% chase rate (66.4% of swings were in zone)
2020: 72.4% in-zone swing rate, 20.4% chase rate (76.9% of swings are in zone)
Given that, it's not surprising Machado is whiffing less often when he swings and executing the aforementioned drop in K-rate while also increasing his walk rate to a career-high 10.5%. Machado has always had a knack for making hard contact -- he led MLB in hard-hit balls from 2015-19 -- so going after better pitches only makes him more dangerous.
Myers makes good
Myers has faced huge expectations since his days as a top-five prospect, but by the end of last season, it appeared that he might be on his way out of San Diego. Now, he is suddenly an integral piece again, getting to half of his 2019 home run total (18) in less than a quarter of the games.
Myers has improved across the board, including bringing last season's career-high strikeout and whiff rates back toward his career norms. He has continued to hit the ball hard, and while he hasn't changed his overall launch angle much, Myers has cut down on both his ground balls and his popups, while his line-drive rate has exploded. In other words, he is excelling at hitting the ball in the sweet spot, the launch angle range between 8-32 degrees in which batted balls tend to have the most success.
Highest sweet-spot rate, 2020
Minimum 75 batted balls (162 batters)
1) Jake Cronenworth (SD) 46.1%
2) Freddie Freeman (ATL): 45.1%
3) Wil Myers (SD): 44.3%
4) Trevor Story (COL): 44.0%
5) Donovan Solano (SF): 43.4%
Myers is crushing the ball, as his spike in barrel rate attests. Same for Hosmer and Machado. The 2020 Padres are an electrifying team, and this talented trio finally clicking has a lot to do with it.