Solarte honored for strong spirit at BBWAA Dinner
Padres third baseman showed perseverance after wife's passing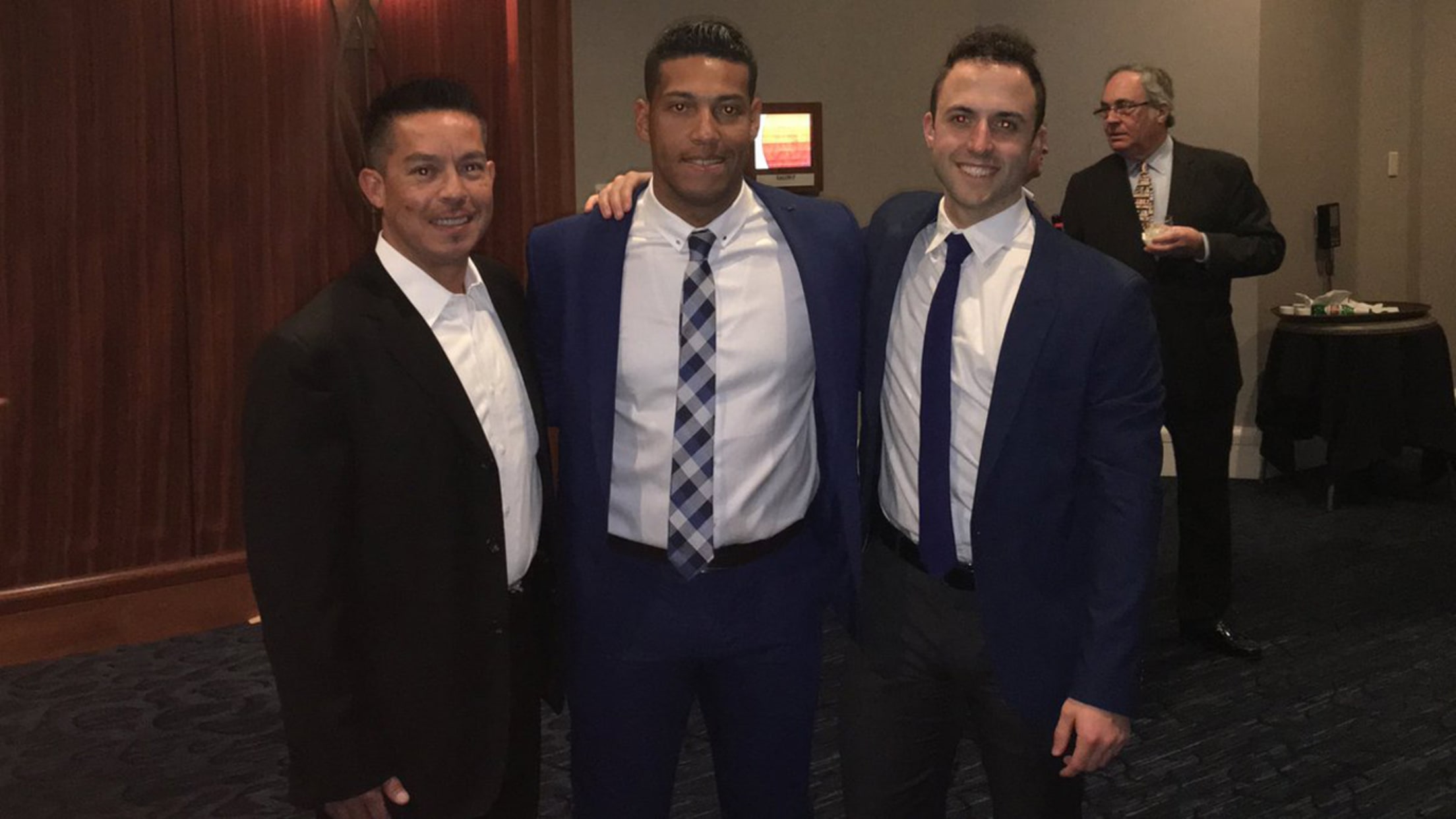 Trainer Paul Navarro, Yangervis Solarte and team interpreter David Longley pose at Thursday's event. (Padres)
Padres third baseman Yangervis Solarte was recognized for his perseverance Thursday night in Boston, where he received the Tony Conigliaro Award at the chapter's annual Baseball Writers' Association of America Dinner.Solarte was selected in December as the 18th person to win the honor, which is given each year to "the
Padres third baseman Yangervis Solarte was recognized for his perseverance Thursday night in Boston, where he received the Tony Conigliaro Award at the chapter's annual Baseball Writers' Association of America Dinner.
Solarte was selected in December as the 18th person to win the honor, which is given each year to "the Major Leaguer who has overcome adversity through the attributes of spirit, determination and courage."
Solarte's wife, Yuliett Pimentel Solarte, lost her battle with cancer on Sept. 17. Twice during the season, Yangervis left the club to be by her side, including just before her death.
A group of media, executives, Red Sox officials and members of the Conigliaro family voted on the award after Solarte was nominated by the Padres. Conigliaro, a former Boston outfielder, was hit in the head by a pitch in 1967, shortening his career, and he passed away in '90 at age 45.
"To be honest, when I first won it, I wasn't quite sure where it came from," Solarte said Monday. "Once I learned more about it, I really identified with it. It helped me, for a moment that difficult, to have that be recognized."
It's been a busy week for Solarte, who received a two-year contract extension with a pair of club options last Friday. The deal could keep him in San Diego through the 2020 season.
The Padres held an informal news gathering on Monday, where Solarte thanked the organization and fans for their support.
During Solarte's absence from the team, the Padres hung a jersey in the dugout with Yuliett's name emblazoned across the back. When he returned at the end of September, he was greeted with an emotional standing ovation from the Petco Park faithful.
"Coming back and having that support meant a ton," Solarte said. "Just being here with my teammates ... knowing that I'd be here, I could play here calmly and know that I have this family."
Said Padres manager Andy Green: "He talks about this as his Padre family. You lose a wife -- no group, no extended family, no team can ever replace that. But it's nice to have a team that loves a guy and helps carry him through that."
In parts of three seasons with San Diego, Solarte has emerged as a fan favorite. He batted .286/.341/.467 with a career-high 15 home runs in 109 games last season. But Solarte is beloved for more than just his numbers.
"He's energy, he's life -- everybody gravitates to him because of those things," Green said. "He's always smiling, he loves to be at the yard. He's one of the guys, as we go into this season, we're expecting big things from."