Molitor aiming to set Twins' rotation soon
Minnesota likely to name either Duffey, Nolasco as fifth starter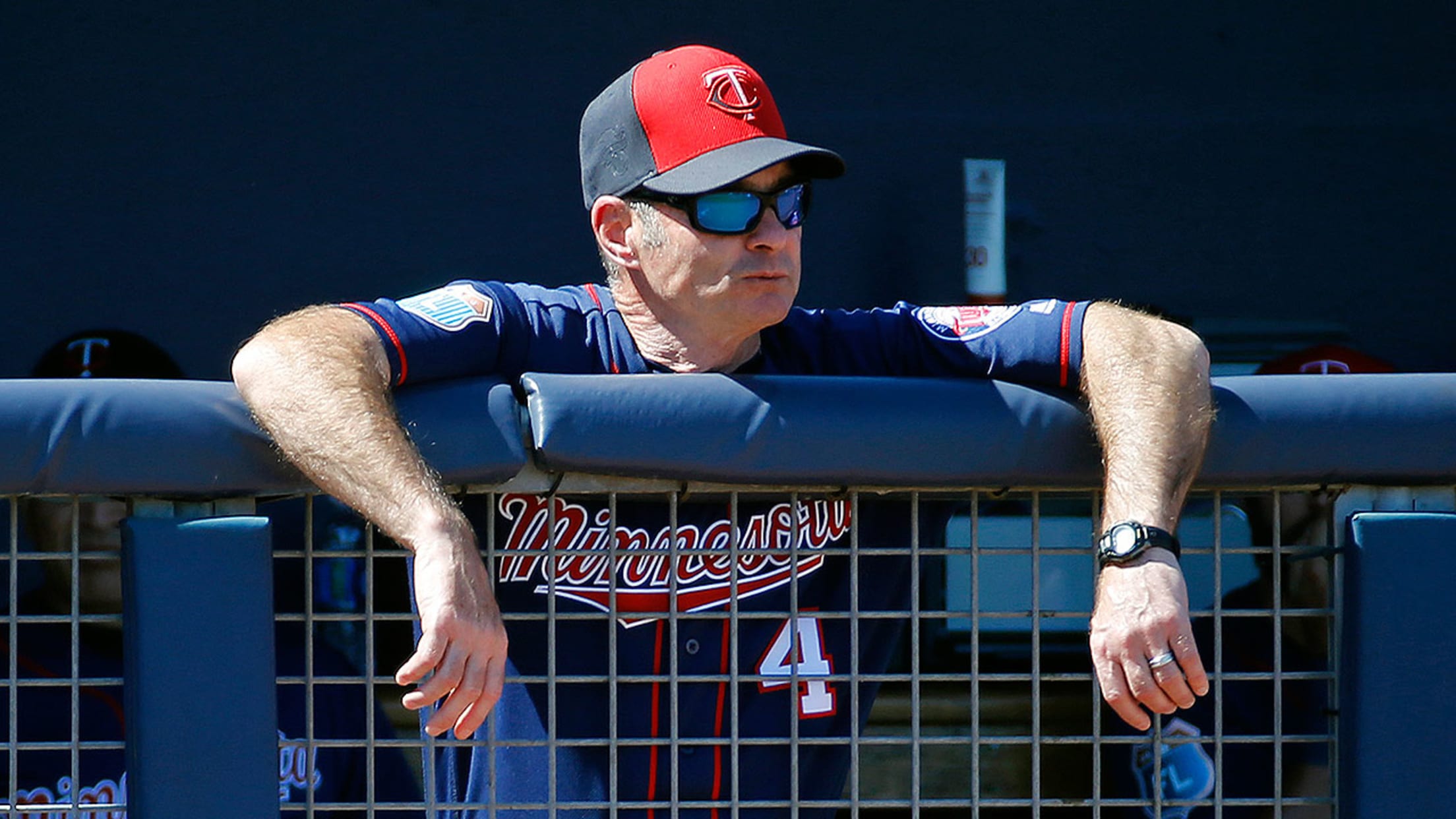 Paul Molitor said he'd like to have the rotation settled before the Twins' exhibition games vs. the Nats. (AP)
PORT CHARLOTTE, Fla. -- Twins manager Paul Molitor said he'd like to have his 25-man roster set before the club takes off for its two exhibition games against the Nationals on April 1 and 2, which means the final two spots in the rotation should be announced early next week.Right-handers
PORT CHARLOTTE, Fla. -- Twins manager Paul Molitor said he'd like to have his 25-man roster set before the club takes off for its two exhibition games against the Nationals on April 1 and 2, which means the final two spots in the rotation should be announced early next week.
Right-handers Tyler Duffey and Ricky Nolasco are both scheduled to start on Monday, as Duffey is penciled in to start against the Pirates in Bradenton, Fla., while Nolasco will pitch in a Minor League game in Fort Myers, Fla. The Twins appear likely to name one of those two their fifth starter, as left-hander Tommy Milone has put himself in strong position to be in the rotation with a 2.40 ERA this spring and a solid outing against the Marlins on Thursday.
• Spring Training: Schedule | Tickets | More info
Molitor said he'd like to have the rotation set heading into their exhibition series, as he plans to start Phil Hughes on April 1 and the club's fourth starter on April 2 and have the fifth starter stay back in Fort Myers to pitch in a Minor League game to stay on track leading into the season.
"I don't really want to do that on that last Saturday," Molitor said of waiting to determine the back end of the rotation. "I made the suggestion to keep whoever our fifth starter is back. We're going to need all of our relievers to pitch in Washington. And if we end up going three and three [innings] with our fourth and fifth starters on Saturday, and then they have another week until they pitch. So we're toying with the idea to keep the fifth starter back here so he can throw more than 40 pitches or whatever."
The Twins haven't announced that Milone is in the rotation yet, but after he allowed two runs over six innings against Miami on Thursday, general manager Terry Ryan was clearly impressed.
"He's had a quality spring, and he just added on yesterday," Ryan said. "He had a good solid outing and mixed up his pitches and threw strikes like he always does."
Outside of the rotation battle, the Twins, who have 35 players in camp, need to determine how their outfield will shake out and who will be in the bullpen. Byron Buxton still hasn't been named the starter in center field, while Oswaldo Arcia and non-roster invitee Carlos Quentin are competing for a spot as a fourth outfielder. Backup catcher John Ryan Murphy has struggled offensively, but Molitor said it hasn't caused them to change their plans with him.
The makeup of the bullpen will in part be determined by whether Nolasco or Duffey is in the rotation, as Duffey will be optioned if he doesn't make the rotation, while Nolasco would head to the bullpen. Glen Perkins, Kevin Jepsen, Trevor May and Casey Fien are locks, while relievers such as Ryan Pressly and Fernando Abad have put themselves in good positions. Michael Tonkin has struggled, but is out of options, so he'll continue to get a look.
"We're farther down our roster, and some of that is because we have to leave in about a week," Ryan said. "So we have to get people prepared where they're going to go. But we're in good shape. There's not too much mystery. We've got a couple decisions to make, and we'll make them. There are probably 20 locks on this team, and that's no secret. So we've got a few things to decide."