Rose a candidate for Phils' Wall of Fame ballot
Induction in Philadelphia could follow Cincinnati's honoring of hits leader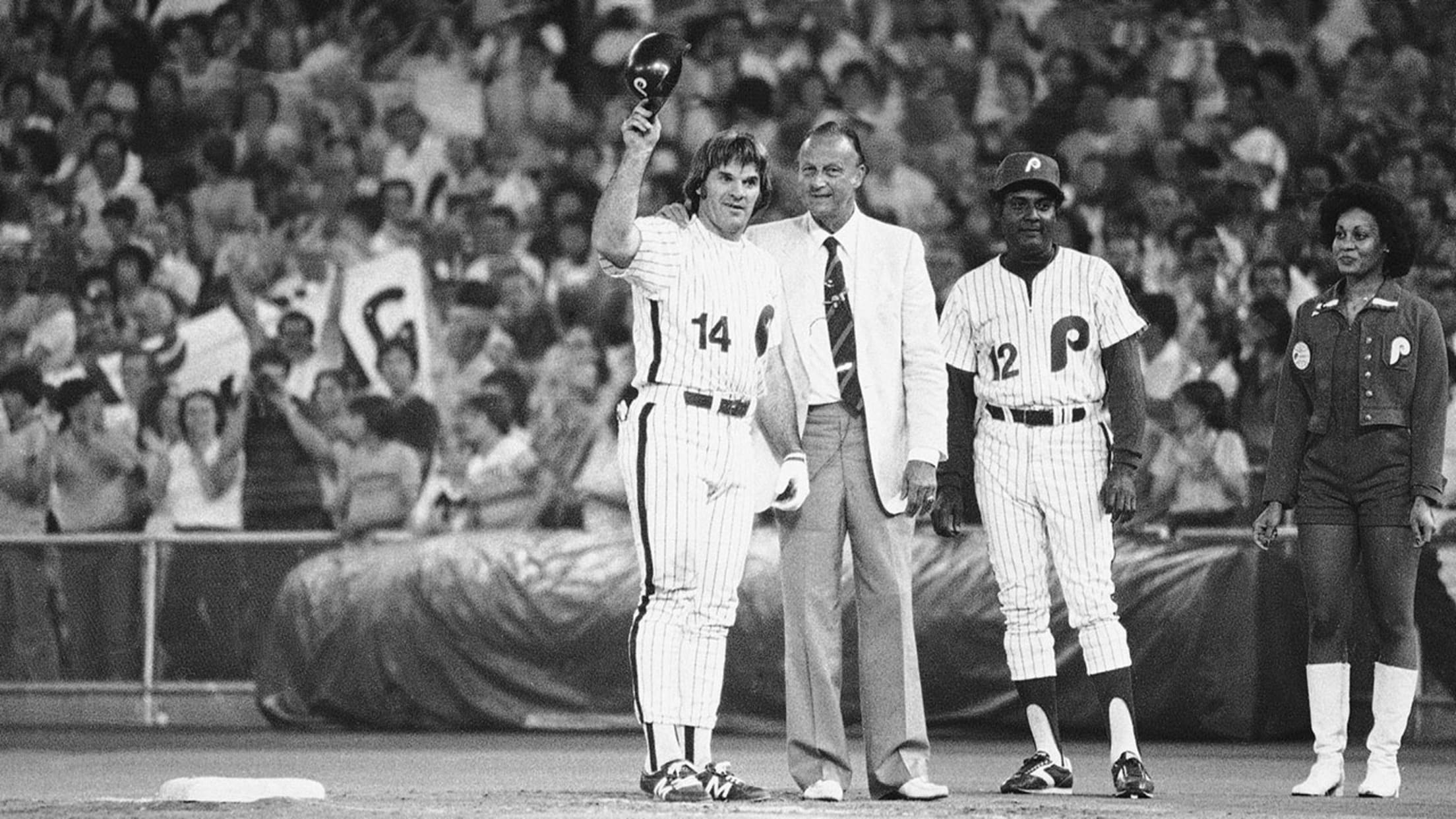 Pete Rose hit .291 with 826 hits with the Phillies and was instrumental in their 1980 World Series win. (AP)
PHILADELPHIA -- Before the Phillies convinced Jim Thome to sign as a free agent in December 2002, sparking a baseball renaissance in Philadelphia, they wooed Pete Rose as a free agent in December 1978, helping the franchise win its first World Series championship in 1980.Rose remains one of the most
PHILADELPHIA -- Before the Phillies convinced Jim Thome to sign as a free agent in December 2002, sparking a baseball renaissance in Philadelphia, they wooed Pete Rose as a free agent in December 1978, helping the franchise win its first World Series championship in 1980.
Rose remains one of the most popular figures in Phillies history, but he has no plaque on the Phillies' Wall of Fame, as the organization honored the league's lifetime ban on Rose for gambling.
But Rose could find himself on the Phillies' Wall of Fame as early as next summer. While Commissioner Rob Manfred upheld Rose's ban in December 2015, he noted the Reds could celebrate Rose's storied career provided they received his approval in advance. The Reds did just that, inducting their hometown hero into their Hall of Fame in June.
"The Commissioner last year encouraged teams that wanted to recognize Pete's contributions to do it," Phillies president Andy MacPhail told MLB.com on Friday at Citizens Bank Park. "I think there was a feeling among our group that out of deference to his Cincinnati ties and what he had done there that they ought to be up first. But I don't know any reason why he wouldn't get any consideration, first from our fans and then from the committee."
The Phillies nominate 12 former players, coaches and managers for a Wall of Fame vote every year. The top five fan choices make a final ballot. A Wall of Fame selection committee then votes to decide that year's inductee.
The Reds bypassed their usual selection process and simply named Rose their 2016 honoree. Even if the Phillies follow tradition, having a fan vote followed by a committee vote, it seems Rose would have a good chance of being inducted.
Thome was inducted earlier this month. The other 11 Phillies nominated this year were Steve Bedrosian, Larry Christenson, Jim Fregosi, Gene Garber, Jim Konstanty, Fred Luderus, Ron Reed, Scott Rolen, Manny Trillo, Pinky Whitney and Rick Wise.
"I know a lot of people here feel like he was a huge contributor to the world championship team," MacPhail said about Rose. "These are honors that the fans and committee bestow. It's not a circumstance where I think they need my interference."