Kapler returns to Trop for 1st time since 2010
Manager able to provide insight to outfielders for tracking balls under roof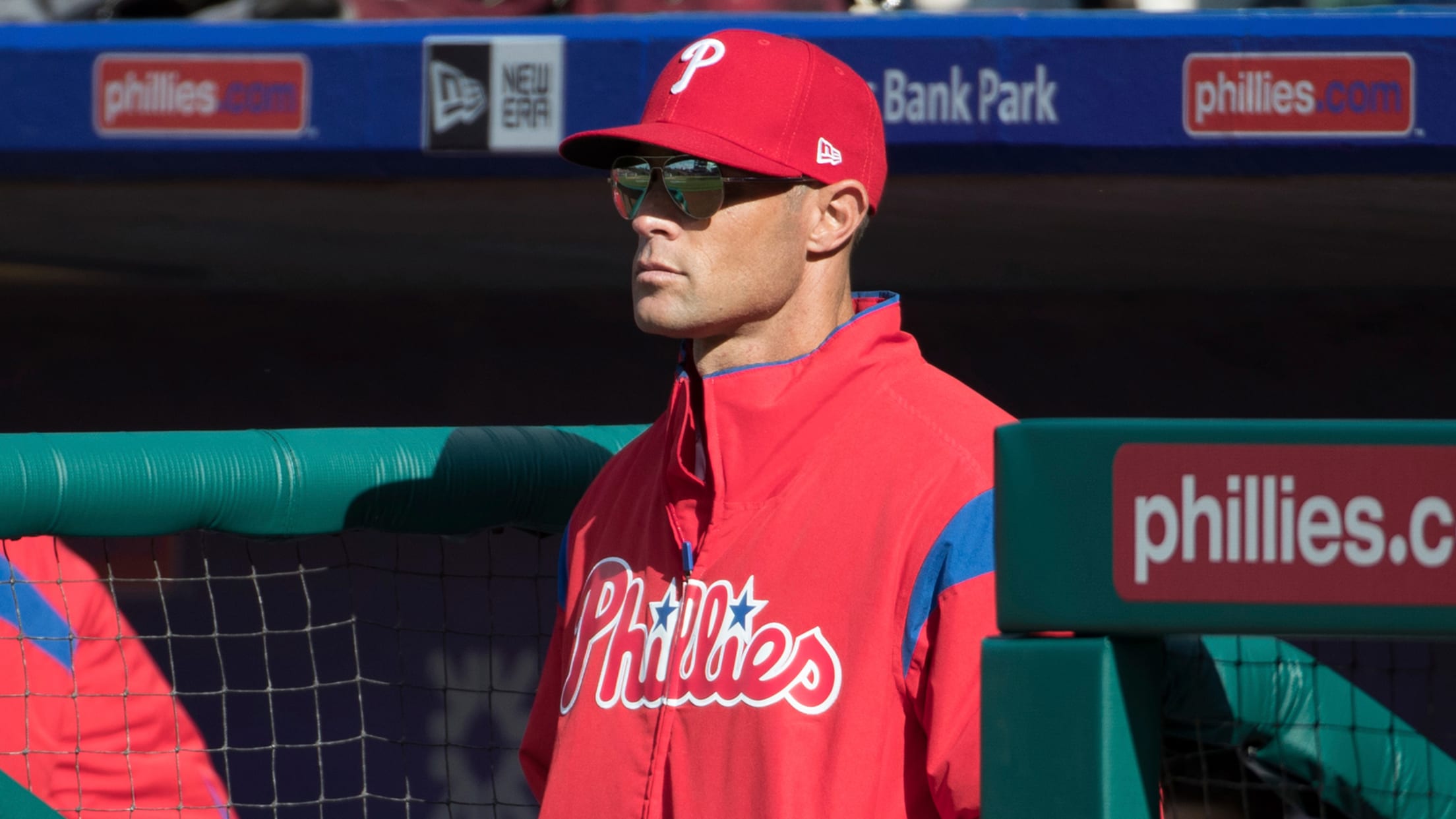 ST. PETERSBURG -- Phillies manager Gabe Kapler said it felt good to be back at the Rays' home stadium of Tropicana Field. He's one of the very few wearing a Philadelphia jersey on Friday that can say that. As an organization, the Phillies hadn't played a regular-season game in the
ST. PETERSBURG -- Phillies manager Gabe Kapler said it felt good to be back at the Rays' home stadium of Tropicana Field. He's one of the very few wearing a Philadelphia jersey on Friday that can say that. As an organization, the Phillies hadn't played a regular-season game in the stadium since June of 2009.
"The visiting clubhouse felt very familiar, probably more for my time with the Red Sox than anything else, and obviously the home clubhouse as well," Kapler said.
Kapler played the final two seasons of his 12-year career with Tampa Bay in 2009 and 2010, batting .228 with 10 home runs and 46 RBIs in 378 plate appearances. The first-year manager credited two of his own coaches from his playing days with the Rays -- manager Joe Maddon, who is now with the Cubs, and bench coach Davey Martinez, who now manages the Nationals -- as being major influences in his own coaching career. He also pointed to Rays senior vice president of baseball operations and general manager Erik Neander -- who was in the Tampa Bay front office during Kapler's time as a Ray -- as being the person that first showed him the importance of sabermetrics in the way he presented information.
"All of those people are influential in my baseball career, and my life," Kapler said.
As one of the few in a Phillies uniform that has experienced the quirks of playing under the Trop's incandescent roof, Kapler said he planned to share some of his insights into playing the outfield under the dome. Most importantly, watching every ball off the hitter's bat.
"One of the philosophies that we teach outfielders is drop your head, run to the spot and then pick up the ball," Kapler said. "I think this is one of those stadiums [that you can't]. If you watch [Rays center fielder Kevin] Kiermaier, he is excellent at it. He runs really fast with his eyes on the ball, and I think one of the reasons he does that is because you can lose some balls in this roof."
Plate vision
The Phillies' hitters are averaging 4.29 pitches per plate appearance this season, the most in the Major Leagues. The Phillies have three offensive starters in the top 10 in that department: Cesar Hernandez (4.67, 2nd), Rhys Hoskins (4.53, 3rd) and Carlos Santana (4.47, 6th).
"I'm really proud of that," Kapler said. "Our guys are seeing a lot of pitches and working deep counts and I continue to think that is going to bode well for us moving forward."
That discipline at the plate has also helped the team earn plenty of free passes. Heading into their weekend series against the Rays, the Phillies have averaged a walk every 8.41 plate appearances, second in the National League behind the Nationals (8.35).
Injury update
Righty reliever Tommy Hunter returned to baseball-related activities at the team's Spring Training complex just up the road in Clearwater, Fla., on Friday. Hunter, who started the season on the disabled list with a Grade 1 right hamstring strain retroactive to March 26, will throw in an extended spring camp game on Saturday.
"We'll read and react from there and see how he's doing," Kapler said.
Hunter was with the team at the Trop on Friday, although Kapler did not say whether the veteran reliever would be activated in time to face his former Tampa Bay teammates when the series concludes on Sunday.
"Anything is possible," Kapler said. "We definitely don't want to get too far out in advance. It's possible that he'll need two outings."
Kapler also said that reliever Pat Neshek (right shoulder) was "progressing nicely" and that starters Jerad Eickhoff (right lateral muscle) and Mark Leiter (left forearm) were also nearing a return to the mound, but did not give a timetable.
** J. Scott Butherus ** is a contributor to MLB.com based in St. Petersburg.