Pipeline Preview: Kingery looks to extend hit streak for IronPigs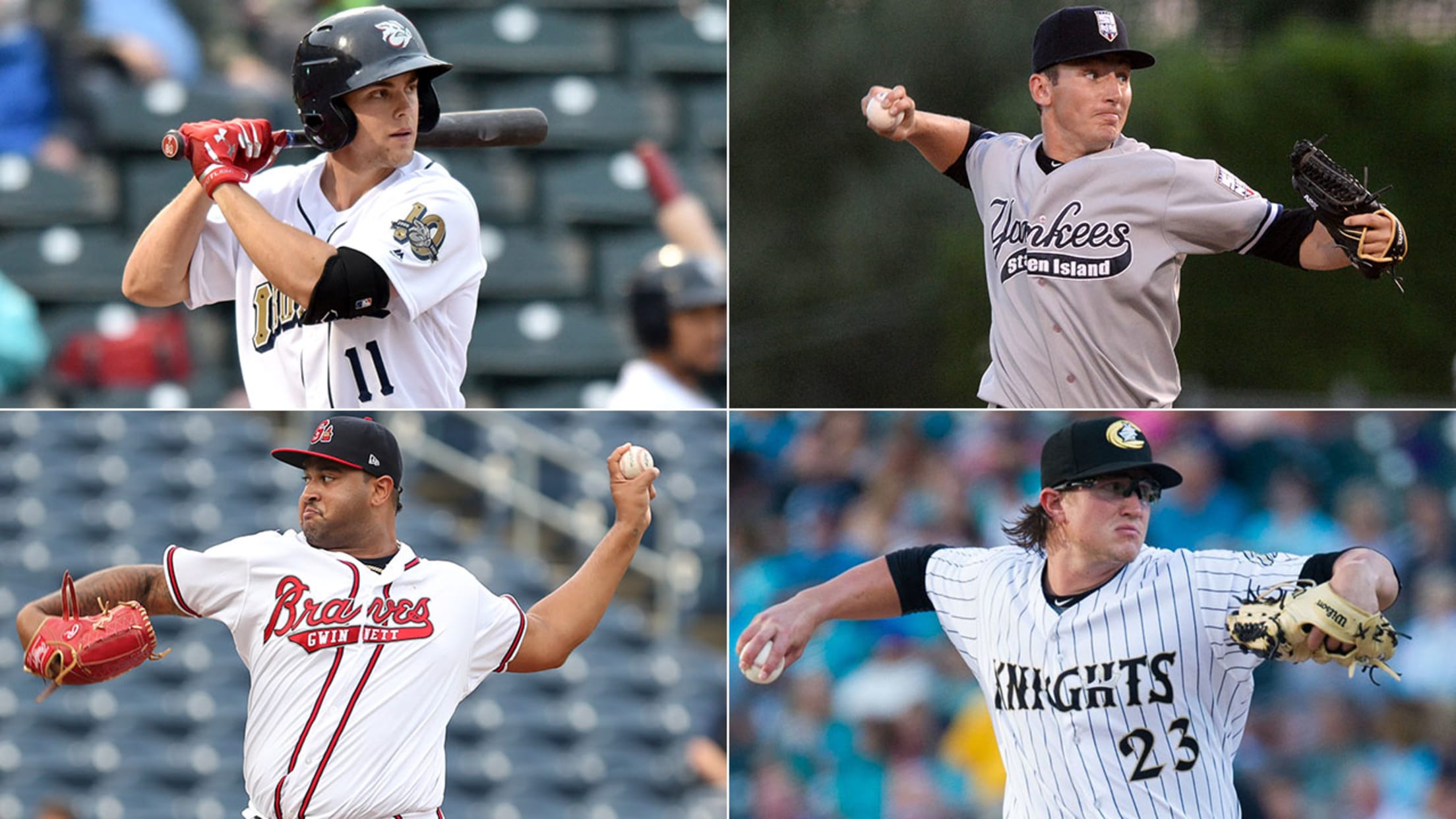 Here's a look at top prospects to watch in today's Minor League action:Hitter to watch: Scott Kingery (Phillies' No. 3), Lehigh Valley vs. Pawtucket (7:05 p.m. ET on MiLB.TV)Kingery, the No. 56 overall prospect, extended his hitting streak to 22 games with a base hit in the fourth inning on
Here's a look at top prospects to watch in today's Minor League action:
Hitter to watch: Scott Kingery (Phillies' No. 3), Lehigh Valley vs. Pawtucket (7:05 p.m. ET on MiLB.TV)
Kingery, the No. 56 overall prospect, extended his hitting streak to 22 games with a base hit in the fourth inning on Thursday. Kingery, who has posted career highs with 26 homers and 64 RBIs this season, has been on fire since he was promoted to Triple-A. Not only is he in the midst of a 22-game hitting streak, but he's collected a hit in 48 of the 52 games he's played with the IronPigs.
Pitcher to watch: Trevor Stephan (Yankees' No. 30) Staten Island vs. Brooklyn (7 p.m. ET on MiLB.TV)
Stephan, the Yankees' third-round selection from the 2017 Draft, has been unhittable in his past two starts. The 21-year-old has thrown four hitless frames in each of those outings and has held the opposition without a hit in three of his eight appearances with Staten Island. Stephan has gotten off to a strong start in his young career as he's posted a 1.63 ERA with 34 strikeouts and six walks in 27 2/3 innings.
Duel of the Day:Luiz Gohara (Braves' No. 8) vs Carson Fulmer (White Sox No. 11), Gwinnett vs. Charlotte (5:05 p.m. ET on MiLB.TV)
Gohara, the No. 92 overall prospect, has posted a 3.04 ERA through four starts this month, including four scoreless frames in his most recent outing. The 21-year-old has pitched across three levels this season and will be looking to build off his most recent outing -- one hit over four scoreless innings -- as it was his arguably his best start at the Triple-A level.
Fulmer's most recent start came in a White Sox uniform as he was called up to pitch against the Twins. The outing did not go as Fulmer would have liked as he struggled with command and didn't make it out of the second inning. The 23-year-old got off to a fast start this season, allowing two earned runs or fewer in six of his first seven starts, but he has struggled a bit lately.
Friday's Top 100 prospect probables
No. 52 overall Sixto Sanchez (Phillies' No. 2), Clearwater vs. Lakeland (6:30 p.m. ET on MiLB.TV)
No. 62 overall Riley Pint (Rockies' No. 2), Asheville vs. Lexington (7:05 p.m. ET)
No. 65 overall Dylan Cease (White Sox No. 7), Kannapolis vs. Lakewood (7:05 p.m. ET)
No. 72 overall Stephen Gonsalves (Twins' No. 3), Rochester vs. Buffalo (7:05 p.m. ET on MiLB.TV)
More top prospect probables
Rookie Davis (Reds' No. 19), Louisville vs. Toledo (Triple-A)
Domingo German (Yankees' No. 21), Scranton/Wilkes-Barre vs. Syracuse (Triple-A)
Dakota Hudson (Cardinals' No. 8), Memphis vs. Iowa (Triple-A)
Yency Almonte (Rockies' No. 10), Albuquerque vs. Salt Lake (Triple-A)
Taylor Clarke (D-backs' No. 3), Reno vs. Las Vegas (Triple-A)
David Hess (Orioles' No. 29), Bowie vs. Altoona (Double-A)
Shane Bieber (Indians' No. 12), Akron vs. Erie (Double-A)
Conner Greene (Blue Jays' No. 12), New Hampshire vs. Hartford (Double-A)
Cody Ponce (Brewers' No. 21), Biloxi vs. Mobile (Double-A)
Enyel De Los Santos (Padres' No. 13), San Antonio vs. Frisco (Double-A)
Zac Gallen (Cardinals' No. 13), Springfield vs. NW Arkansas (Double-A)
A.J. Puckett (Royals' No. 24), Winston-Salem vs. Buies Creek (Class A Advanced)
Michael Rucker (Cubs' No. 29), Myrtle Beach vs. Carolina (Class A Advanced)
Brock Burke (Rays' No. 16), Charlotte vs. Fort Myers (Class A Advanced)
Roniel Raudes (Red Sox's No. 13), Salem vs. Wilmington (Class A Advanced)
Freicer Perez (Yankees' No. 11), Charleston vs. Delmarva (Class A)
Matthias Dietz (Orioles' No. 24), Delmarva vs. Charleston (Class A)
Michel Baez (Padres' No. 7), Fort Wayne vs. Lansing (Class A)
Bryan Hudson (Cubs' No. 28), South Bend vs. Lake County (Class A)
Brian Shaffer (D-backs' No. 30), Hillsboro vs. Boise (Class A Short Season)
Tanner Houck (Red Sox's No. 5), Lowell vs. Tri-City (Class A Short Season)
Colton Hock (Marlins' No. 12), Batavia vs. Auburn (Class A Short Season)
Seth Romero (Nationals' No. 5), Auburn vs. Batavia (Class A Short Season)