Phils set to honor '08 team on Alumni Weekend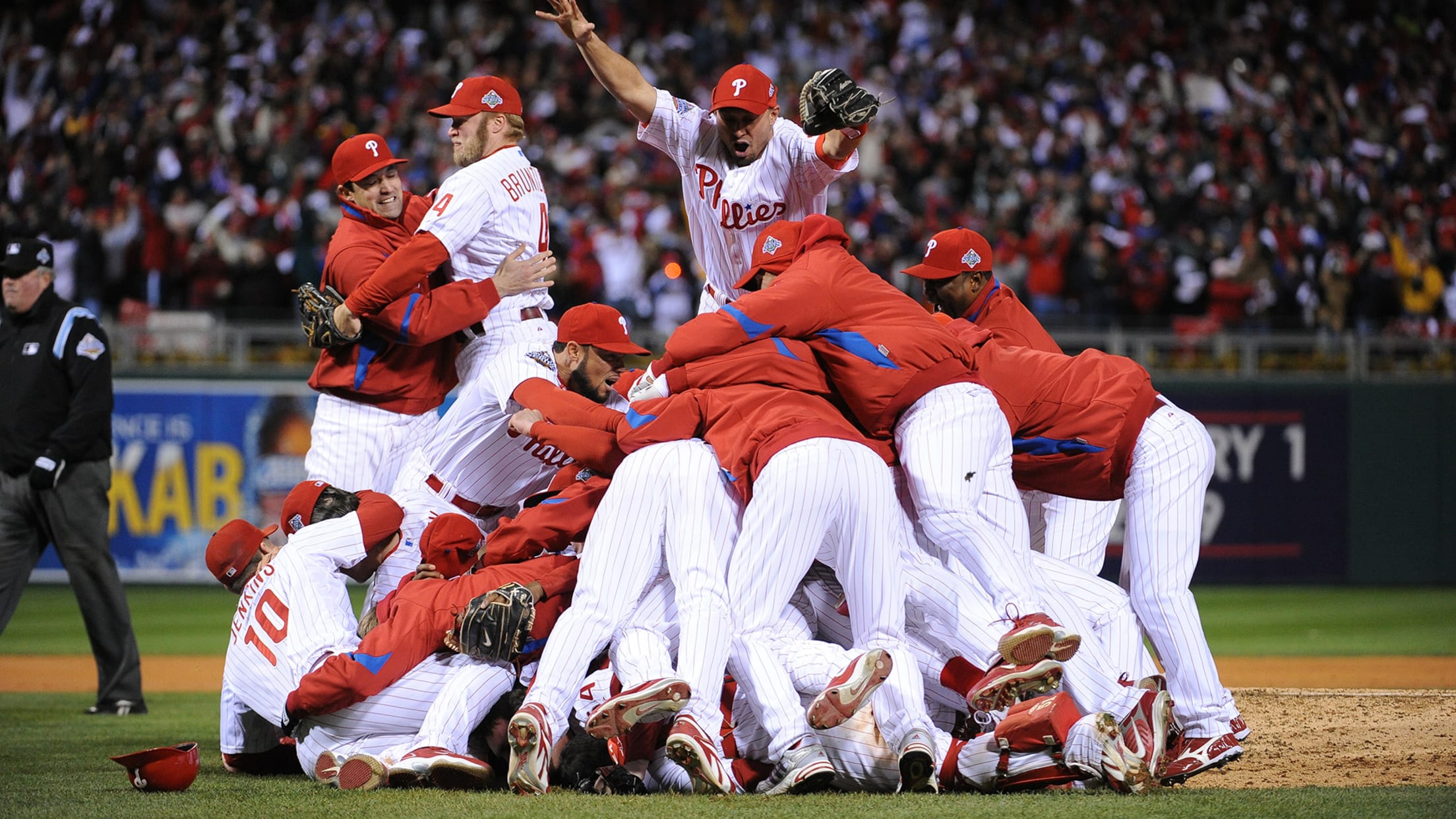 As the 2018 Phillies continue their quest for their first National League East title in seven years, the franchise and the city of Philadelphia are set to honor a beloved club from their past.Philadelphia will honor the 2008 World Series-champion team during the Toyota Phillies Alumni Weekend with a series
As the 2018 Phillies continue their quest for their first National League East title in seven years, the franchise and the city of Philadelphia are set to honor a beloved club from their past.
Philadelphia will honor the 2008 World Series-champion team during the Toyota Phillies Alumni Weekend with a series of special events planned for Aug. 3-5, when the Phils host the Marlins at Citizens Bank Park. That '08 club defeated the American League-champion Rays in five games to capture the franchise's second World Series title, and its first since 1980.
Shane Victorino -- the "Flyin' Hawaiian" -- kicks things off on Friday, Aug. 3, when he returns to the City of Brotherly Love to officially retire as a Phillie. Victorino will be celebrated during pregame festivities and will also throw out the first pitch. Victorino, a two-time All-Star, hit .279 with 88 home runs and 390 RBIs and won three NL Gold Glove Awards over eight seasons in Philly.
Victorino hit a pair of critical homers during the Phillies' 2008 championship run, including a grand slam off then-Brewers ace Carsten Sabathia in Game 2 of the NL Division Series and a game-tying homer in Game 4 of the NL Championship Series.
The Phillies will celebrate two titans of modern baseball on Sat., Aug. 4, as they induct former general manager Pat Gillick and the late Roy Halladay into their Wall of Fame. Gillick, who is also a member of the National Baseball Hall of Fame, will take part in a pregame ceremony alongside Halladay's widow, Brandy, his sons and returning Phillies Wall of Famers.
Gillick was instrumental in building a powerhouse Phillies club that captured back-to-back NL pennants in 2008 and '09, while Halladay captured the 2010 NL Cy Young Award, threw a perfect game and a postseason no-hitter and won 55 games in four seasons with Philadelphia.
On Aug. 4, the Phillies will also hold a pregame Wiffle ball home run derby featuring players from the 2008 team and a noon luncheon with members of that club and a few lucky fans. Limited tickets for the luncheon are available.
Festivities wrap up Sunday, Aug. 5 at 12 p.m. ET, when many of the most prominent members of the 2008 Phillies -- including former stars Ryan Howard, Brad Lidge, Jamie Moyer, Jimmy Rollins, Carlos Ruiz and Jayson Werth -- return to Citizens Bank Park.
The finalists from the previous day's Wiffle ball home run derby will compete on the field prior to the game. All of the players from the 2008 team will be recognized in a formal ceremony before first pitch. The team will also pass out a Lidge bobble figurine to all fans in attendance. Fans are encouraged to arrive early for the on-field ceremony.
For more information on the entire weekend's events, visit here.