Joseph enjoying 'healthy' spring at the plate
First baseman is looking to put injury issues behind him this season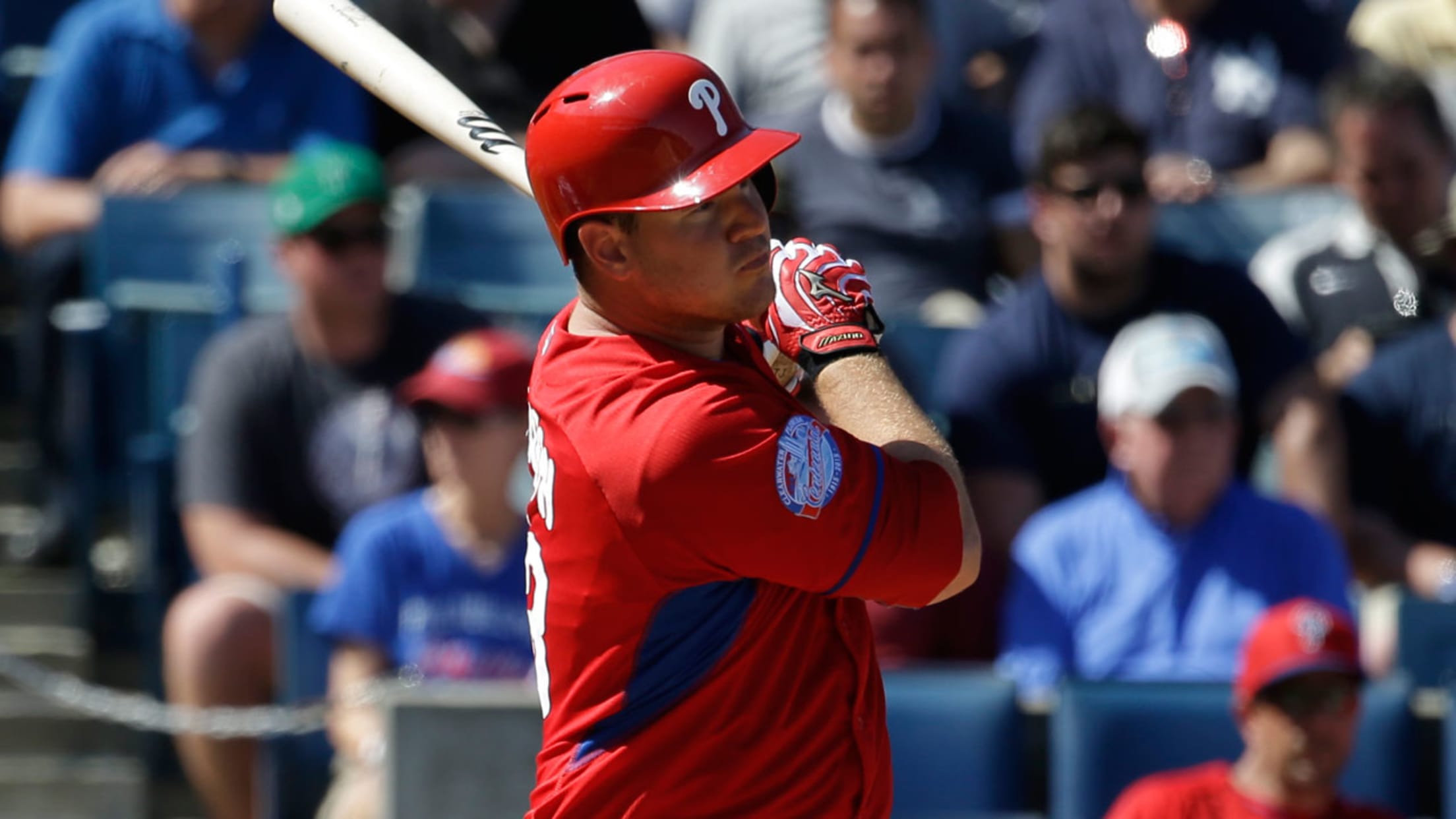 Tommy Joseph has averaged just 40 games played each of the past three seasons. (AP)
READING, Pa. -- On a weekend when the Phillies are showcasing the best and the brightest of their farm system, Tommy Joseph is a blast from the past.You remember Joseph. The guy who was acquired, with considerable fanfare, from the Giants as part of the Hunter Pence trade at the
READING, Pa. -- On a weekend when the Phillies are showcasing the best and the brightest of their farm system, Tommy Joseph is a blast from the past.
You remember Joseph. The guy who was acquired, with considerable fanfare, from the Giants as part of the Hunter Pence trade at the non-waiver Trade Deadline in 2012. The guy who was expected to be the catcher of the future. The guy who then suffered a series of concussions, was taken off the big league roster and largely dropped out of sight.
Joseph entered Thursday night's exhibition game at first base in the top of the sixth and walked in his only at-bat of the Phillies' 19-4 win over the Futures Team at FirstEnergy Stadium.
But the fact that Joseph was included on the Futures roster says a lot. And player development director Joe Jordan said even more before the game when asked about his most pleasant surprise of the spring.
"If you could have seen Tommy Joseph the last two weeks of Spring Training, it's the first time we've really been able to see him healthy," Jordan said. "He's just been really good offensively. He had some vision deficits due to the concussion stuff he went through that was addressed last fall and over the winter. Offensively, he looks like the guy we traded for three years ago. So he's been a big surprise."
Joseph has averaged just 40 games played each of the past three seasons. He said the biggest key to his renewed success is simply that he's been healthy.
"I think that's definitely got a lot to do with it," Joseph said. "Last year, I came into camp pretty heavy, too, so I tried to take care of myself a little better this winter. Lost a few pounds, put myself in a better position. And just came in with a positive mindset."
Joseph said the transition to first base has gone well, although he still misses catching.
But all the concussions -- Joseph thinks there were five, but he can't recall exactly -- and the wrist surgery dictated a change of positions. And that could turn out to be for the best. Two of the Phillies' better prospects, Andrew Knapp and Jorge Alfaro, are now catchers. Meanwhile, Ryan Howard's contract is set to expire at the end of the season and there is no heir apparent waiting in line.
"Really, just being able to play every day is the opportunity I'm looking for," Joseph said. "Obviously we've got [Darin Ruf] and he's a pretty good ballplayer, too. He's done a lot of damage over the past few years. So I wouldn't say the job is completely up for grabs. And Howie's still here and he's a great player, too. So until that comes around…"
Joseph, 24, may have turned a corner. But he knows he's not all the way back yet.
"I've still got a lot left to prove," he said. "I haven't played that much over the last few years. I've got to get out on the field and get back to playing every day. And I'm excited about that this year."
Worth noting
• The Phillies are 15-10-3 this spring with one game left against a Major League opponent. And while manager Pete Mackanin recognizes that Spring Training results don't count for much, he thinks having a winning record was important for a team that lost 99 games in 2015.
"For the Philadelphia Phillies, I think it was very important," he said. "Spring Training, it doesn't always matter. But for us it's important to carry that positive attitude into the regular season."
• The Phillies wore caps on Thursday with patches commemorating the 50th anniversary of Reading being affiliated with the franchise.
Paul Hagen is a reporter for MLB.com.