Inbox: Tigers' farm, Mets' Gimenez, 2019 Draft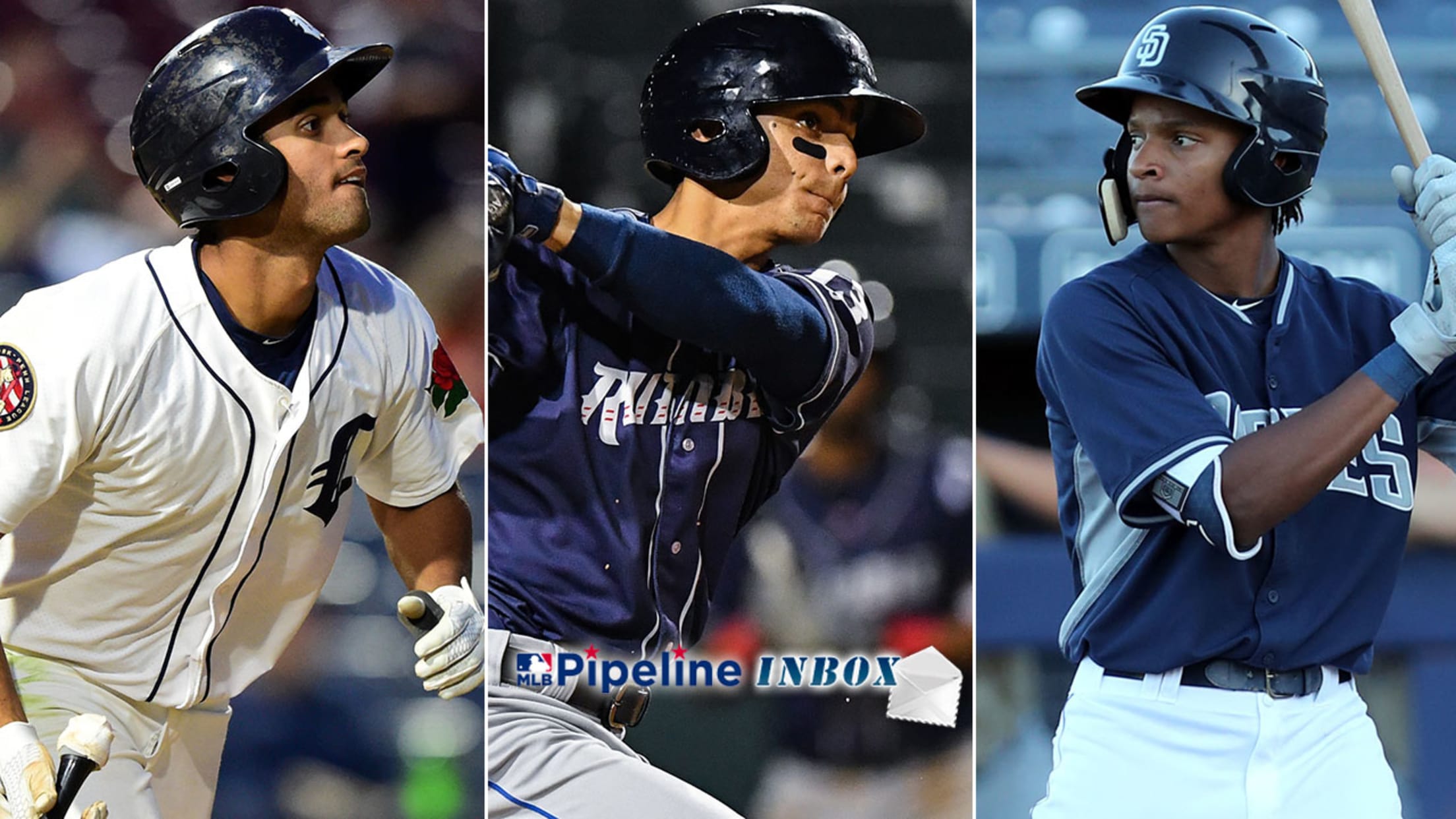 Next week is the Trade Deadline. And while some teams will be adding big league talent to try to make a playoff push, many others will be looking towards the future and selling big league pieces to get young talent back in return. MLB Pipeline will keep up with all
Next week is the Trade Deadline. And while some teams will be adding big league talent to try to make a playoff push, many others will be looking towards the future and selling big league pieces to get young talent back in return. MLB Pipeline will keep up with all the wheelings and dealings from the prospect side of things, so be sure to check in early and often as trades start going down.
This week's Inbox kicks off with a question that dips toes into the trade waters. We're sure it's just the start of queries about what systems will look like, not to mention Top 30 rankings, once the Deadline dust settles. No team wants to be out of the race, but this can be an exciting time of year for teams trying to rebuild. Just ask the Astros and Braves, who spent time on the prospect buying side of the market not so long ago, but are now sitting atop their respective divisions.
@JonathanMayo where do you see Detroits farm system being ranked in 2020 if everything breaks right? (good haul for boyd, top 2 draft pick, something for greene, castellanos, etc)

— Tony 'Type' Beau (@BadNewsBeauLOP) July 23, 2019
That's a lot of hypotheticals you're throwing at me there, but let's give this a shot. The Tigers had the No. 10-ranked farm system before the 2019 season began, so they were already heading in the right direction. Since then, Casey Mize has shown why he was the No. 1 pick in last year's Draft and is the best pitching prospect in baseball currently (ranked No. 2 on our about-to-be re-ranked Top 100). Matt Manning has taken a nice step forward and the Futures Gamer is now among our Top 10 right-handed pitching prospects (spoiler alert: He's going to move up that list). Some of the others in the system haven't performed as well as hoped (Daz Cameron), but others have exceeded expectations (Tarik Skubal).
Adding Riley Greene from the 2019 Draft is only going to help the system's overall standing. The top prep hitter in the class, he's already hit his way to the Short-Season New York-Penn League and has a combined .322/.413/.500 line over his first 90 combined at-bats. I'm also a big Nick Quintana fan and think he's going to be better than some anticipate. Add in Cuban Roberto Campos, who just got $2.85 million to sign, and the Tigers have added enough to move up the top 10.
What. A. Debut. Riley Greene goes deep AGAIN!

The No. 5 overall #MLBDraft pick launches a grand slam for the GCL #Tigers in the eighth inning, and he's now 4-for-5 with a double, 2 homers & 5 RBIs in his first @MiLB game. pic.twitter.com/pXToYdi1eH

— MLB Pipeline (@MLBPipeline) June 24, 2019
Then add in your "what if" scenarios. We obviously don't know yet what the yield will be from potential trades at the Deadline, but it's safe to assume they'll add depth at the very least, if not a couple of top-level prospects. If you want to scoot ahead to next year's Draft, that's fine, but keep in mind Mize and maybe even Manning could have graduated to the big leagues by then. As of right now, the Tigers would have the No. 1 pick next June, which will only add to a rapidly improving system. Even before the Draft, the Tigers should have a top five system, especially if they get some good return on trades.
What's the story with the Mets' Andres Gimenez? He just doesn't seem to be hitting very well in AA this season. Playing through injury or something? Same question for Shervyen Newton in Columbia? What are you hearing about Baty? His K rate is scaring me.

— Charley Thompson (@MkTeritoryPD) July 24, 2019
As good as Gimenez has been over the early parts of his career in terms of making contact, there has been concern about a lack of strength being an issue as he advanced. It appeared there were gains there in 2018, when he finished with a .281/.347/.409 line and reached Double-A at age 19. No one was ever going to mistake the guy for a power hitter, but he was impacting the ball more consistently.
People expected more of the same with a return to Double-A Binghamton, but instead he regressed to start the year. His 22 percent strikeout rate is by far the highest of his career, which is troubling for a contact-oriented hitter. But here's the good news: Gimenez is only 20, and he's not hurt. And he's hit .309/.342/.456 in July with just 10 strikeouts in 19 games. I still think he needs to prove the ability to handle the bat more consistently, but perhaps the first half will turn out to be anomaly.
As for Brett Baty, the Mets' first-round pick this year, please take a deep breath. We're talking a grand total of 70 professional at-bats here. Sure, he has swung and missed a bunch. But please don't take too much stock in a summer pro debut, good or bad. Baty is a year and half younger than the average hitter in the Appalachian League to boot. If he's still carrying the bat back to the dugout this often a year or two from now, then you can worry a bit more, OK?
Andres Gimenez last hit a homer on May 7. The 20-year-old #Mets prospect changed that today in his first plate appearance.

The @RumblePoniesBB's shortstop hit a three-run blast as a part of his team's four-run first.

Live @Mets prospect stats: https://t.co/3g82qKET0F pic.twitter.com/wv9ZiD5SL1

— MLB Pipeline (@MLBPipeline) July 6, 2019
Who's turning the most heads from this years draft class? I know it's a small sample but are there any surprises or playing above expectations

— Bobcast (@thescienceofbob) July 24, 2019
I appreciate the mention of small sample size as it pertains to 2019 draftees (see caveat mentioned in the question above). The fact that they haven't played enough to draw a lot of meaning from their stats doesn't mean that it isn't fun to check in on them. Below is a quick look at five of the top performing hitters from the first round. And here is a look at how every 2019 Draft pick is doing so far.
CJ Abrams, SS, Padres (No. 6 overall): .424/.462/.695 in 118 AZL ABs
Andrew Vaughn, 1B, White Sox (No. 3): .350/.459/.563, now in full-season ball (80 ABs total)
Riley Greene, OF, Tigers (No. 5): .322/.413/.500, now in short-season ball (90 ABs total)
Greg Jones, SS, Rays (No. 22): .337/.407/.485 with 10 SB in 101 short-season ABs
Josh Jung, 3B, Rangers (No. 8): .426/.471/.574, now in full-season ball (47 ABs total)
It's a bit early to look at pitching, so we'll leave it at that for now, but something we'll surely revisit at the end of the summer to see who had the best overall debuts.