These teams have MLB's Top 10 farm systems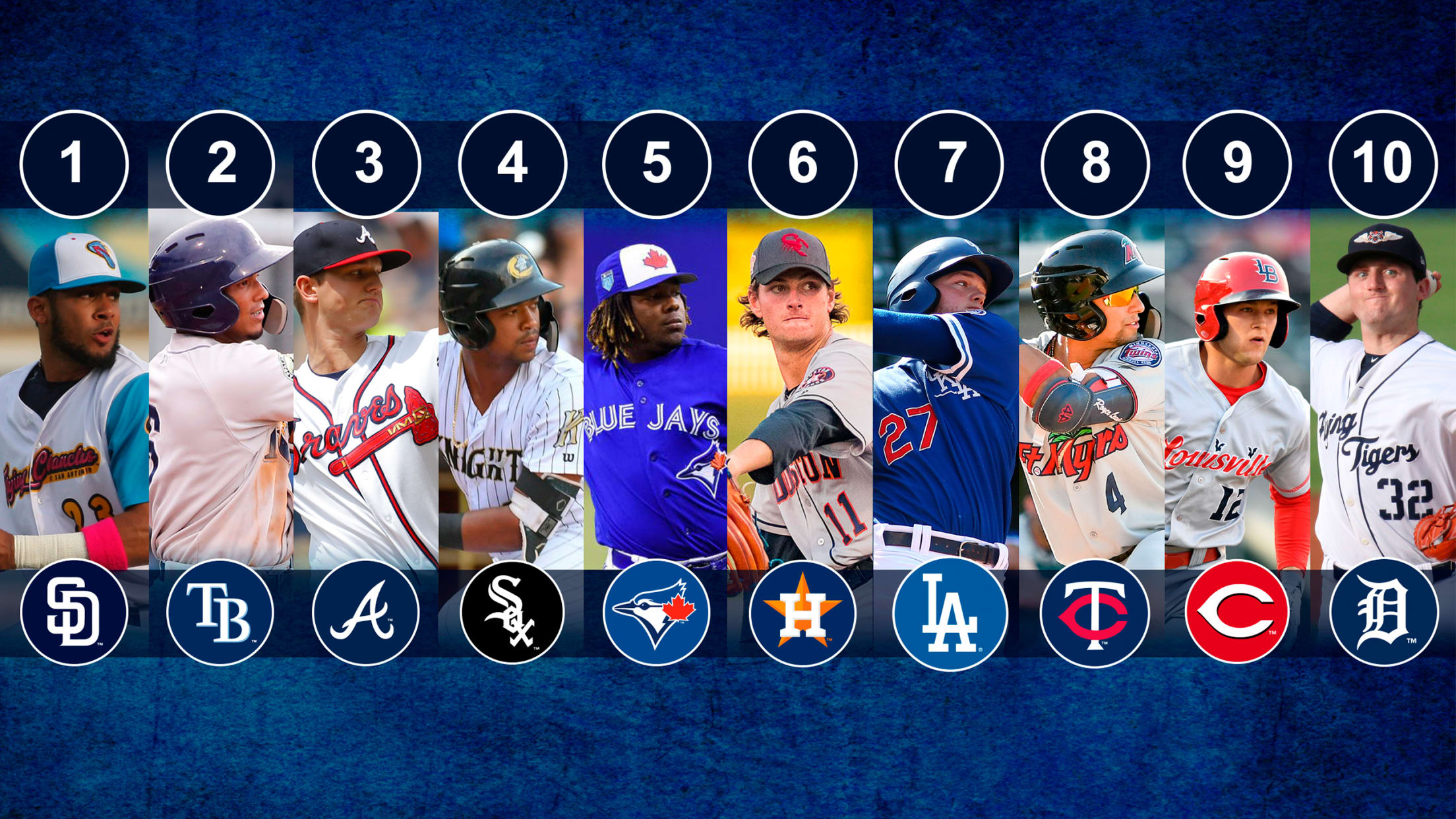 All 30 teams' 2019 Top 30 Prospects lists have been unveiled, and now we're looking at the best of the best: the Top 10 farm systems in baseball. Below is a preview of each organization in our ranking, with its Top 100 prospects, its Prospect Points and links to its
All 30 teams' 2019 Top 30 Prospects lists have been unveiled, and now we're looking at the best of the best: the Top 10 farm systems in baseball.
Below is a preview of each organization in our ranking, with its Top 100 prospects, its Prospect Points and links to its Top 30 Prospects list and a breakdown of that list. When ranking the farm systems, both the quality and quantity of each team's top prospects are taken into account.
MLB's Top 10 farm systems
Prospect Points are determined by awarding a team 100 points for the No. 1 prospect on the Top 100 list, 99 points for No. 2 and so on, down to one point for No. 100. Points are then tallied by team.
1. San Diego Padres
Padres' Top 30 Prospects | Breakdown
Top 100: 10 – Fernando Tatis Jr., SS (2); MacKenzie Gore, LHP (15); Luis Urias, INF (23); Francisco Mejia, C, OF (26); Chris Paddack, RHP (34); Luis Patino, RHP (48); Adrian Morejon, LHP (49); Michel Baez, RHP (72); Logan Allen, LHP (74); Ryan Weathers, LHP (93)
Prospect Points (MLB Rank): 574 (1)
After placing an MLB Pipeline-record 10 players on our list of the Top 100 prospects for 2019, it probably doesn't come as a surprise that the Padres sit atop the farm system rankings for a second straight year. The offseason addition of free agent Manny Machado, who signed a 10-year, $300 million deal through 2028, means the future is now for a Padres organization that has spent the last several years accumulating top prospects via trades, the Draft and the international market. The fruits of those efforts will soon show, as it's only a matter of time until shortstop Fernando Tatis Jr., MLB Pipeline's No. 2 overall prospect, joins Machado on the left side of San Diego's infield. There are plenty of arms on the way, too, with Chris Paddack headlining a deep crop of pitching prospects who should begin to bolster the team's rotation in 2019.
2. Tampa Bay Rays
Rays' Top 30 Prospects | Breakdown
Top 100: 6 – Wander Franco, SS (13); Brent Honeywell, RHP (28); Brendan McKay LHP, DH (29); Jesus Sanchez, OF (39); Matthew Liberatore, LHP (55); Ronaldo Hernandez, C (84)
Prospect Points (MLB Rank): 358 (4)
Making a fifth straight appearance on MLB Pipeline's list of the Top 10 farm systems, the Rays have climbed from No. 10 on the 2017 preseason list to No. 4 last year and now up to No. 2. That the system has improved even as it's continued to produce big leaguers underscores the organization's ability to find and develop talent. After signing for $3.825 million in July 2017, teenage phenom Wander Franco has emerged as the headliner on a Rays Top 30 list that's teeming with high-ceiling prospects at premium positions and on the mound. He's one of nine homegrown players inside the Top 10, and, overall, there are 22 players on this year's list who either were drafted or signed by the organization.
Top 30 Prospects lists
| | |
| --- | --- |
| AL East | BAL, BOS, NYY, TB, TOR |
| NL East | ATL, MIA, NYM, PHI, WSH |
| AL Central | CLE, CWS, DET, KC, MIN |
| NL Central | CHC, CIN, MIL, PIT, STL |
| AL West | HOU, LAA, OAK, SEA, TEX |
| NL West | ARI, COL, LAD, SD, SF |
| Division | Team |
3. Atlanta Braves
Braves' Top 30 Prospects | Breakdown
Top 100: 8 – Mike Soroka, RHP (24); Kyle Wright, RHP (30); Ian Anderson, RHP (32); Cristian Pache, OF (37); Austin Riley, 3B (38); Touki Toussaint, RHP (50); Bryse Wilson, RHP (82); Drew Waters, OF (86)
Prospect Points (MLB Rank): 429 (2)
The Braves still have one of the best farm systems in baseball while also being way ahead of the curve in terms of their success in the National League East. They've managed to trade for help while not giving away any of their elite-level talent. There's a backlog forming at the upper levels, especially in pitching, a well they can draw from to promote from within and use for trade bait as needed. While the system isn't quite as deep as it was when it was ranked No. 1 before the 2017 season, there's still a ton of talent heading toward Atlanta. The Braves' arms get most of the attention -- understandably, as 10 of the team's top 15 prospects are pitchers -- and many of them will help Atlanta compete again in 2019. But don't forget that there are some exciting bats as well, with four in the top 10 who have the chance to be impact players.
4. Chicago White Sox
White Sox's Top 30 Prospects | Breakdown
Top 100: 6 – Eloy Jimenez, OF (3); Michael Kopech, RHP (18); Dylan Cease, RHP (21); Luis Robert, OF (40); Nick Madrigal, 2B (47); Dane Dunning, RHP (80)
Prospect Points (MLB Rank): 397 (3)
No Top 10-ranked farm system was built on trades as much as this one. Only the Padres can match the White Sox's total of four Top 100 Prospects acquired in deals (Jimenez, Kopech, Cease and Dunning), and two more of Chicago's best prospects arrived via the same route (outfielders Luis Alexander Basabe and Blake Rutherford). The only homegrown products at the top of our White Sox Top 30 are Madrigal, the No. 4 overall choice in the 2018 Draft, and international outfielders Robert and Micker Adolfo. Chicago also has one of the most top-heavy systems in the Top 10, with more star-quality prospects than depth and many of its most talented players will compete in Double-A or higher this year. Seven of the Sox's best prospects are outfielders, so it will be interesting to see how that shakes out at Guaranteed Rate Field in the next couple of seasons.
5. Toronto Blue Jays
Blue Jays' Top 30 Prospects | Breakdown
Top 100: 5 – Vladimir Guerrero Jr., 3B (1); Bo Bichette, SS (11); Danny Jansen, C (65); Nate Pearson, RHP (76); Eric Pardinho, RHP (98)
Prospect Points (MLB Rank): 254 (7)
The mere presence of Vladimir Guerrero Jr. -- MLB's No. 1 overall prospect and one of the most vaunted hitting prospects in baseball history -- makes the Blue Jays' farm system noteworthy. But it's the organization's deep crop of potential impact talent -- both hitters and pitchers -- that has its system up three spots from last year's preseason list. The Blue Jays' commitment to scouting and player development is reflected by the number of homegrown players on the club's new Top 30. In total, 24 players have entered the system via the Draft or as international signees, and that includes every player in the top 13 spots on the list.
6. Houston Astros
Astros' Top 30 Prospects | Breakdown
Top 100: 6 – Forrest Whitley, RHP (7); Kyle Tucker, OF (8); Yordan Alvarez, OF (44); Josh James, RHP (62); Corbin Martin, RHP (81); J.B. Bukauskas, RHP (97)
Prospect Points (MLB Rank): 307 (5)
The Astros are doing a better job of simultaneously succeeding in the big leagues and player development than any organization. Not only have they made the playoffs in three of the last four years while winning the 2017 World Series, but they also have six Top 100 Prospects in their system and depth beyond those big names. Whitley is the best pitching prospect in baseball and Tucker ranks among the elite offensive prospects in the game. Both should be ready to help Houston at some point in 2019, and the same is true of their other Top 100 guys: Alvarez, James, Martin and Bukauskas. The Astros also have plenty of intriguing youngsters at the lower levels, most notably shortstop Freudis Nova and right-hander Bryan Abreu.
7. Los Angeles Dodgers
Dodgers' Top 30 Prospects | Breakdown
Top 100: 4 – Alex Verdugo, OF (35); Keibert Ruiz, C (36); Dustin May, RHP (69); Gavin Lux, SS (70)
Prospect Points (MLB Rank): 194 (11)
The only organization to appear in each of MLB Pipeline's biannual Top 10 systems rankings since we started compiling them in 2015, the Dodgers remain strong despite graduating Cody Bellinger, Walker Buehler and Corey Seager among others and trading a slew of prospects to upgrade their big league club. Verdugo is their latest Rookie of the Year candidate -- provided Los Angeles can find some playing time for him in a crowded outfield -- and Ruiz, May and Lux all could challenge for the award in 2020. Ruiz headlines the best contingent of catching prospects in baseball, a group that also includes Will Smith (a 2016 first-rounder who's almost ready), Diego Cartaya (the top international talent in the 2018 class) and Connor Wong.
8. Minnesota Twins
Twins' Top 30 Prospects | Breakdown
Top 100: 3 – Royce Lewis, SS (5); Alex Kirilloff, OF (9); Brusdar Graterol, RHP (68)
Prospect Points (MLB Rank): 221 (8)
Thanks to good drafting, international signings to find elite-level talent and some smart trades that have added a lot of depth, the Twins climbed back into the Top 10 in last summer's re-rank of the game's best farm systems and they're there again this preseason. Minnesota's top two prospects, Royce Lewis and Alex Kirilloff, both of whom are projected to arrive in the big leagues in 2020, form the best 1-2 hitting prospect combination not named Guerrero and Bichette. Adding in a pitcher like Brusdar Graterol just makes the top of the list that much more interesting, and the Top 30 as a whole is very deep, with a combination of high-ceiling players, like Wander Javier, and college performer types, like 2018 first-round Draft pick Trevor Larnach. There are seven members of this new Top 30 who came via trade, led by the intriguing Jhoan Duran, who cracks the top 10 after coming over from the D-backs in the Eduardo Escobar trade.
9. Cincinnati Reds
Reds' Top 30 Prospects | Breakdown
Top 100: 4 – Nick Senzel, 3B/SS/OF (6); Taylor Trammell, OF (16); Hunter Greene, RHP (31); Jonathan India, 3B (53)
Prospect Points (MLB Rank): 298 (6)
It's another preseason Top 10 Farm Systems list, and another with the Reds on it. This marks the third year in a row the Reds have appeared on this list thanks to their robust system. It starts with a very strong quartet at the top, with Nick Senzel, Taylor Trammell, Hunter Greene and Jonathan India all falling in the top 53 prospects in baseball. The organization made some moves to bolster the big league roster, but managed not to mess with that nucleus, partially thanks to the Marlins going with the Phillies' offer for J.T. Realmuto. Beyond the big top four, there's some good depth in the system. The Reds are hoping to be more competitive in 2019, and plenty of help is on the way, as 17 of this year's top 30 are projected to be ready to contribute in Cincinnati in the next two years.
10. Detroit Tigers
Tigers' Top 30 Prospects | Breakdown
Top 100: 3 – Casey Mize, RHP (17); Matt Manning, RHP (52); Franklin Perez, RHP (78)
Prospect Points (MLB Rank): 156 (12)
The headliners on this year's Tigers Top 30 list soon could be headlining the team's big league rotation, as 2018 No. 1 overall pick Casey Mize and '16 first-rounder Matt Manning, as well as Franklin Perez and Beau Borrows, all have the potential to be pitching in Detroit by '20. Two 2017 trade acquisitions -- Isaac Paredes and Daz Cameron -- rank as the system's top position prospects after their breakout performances in their first full season in the system. Those two, along with 2018 acquisition Willi Castro, rising teenage shortstop Wenceel Perez and 2018 second-round pick Parker Meadows give the Tigers a solid core group of players at premium positions.