Kids descend on PNC Park for Play Ball event
Pirates president Coonelly on hand to help encourage youth participation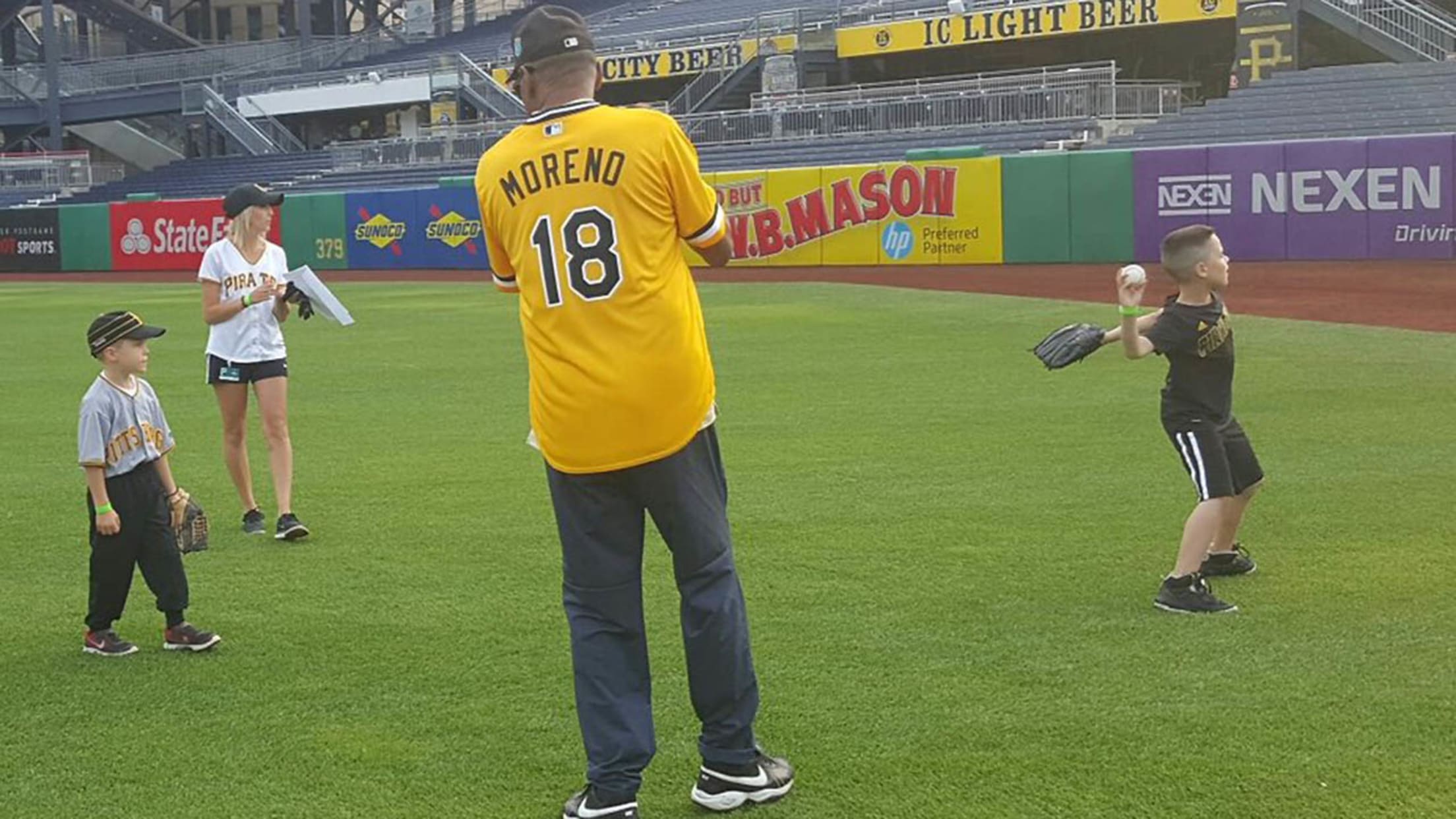 Omar Moreno helps teach baseball fundamentals during Saturday morning's Play Ball event at PNC Park. (Pirates Community Twitter) (Pirates Community Twitter)
PITTSBURGH -- Jerseys billowed a bit more than usual on Saturday morning at PNC Park. Even the smallest Andrew McCutchen jersey just doesn't fit right on a 40-pound 5-year-old's frame, but that's the last thing anyone would notice as 100 kids played on the field as a part of Major
PITTSBURGH -- Jerseys billowed a bit more than usual on Saturday morning at PNC Park. Even the smallest Andrew McCutchen jersey just doesn't fit right on a 40-pound 5-year-old's frame, but that's the last thing anyone would notice as 100 kids played on the field as a part of Major League Baseball's "Play Ball" initiative.
The Pirates hosted their second annual "Play Ball" event, hosting kids from ages 5-9 for the first session of baseball activities and ages 10-12 for the second. At least for the morning, the term "baseball activities" included log rolling in the outfield grass, abundant spin moves before throwing back to instructors and grounding out to Pirates president Frank Coonelly.
"It's terrific for us to be able to give the kids of our community the ability to come to PNC Park and play on the same field as their heroes, like McCutchen and [Starling] Marte and [Gregory] Polanco, making sure that we're giving kids the encouragement to play baseball," Coonelly said. "You can learn so many great things growing up playing baseball."
• Play Ball
The free event is designed to encourage youth participation in baseball, which has declined in recent years.
"We're taking it very seriously, and we're gong to make sure that these kids have the same opportunities that we had growing up," Coonelly said.
Players can glean many life lessons from sports, but former Pirates Grant Jackson and Omar Moreno, Pirates front-office staff, local coaches and the Bucco Brigade were mostly there to teach the fundamentals. It's easier to send a ball on a line drive off a tee than off a 97-MPH fastball, but it's a start.
#PlayBall encourages widespread participation in both formal and casual baseball and softball activities. @Pirates pic.twitter.com/Obyq3Suu1u

— Pirates Community (@BucsCommunity) June 11, 2016
Once kids see how many ways there are to enjoy the sport other than a formal nine-on-nine game, the idea is they will keep playing, according to Pirates manager of youth baseball initiatives Chris Ganter.
"Trying to figure out what's causing all that and how we can help right that ship is pretty fun," Ganter said. "It's a big task, but it's fun."
In the meantime, Ganter, acting as a one-man farm system, gets to see some pretty talented young arms in the bullpen -- even if they're pitching mini dodgeballs.
Sarah K. Spencer is a reporter for MLB.com based in Pittsburgh.