Inbox: Is Kang the Bucs' best option at 3B?
Beat reporter Adam Berry answers fans' questions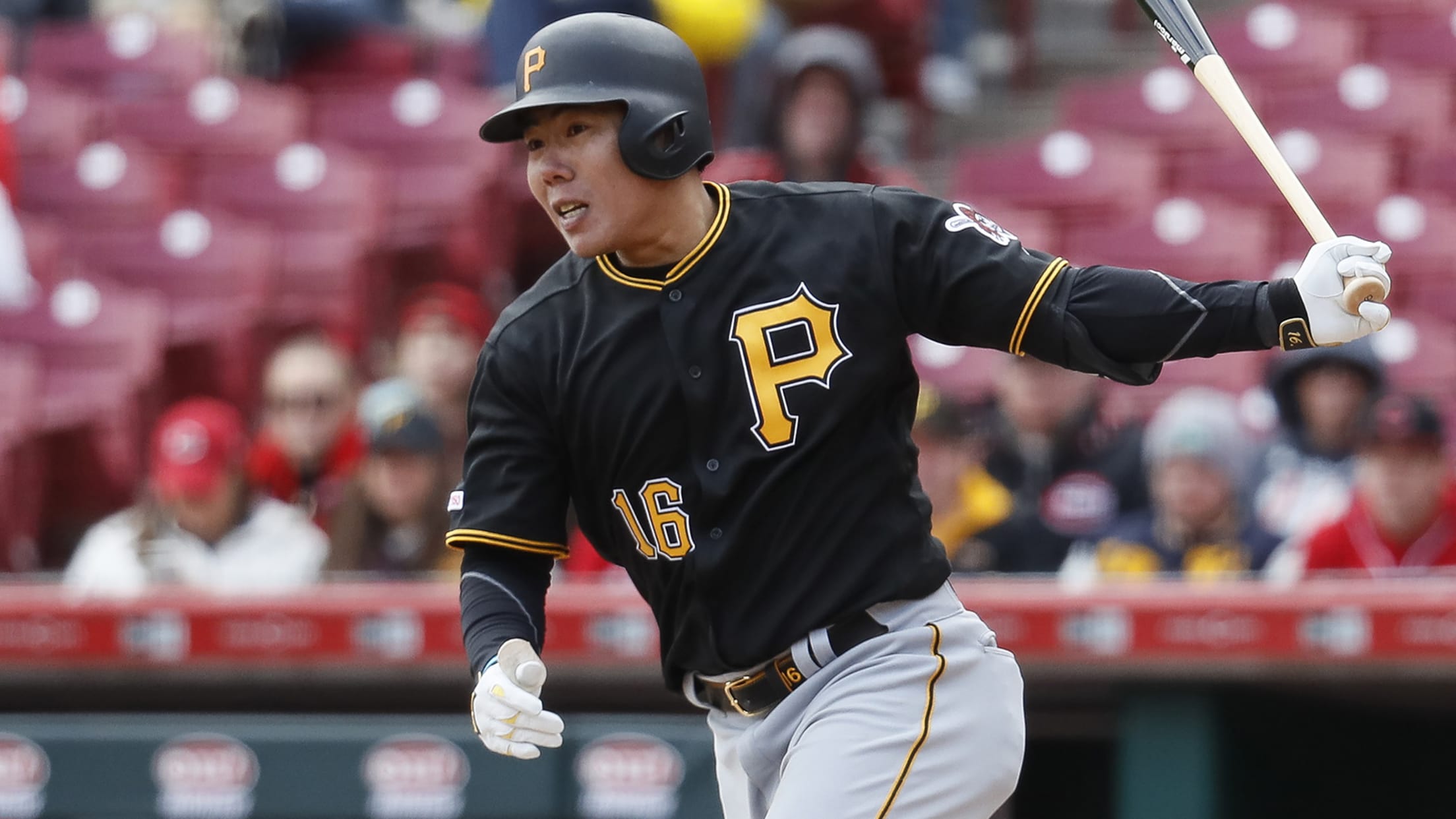 The Pirates were off on Monday after leaving Nationals Park with a series victory over the weekend. Before they take on the Tigers for two games, let's answer some of your questions in the latest Inbox.
The Pirates were off on Monday after leaving Nationals Park with a series victory over the weekend. Before they take on the Tigers for two games, let's answer some of your questions in the latest Inbox.
Do you think Moran has done enough to play every day? Kang looks lost at the plate and Moran just wont stop hitting.

— Taylor (@Taylor_Bauer11) April 14, 2019
How long will the Pirates be patient with Kang? Does he have an option to be sent down?

— John Taylor (@wvpirate) April 14, 2019
Similar questions, and not the only ones I received about the situation at third base, so let's start here.
The Pirates gave Jung Ho Kang, who is batting .105 with a .427 OPS, a three-day break from starting. They'll reevaluate him before Tuesday's game to see how he's feeling. That brief benching is a strategy manager Clint Hurdle has used in the past to get a slumping player back on track, and it also put Colin Moran's bat in the lineup.
Moran is indeed off to a great start, going 8-for-26 with a pair of homers and two doubles in his first 14 games. It's a small sample size, as everything is at this point, but it's probably worth riding Moran's hot streak as long as it lasts -- or at least until Kang breaks out of his slump. I wouldn't be surprised if they use the designated hitter in Detroit to get both in the lineup, whether it's with Moran playing the DH role or stepping in at first base while Josh Bell gets a day off his feet as the DH.
Kang does have Minor League options, but it's too early to just give up on him. The Pirates named Kang the starter this spring because they like his defense and believe in his offensive upside. That hasn't changed, so they'll continue to be patient.
Kang's defense hasn't been a problem, and there was inevitably going to be a rough patch as he shook off the rust from nearly two years away. You've seen it play out as pitchers bombard him with offspeed and breaking stuff. He's chasing too much out of the strike zone, so the Bucs' coaching staff will work to correct that and get him on time to crush fastballs like he did this spring.
It won't be a bad thing if both Kang and Moran get hot at the same time, obviously, and Hurdle mentioned the idea that it sometimes takes two players to do one job. Maybe there will be a more even division of playing time if Moran keeps hitting the way he is right now.
Given that Kang and Moran have both been, well ... not very good, how long a leash do they get until Ke'Bryan Hayes gets the callup? Same for shortstop; when does Cole Tucker get the callup?
-- Marty S.
I think your assessment of Moran is a little harsh. He's made some mistakes on defense, but he's hitting well. As I mentioned in the first answer, they're going to be patient with Kang and give Moran playing time. So barring an injury, you're not going to see Hayes -- who finished the weekend with all of nine career games played in Triple-A -- anytime soon.
I don't think you'll see Tucker until at least midseason, and maybe not even that early unless the Pirates are further decimated by injuries. He's off to a good start in his first Triple-A season, and you have to be encouraged by the way he finished last season. But they're not going to rush the 22-year-old shortstop, and they're going to keep giving Erik Gonzalez a chance to prove himself as an everyday player.
I love Pablo Reyes but does he need to be sent down so he can get his bat going?

— Ño Ñame Ñeeded (@vslyke18) April 14, 2019
Pablo Reyes became something of a fan favorite last September for playing with a lot of energy and hitting .293 with an .832 OPS while making a handful of highlight-reel plays in the outfield. His versatility helped him earn a spot on the Opening Day roster, but he has only one single with eight strikeouts in 19 at-bats.
I don't think he's going anywhere until the Pirates start getting healthier, if only because they've nearly exhausted their options on the 40-man roster. The Bucs are also encouraging Reyes to remember that he can make a positive impact without hitting, like he did with a game-changing catch in left field on Friday night at Nationals Park.
So I don't think Reyes is going down to Indianapolis soon, but it will be interesting to see how the Pirates' bench takes shape when they get their injured outfielders and Kevin Newman back. Do they need a true super-utility player like Reyes if they have a set infield and more proven options in the outfield?
Do we have an estimate return for Polanco, Diaz, or Crick?

— Zack Nagel (@ZackCNagel) April 14, 2019
Not officially, but we should get more info on Wednesday from director of sports medicine Todd Tomczyk. For now, we can make some educated guesses based on their rehab work.
Kyle Crick threw a simulated inning on Sunday, and he was reinstated prior to Tuesday's series opener vs. the Tigers. Elias Diaz began his rehab assignment on April 4, and the Pirates have said they'll use most of that 20-day window; that puts him in line to return during the upcoming homestand.
Gregory Polanco's rehab assignment began on April 7, and he'll also spend most of that 20-day window in the Minors. He will be back by the end of the month, if all goes well, either toward the end of the upcoming homestand or at the start of the Pirates' Los Angeles-Texas road trip.
It's less clear when Corey Dickerson and Lonnie Chisenhall will return. Chisenhall is hitting and throwing, which is a good sign. Dickerson was hitting without restrictions but not throwing as of last Wednesday's update from Tomczyk.
@adamdberry Hey Adam! Do you think the Pirates should have made a bigger play for Ahmed or Galvis? Will Kramer be the long-term solution at short?

— Joe (@joeholzer) April 14, 2019
We'll probably be talking about this all season. Shortstop was their obvious hole to fill this offseason, and they chose to move forward with Gonzalez and Newman.
Ahmed is a top-notch defensive shortstop who has shown a little more power over the last year, but I don't think Arizona's asking price made him a realistic option for Pittsburgh's front office. Galvis signed a reasonable one-year deal, and he's off to a great start in Toronto.
GM Neal Huntington is on the record as saying Gonzalez, 27, is a younger Galvis. Maybe that will play out; you can see his athleticism in the field, on the bases and at the plate. He's coming off a solid series in Washington, but it's been a shaky start. If he struggles, I think we'll all say they could have done more over the winter to address their need at shortstop.
Tucker still looks like the long-term solution at shortstop. Scouts have been higher on his upside than that of Newman, and Tucker seems to be taking quite well to the new organizational hitting philosophy focused on doing damage and driving the ball. Combine that with his defensive skills, baserunning acumen and natural leadership ability, and he's looking like a legitimate big league shortstop.
Who led the Game of Thrones premiere in WAR?
-- Kyle M., Pittsburgh
This is what I get for requesting Game of Thrones questions! Thanks, Kyle. The logical answer is probably Jon, but I'll go with Sansa -- an increasingly savvy leader with an elite zingers-to-screen time ratio in the premiere.