Marinez returns to solid form in Pirates' 'pen
Brewers designated right-hander for assignment on May 15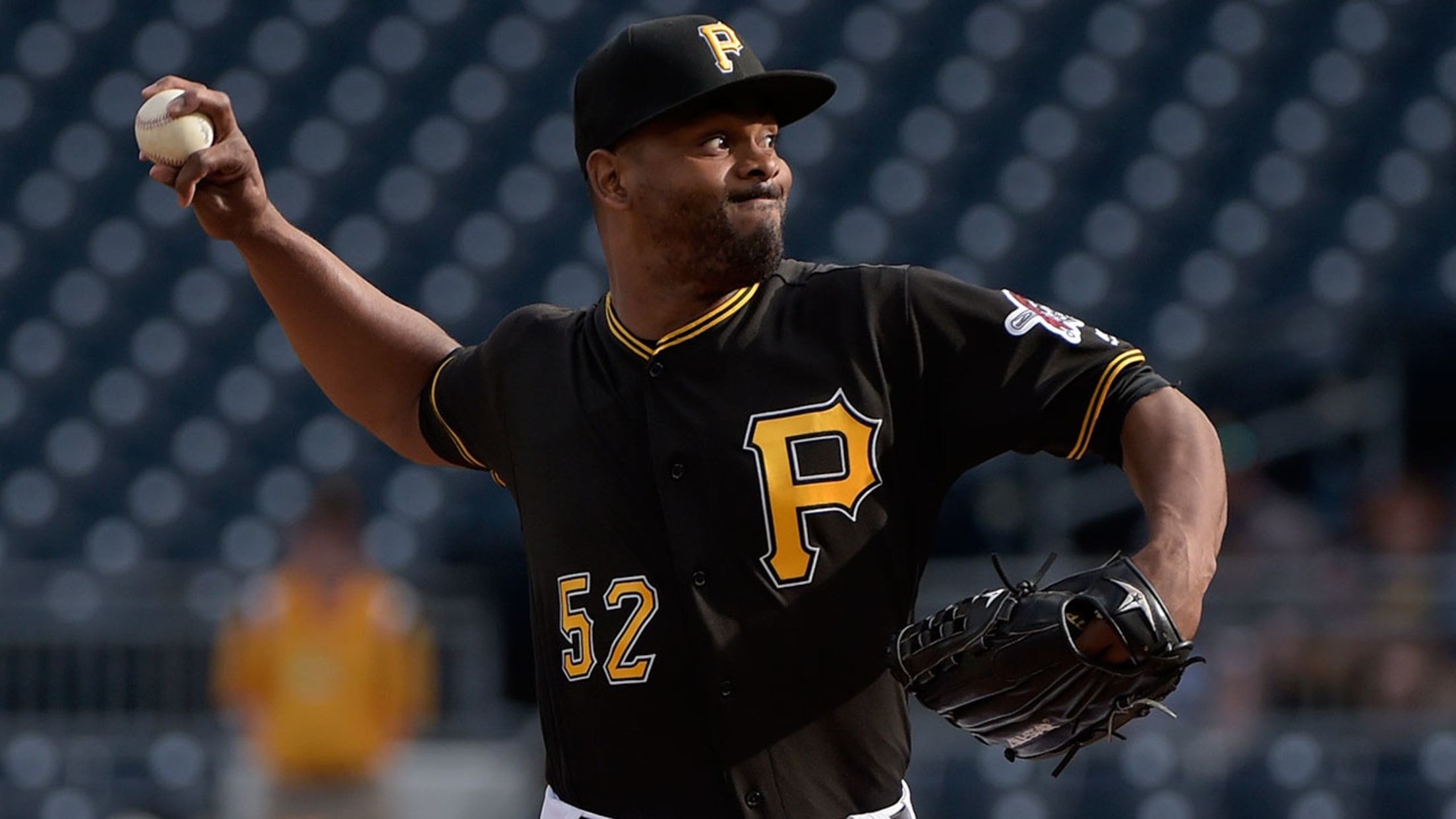 After his two scoreless innings against the Brewers on Monday, Jhan Marinez has a 2.50 ERA in 18 innings with the Pirates. (AP)
MILWAUKEE -- It's been a little more than a month since Jhan Marinez was claimed off waivers by the Pirates, but the former Brewers reliever looks right at home in black and gold.Marinez threw two scoreless innings in relief of starter Gerrit Cole in the Pirates' 8-1 victory on Monday
MILWAUKEE -- It's been a little more than a month since Jhan Marinez was claimed off waivers by the Pirates, but the former Brewers reliever looks right at home in black and gold.
Marinez threw two scoreless innings in relief of starter Gerrit Cole in the Pirates' 8-1 victory on Monday at Miller Park. He faced a number of former teammates and got his good friend, Brewers outfielder Domingo Santana, to ground out to end the eighth inning.
"It feels pretty good being back [at Miller Park]. I have a couple friends here and it feels pretty comfortable, but it's a little different being on the other side," Marinez said. "But I come to pitch. It's like the same. You do what you do and you want to get everybody out and focus on getting strikes. Domingo is a friend, but when I face him, he's on another team."
Marinez began the 2017 season with Milwaukee, making his first Opening Day roster. In 15 appearances with the Brewers, the right-hander posted a 5.40 ERA in 15 appearances and was designated for assignment on May 15.
The Pirates claimed Marinez off waivers four days later and have since seen a much more controlled approach from the 28-year-old. Marinez held a 2.00 ERA (nine innings, two earned runs) through his first eight games in June. He and Pirates manager Clint Hurdle credited the improvement to his sharpened changeup and fastball command.
"We've used the changeup more than the slider," Hurdle said. "Slider played [Monday], but he threw a lot of changeups. The fastball, two-seamer, seemed to help him get on top of the ball with some more sink again. The changeup has been a real go-to pitch for him, and I think [catcher Francisco] Cervelli kind of picked up on it, shared it with [pitching coach] Ray [Searage] and it's something they've been working on that he's using it a lot more frequently than he ever has before."
Marinez retired six of nine Brewers batters on Monday, throwing 21 of his 31 pitches for strikes. He gave up doubles to Orlando Arcia and Jesus Aguilar and hit Eric Sogard with a pitch, but he also showcased his effectiveness when he's in control of the strike zone.
"He threw the changeup, for sure. He threw it a couple of times," Brewers manager Craig Counsell said. "There were a couple that had good action to it. But it was largely what I expected -- a harder changeup. It had some depth, at times, that was pretty good. I think 'Jhanny,' when he's throwing strikes, it's pretty effective. When he's throwing strikes, he's a Major League pitcher, for sure. He's going to be effective."
While he's only pitched 18 innings with the Pirates, Hurdle is seeing signs of Marinez from his breakout 2016 season, where he registered a 3.18 ERA in 46 appearances between the Rays and Brewers.
"I think we'll just continue to give him the ball and let him continue to paint that story," Hurdle said. "More resemblance of the pitcher that you saw in '16 than the guy that came out this year."
Cervelli scratched
• The Pirates removed Cervelli from the starting lineup of Tuesday's game due to flu-like symptoms. Elias Diaz replaced him in the lineup, hitting fifth, and behind the plate.
*Carson Mason * is a reporter for MLB.com based in Milwaukee and covered the Pirates on Tuesday.