Osuna enjoying smashing spring for Bucs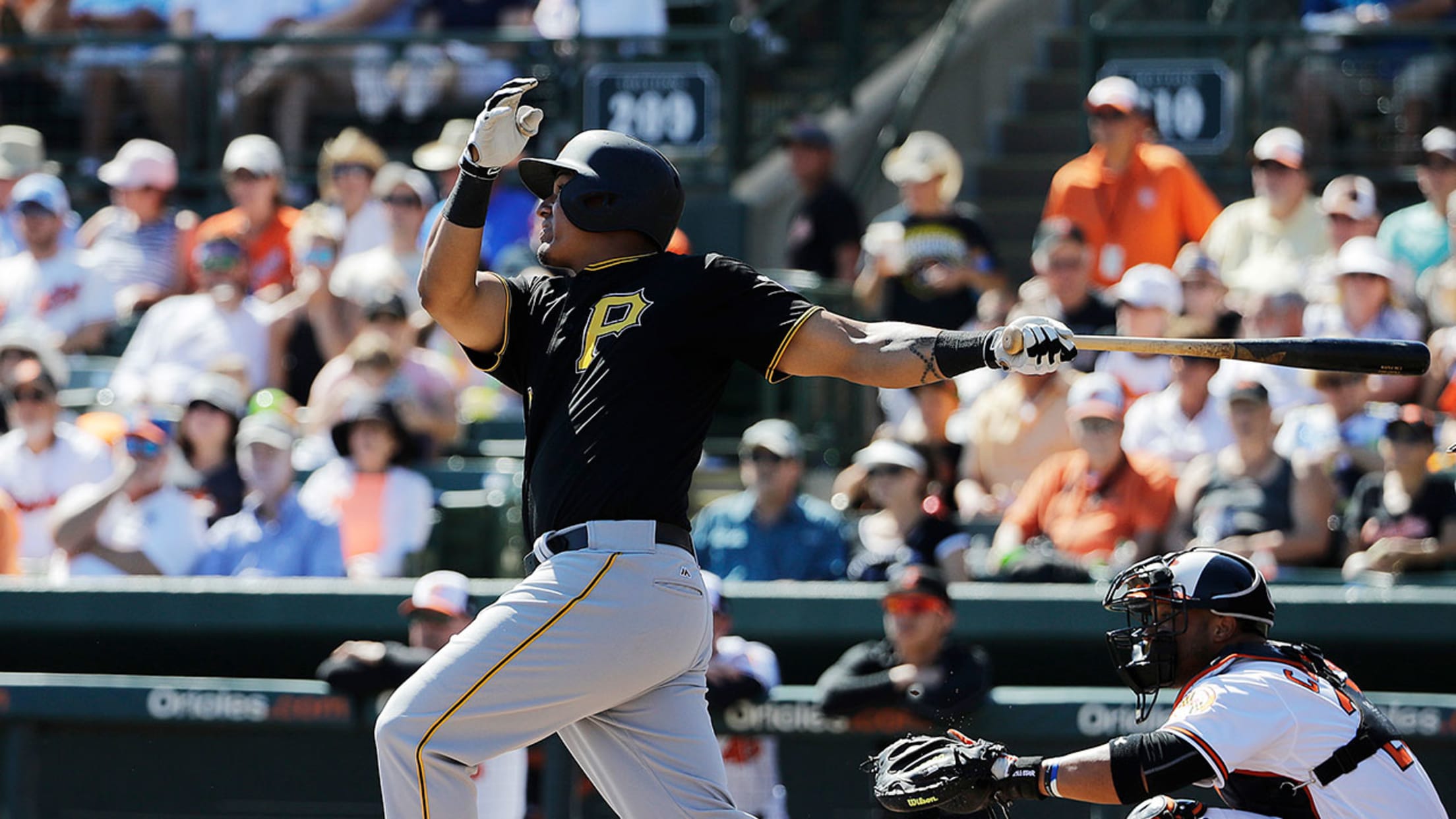 Jose Osuna is hitting .500 (10-for-20) this spring, with a 1.150 slugging percentage. (AP)
PORT CHARLOTTE, Fla. -- Jose Osuna's outstanding Spring Training continued Thursday at Charlotte Sports Park, where he went 2-for-3 with a walk and his Major League-leading fourth home run during the Pirates' 10-8 win against the host Rays.Starting at first base and batting cleanup, Osuna singled to lead off the
PORT CHARLOTTE, Fla. -- Jose Osuna's outstanding Spring Training continued Thursday at Charlotte Sports Park, where he went 2-for-3 with a walk and his Major League-leading fourth home run during the Pirates' 10-8 win against the host Rays.
Starting at first base and batting cleanup, Osuna singled to lead off the second inning and scored on a base hit by Danny Ortiz. He then slugged a two-run homer onto the boardwalk beyond the left-field fence in the fifth inning to bring his Spring Training average to .500 (10-for-20) with a .583 on-base percentage, 1.150 slugging percentage and eight RBIs.
"He's done this at every level. Unbelievable," starter Chad Kuhl said. "He's just a pure hitter. He hits those home runs, but [he's] a pure hitter."
The Pirates added Osuna, 24, to their 40-man roster over the winter. The first baseman/corner outfielder hit .279/.331/.457 with 13 homers and 69 RBIs in 133 games between Double-A Altoona and Triple-A Indianapolis last season.
• Spring:Info | Tickets | Schedule | Gear
"This isn't something that just jumped into our lap. We've watched him," manager Clint Hurdle said. "We feel there's been development. There's been growth. He's shown strength in the batter's box. He's shown versatility on the defensive side. He's been a cerebral player. He's been a solid baserunner. Defensively, he's got actions that work.
"We like the guy. He's come in and he's got some balls to handle. He's hammered some balls. He's taken some good swings. He's shown up well to this point in time in camp."
With John Jaso (first base, outfield) and David Freese (first/third base, right-handed hitter) guaranteed to be on the roster, it's hard to find a spot for Osuna come Opening Day. But it is worth noting that Osuna may have come into camp more game-ready than most after playing winter ball in his native Venezuela.
"Sometimes we don't do the math on that enough," Hurdle said. "Guys who played winter ball, they come in sharp. There are a lot of guys coming in not sharp that haven't played. There can be an advantage sometimes with pitchers and players that have played through the winter."
Around the horn
• Center fielder Starling Marte was reportedly held out of the Dominican Republic's World Baseball Classic lineup on Thursday due to a swollen ankle he injured sliding in Wednesday's exhibition against the Pirates at LECOM Park. According to USA Today, Marte said he is aiming to play Saturday against Team USA.
With Marte out of the star-studded Dominican Republic lineup, Gregory Polanco started in center field.
• Pirates right fielder Andrew McCutchen started in left field for Team USA, batted eighth and drew two walks in a 3-2 exhibition loss to the Twins on Wednesday night.
• Right-hander Jameson Taillon will throw a 50-pitch simulated game Friday at LECOM Park. The Pirates typically have each starter skip a Grapefruit League outing to pitch in a more controlled environment, such as a sim game or a Minor League contest, at Pirate City.