Yankees host Pitch, Hit & Run at Stadium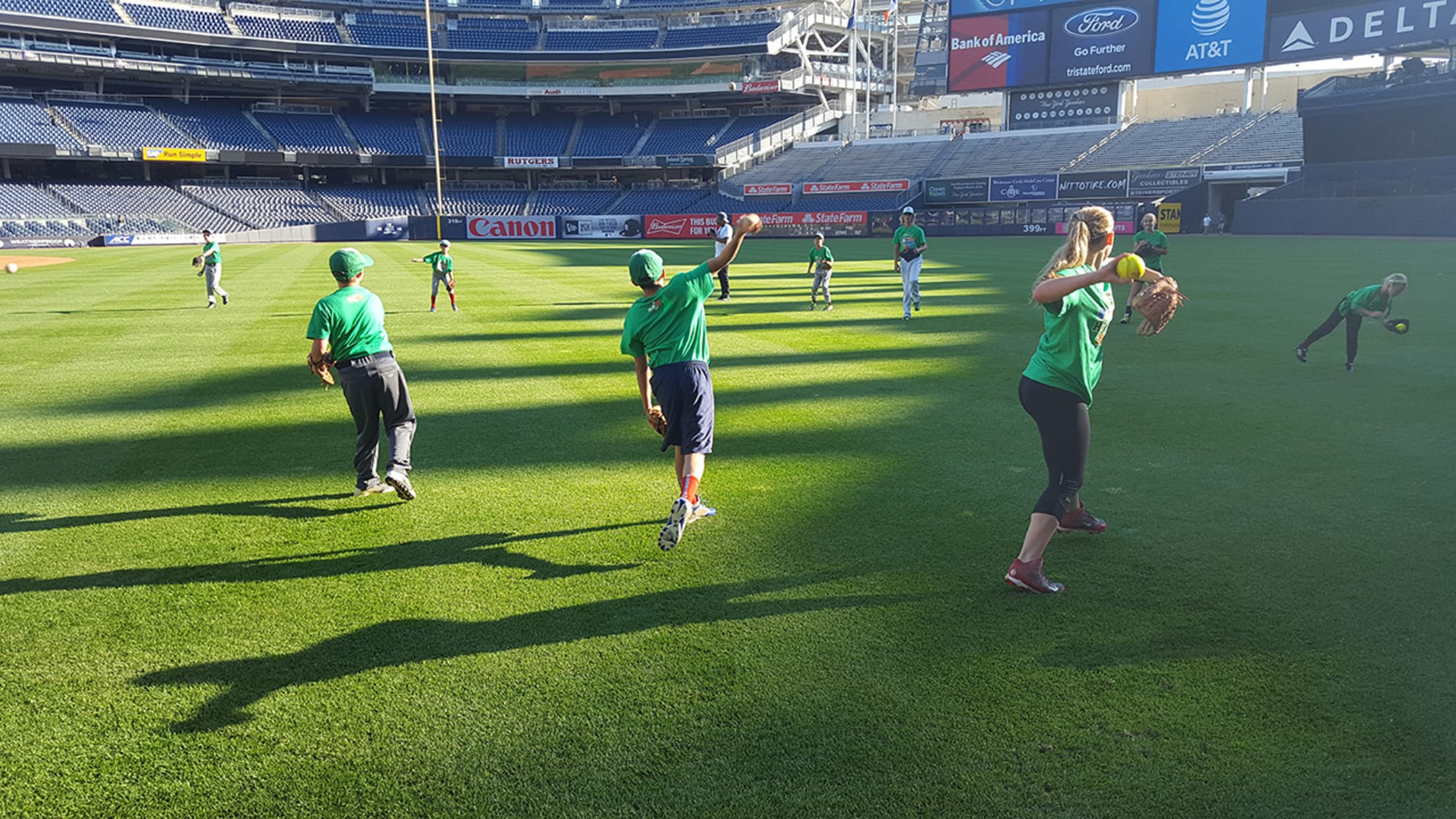 NEW YORK -- When a group of 24 children descended onto the Yankee Stadium infield grass Saturday morning to compete in the Scotts MLB's Pitch, Hit & Run event, the anxiety and nerves could be felt reverberating throughout the park.Not from the kids though. They seemed fine. It was the
NEW YORK -- When a group of 24 children descended onto the Yankee Stadium infield grass Saturday morning to compete in the Scotts MLB's Pitch, Hit & Run event, the anxiety and nerves could be felt reverberating throughout the park.
Not from the kids though. They seemed fine. It was the parents who were nervous.
"It's like he's going off to college or something," an eager parent joked while watching his child walk onto the field.
Their parents' anticipation aside, the cohort of 24 participants, ranging from age 7-14, seemed to play confidently and smoothly as they transitioned from drills testing their pitching accuracy, hitting power and speed.
The day began with the pitching competition, which involved both softball and baseball players aiming six throws at a strike zone from flat ground. That event was followed by the hitting showcase, which had the kids swinging away off a tee trying to drive the ball as far as they could. Finally, the players showed off their wheels, sprinting from second base to home as quickly as they could.
The day was a success for all the competitors, but especially so for the eight victors in their respective age brackets. The winners were, as follows: softball players Megan Visone (7/8-year-old bracket), Taylor Quinn (9/10), Natalie Neal (11/12) and Alisabeth Crandall (13/14), as well as baseball players Tyler Witazek (7/8), Patrick Hagadorn (9/10), Anthony Brotz (11/12) and Zachary Roos (13/14).
The winners all have a chance to advance to the national competition in San Diego during All-Star Week. If any of those individual winners posted a score in the top three of the 30 individual winners representing each team, they and their families will trek out to the West Coast for the competition and have the opportunity to not only attend the All-Star Game, but also shag fly balls in the outfield during the T-Mobile Home Run Derby.
As fun as it would be to go to the Midsummer Classic, many of the kids understand that such a trip is unlikely. Roos, the 13/14-year-old baseball champ, for example, said that because he didn't hit the zone on all six of his pitches, he likely won't make it to nationals. But that's not the thing he's concerned with anyway.
Roos said he's been watching the Yankees for as long as he can remember, and he is a huge fan, especially of outfielder Brett Gardner. Getting to play on the field and run the bases at Yankee Stadium was a dream come true for him, especially the running part.
And when asked whether he thought he was the fastest competitor of the day, he answered confidently.
"I'm the fastest where I'm from," he said. "So I would hope so."
Nick Suss is a reporter for MLB.com based in New York.