30 players who need to turn it around ... now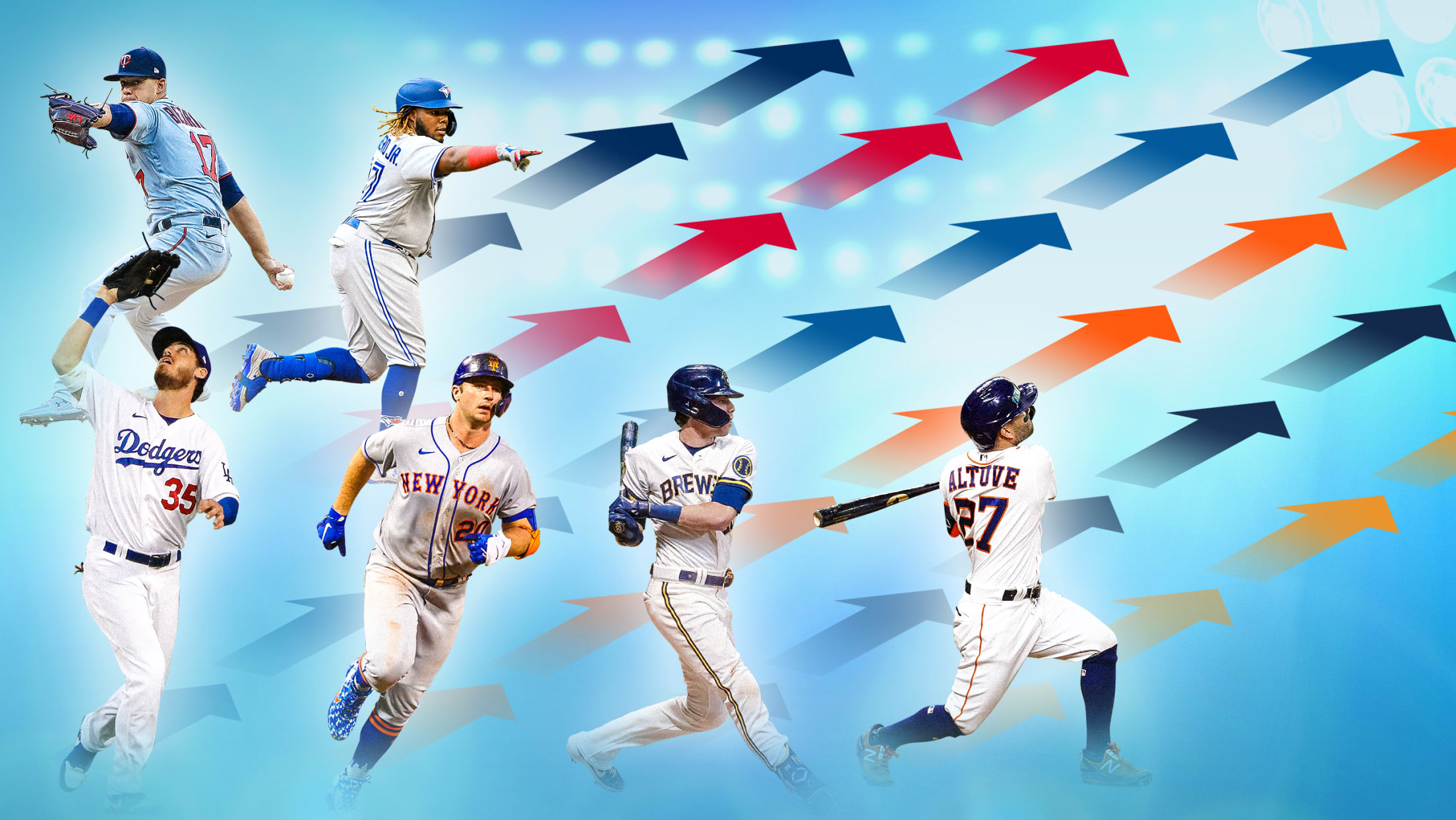 Anybody can get off to a bad start: Statistically, April was the worst month of Babe Ruth's career. (He'd have been a Hall of Famer on April stats alone, but still: his slugging percentage was 50 points lower in April than it was for his career in total.) Ordinarily, slow
Anybody can get off to a bad start: Statistically, April was the worst month of Babe Ruth's career. (He'd have been a Hall of Famer on April stats alone, but still: his slugging percentage was 50 points lower in April than it was for his career in total.) Ordinarily, slow starts are no big deal: After all, players usually have a whole five months to make up for a slow start. But, like everything else on the planet, it's different in 2020.
So today we take a look at a player from each team who has had considerable success in his career up to this point but is off to a slow start. A rough first couple of weeks doesn't ordinarily mean much, but in 2020, it can mean everything. These players may run out of time before they know it: They best get going, right now.
AMERICAN LEAGUE EAST
Blue Jays: Vladimir Guerrero Jr., 1B
Key stat: Hitting .246 with 3 homers
Here's your obligatory "remember, he's only 21" disclaimer, but, still, we all thought Vlad Jr. would have started to turn it on by now, no?
Orioles: Chris Davis, 1B
Key stat: 1 RBI
It feels a little churlish to say this, particularly with the Orioles' shockingly hot start, but Davis is currently 6-for-45 with no homers.
Rays: Tyler Glasnow, RHP
Key stat: 5.87 BB/9 innings
The Chris Archer trade is always going to look like a steal for the Rays, but they surely had higher hopes for Glasnow this year than a 7.04 ERA through four starts.
Red Sox: Rafael Devers, 3B
Key stat: Hitting .182 with 30.1% strikeout rate
This was supposed to be the year Devers exploded into MVP status. Instead, he's stuck in the same morass as the rest of the Red Sox.
Yankees: Gleyber Torres, SS
Key stat: 3 extra-base hits in 67 at-bats
Can you imagine how terrifying this Yankees lineup would be if Torres had taken another step forward in his career? There is still time, but he has been the odd weak link of this lineup so far.
AL CENTRAL
Indians: Brad Hand, LHP
Key stat: 6.35 BB/9 innings
He made his third consecutive All-Star team last year, but even though he has somehow held on for five saves, he's getting knocked around to the tune of a 6.35 ERA.
Royals: Alex Gordon, LF
Key stat: Hitting .175 with 4 extra-base hits
Is it piling on Gordon to include him on this list? Last year was actually his best season at the plate since 2015, but he's far under the Mendoza Line this year … and dropping.
Tigers: Miguel Cabrera, DH
Key stat: Hitting .188
The power appears to have come back a bit -- he has already hit one-third as many homers as he did last year (12) -- but it is downright bizarre seeing that batting average next to Miggy's name.
Twins: José Berríos, RHP
Key stat: 5.03 FIP
He made the All-Star team in 2018 and '19, but this was the year Berríos was expected to elevate to true ace status. But he has been a mess through five starts, and even appears to be having control issues again.
White Sox: Gio González, LHP
Key stat: 2.08 WHIP
The White Sox weren't looking for brilliance from González this year: They were really just looking for effective innings. They've gotten neither so far; González has been knocked around to a 6.61 ERA.
AL WEST
Angels: Albert Pujols, 1B
Key stat: .594 OPS
Last year was a small step forward, but The Machine is looking his age in the early stages of 2020, even as he approaches Willie Mays' home run mark.
Astros: Jose Altuve, 2B
Key stat: Hitting .184
Whatever your thoughts about the scandal that racked the Astros in the offseason, even the most wild conspiracy theorist couldn't have imagined Altuve hitting under .200 through 95 plate appearances.
Athletics: Marcus Semien, SS
Key stat: 25.2% strikeout rate
Just about everything is going right for the A's, but here's something that isn't. Remember, Semien was third in AL MVP voting last year. He might not be in the top 15 on his team right now. He's also a free agent this winter, so he needs to step up for the sake of his own future, not just his team's.
Mariners: Evan White, 1B
Key stat: 37 strikeouts in 84 plate appearances
The $24 million contract extension he signed before playing a game in the Majors put him under the spotlight, and he's had a difficult time getting his motor started in 2020.
Rangers: Elvis Andrus, SS
Key stat: .494 OPS
Andrus has been around so long at this point that you forget he's only 31 years old. He's never gotten off to a slower start than this year, though.
NATIONAL LEAGUE EAST
Braves: Ozzie Albies, 2B
Key stat: .468 OPS
Obviously, injuries have been a factor for Atlanta's second baseman; he has been out since Aug. 5 with wrist problems. The injuries led to his .159 average when the Braves put him on the injured list.
Marlins: Corey Dickerson, LF
Key stat: .313 slugging percentage
The outfielder was considered one of the smarter, more stealthy offseason additions, but he has been one of the few wobbly pegs for Miami so far, hitting just .208.
Mets: Pete Alonso, 1B
Key stat: 30.6% strikeout rate
The implosion of the pitching staff has been the real problem for the Mets this year, but it has obscured the fact that the lovable slugger is hitting .214 with fewer homers (3) than four Orioles.
Phillies: Andrew McCutchen, OF
Key stat: .528 OPS
It's impossible not to like McCutchen, and the Phillies will always wonder what would have happened in 2019 had he not been hurt, but he has been anemic at the plate this year, with a .192/.259/.269 slash line. However, he did hit his first homer of the season on Sunday.
Nationals: Sean Doolittle, LHP
Key stat: 15.00 ERA in 5 appearances
Speaking of players who are impossible not to like, the cerebral left-hander's struggles this year have been well-documented: He's on the IL now with knee issues, and the Nats can only hope he gets them straightened out.
NL CENTRAL
Brewers: Christian Yelich, RF
Key stat: 31.3% strikeout rate
What's perhaps most disturbing about Yelich's slow start -- hitting .194 with a .301 on-base percentage, though he does have five homers -- is that he's still probably hitting the best on the Brewers right now. Yet there they are, still at .500.
Cardinals: Matt Carpenter, 3B
Key stat: .231 slugging
The Cardinals have barely played enough games to have any one player be truly disappointing so far, but there was perhaps no one they were relying on to rebound more than Carpenter. He has yet to hit the ball with much authority at all, however.
Cubs: Kris Bryant , 3B
Key stat: .182/.286/.345 slash line
He's back in the lineup again, but Bryant really hasn't been able to get it going in any appreciable way this year. For that matter: Javier Báez still needs to kick it into gear as well. Not that it's slowing the Cubs any.
Pirates: Josh Bell, 1B
Key stat: 32.4% strikeout rate
The slugging switch-hitter had his long-awaited breakthrough last year, which is why his struggles so far -- hitting .203 with strikeouts in nearly one-third of his plate appearances -- is so uniquely frustrating.
Reds: Eugenio Suárez, 3B
Key stat: .246 slugging
Suárez hit 49 homers last year and came into 2020 as a sleeper NL MVP candidate. But right now, in 79 plate appearances, he has eight base hits and is hitting .123.
NL WEST
D-backs: Madison Bumgarner, LHP
Key stat: 87.8 mph four-seam fastball velocity
Bumgarner is missing a couple of starts with back problems, and it's almost a relief to know there's something wrong with him physically, as rough as he has looked in a D-backs uniform so far.
Dodgers: Cody Bellinger, OF
Key stat: .187 batting average, .341 slugging
It remains absolutely terrifying that the Dodgers are this good with the defending NL MVP in their lineup hitting under .200.
Giants: Hunter Pence, OF
Key stat: .109 batting average, .446 OPS
As pleasant as it has been to see Pence back in a Giants uniform, that batting average is truly gruesome.
Padres: Tommy Pham, OF
Key stat: Hitting .207 with 2 HRs
Pham was one of the more quietly thrilling offseason acquisitions, but the Padres' early success has not happened because of him. He is stealing bases at a rate he never has before, though he exited Sunday's game in the middle of an at-bat with an apparent wrist injury.
Rockies: Nolan Arenado, 3B
Key stat: .796 OPS
The trade rumors feel like something from another lifetime at this point, but while Charlie Blackmon is making a potential run at history, Arenado is still trying to get going. You're starting to see signs now, though.